Men Shawls Traditional Winter Collection in Pakistan 2023-24
Let's complete your winter shopping with the best traditional Shawls for Men's wear in Pakistan. The Shawl fashion originally started in the Middle East and Indian countries. Furthermore, this is a special piece of wool shawl used to cover the body from extreme weather conditions. Normally shawls are also used by both men and women in Pakistan. Therefore, shawls' fundamental role is to keep warm during winter days.
Traditional shawls can enhance your personality and give you a charming look. Here we have some top brand winter men's wear shawls collections that are best to wear this winter season 2023-2024. As you know in November and December month winter season is at its peak point. Therefore, many people find the best shawls at affordable prices for gents as well as women's wear. Pure wool pashmina and cashmere shawls can keep you warm and can provide a beautiful traditional look.
New Winter Shawl Designs for Gent's Wear in Pakistan
Do you really want to buy a perfect comfortable shawl? If yes then here you will find a really good shawl collection for gents to wear casually as well as formal wear. Here in Pakistan, a wide range of shawls is available for men's and women's wear, but before buying make sure of the quality of fabrics and designs. Furthermore, in the fashion market, you can find shawls in black, grey, brown, green, cream, maroon, purple, and many other colors.
Many new shawls designs are available in markets, but Ajrak and Sindh-style shawls are mostly loved by men. Here we have light and dark colors embroidery printed shawls designs available at discount prices. Many people appreciate stylostreet.com for new and exciting shawls designs. Furthermore, all these moderately embroidered shawls can provide you good impression during a family get-together.
See More: Best Dresses for Girls in Pakistan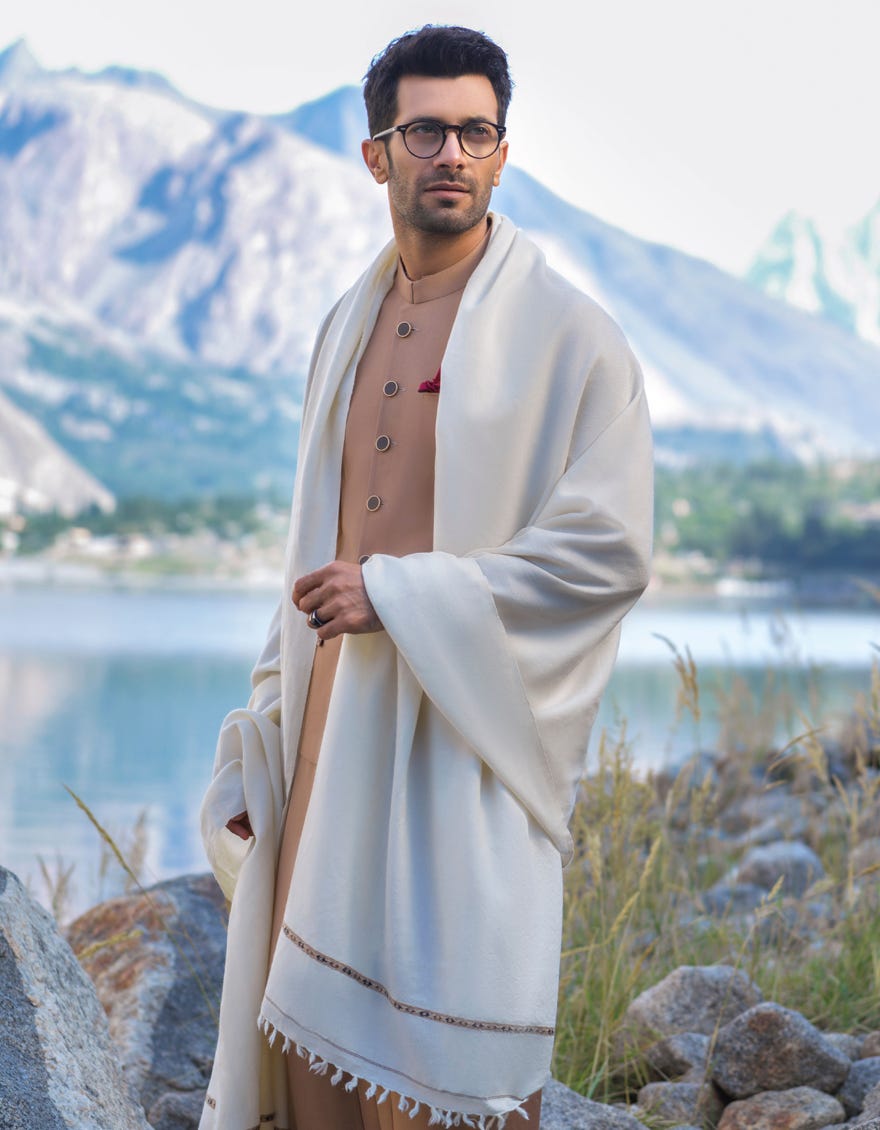 What to Wear with Shawls:
Many people don't know what to wear with shawls. Because they think wearing shawls is old-fashioned in eastern countries. All of them think wrong; in fact, shawls are considered an important part of winter fashion. You can pair it with a shalwar kameez or kurta, and many people also carry shawls with Western outfits as well.
Furthermore, gents also wear shawls even at their wedding ceremony. So, we can say shawls are in trend in Pakistan. Let's scroll down this page and get a new heavily embellished shawls collection at affordable prices. Many leading clothing brands also provide their winter shawls for gents as well as women's wear for 2023.