Asim jofa Winter Collection 2023 Sale Upto 50% Off With Price
Asim jofa Winter Collection 2023:- With the passage of time, Pakistani women have also become more conscious of the latest fashion. We will observe a lot of differences between Pakistan's fashion industries as compared to the old ones. Many new fashion designers have made this textile industry huge and wide.
Today we are talking about one of those famous designers. Asim Jofa is a famous name in the Pakistan textile industry. His cause of fame in the Pakistan textile industry is his master's hands for having the magical touch to ladies' dresses. He has introduced many new fashionable winter dresses for Pakistani ladies having all-new designs and the latest fashions.
Asim Jofa Winter Collection 2023 Sale Upto 50% off
The latest Asim jofa Winter Collection 2023 Sale for the remaining winter season, new dress has been posted in this post. Asim Jofa has introduced ladies' latest fashion dresses in such a new way as never seen before. Furthermore, Asim Jofa started his career as a Jeweler. But he was not born for wasting his precious time in the shop of a jeweler.
He started his career in the Pakistan fashion industry and selected the Pakistan textile industry. After a short period of time, he has got much fame in the whole of Pakistan as well as in the world just because of his work. He has designed all types of ladies' casual as well as formal outfits. All the stocks of Asif Jofa sales in minutes just because of his unique fashion designs and affordable price range.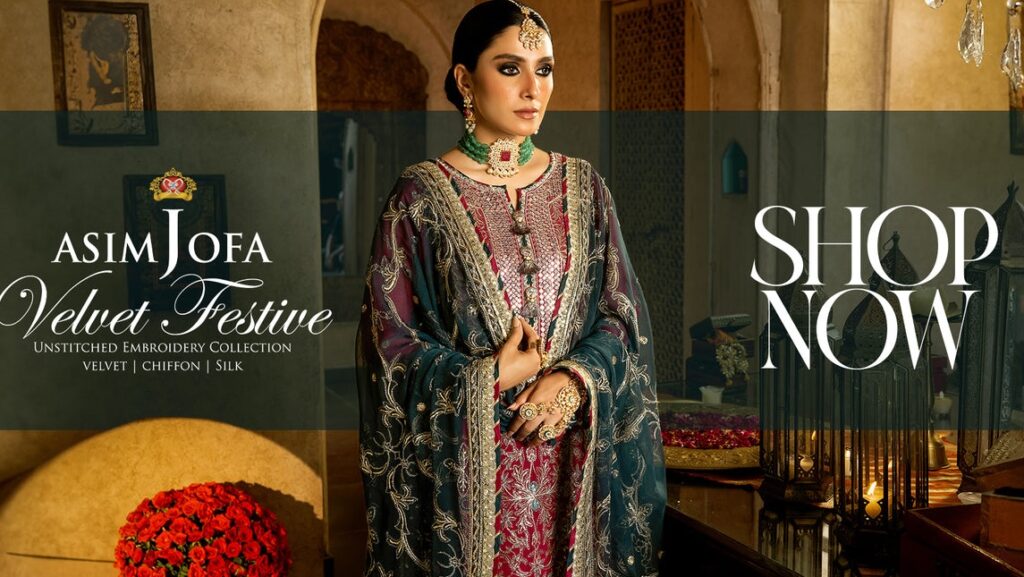 ---
Velvet raw silk 3-piece black color suit PKR:13,350 only.
Stylish navy blue color embroidered raw silk 3pc suit PKR:14,450.
Get elegant look during wedding season by wearing this raw silk embroidered 3pc suit PKR:13,450.
PKR:12,950.
Green embroidered lawn silk 3-piece unstitched suit PKR:5,950 only.
Let's unique winter look this season by wearing this beige color luxury net 3-piece unstitched suit PKR:6,850.
Red color lawn silk 3-piece unstitched suit PKR:6,250.
This gleaming piece can provide you true elegant look for just PKR:6,150.
A lovely ivory color 3-piece winter unstitched suit PKR:6,250.
Magenta color lawn silk 3-piece winter unstitched suit PKR:6,250.
Mari gold color 3pcs lawn silk unstitched suit PKR:6,150.
This winter complete your look with this Asim Jofa winter plum & rust color 3-piece suit available for PKR:6,450.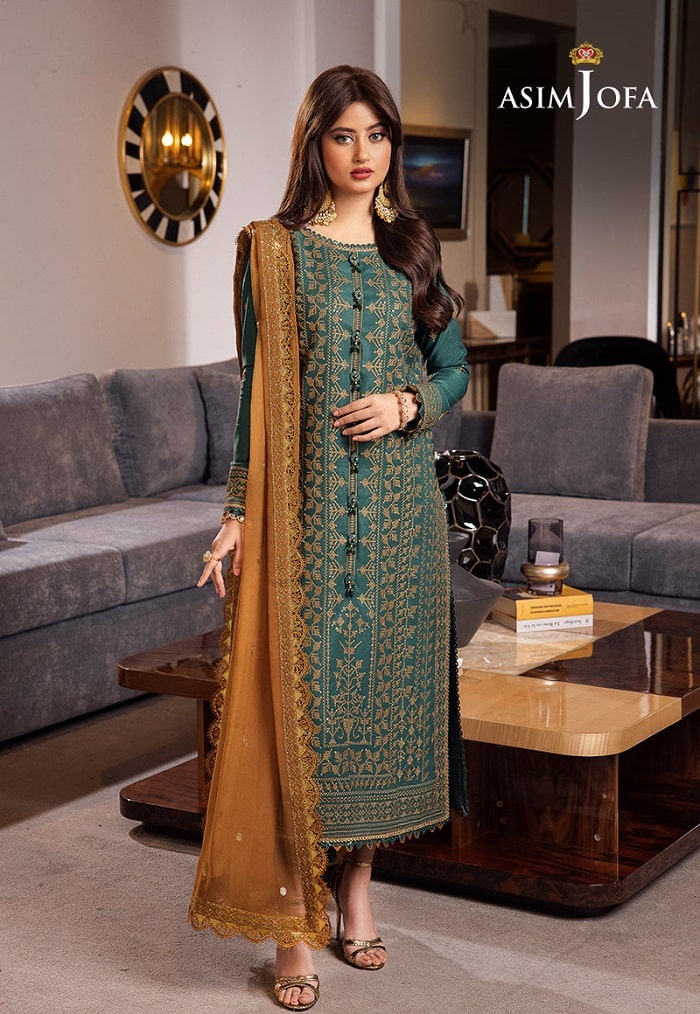 Sage green color lawn silk shirt with deep gold chiffon dupatta 3-piece suit PKR:6,450.
New Arrival Asim Jofa Winter Collection for Ladies 2023
Winter is on its way and November is coming. Therefore all the fashion designers have introduced the latest and all-new winter fashion outfits for fashion lover ladies. Hence we are going to post the latest Asim Jofa Winter Arrival Collection 2023 with his all-new designs. The color scheme of this latest winter collection is complete having nearly all dark and light colors.
In light colors light blue or sky blue is at the top and yellow, green, and peach color is available. And in dark colors dark blue, yellow, green, and peach are at the top. Quality is the name of Asim Jofa. Cloth quality and color quality never go light or dim. This is the only reason for selecting Asim Jofa. In this winter collection, he has also introduced digitally printed shirts with a charming and attractive print range.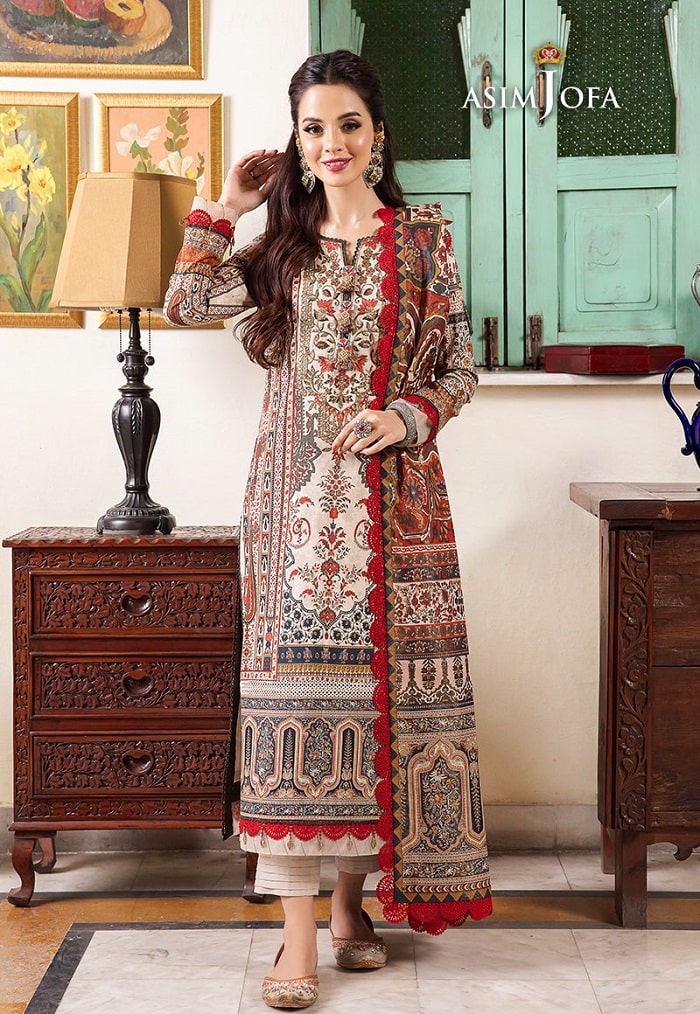 Premium winter cotton ivory color embroidered 3-pc suit PKR:3,950 only.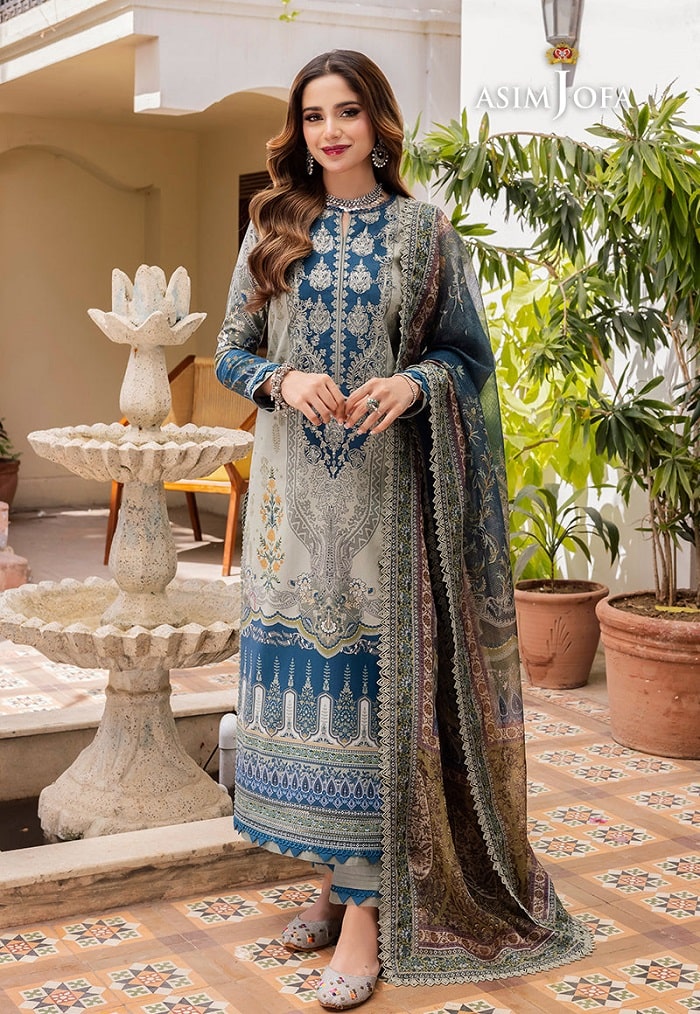 Stylish light grey color 3pc winter cotton unstitched embroidered suit PKR:4,350.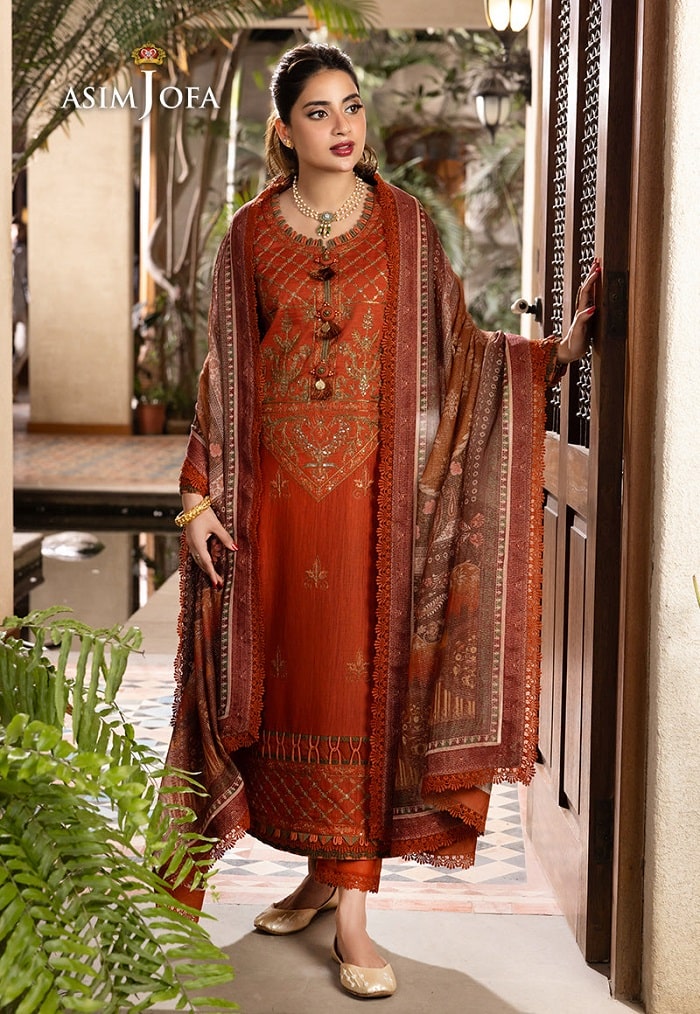 Rust cotton embroidered winter 3-pc unstitched PKR:4,950.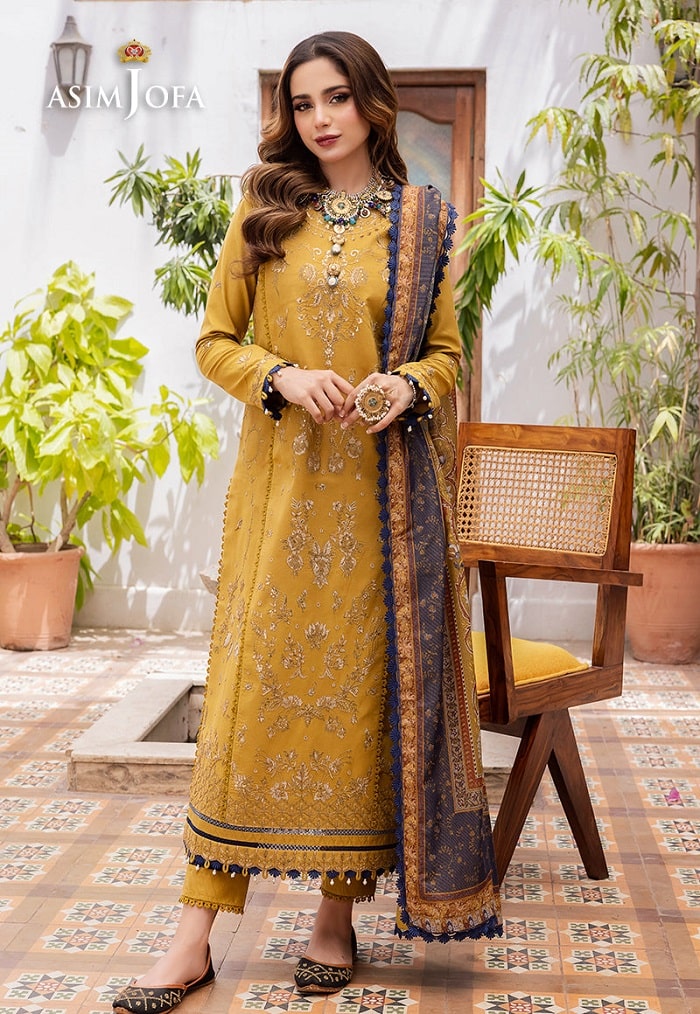 Mustard color premium winter cotton suit PKR:4,850.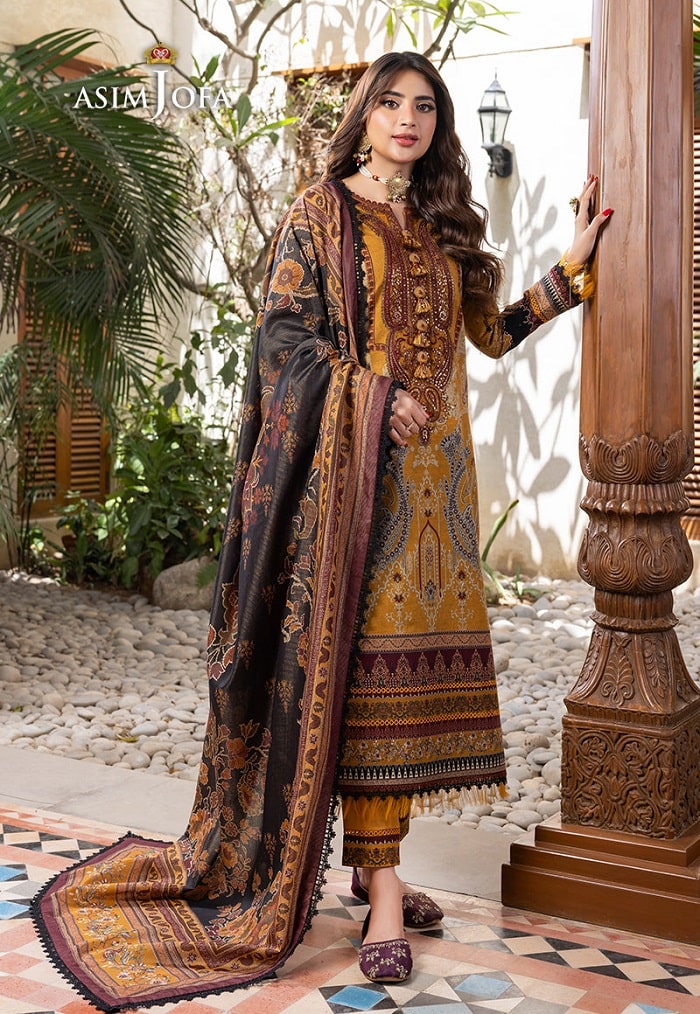 PKR:3,850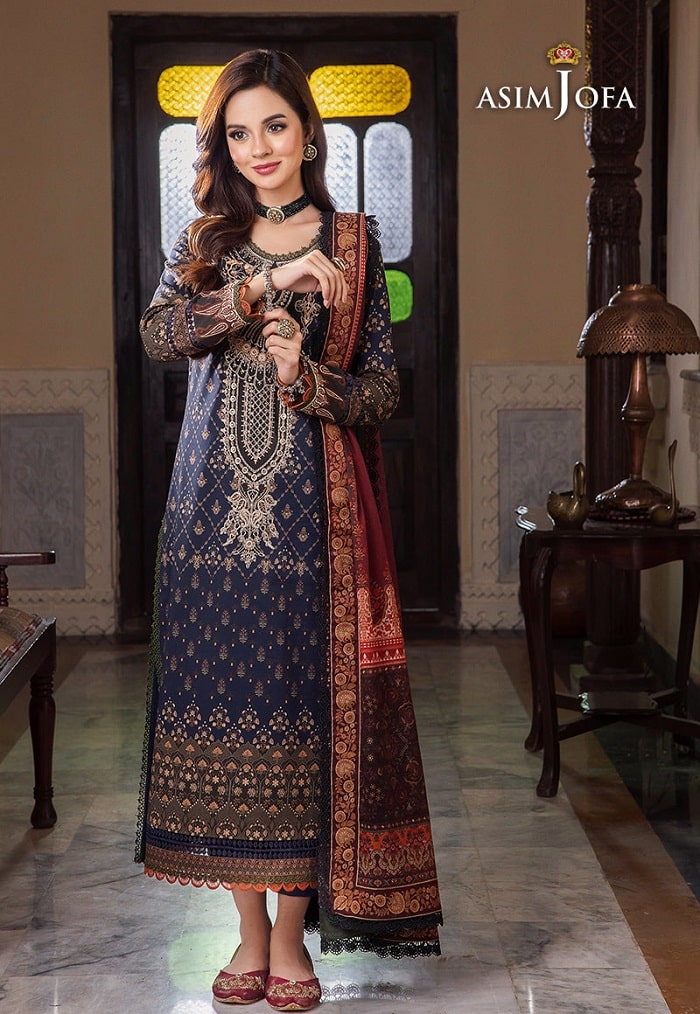 Navy blue color premium winter cotton unstitched suit PKR:4,250 only.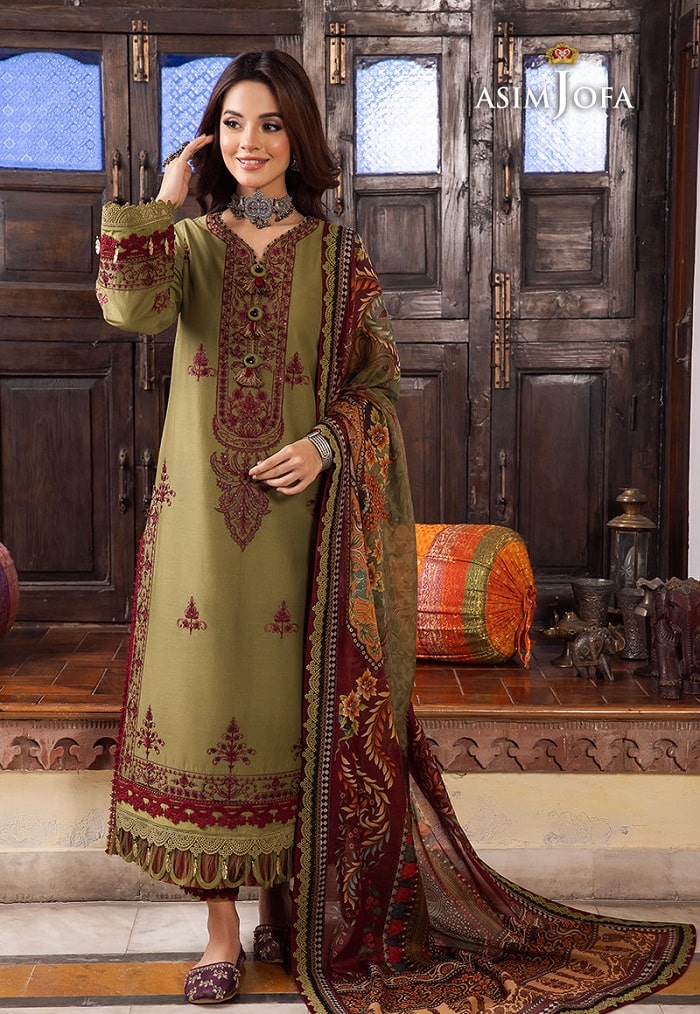 Sage green premium winter cotton unstitched 3p suit PKR:4,950.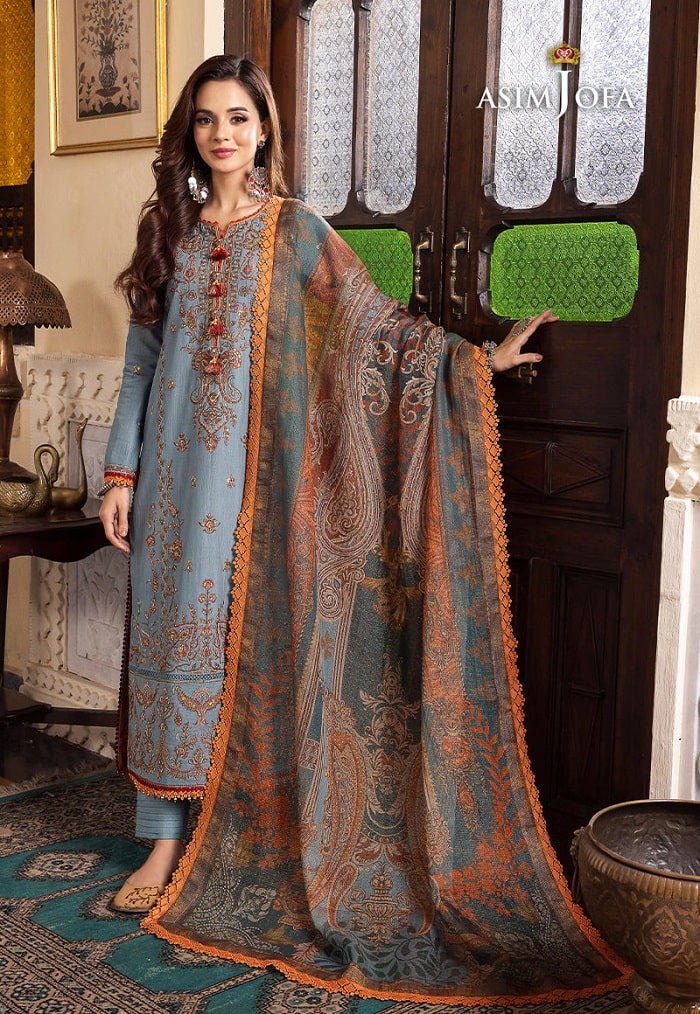 PKR:5,150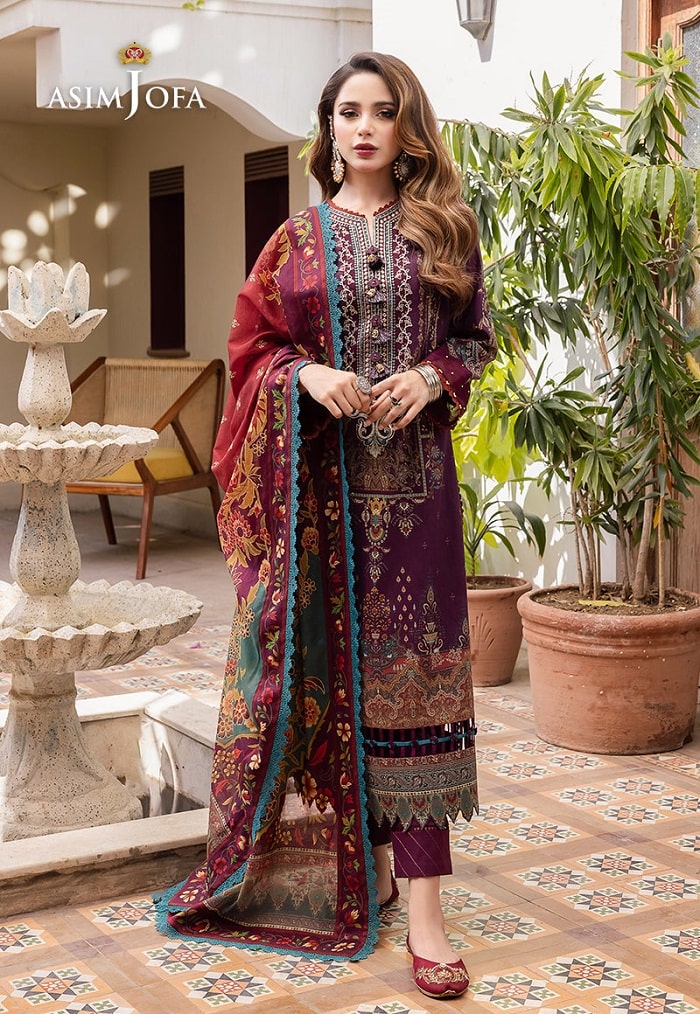 Purple winter unstitched luxury 3-piece suit PKR:4,250.
Asim Jofa Sale Dresses For Ladies Unstitched & Ready To Wear Outfits
Girls love to wear digitally printed shirts whether it is designed by Asim Jofa or any other designer. Embroidered detail work outfits are also part of the collection. These days a new fashion of embroidered work trousers with digitally printed shirts looks marvelous. It has become a new trend in Pakistan, especially in Islamabad, Karachi, and Lahore.
See More: J. Jamshed Men's Wear Winter Collection With Price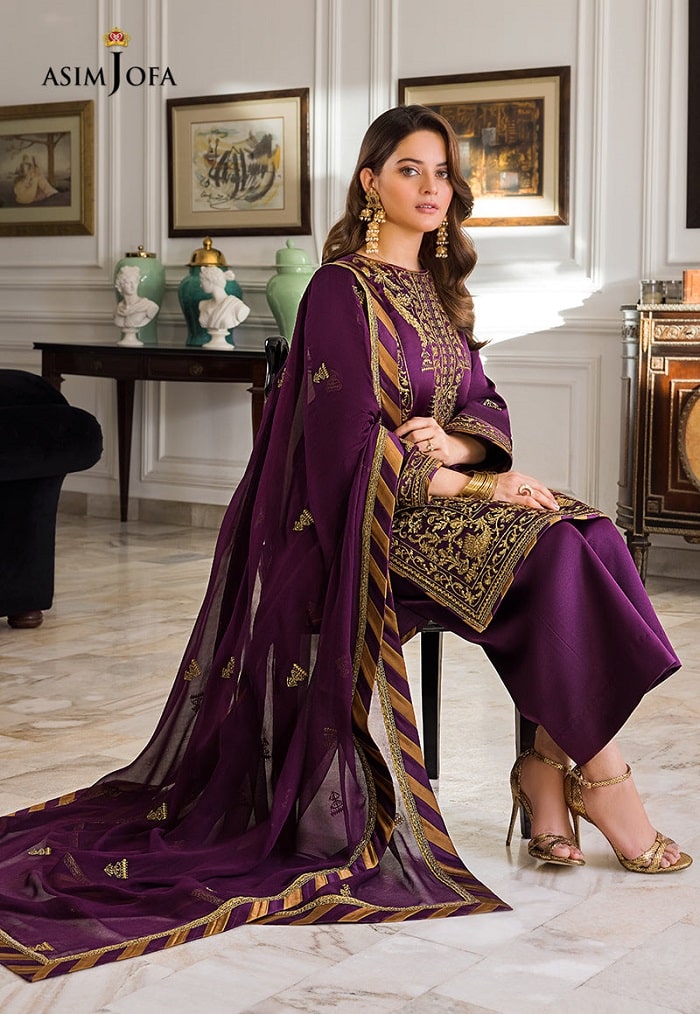 Unstitched winter purple color dull silk fabric 3piece suit PKR:5,250 only.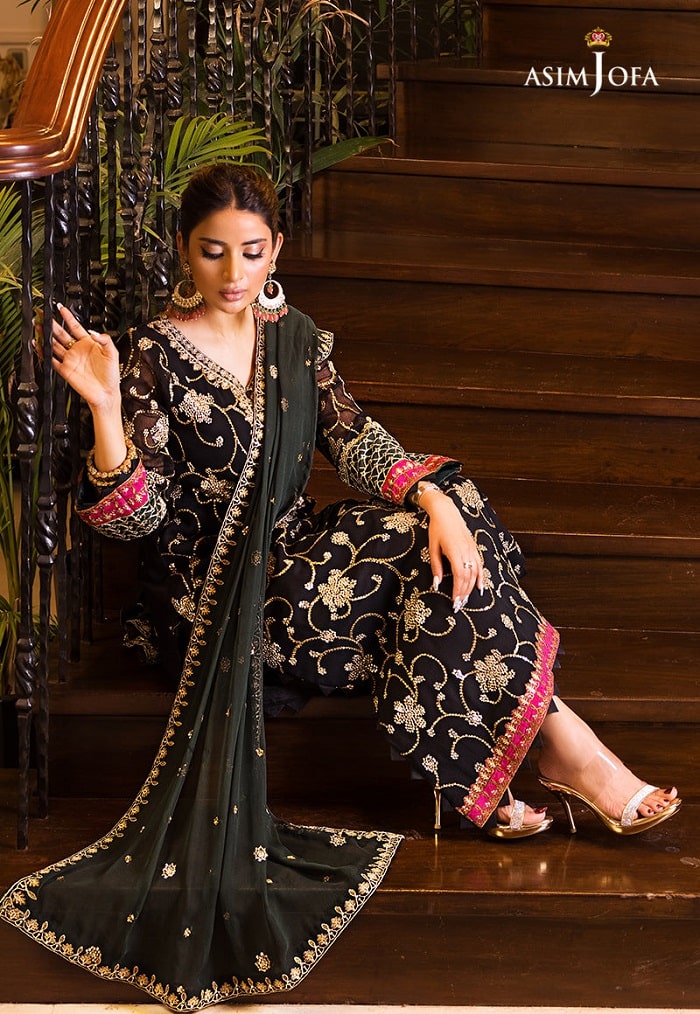 Chiffon black unstitched 3piece winter suit PKR:4,950.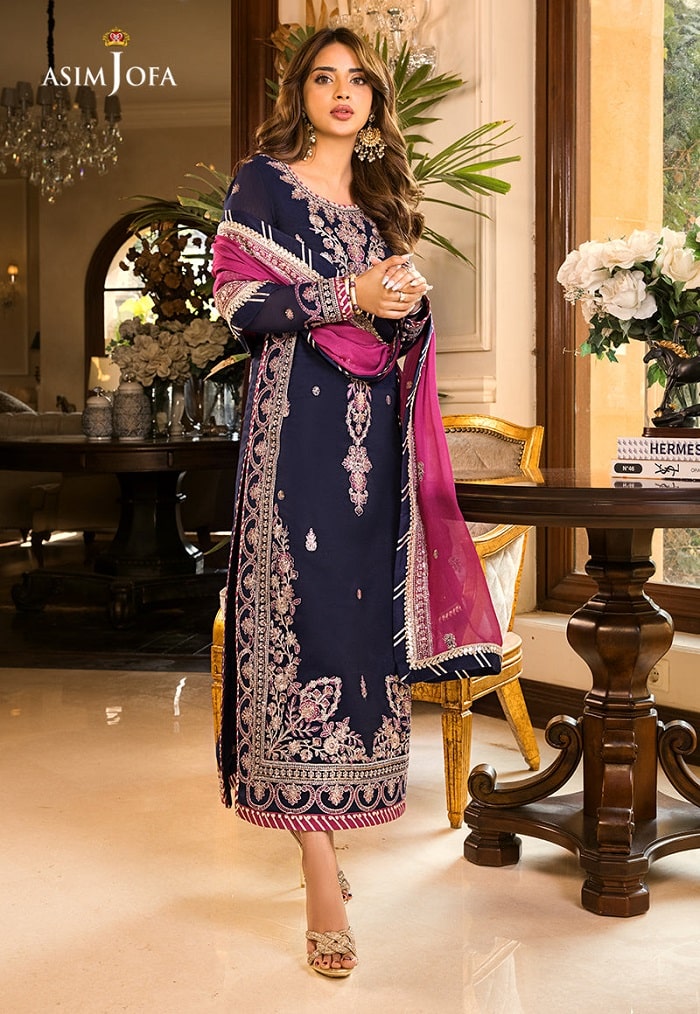 Get new look by wearing this navy blue color cotton unstitched embroidered 3piece suit PKR:5,650.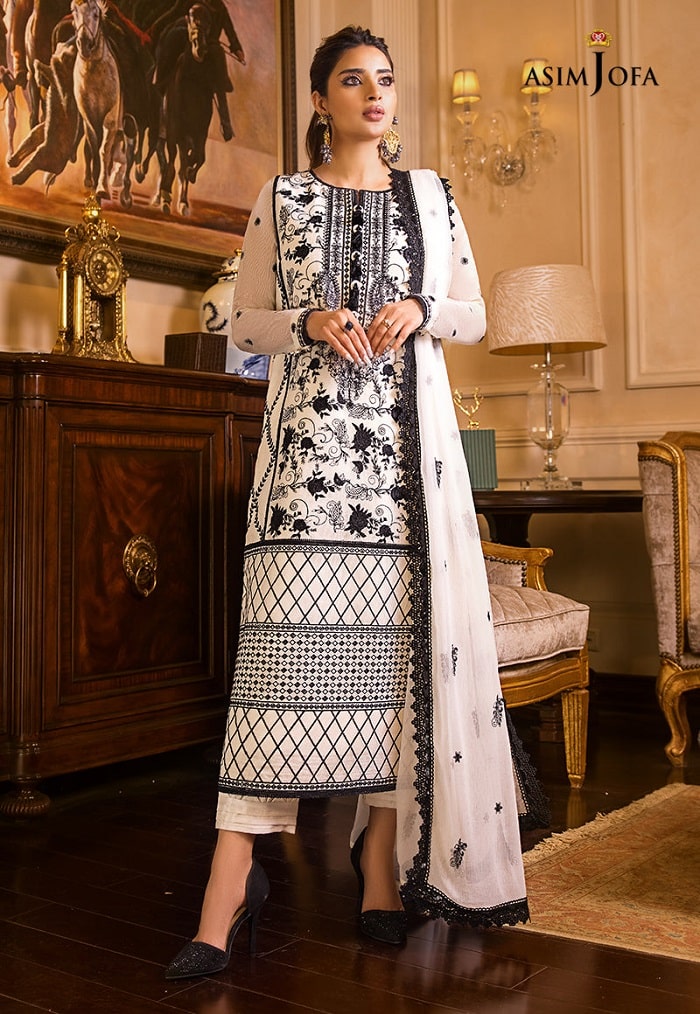 Off-white luxury winter cotton net organza 3piece suit with black embroidered work PKR:6,250 only.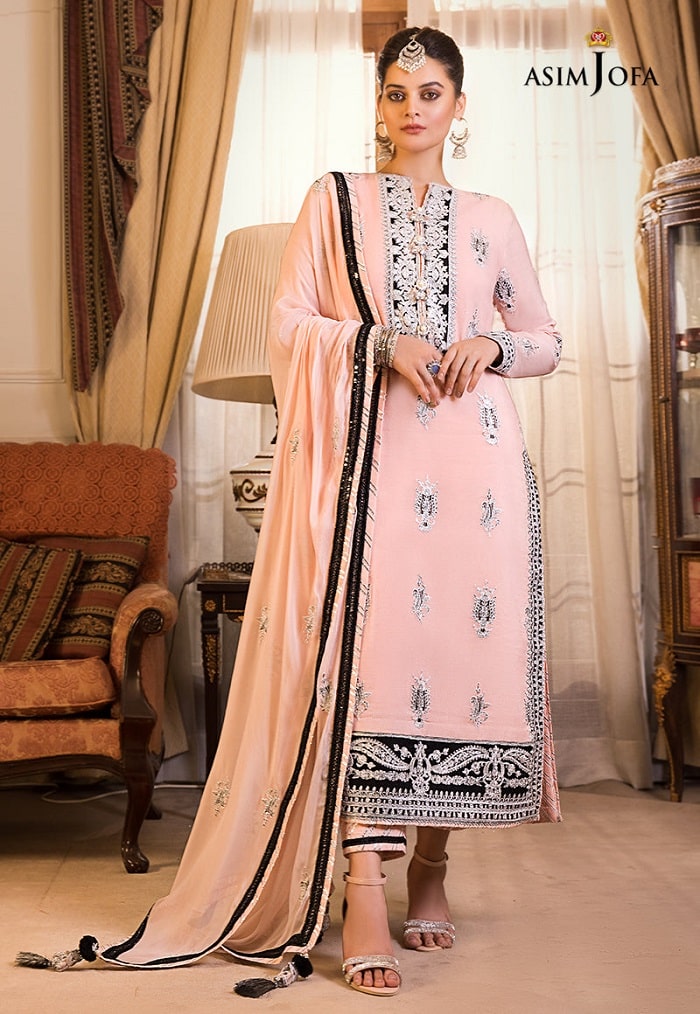 Stylish blush pink color cotton unstitched 3p suit PKR:5,950 only.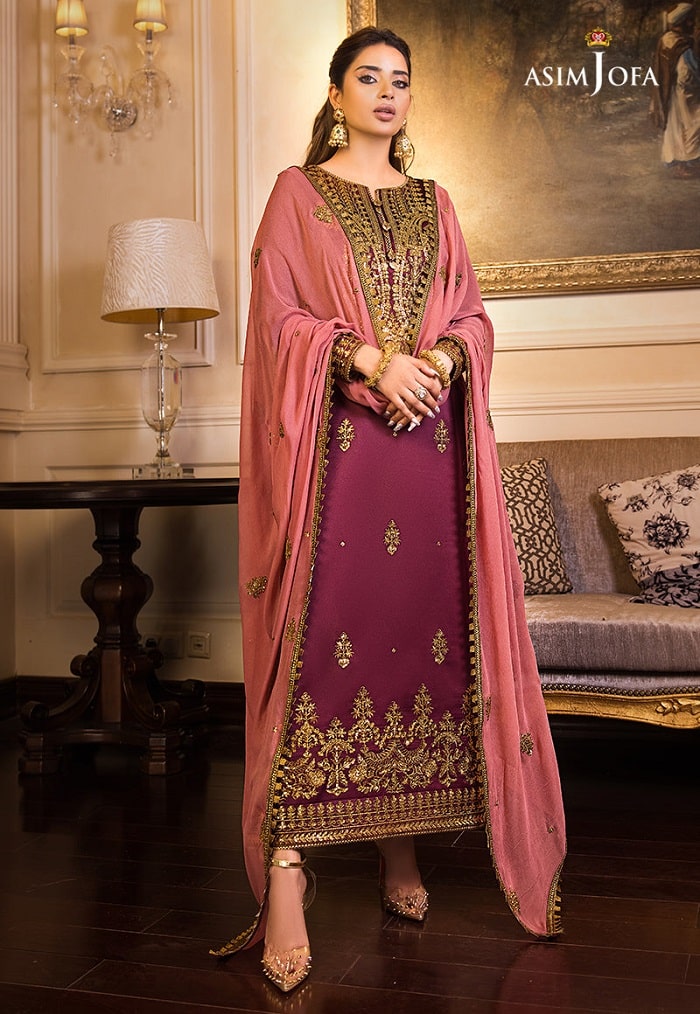 Unstitched maroon luxury bull silk suit PKR:4,950.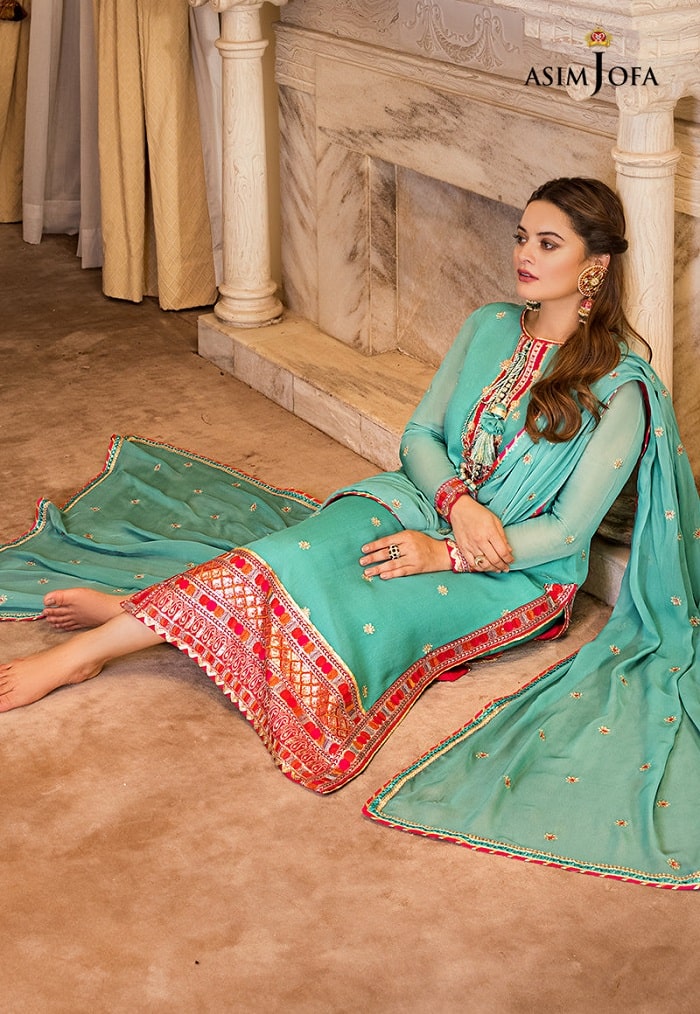 Asim jofa winter unstitched luxury 3piece light turquoise color suit PKR:5,550.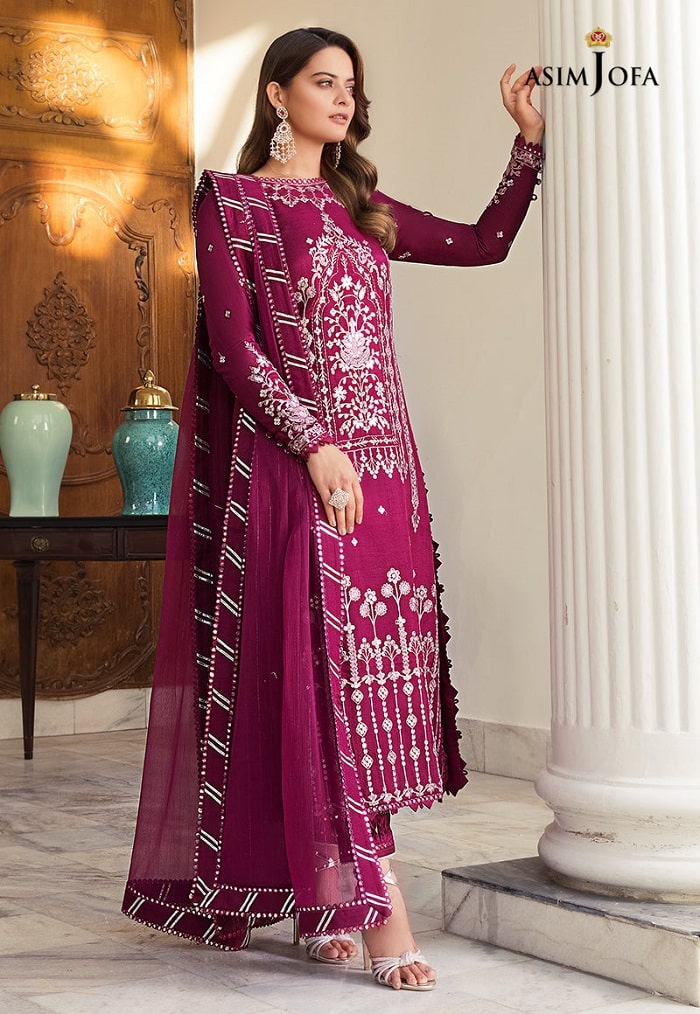 3piece suit PKR:6,450 cotton silk fabric.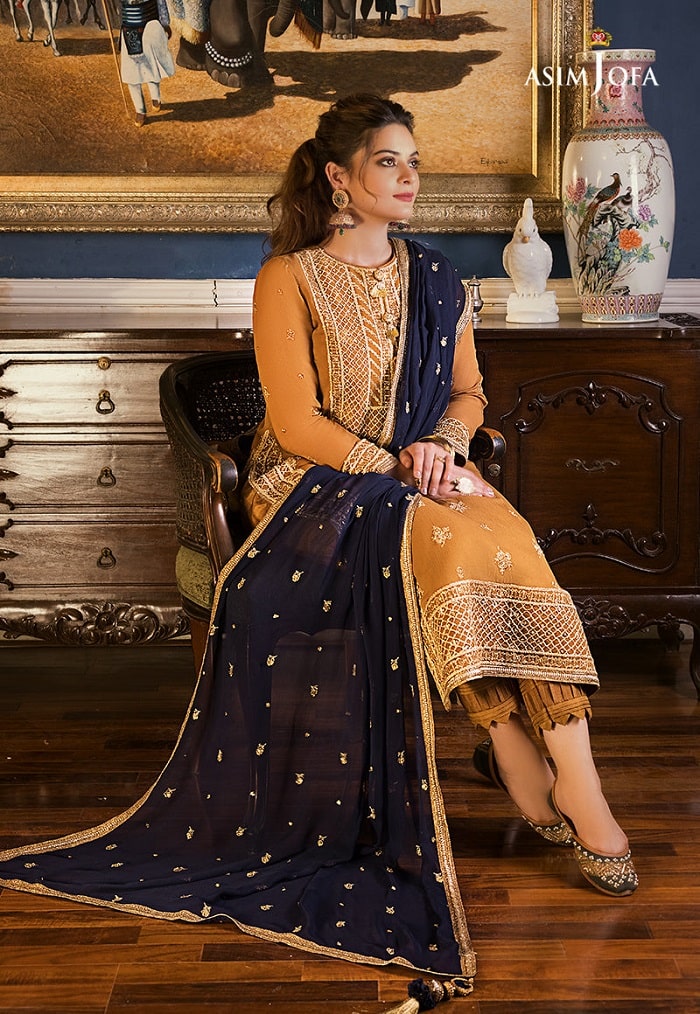 PKR:5,950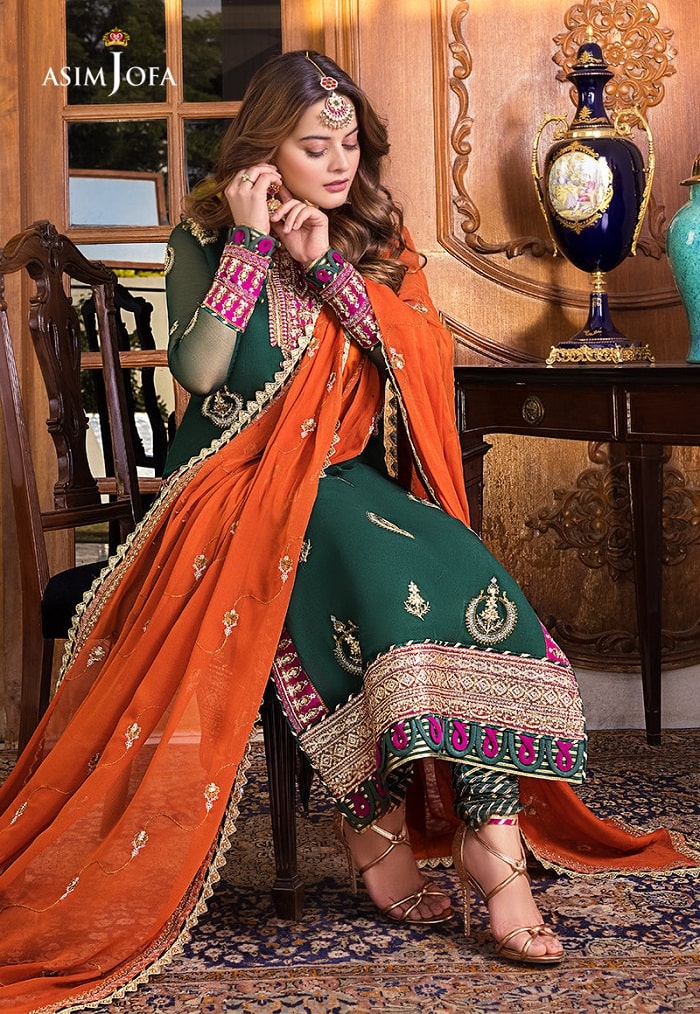 Chiffon embroidered green 3piece suit PKR:5,450.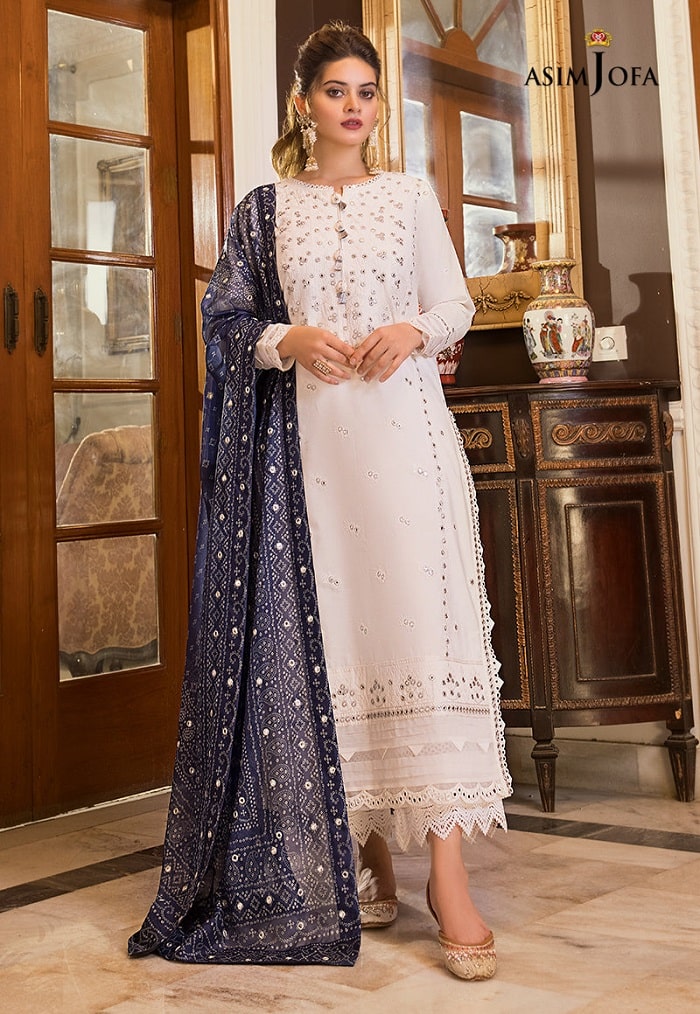 PKR:5,250.
Stylish sage green unstitched cotton jacquard 3piece suit PKR:5,950 only.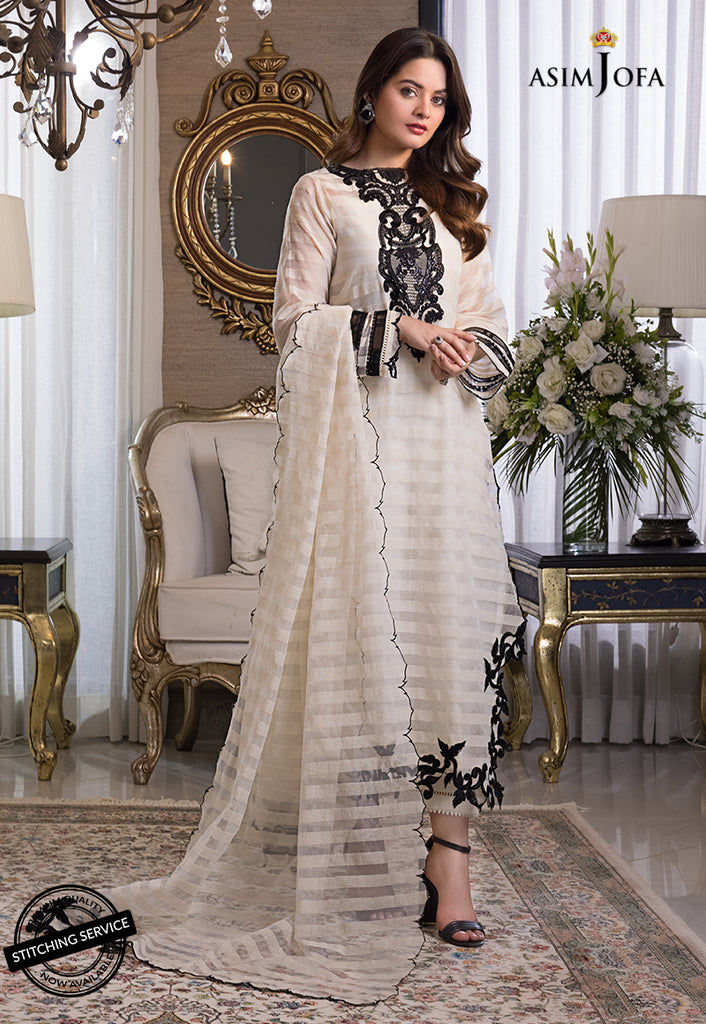 Asim jofa luxury winter unstitched ivory color karandi lines and organza 3piece suit PKR:5,950 only.
Embroidered chiffon 3piece unstitched green color suit PKR:5,950 only.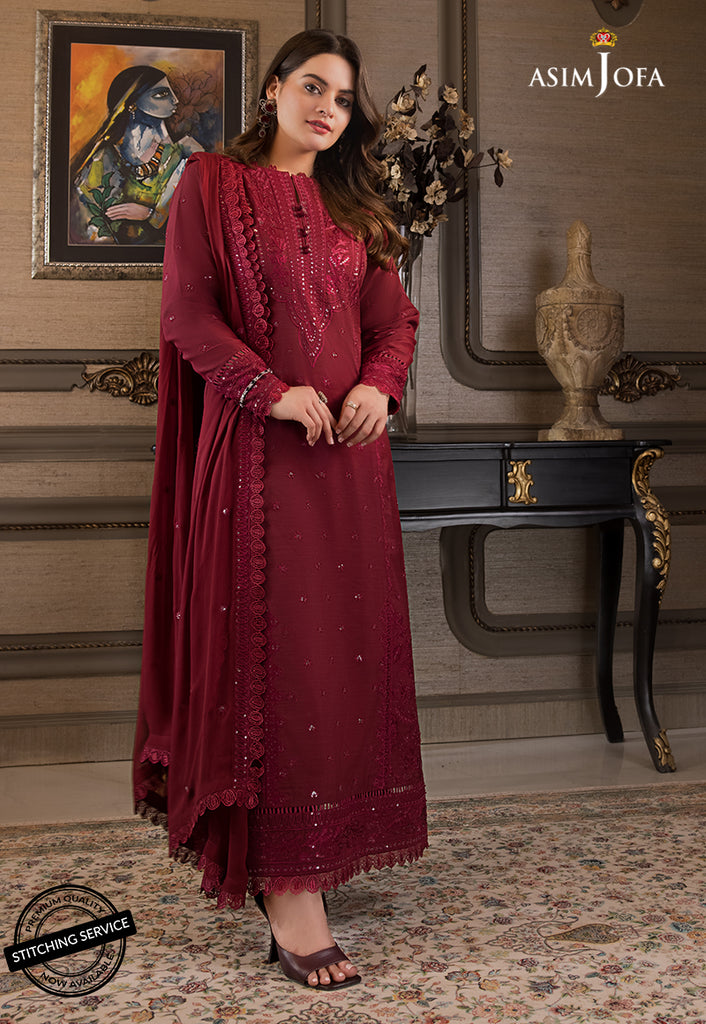 Red charming cotton unstitched 3piece suit PKR:5,950 only.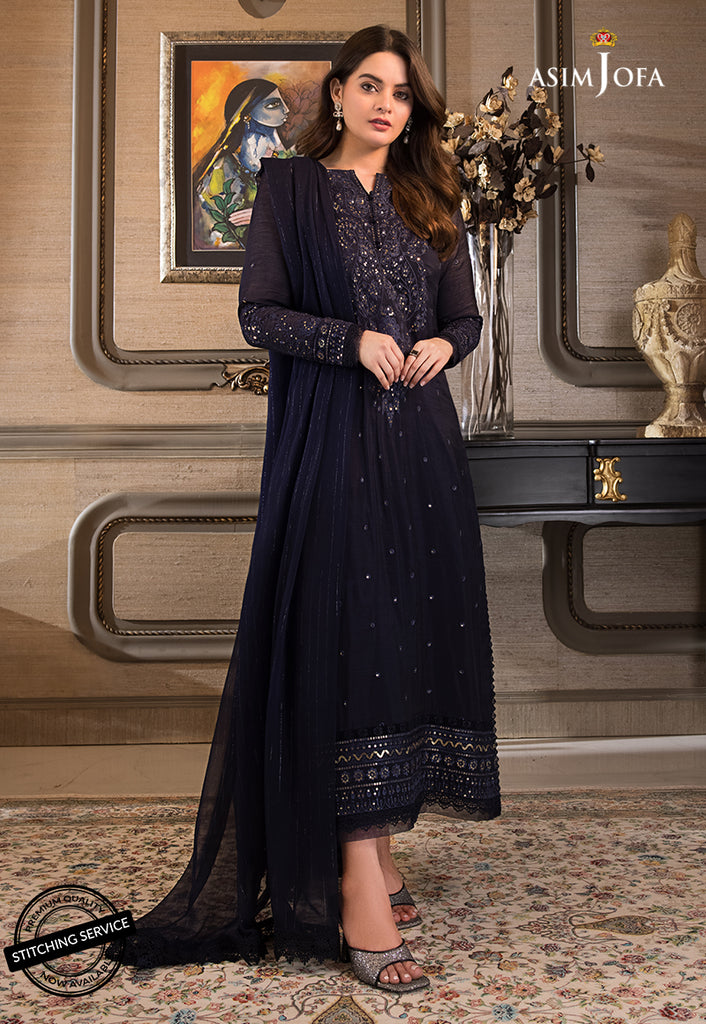 Navy blue cotton unstitched 3piece suit for women PKR:5,950 only.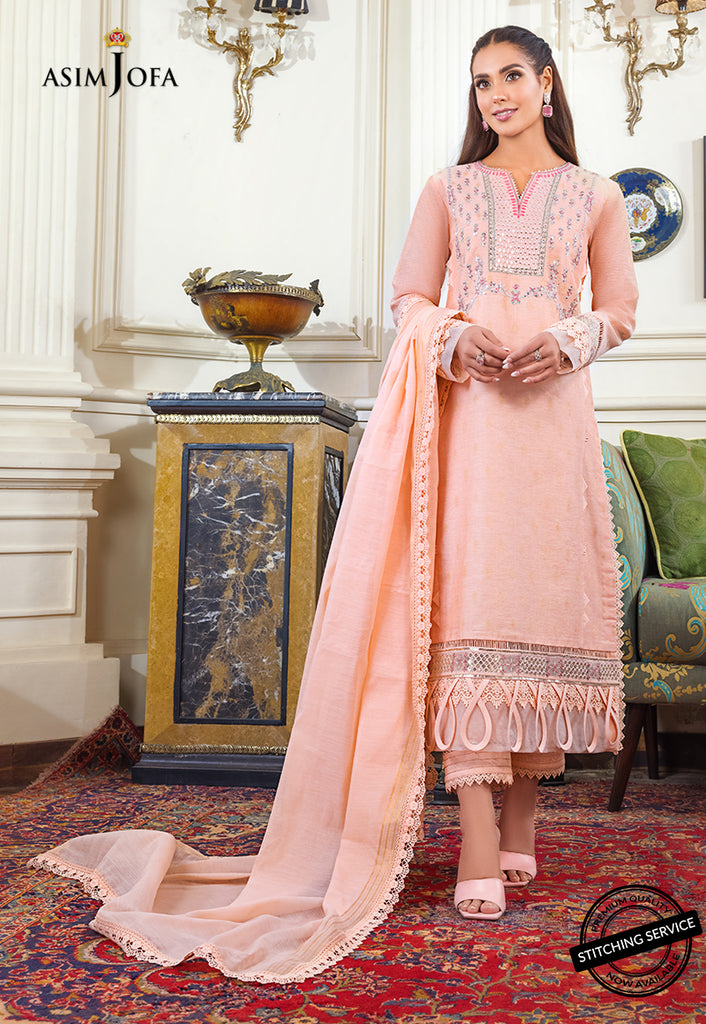 Enhance your winter look by wearing this peach color luxury 3piece suit available for PKR:5,850 only.
Mustard embroidered winter cotton 3piece suit PKR:5,550 only.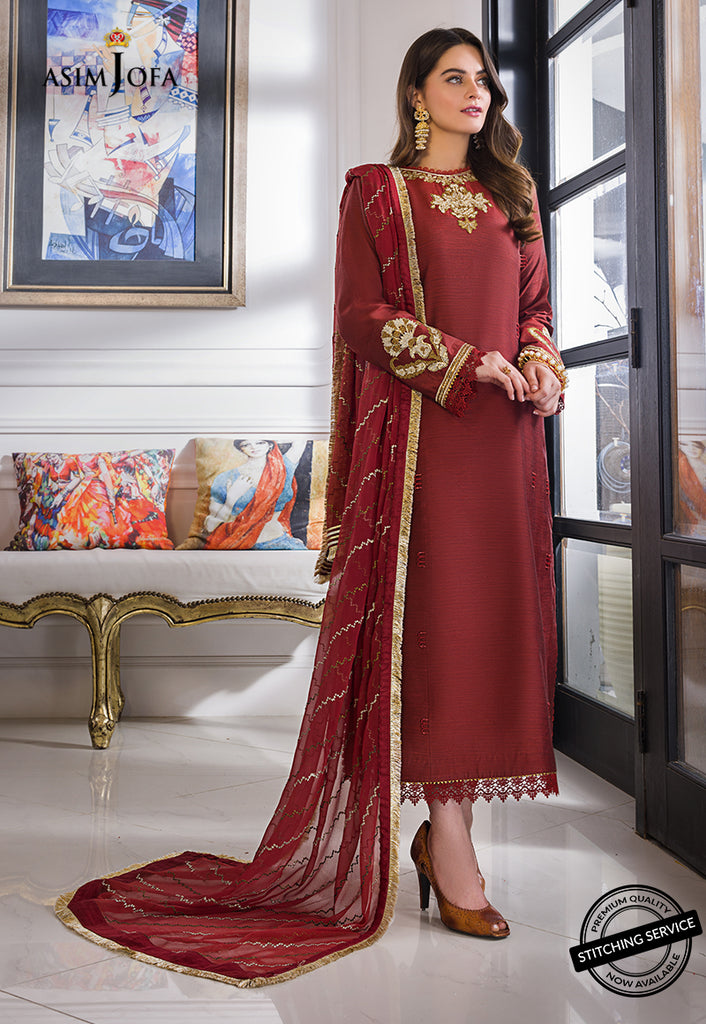 PKR:5,650 only.
Asim Jofa Winter Chiffon Collection 2023
If you are searching for a perfect matching chiffon dress that you can wear with a new expensive jewelry set on some special occasion. Then nothing could be better than Asim Jofa. He is the only designer whose all masterpieces suit perfectly with jewelry.
Asim Jofa winter chiffon dresses are designed in such a way that girls can easily wear heavy or light jewelry sets without hiding dress prints. Asim jofa luxury chiffon Winter suits with the latest designs have been launched recently for the coming winter to enjoy them in a perfectly stylish way.
Enhance your look by wearing this embroidered shirt, dupatta, and trousers available for just PKR:5,950 only.
Stylish cotton silk fabric deep teal color Floor-length gown embellished with golden doori work 3p suit PKR:15,250 only.
Let's get a stunning winter look by wearing this unstitched raw silk maroon shirt, dupatta and trouser available for PKR:15,650.
Unstitched basil green net luxury suit for winter season available for PKR:14,950 only.
Beautiful pink shade luxury chiffon unstitched 3piece suit PKR:15,350 only.
Let's get your dreamy winter look by wearing this asim jofa aqua green silk suit PKR:15,450 only.
Red silk unstitched suit PKR:18,990.
PKR:17,990.
Women of all areas can wear Asim Jofa-designed outfits to get a new charming look. This is the brand of time. You will find all types of digital prints and trousers types in this collection. However many other types of outfits are also presents which you can see on this page only on Stylostreet.com.