Top 10 Pakistani Bridal Lehenga Designs With New Color's 2022
Top 10 Pakistani Bridal Lehenga: In Pakistan, weddings are celebrated according to unique customs and traditions. Brides wear traditional dress on this special day according to custom and Islam. Generally on the day of the wedding Pakistani Muslim brides wear sharara-kurta, shalwar kameez, and lehenga choli. Here are a few words, Stylostreet has described Top 10 Pakistani Bridal Lehenga 2022.
Wearing Red lehenga by brides is a custom. But nowadays various new attractive color schemes have been launched by bridal lehenga designers. These color schemes have completely changed the old custom of dull red shade. As a result in our fresh updated list of Top 10 Pakistani Bridal Lehenga, many colors have been added in old traditional lehenga to make them more appealing.
Alkaram Studio Bridal Wedding Wear Dresses Shop Online
Here we have Top 10 Pakistani Bridal Lehenga with New Color Scheme, check these new colors in bridal lehenga having light & bold colors combination. Red color always remains as a color of happiness and prosperity. Whether you are a Muslim or belong to another religion red always makes you happy. The importance of this color can never become dull.
We have a wide range of red lehenga having embroidery work. In Pakistan and India red color lehenga with heavy work of embroidery has been considered as the symbol of luck for both the bride and groom. This type of traditional lehenga is the wish of every desi girl.
2: Look Like Baby Doll With "Baby Pink Bridal Lehenga"
The baby pink color is trending these days because of its eye-catching looks. Bridal lehenga with baby pink color looks marvelous and having embroidery work adds charm to its beauty.
Lehenga dress with baby pink color and embroidery work gives the bride a new look. Therefore the bride gets more attraction on a special day because of the unique color appeal.
3: Glorious "Sky Blue Bridal Lehenga"
Sky blue is a very pleasant color. And when we talk about Sky Blue Bridal Lehenga this combination becomes stunning. Therefore Stylostreet has posted glorious Sky Blue Bridal Lehenga in our list of Top 10 Pakistani Bridal Lehenga.
4: Shinning "Golden Bridal Lehenga"
As you know girl's inclination towards golden color is more than anything else. That's why girls love to wear a shining golden color dress. Thus we also have included shinning golden bridal lehenga in our list. And when a little work of embroidery or lace contrast added with it this becomes outstanding for girls of 2022.
5: Natural "Orange with Pale Red"
Orange color always looks comparable with the pale red combination. This color combination has also introduced in bridal wear to checkout its consequences. In bridal lehenga combination of natural orange with pale red looks, all new and this never seen before combination makes one new attractive option for those girls who are going to shopping for their wedding day.
6: New 2020 Trend of "Ivory Bridal Lehenga"
Ivory color nearly matches with skin or pale brown color. This color is trending in 2022 ladies dresses collections. Hence designers have detailed work on this color and now ivory bridal lehenga has been available in markets. These outfits are trending due to their glorious and shining color. This color looks very attractive & perfect on girls having white or even dull skin color.
In Pakistan, just the custom of red color is changing a bit. Other than embroidery work is the same popularity as it was popular 50 years ago.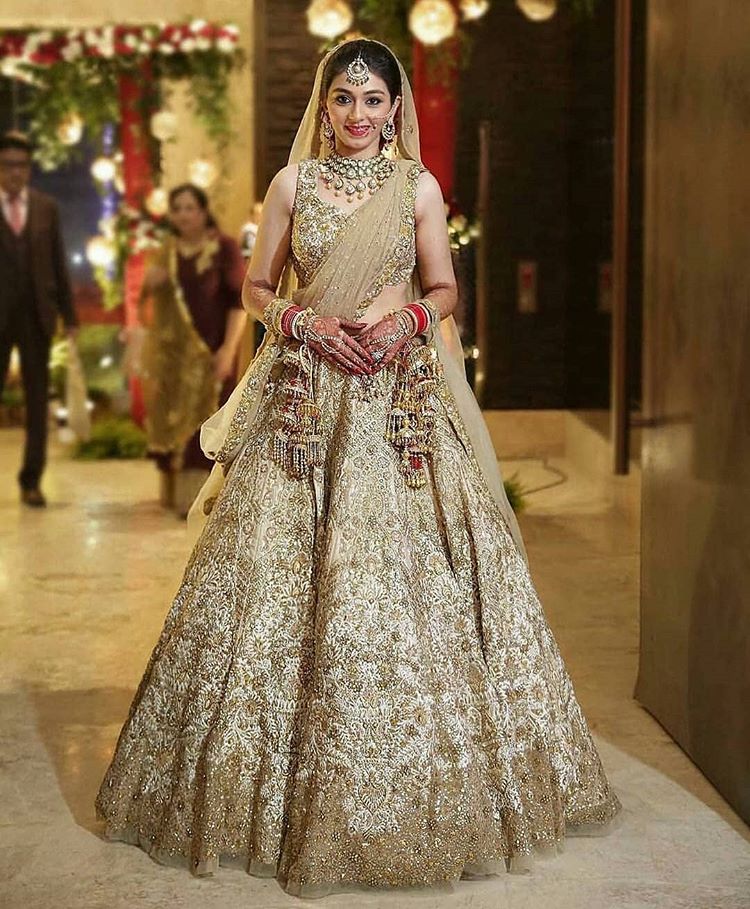 7: "Sea Green Bridal Lehenga" Makes Wedding Day Special
In the color combination of bridal wear, green is also in trend. Especially in Muslim community green is considered holly due to its belonging with Last Prophet. That's why here we have a new collection of sea-green lehenga.
8: Choose Unique With "Peach Color Bridal Lehenga"
Since 2015 peach color was adopted by Bollywood actresses in movies. From that time this color has become a special part of female wear whether it is a wedding, the family gets together, parties or dinner. Peach Color Bridal Lehenga has also been introduced by designers of India and Pakistan and we have posted them below.
9: Elegant "Yellow & Light Pink Bridal Lehenga"
Here's a new combination of delight yellow and baby pink scheme. In this combination two in one sexy & luscious color combinations makes it impressive.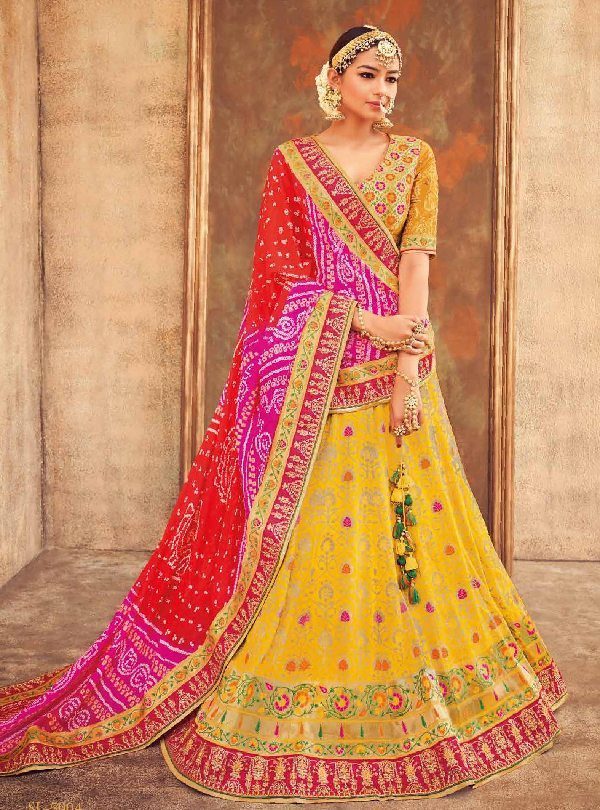 10: Captivating "Blue+Pink Bridal Lehenga"
In Top 10 Pakistani Bridal Lehenga a lovely combination of Captivating Blue+Pink Bridal Lehenga has been included by Stylostreet. The reason behind the eminence of this combination among girls is its distinctive shade combination. Check it out.
If you like this post then don't forget to comment below. Don't forget to inform us of your essential suggestions. Also, share your post and visit our bridal wear collection, hijab collection & lawn collections.