Junaid Jamshed Summer Lawn 2023 Collection With Price
Hellow! Girls as we know that the relationship between leading clothing brands J.Jamshed is very strong. Therefore, we are sharing the beautiful Junaid Jamshed Spring Summer lawn '23 images. Furthermore, we know that clothing brands are getting more success very rapidly. Therefore, Junaid Jamshed becomes the first choice of every woman in Pakistan. The trending clothing brand always presents with new summer lawn collection dresses 2023. It contains different styles and new looks outfits for trendy ladies.
It is true that the Junaid Jamshed clothing brand is always famous for its charming personality. The most important thing is to find a perfect clothing style, before examining his/her personality for any occasion. Furthermore, there is hue new and stylish variety of stylish designs that are best to wear in our country Pakistan.
Junaid Jamshed Spring Summer Lawn Collection Sale 2023
Always find beautiful dresses that suit your body shape. These clothing designs are perfect to wear during the spring-summer season of 2023. These unstitched lawn shirt styles are distinctive and impressive. Girls, here we are sharing a unique and amazing Junaid Jamshed Spring Summer lawn 2023 collection. Furthermore, girls if you are finding something that is completely unique and stylish then scroll down this page and get your favorite dress in a reasonable price range.
For the upcoming summer season, all designs are making stunning lawn prints with different colors. Most main colors that are used in the summer unstitch lawn collection are yellow, pink, white, green, red, blue, and many more light shades. Due to these light shades, you can get a cooling presence in the hot summer season of 2023.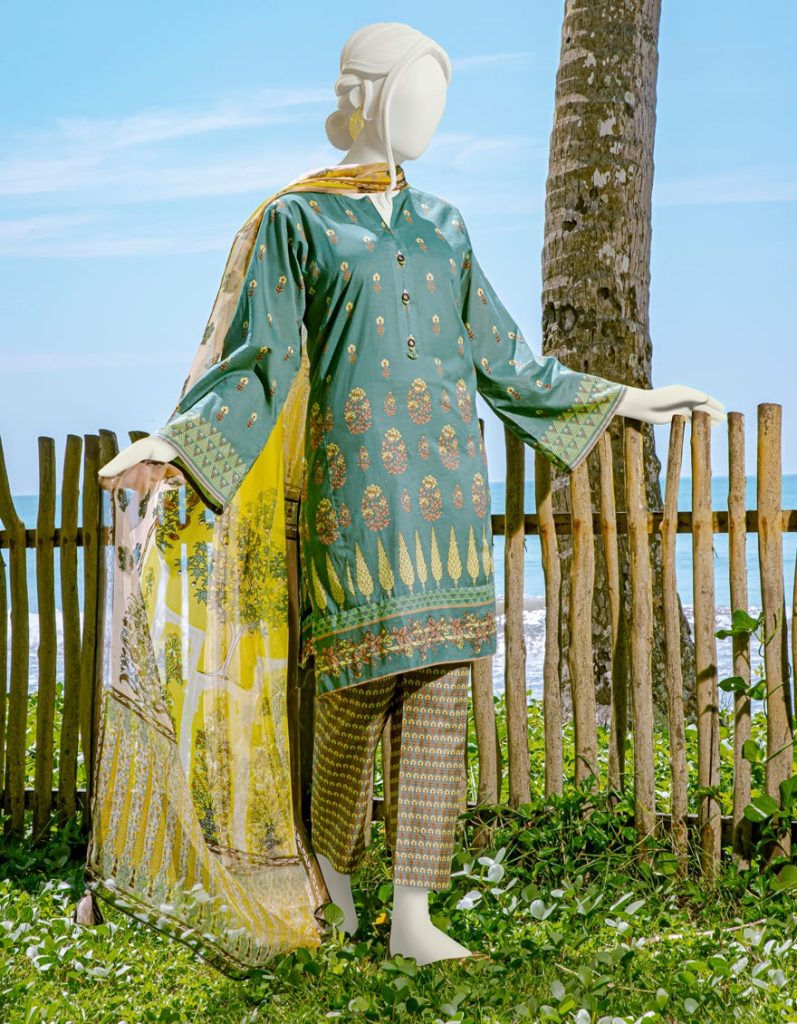 Junaid Jamshed Spring Summer Collection 2022, a beautiful green color 3pc suit with chiffon dupatta for PRK:3390 Only.
Deep Teal Unstitched 3 Piece lawn suit by J.summer collection 2023 Purchase now for PRK:3390 Only.
Printed Lawn one-piece unstitch maroon-green color shirt for women by J. brand for PRK:1690 Only.
Three-piece indigo color lawn suit for women springs summer collection 2023 by J. For Rupees:3390 Only.
J. Lawn 3 piece white color unstitched suit for women PRK:3390 Only.
Embroidered digitally printed 3 pieces Pistachio green lawn suit by J.Spring Summer Collection Available for PRK:4490 Only.
Beige color 3 pieces unstitched lawn suit by J.jamshed brand for PRK:3890 Only.
Sea Green color J.Lawn Un-stitched 3 Piece Suit for only PRK:2990 Only.
Yellow color 3 Piece Unstitched Lawn Suit for Ladies Wear PRK:2990 Only.
A beautiful cream color 3 piece lawn suit having beautiful floral prints on the shirt front is available for PRK:3990 Only.
Black-off white Unstitched 3pcs J.lawn suit for women for PRK:2990 Only.
J Dot Summer Lawn Sale 2023 Collection
In this collection, all dresses are unstitched and you can stitch them according to your desire. These trends are completely simple and casual for summer wear.
Best quality materials are being used by Junaid Jamshed brad to design such amazing types of women's outfits. The professional designs are working day and night to provide fancy outfits for women's 2023.
See More: Junaid Jamshed Summer Lawn
J. Lawn Coffee Beans 3 piece lawn suit for women available PKR:2990 Only.
Blue color basic 3 piece lawn suit for women PKR:3990 Only.
J. Lawn Summer purple color 3pcs suit for ladies wear PKR:3990 Only.
Multi-color printed un-stitch lawn suit available PKR:4990.
Purple embroidered lawn unstitched three-piece suit available PKR:4290.
Printed Red color J dot unstitched lawn collection 2023 for PKR:3990.
Lovely pink color lawn suit for women available now for PKR:4990.