Top 10 Accessories Which Makes A Bride Perfect in 2022
Bride Fashion Accessories – Fashion is a basic part of every wedding. Without up-to-date fashion accessories, girls look incomplete. Here we are going to share those famous accessories which remain in fashion every time. These fashion accessories never grow old. Pakistan is famous in the whole world just because of its tradition and culture.
In Pakistan, brides love to wear heavily decorated dresses with famous fashion accessories to make their dressing complete. There are numerous accessories but in this post, we will discuss only the top 10 Fashion Accessories having a deep impact on the stylish look of the Eastern bride.
Some people consider jewelry as a trending fashion accessories but they are wrong there are many other fashion accessories that are very important for a charming look of a Pakistani bride.
Many brides love to have heavy jewelry and some brides like to wear light jewelry on special days, it's all on the wish and selection of brides. However, these are the top fashion accessories that were famous in the 19's, and still, their fashion is at the top.
Jhoomar
Mehndi
Naths
Kangan chooriyan
Purse
Flowers
Makeup
Maang tikka or Bindia
Jhumkas
Matha Pattis
Top 10 Fashion Accessories For Pakistani & Indian Brides
Fashion accessories are very important for all brides here we have posted 10 fashion accessories that not only add charm to the bride's personality but it also makes the night perfect. All the guests try to look at the bride and groom on the wedding night. Hence bride's dressing and makeup must be perfect. And also these small and basic accessories are minor but have a huge impact on the charming look of the bride. Brides usually get confused while selecting fashion accessories because plenty of new fashion accessories have been introduced in markets hence selection of the right fashion has become very difficult.
Jhoomar Fashion Accessories
Fashion accessories start from jewelry. There is no match of Pakistani traditional jewelry in the whole world. We are talking about "Jhoomar" Yes! Famous and most elegant fashion jewelry is considered essential for brides and for all the girls who are going to attend a wedding. This fashion accessory is usually combined and mixed with tikka to make a complete look. Have a look at jhoomar designs below.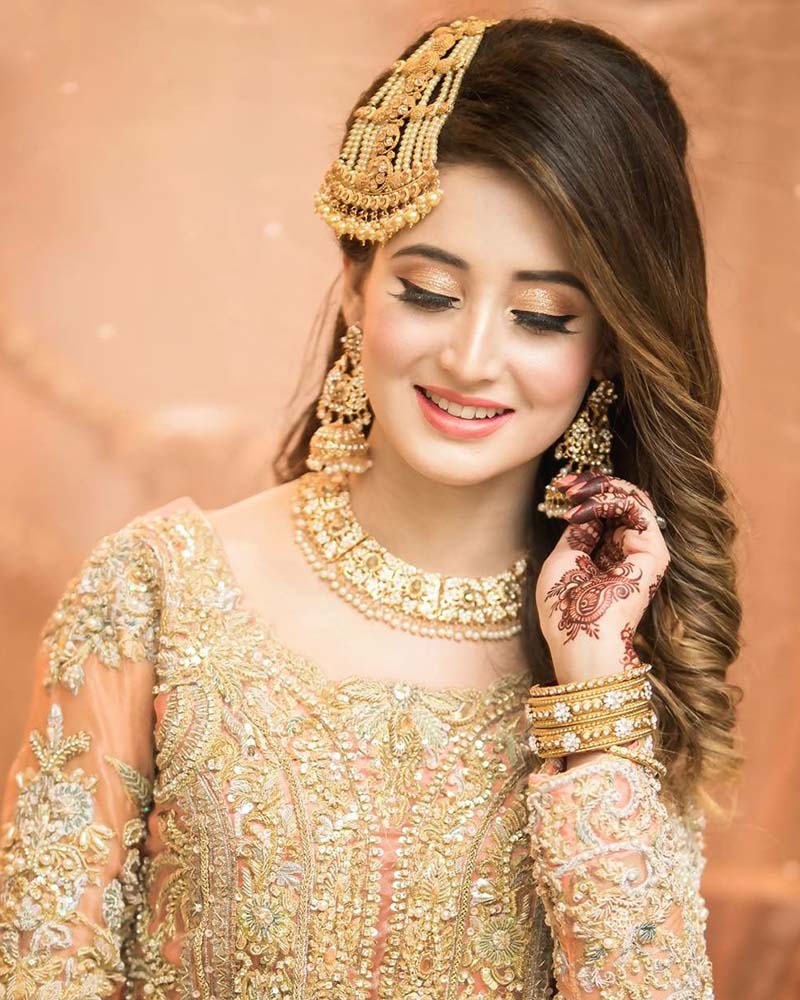 Mehndi
Mehndi is a natural brown colorful paste. It is made by grinding leaves of mehndi. It is Pakistani and Indian culture and tradition to decorate the bride's hands and feet with mehndi on the day of the wedding. In eastern countries, mehndi is considered a symbol of happiness. Hence at weddings mehndi is a special desire and wish of all the girls, especially the bride.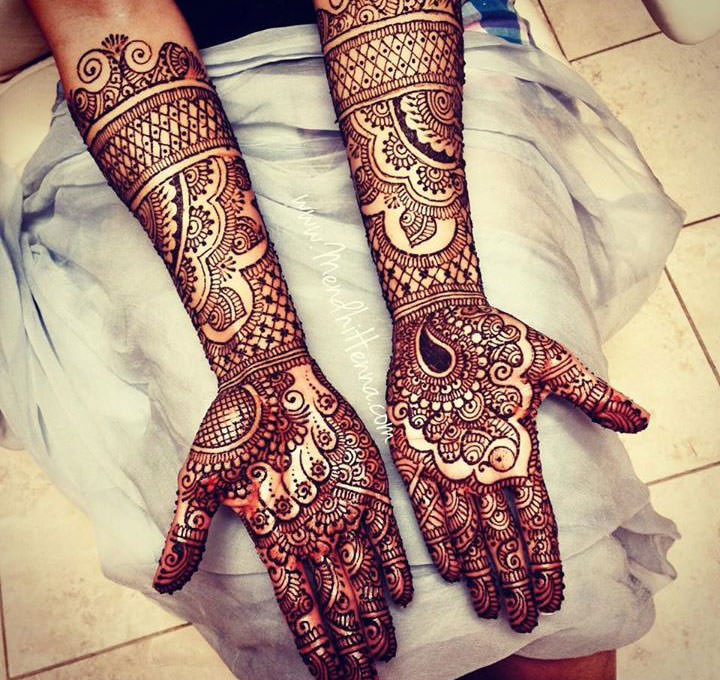 Nath
In eastern jewelry, a special type of clip\ring is used by women for the decoration of the nose from an early age. This nose jewelry is commonly known as "Nath". A golden Nath is common for a Pakistani or Indian bride. It is considered a fashion among eastern people to decorate nose with a nose clip\ring "Nath".  Moreover, Brides love to wear nath at a wedding while the there selection is also a big issue. Nearly all the girls prefer nath to be worn at weddings. Therefore brides select large size nath due to their unique size and the bride usually wears this size of nath hence guest girl avoids wearing large size nath.
See More: Maria B winter Casual Wedding Dresses for women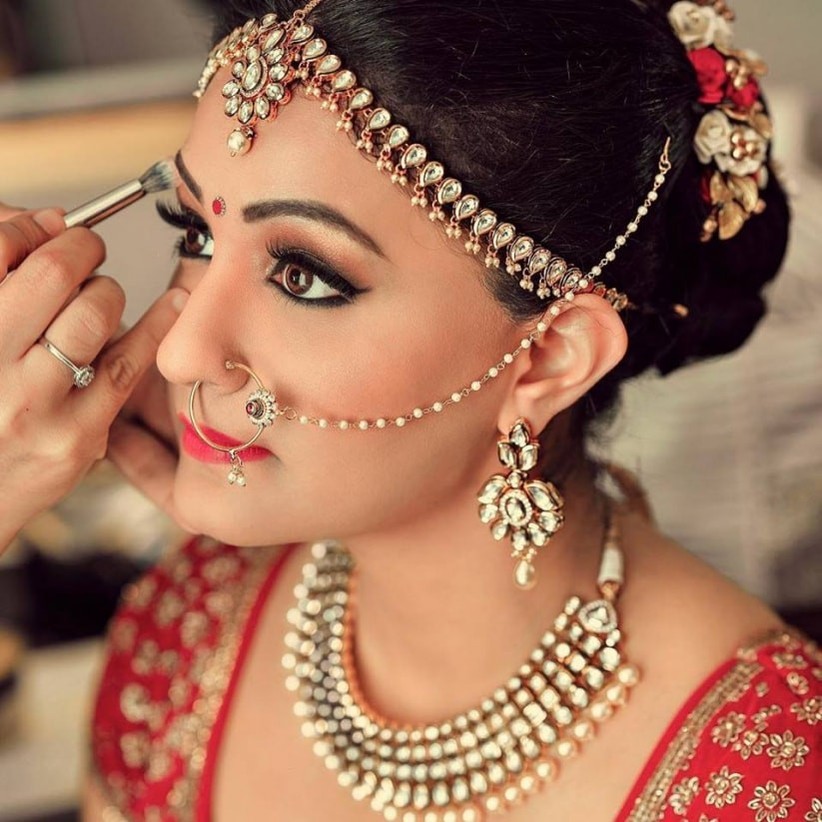 Kangan & Chooriyan
Chooriyan & kangan is a basic parts of women's beauty. Women's makeup is incomplete without Chooriyan & kangan. Chooriyan which is also known as bangles is a common fashion accessory. Red bangles with red bride dresses make the matching complete. Brides also wear Kangan but kangans are worn on the start of the hand because of their wide width. Artificial Kangans are trending but brides usually wear gold Kangans.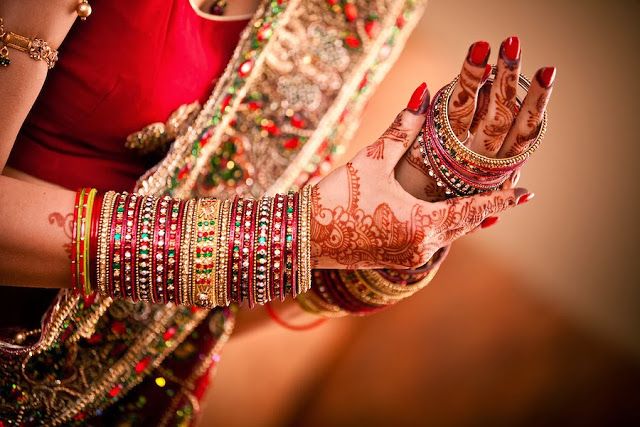 Purse
The woman is incomplete without a purse. In ancient times purse was used for carrying necessary things but now it has become a fashion to carry a purse. Whether it is a wedding shopping in the market or hanging out purse has become a common part of dressing for women. The purse has many varieties but there are two basic varieties present in markets first is the handbag and the second one is the clutches purse. The Clutch looks perfect with the bride wearing a lehenga.
Flowers
Flowers are a symbol of peace, happiness, and love. At weddings, flowers are very essential in the whole world. All religions have different types of cultures and traditions but the common thing which will be present at the wedding of nearly all the nations and religions are flowers. Furthermore, Flowers are carried by western brides, and in India, brides wear flower garlands and in Pakistan, Muslim brides decorate their hair with flowers.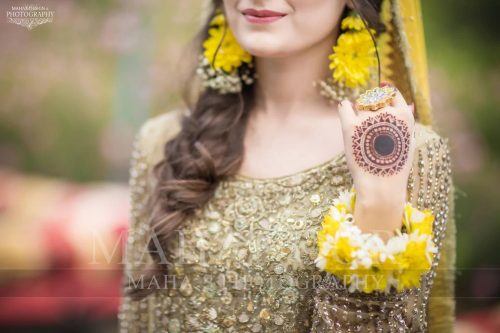 Makeup
I think I should not write anything about makeup because all of you know about the importance of this item. Makeup makes you perfect. It washes out your face pimples and dark spots. It clears out all the spots of your face. With makeup, brides get a new look and look like an angel.
See More: Brand New Pakistani Traditional & Cultural Bridal Dresses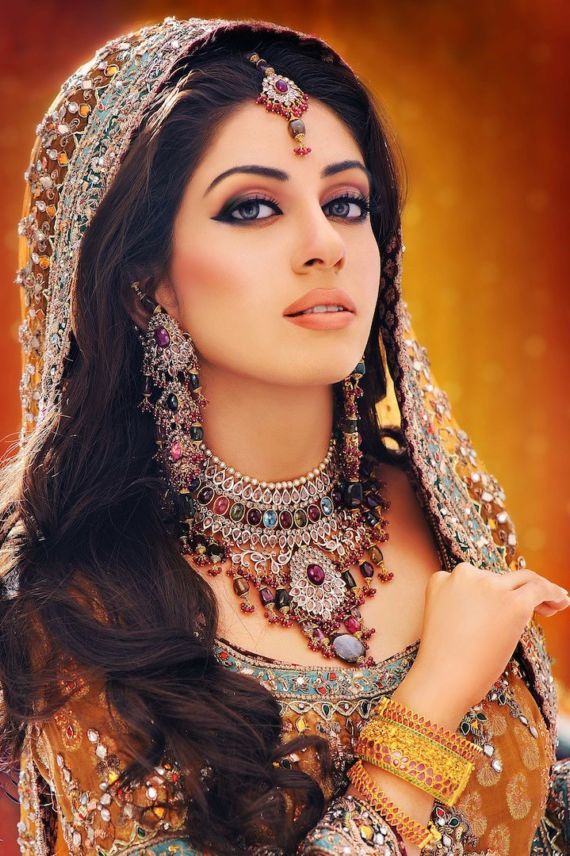 Bindia or Maang tikka
Bindia or Maang tikka is a famous ancient but still in fashion forehead jewelry. In addition, this is forehead jewelry which is often made up of gold. This fashion is famous in India, Bangladesh, and Pakistan only.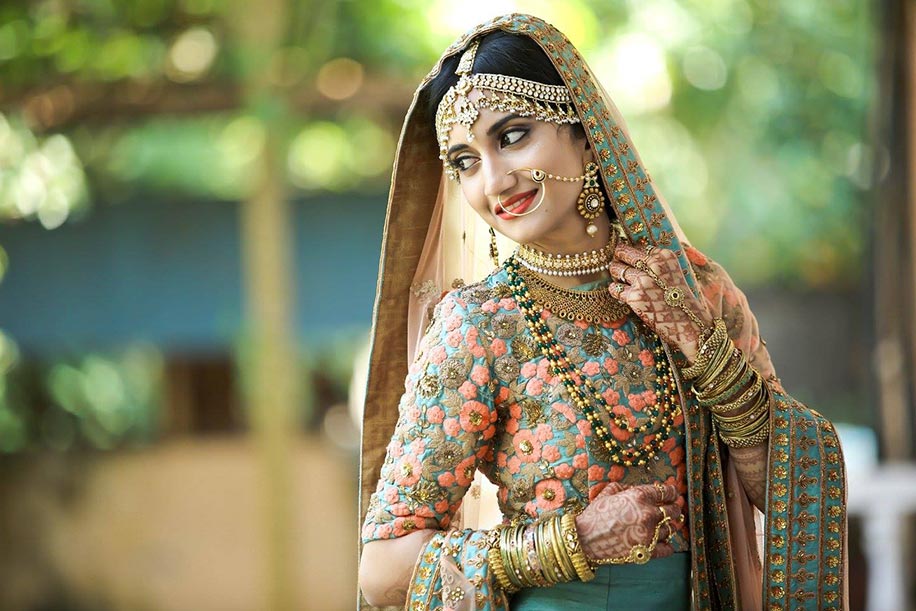 Jhumka
A set of earrings is known as a pair of "Jhumka". Here we are discussing jhumka fashion of brides. Moreover, usually, a Jhumka set is matched with all the jewelry. Small jhumka set is trending among brides due to their attractive appearance.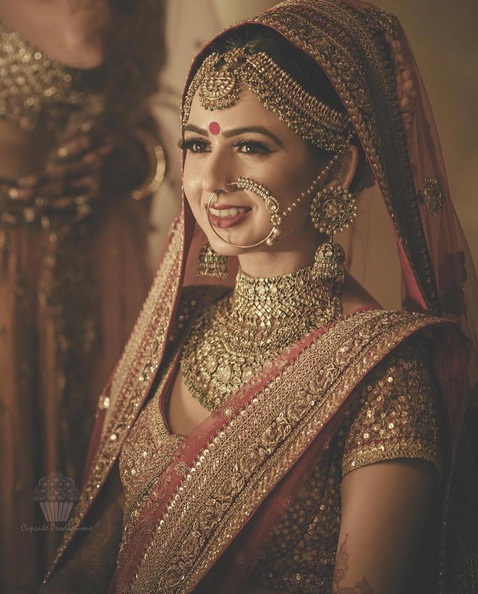 Matha Pattis
An ancient fashion was adopted by Afghan tribes in the early 19's. Matha Pattis is jewelry for the forehead and whole head. Matha pattis were made up of gold in the past but now due to the huge price of gold this is coming is artificial material still, some brides prefer to wear matha pattis made up of pure gold. In addition, this jewelry is perfect for those brides who have heavy dresses decorated with heavy natural pearls and stones.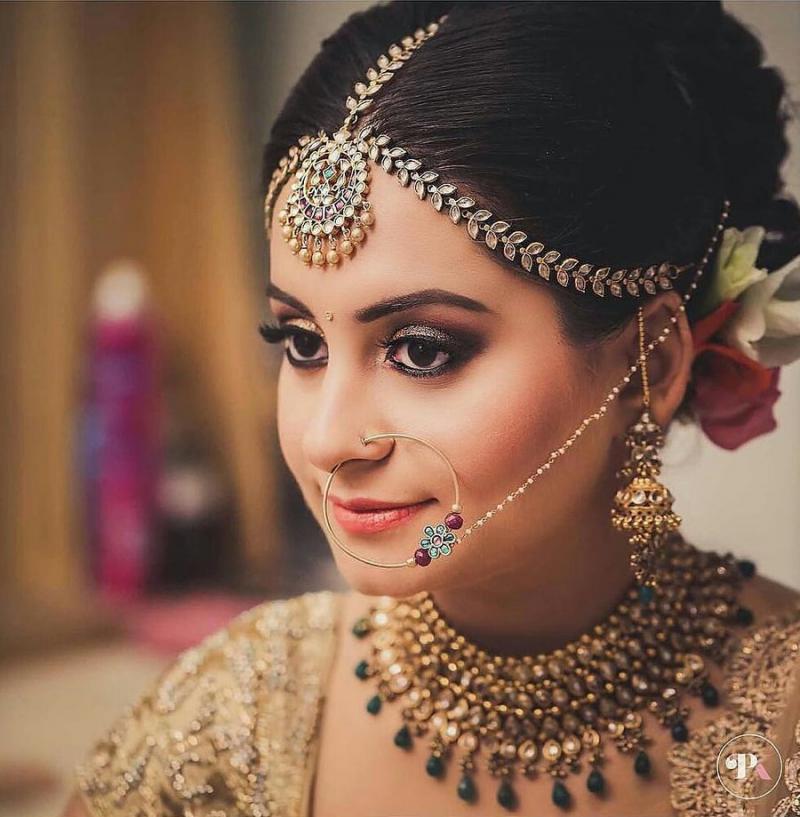 Furthermore, Take a look at these basic fashion accessories for brides, and don't forget to comment below.