Pakistan Day Sale On Clothing Brands 2023 In Pakistan
Like every year, in 2023 all famous clothing brands of Pakistan have started to provide Pakistan Day Sale 2023 offers. As we know, the month of March has begun, which means the day of patriotism is very close.
So Girls what do you think about your new Summer clothes? If you haven't purchased yet, we're here to help you to purchase the right clothing for Pakistan Day 2023. Let's update your summer wardrobe with these amazing ready-to-wear and Unstitched clothing.
Pakistan Day Sale On Brands 2023 In Pakistan
Well, when we talk about the most popular brands in Pakistan, Junaid Jamshed comes first into our minds. Furthermore, over the years, many other brands have taken their place in the Pakistani fashion market.
Therefore, here we are sharing almost the top 10 clothing brands Pakistan Day Sale 2023 offers with starting and expiry dates. Hence, you don't have to worry about your clothing. Because style street fashion blog shares all trending resolution day sale dresses for women, kids, and men's wear.
This year almost 10,000 products with many categories of fancy fabric are available at sale prices up to 50% to 70% discount. Here we are sharing some masterpieces of unstitched and ready-to-wear summer outfits to wear on Pakistan Day (23rd March) 2023.
About 23 March (Pakistan Resolution Day)
23 March is a very important day for Pakistanis. Because on that day the Resolution of Pakistan was passed in Manto Park Lahore.
In order to celebrate the upcoming Pakistan Day Sale 2023, all leading brands provide online shopping discounts. So, never miss this chance and take advantage of resolution day sales in Pakistan. Shop online favorite brands online dresses, shoes, bags, makeup, and other accessories.
Let's Check Out Pakistan Day Sale 2023 By Top Brands
J. Junaid Jamshed Pakistan Day Sale 2023
Beechtree Pakistan Day Sale
Morbagh Pakistan Day Sale
Ndure Pakistan Day Sale Flat 30% Off
Bareeze Pakistan Day Sale 2023
Bonanza Sale (23rd March) Discount 60% Off
Ideas 23 March Sale 2023 Upto 50% Off
Motifz 23rd March Pakistan Resolution Day Sale
Tarzz Sale On Resolution Day
Khaadi 23 March Sale
Alkaram Super Deals
Edenrobe Big Resolution Reward Flat 20% To 50% Off
Diners Pakistan Day Sale Flat 23% Off
Saya Sale 23% To 33% Off
MTJ Sale
Junaid Jamshed Pakistan Day Sale
J dot providing 23rd March J. Gala Sale starting from 8th March 2023. Furthermore, customers can get flat 23% and 40% off prices on all clothing and accessories. The sale ending date is not yet confirmed. Enjoy the summer sale with J. brand live now.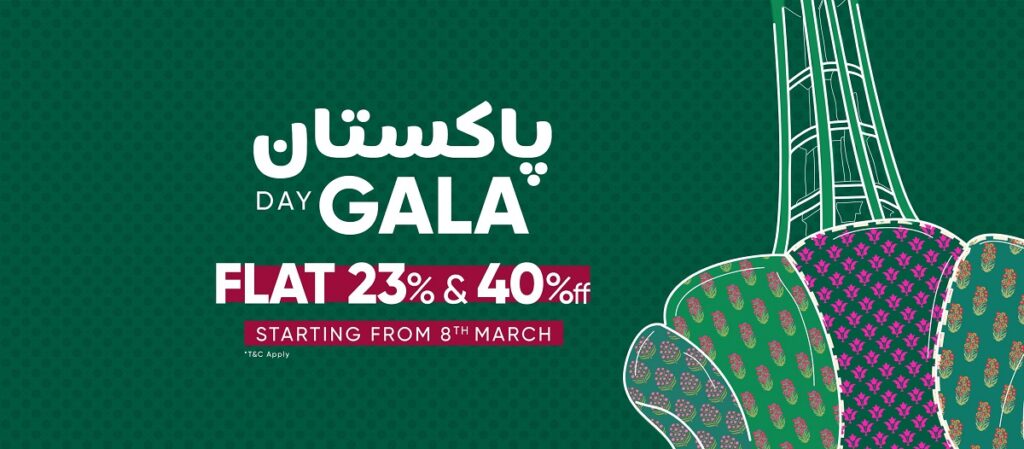 ---
Beechtree Resolution Day Sale 2023
The Beechtree Resolution day provides flat 23% off sales and discount offers to start on 17th March till 19th March 2023. more details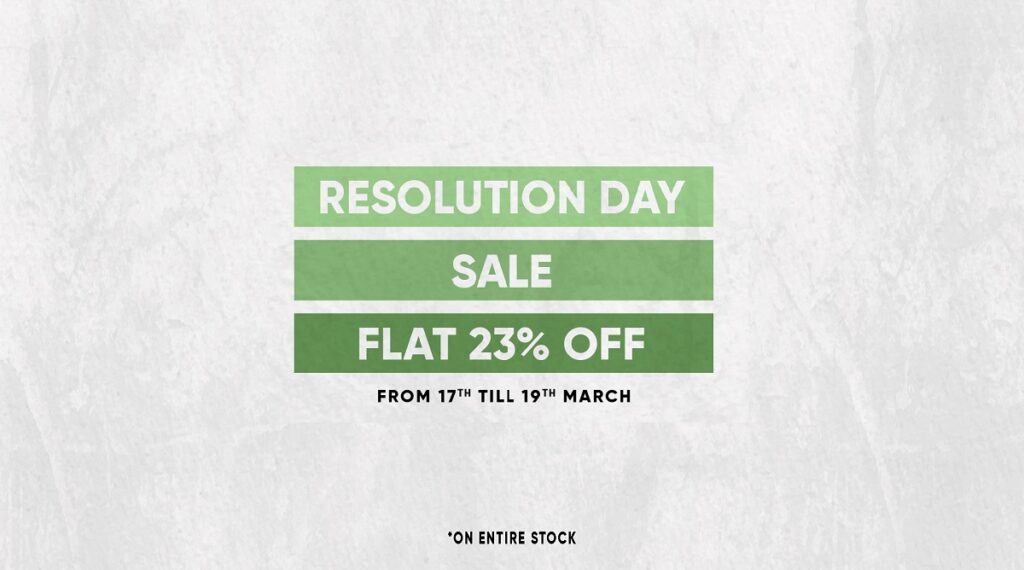 Morbagh By Beechtree Pakistan Day Sale
Morbagh By Beechtree Pakistan sale is now live and available in-store & online. Let's save a flat 23% discount on morbagh resolution day sale.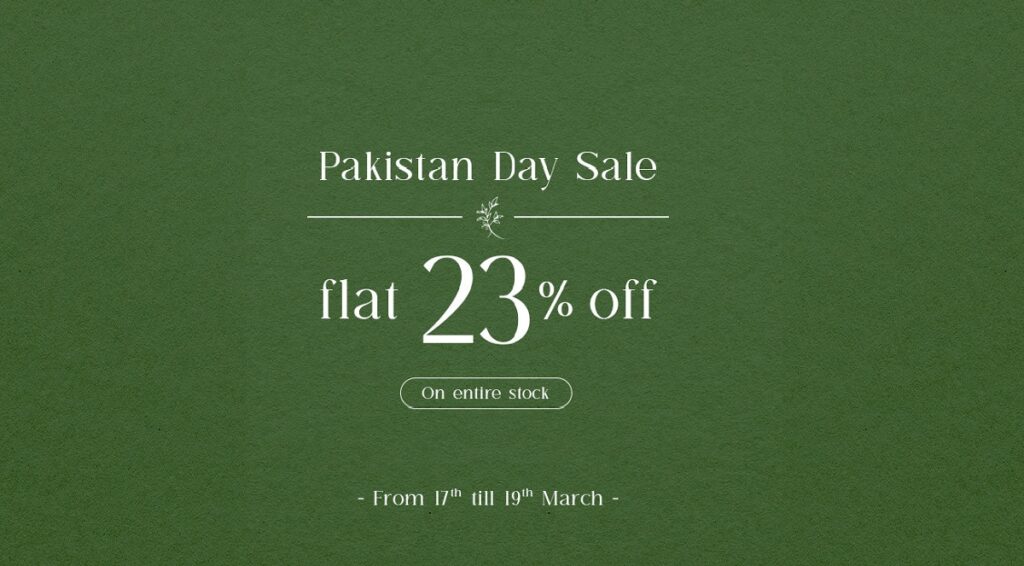 Ndure Sale
Ndure brand also provides flat 30% off prices on all men, women, and kid's wear shoes. Let's shop online for your best shoe from Ndure.
Bareeze 23rd March Sale
Celebrate 23rd March with Bareeze Pakistan day sale collection 2023. And save now up to 50% on all women's clothing. Here we are sharing shop online links to buy now.
Bonanza Satrangi Pakistan Day Sale
Bonanza Pakistan Day Sale 2023 is now providing up to 50% off prices on all products from 16th March 2023. Therefore, Bonanza Satrangi fashion brand dresses are now available at half prices for a limited time period. For more details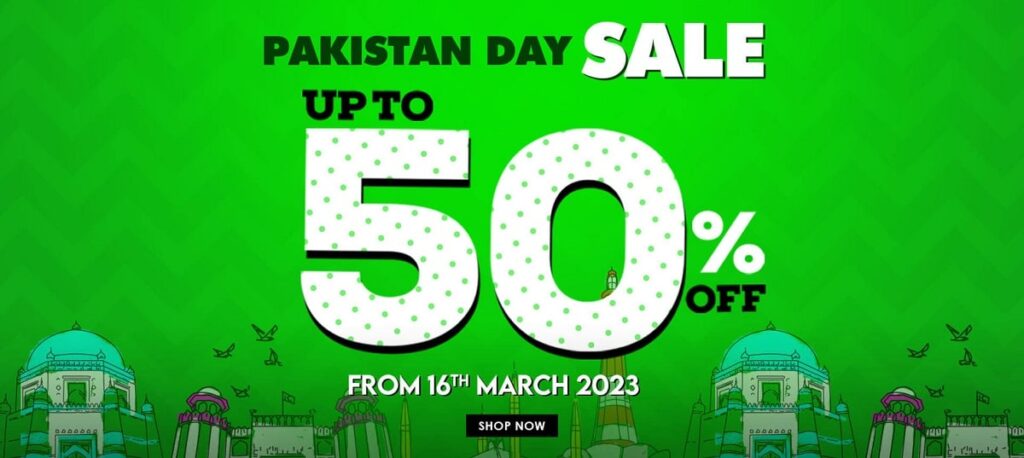 Ideas By Gul Ahmed Pakistan Day Sale
Ideas By Gul Ahmed brand recently launch their Pakistan Day Sale collection 2023 flat 40% off prices. Now this sale is online & available in-store also. Furthermore, through 23rd march sales offers customers can also get free delivery services across Pakistan. 40% Discount offer only available on women's clothing, men's clothing, shoes, bags, and home products.
Al-karam Studio Sale
Alkram Studio New Spring Summer Sale is live now and provides up to 40% off prices. Available from 10th March To 23rd March 2023. Let's celebrate this summer with Alkaram studio summer sale dresses 2023.
Edenrobe Sale
Edenrobe Pakistan Day Sale "Big Resolution Reward" flat 20% To 50% Off prices on the new arrival. Furthermore, the sale starts on 11th March 2023 and till stock end. Let's make your order at Eden Robe Shop and get an urban summer look.

Diners Pakistan Day Sale
Diners Pakistan day sale offers flat 30% off prices on all products. The sale starts from 9th March 2023 till stock end available Online & in-store also. Therefore, buy your favorite items from the diners' shop and save 30% now.

Saya Sale
Girls, are you ready for Saya Pakistan Day Sale 2023? Save flat 23% to 33% off on your favorite summer products. Furthermore, saya sale expires on 27th March 2023. Explore the new summer unstitched and ready-to-wear collection in Pakistan.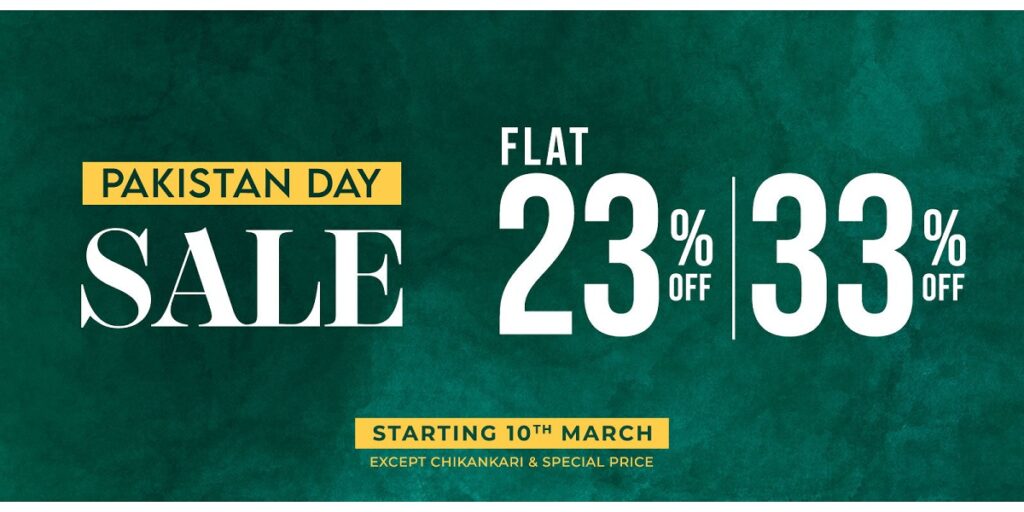 MTJ Pakistan Day Sale
Mtj brand also providing a Pakistan Day Sale flat 23% & 40% Off on all summer unstitched & stitched collections 2023 from 17th March.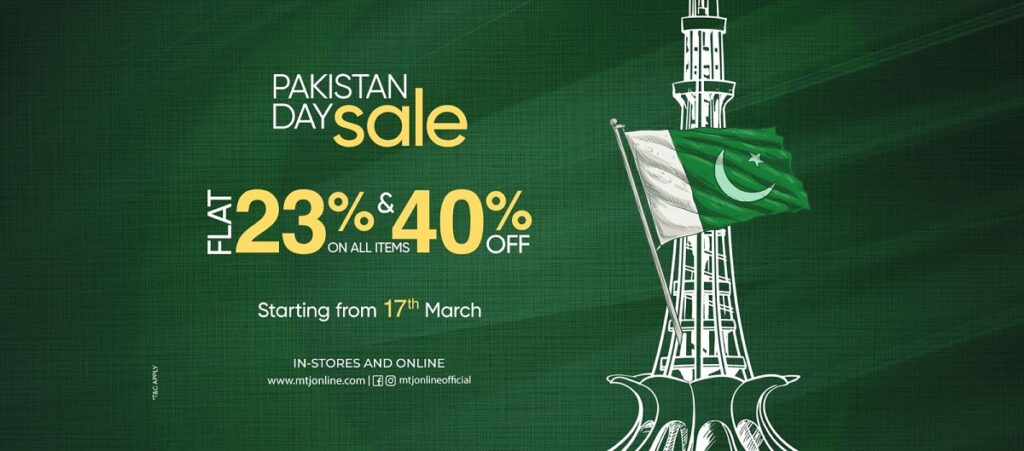 Author Conclusion:
Let's celebrate the upcoming Pakistan Day Sale with top clothing brands. All brand 23rd march sale collections are now available online & in-store also. We also give all sale links to buy easily in the whole of Pakistan.