Mayo Dresses Designs for Women in Pakistan 2023
Hi, girls today we are going to the latest eastern wedding wear Mayo Dresses 2023 ideas. As we all know that mayo dresses are specially designed in Pakistan and India. Normally bridal wear mehndi dress designs are containing colorful and unique prints. During wedding days Mayo function plays an important role. Therefore, the event of the mehndi and mayo celebration will be full of joy and entertainment. Furthermore, these events are marked by the colors of henna and shades of yellow.
As we know that it is the wish of every bride and groom to celebrate his/her mehndi function with joyful melodies, rituals, and songs. Now the mehndi function getting trendier and has risen to a whole new level. And these mehndi ceremonies were organized with dance parties, sangeet and songs to add great fun. Now a day many leading fashion brands are launching their fancy bridal fabrics collection in 2023. Here in this post, we are going to share fancy Mayo dress designs for Pakistani women.
Latest Bridal Wear Mayo Dresses Designs 2023 Ideas for Bridal Mehndi Functions
As we discussed above the Mehndi/Mayo functions have gained much importance during wedding days. So, choose the best bridal Mayo outfits for this occasion. Through these images, you can easily keep in mind outfits that are best to wear during the Mehndi functions in 2023. Due to Mayo function dress trends the newest and most distinctive variants and trends.
The best-recommended outfits for the mehndi function are Lehenga and sharara outfits. As we see in these images that old gone trends now come back into the current fashion trends. Here are sharing the best designs for the bridal Mehndi dresses designs 2023 ideas for Pakistani ladies.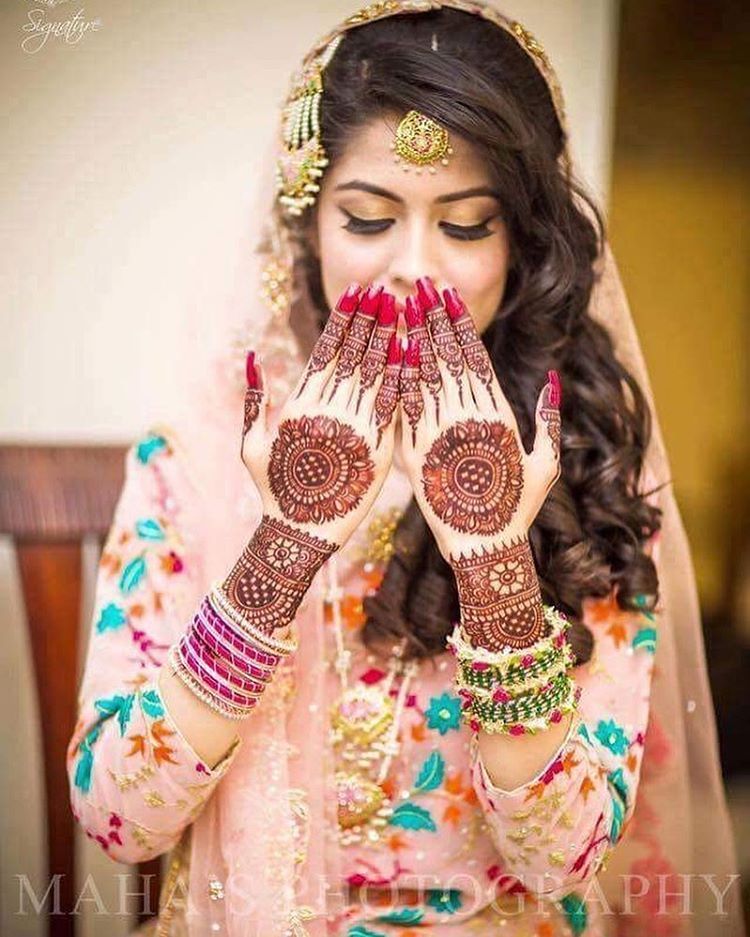 Latest Sharara & Lehenga Designs For Mehndi Function 2023
Furthermore, the latest collection of new mehndi dresses of sharara and lehengas is now launched by all leading fashion brands in Pakistan. Here you will find the best post of Mayo outfits ideas in Pakistan by brands, Maria B, Zinab chohtaanni, and other famous clothing brands. Normally we can see that lehnga's, sharara are available in different shades of yellow, green, and orange colors. Furthermore, the most usable combinations of colors are green and ivory. Both colors are getting more & more popular among bridal wear Mayo Dresses 2023 ideas in Pakistan. In addition, if the bridal doesn't want to wear bright and shiny colors then can get a green mixe with beige or ivory.
See More: Amna Ajmal Mehndi Dresses for Cute Wedding Girls
Most popular fashion designers in Pakistan still prefer to give traditional appeal. So, all of these dresses were containing hue embroidered work over the dupatta with hints of shimmer. Or the side we can see that shirt of the lehenga or sharara is kept plain and simple with fine embroidery work. Furthermore, long shirts in double style are also in fashion trend. Therefore, the mayo/Mehndi lehenga is also carried into the latest fashion trends in shirts.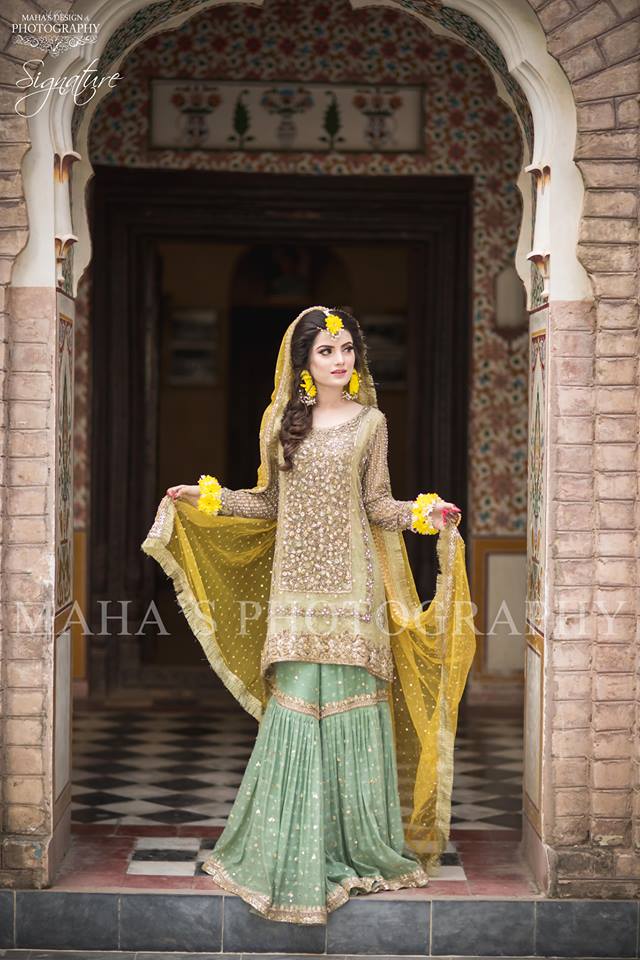 New Arrival Bridal Mehndi Frocks & Ghagra Choli Designs
In this paragraph, we are going to share the best information about mehndi frocks & Ghara choli. Now these days' ghagra choli and stylish long frocks are getting very popular in mehndi functions. Furthermore, both lehnga and shararas are giving you beautiful and classy flares for bridal outfits.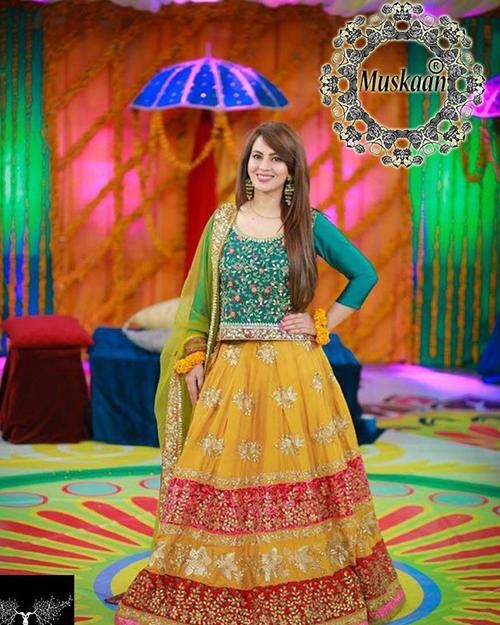 Traditional Bridal Mehndi Shalwar Kameez Dresses 2023
Here are shalwar kameez mayo dresses that are one of the oldest and most traditional mehndi dresses. These dresses still look beautiful and stylish with churidar pajama for mayo functions.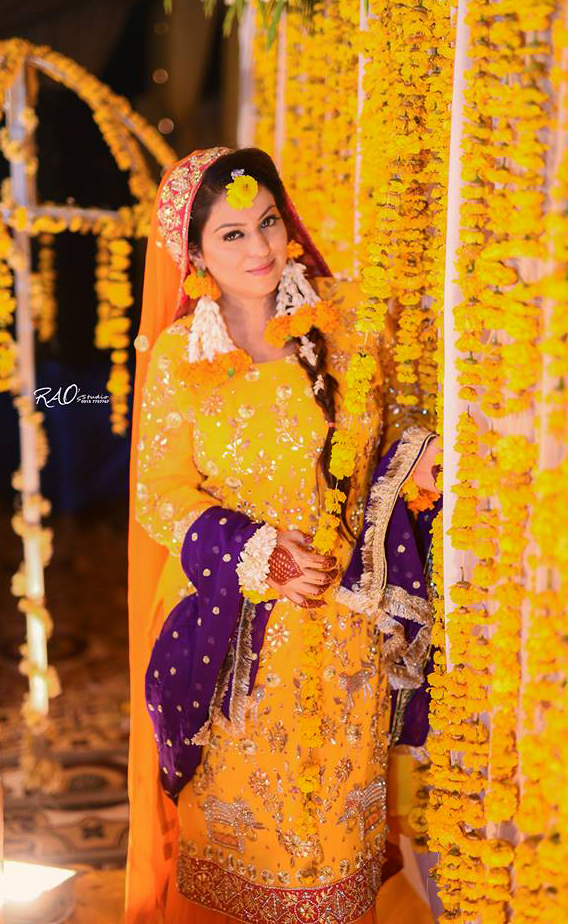 Special Mehndi Event Dresses for Brides 2023
Mehndi is a special event which is a very special part of the wedding. This event is celebrated before the wedding day and on this day the bride wears a beautiful yellow color dress. Nowadays brides also prefer multicolor Mehndi dresses. Mehndi Dresses for Pakistani Brides is a very confusing point for the bride and her family. As you know every bride wants to look fabulous and glowing in her marriage.
Hence ladies prefer the most attractive and charming dresses for wedding occasions. In Asia, before the wedding day, a special occasion is celebrated for many centuries. This function is said as Mehndi day and it is the function of yellow color. We have posted the latest Mehndi dresses for Pakistani Brides in this post.
Latest Bridal Mehndi Dresses Designs Fashion Trends 2023
All of us usually know about Mehndi. It is a natural color that is used to color hands. On the day of the Mehndi function bride and groom wear yellow color dresses and the hands of the bride are colored with this color. However brides now also wear multicolor dresses. Other natural color dresses are now also preferred by brides to get a gorgeous and stunning look. Brides also like these multicolor and shining dresses and these give a new and different look to them on Mehndi day.
Now many new designs on the special dresses for brides for the Mehndi day function have been revealed by famous and experienced designers. These multicolor dresses are specially designed for brides for the Mehndi day event and have the shade yellow color but not completely yellow color.
Beautiful Winter Mehndi Dresses For Brides 2023
Embroidery dresses and embroidery work is more preferable in both Pakistan and India. Brides like wear dresses decorated and specially designed with stones and heavy thread & pearl work. Consciously a bride chooses the best for their wedding. The latest fashion is considered as the main point while shopping fa or a wedding dress. Hence girls prefer multicolor as compared to those single-color dresses.