Maria B Eid Collection 2022 On Sale Upto 50% off Now
Maria B Sale Eid Collection 2022 – Now it's time to shop online Maria B recently launched eid Sale lawn dress designs 2022. As we know that these days are important for women to shop online for eid dresses. Due to the upcoming eid festive Maria B is going to launch his summer season ready-to-wear dresses for Pakistani women. Furthermore, these days Muslims are enjoying Ramzan month full of blessings and whole day fasting.
In previous posts, I have shared many summer and eid collections by leading Pakistani clothing brands such as Alkaram Studio, Gul Ahmed, Sapphire, and many more. These days ladies are finding stylish lawn dresses for women, today get outclass luxury lawn dresses for the upcoming eid festive. Yes, here we are going to share the leading famous clothing brand Maria B Sale Eid Collection 2022.
Maria Eid Collection 2022 Unstitched With Prices
Are you finding modern and beautiful designer dresses? If yes then scroll down this post and get the most talented clothing brand luxury eid lawn collection 2022 for women. Furthermore, Maria B always provides innovative patterns and styles for women. This brand is also famous for its super hit kids wear clothing outfits in Pakistan and the whole world. Eastern and Asian ladies also like her beautiful eid lawn dresses 2022.
Stylish embroidered prints with luxury style cute dupatta for women pair it with funky and stylish khussa and tights and get the traditional look for eid. All the dresses are containing unique and fancy style outfits for women. today select your favorite brand Maria B clothing collection 2022.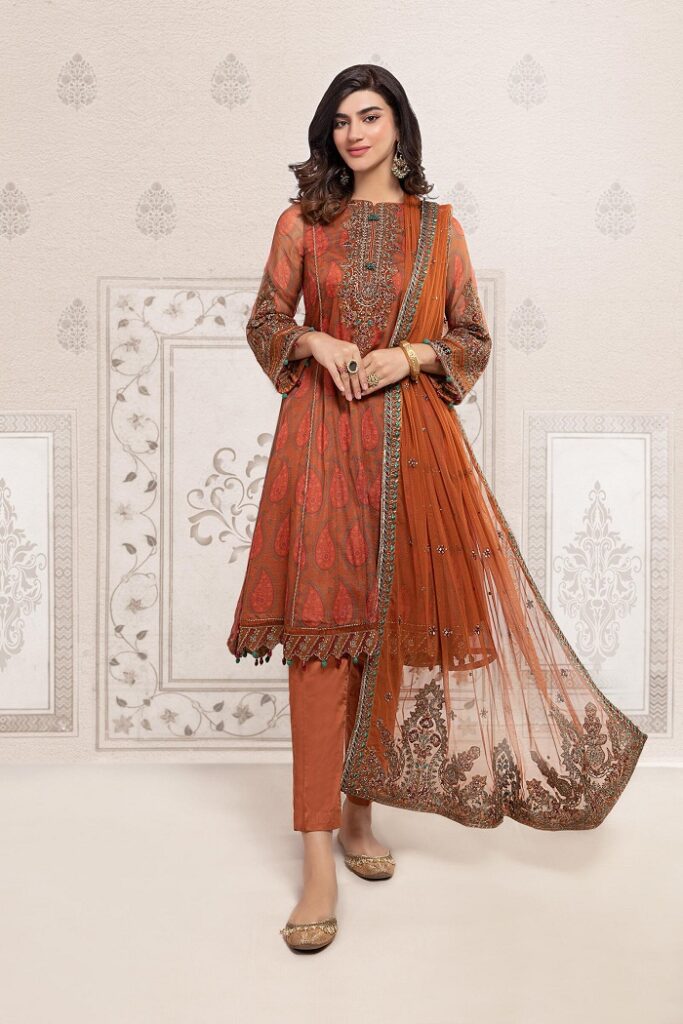 New A-Line Embroidered Shirt With Trouser and Dupatta Available for PKR:25,990/- only.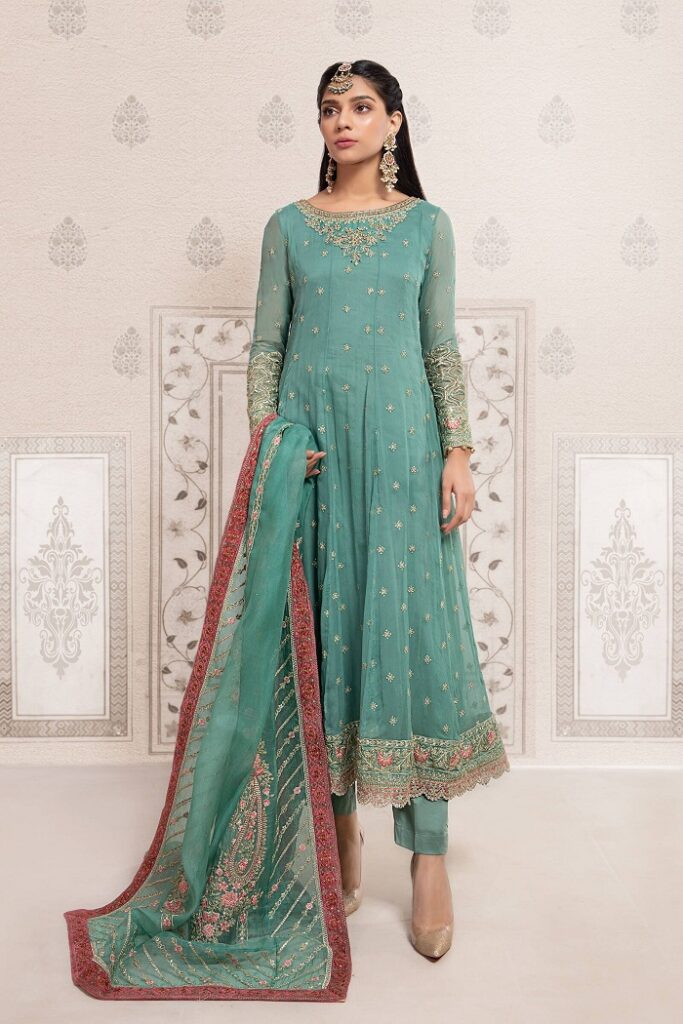 Aqua Color Maria b Luxury Long Frock With Straight Trouser and Embroidered Dupatta PKR:38,990/- only.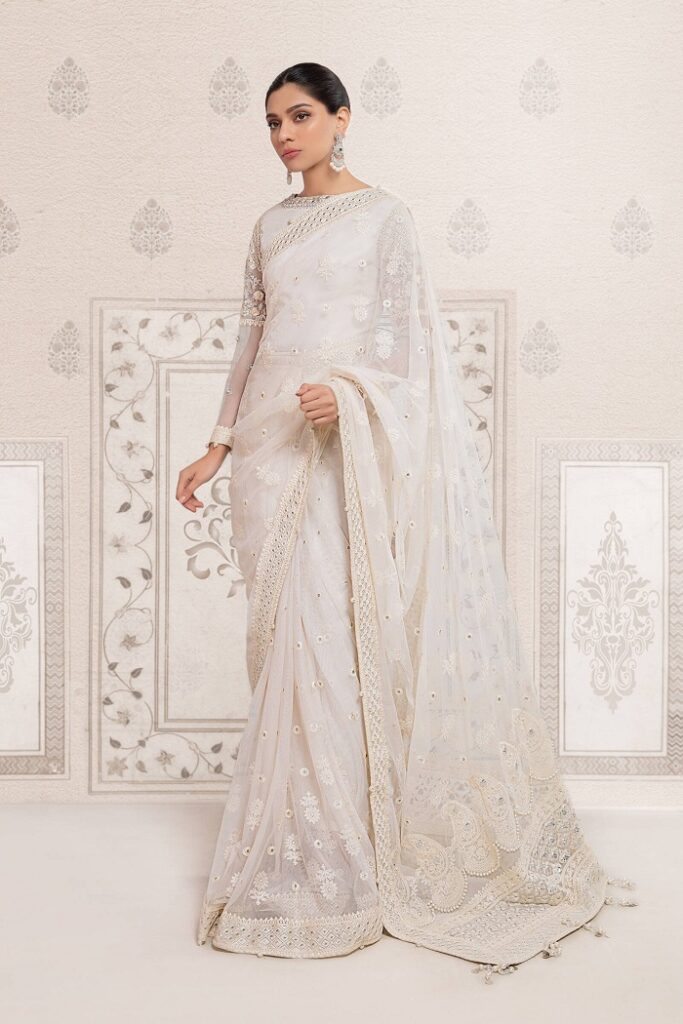 Off White color embroidered sari net with beautifully embellished pearl sari pallu and blouse PKR:28,490/- only.
Lawn Embroidered Shirt tulip shalwar lawn embroidered sleeves PKR:19,400/- only.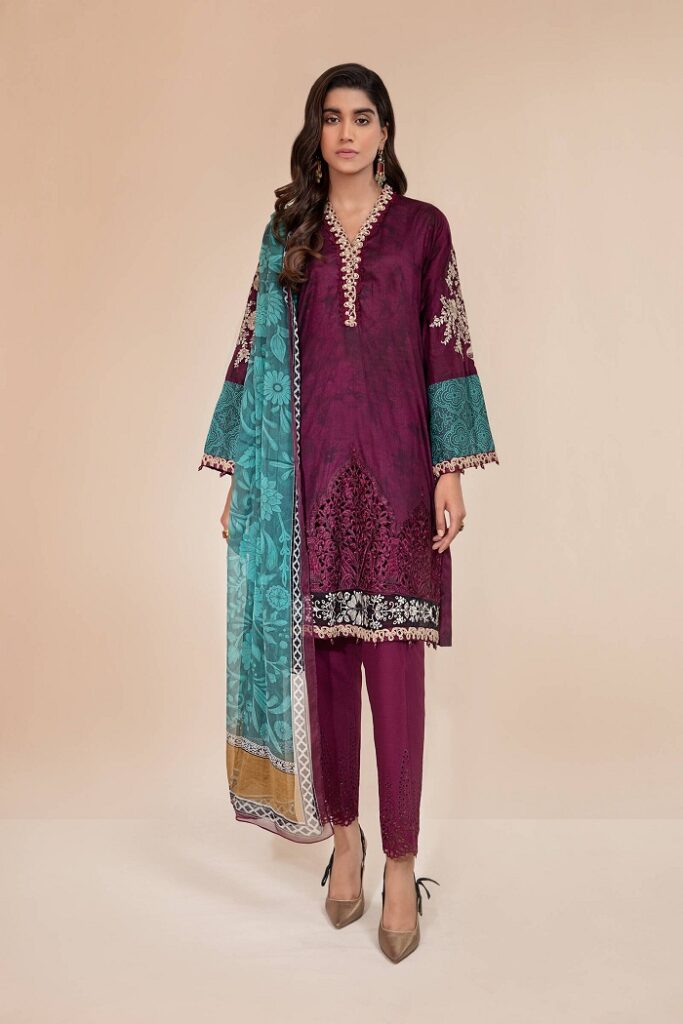 PKR:25,990/- 3 piece purple color suit.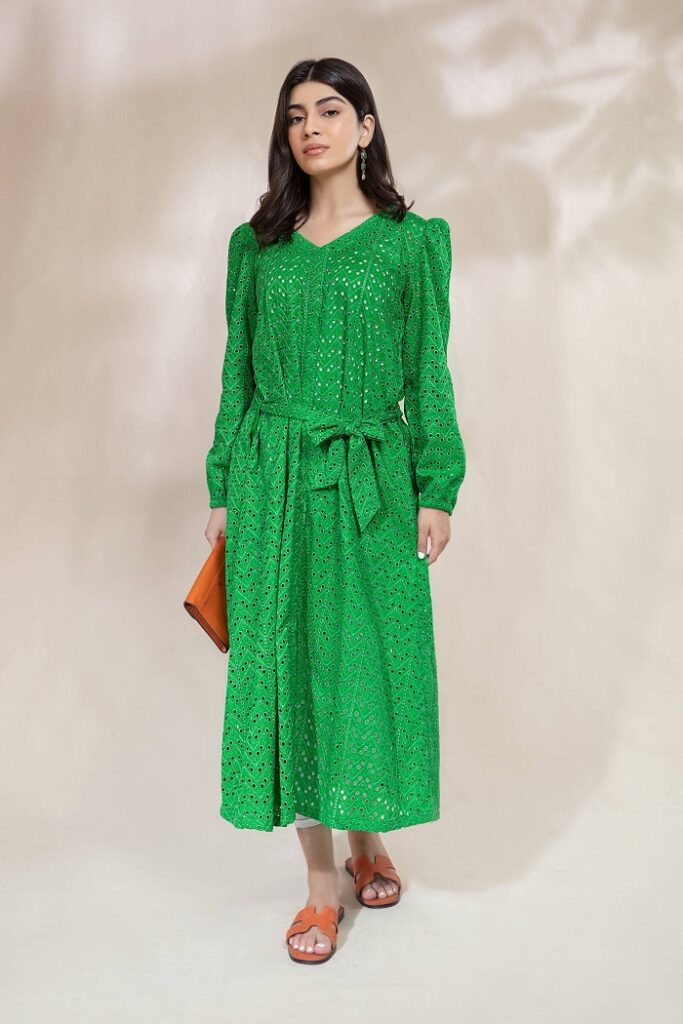 Stylish one-piece dobby lawn embroidered shirt with belt available PKR:6990 only.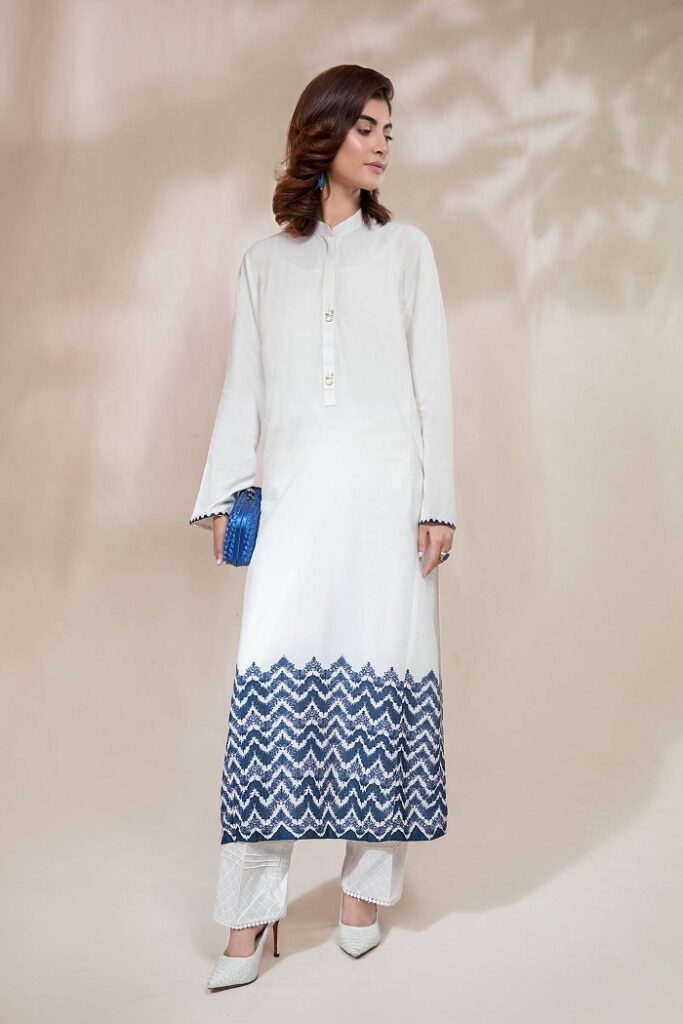 One-piece blue shirt for perfect eid look Rupees.2890 Only.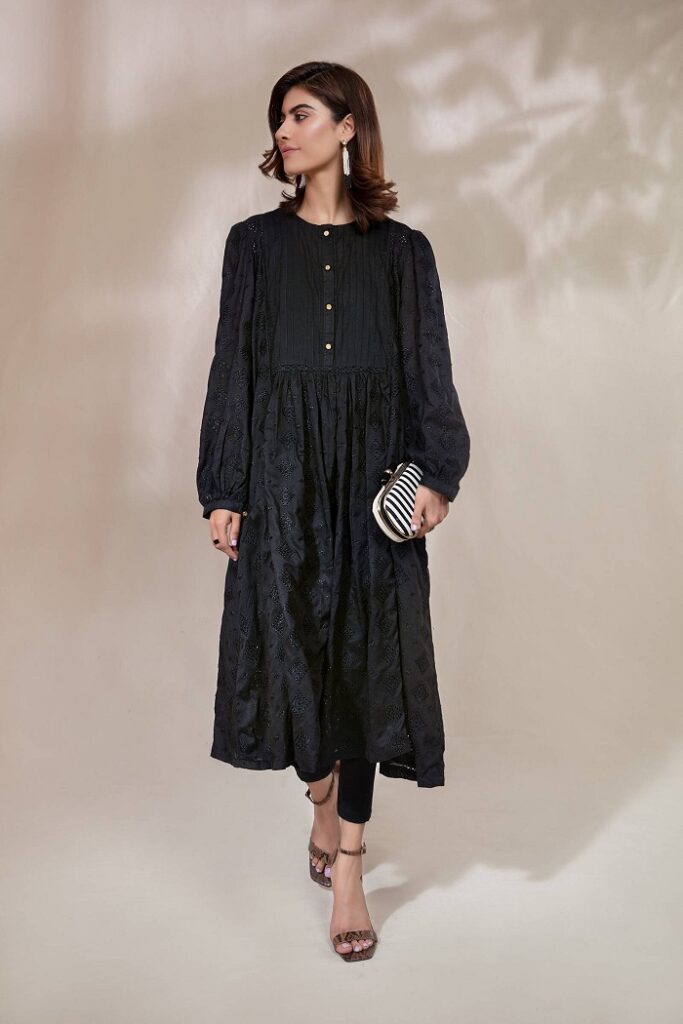 Beautiful black lawn shirt for best for eid occasion Rupees.6990 only.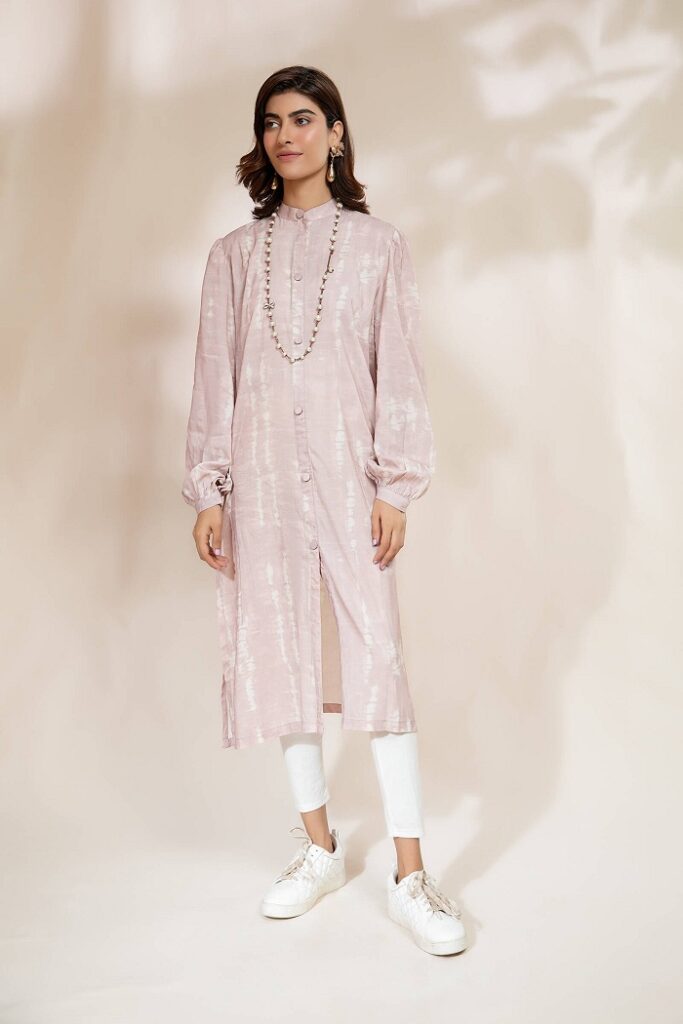 Digitally printed Type & Dye suit Rupees.2690 only.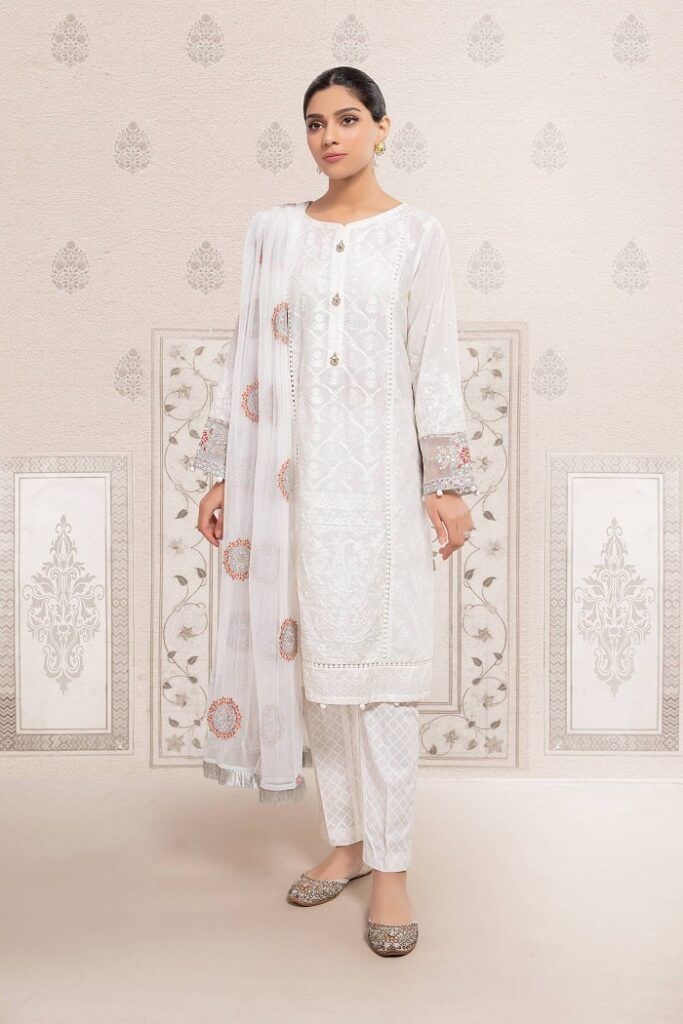 White color 3 piece luxury eid suit by Maria B Brand available for PKR:13,590/- Only.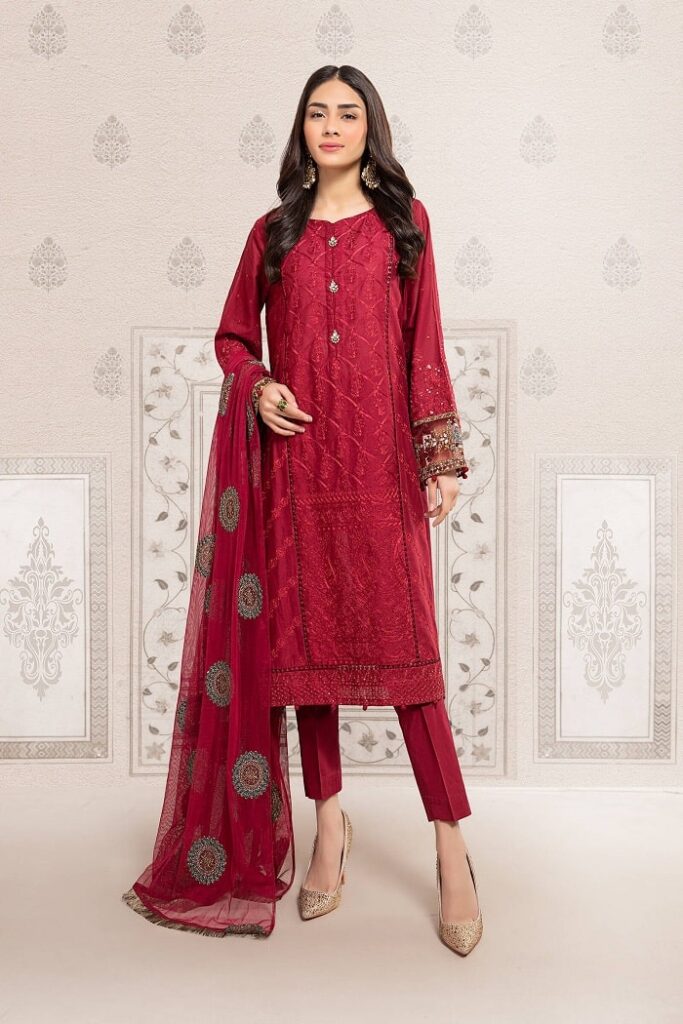 Red Straight shirt with embroidered panels, sleeves, borders 3piece suit PKR:13,590/- Only.
Light Blue 3 Piece embroidered suit PKR:13,990/- Only.
3-Piece Teal Un-stitch Suit PKR:13,990/- Only.
Maria B Luxury Eid Collection'22 Un-stitch Off White 3 piece karandi khaddi net shirt with cambaric trouser, Organza Trouser PKR:14,990/- Only.
Off White jacquard long frock with embroidered Dhaka Pajama and Khaddi Dupatta PKR:17,490/- Only.
Maria B Eid Lawn Dresses Designs 2022 for Women's
Hi! Girls today we are going to talk about the leading fashion brand Maria B new arrival Eid collection 2022 that is recently launched in Pakistan. Maria B Eid collection 2022 sale upto 70% off containing the top 10 amazing Eid dresses for women. Another amazing collection by the famous fashion designer of Pakistan Maria B. Furthermore, in this collection, you can see that all clothing dresses are containing new prints according to the latest fashion and styles.
In addition, as we all know that leading fashion designer Maria B introduced his wardrobe Mbroidered Eid collection 2022 sale for ladies furthermore, as we know that leading fashion brand Maria B is one of the best fashion brands in Pakistan. All dresses are mind-blowing, consisting of trendy and unique prints suits with fancy embroideries.
A beautiful shirt in ice blue color perfect for eid days in Pakistan Rupees.7190.
1 piece maria b lawn schiffli tiered dress with lace Rupees.7190.
Long embroidered white frock with heavy embroidery on borders 3 piece suit Rupees.42,890 only.
Stylish Olive Green Un-stitch Luxury Lawn 3 Piece Suit PKR:13,590/- Only.
Maria B special eid yellow luxury 3piece suit PKR:15,290/- Only.
Festive Wear Green Embroidered 3pc suit for ladies PKR:15,290/- Only.
Pink color straight chunri print shirt with matching trouser and multi color duptta perfect combination for eid days buy now only PKR:10,990/- Only.
White color long panelled frock paired with straight trouser and matching dupatta PKR:39,790/- Only.
Latest Maria B Festive Collection 2022 Up to 70% Off Sale
Maria B is one of the famous fashion selling brands in Pakistan that is always introducing embroidered collections for festival wear. This new arrival eid collection is specially designed for Eid days. Furthermore, this collection have containing embroidered pattern or provide eye-catching colors. The fantastic combination of color makes you speechless. This eid collection is a beautiful color scheme with delicate embroidery and stonework on it.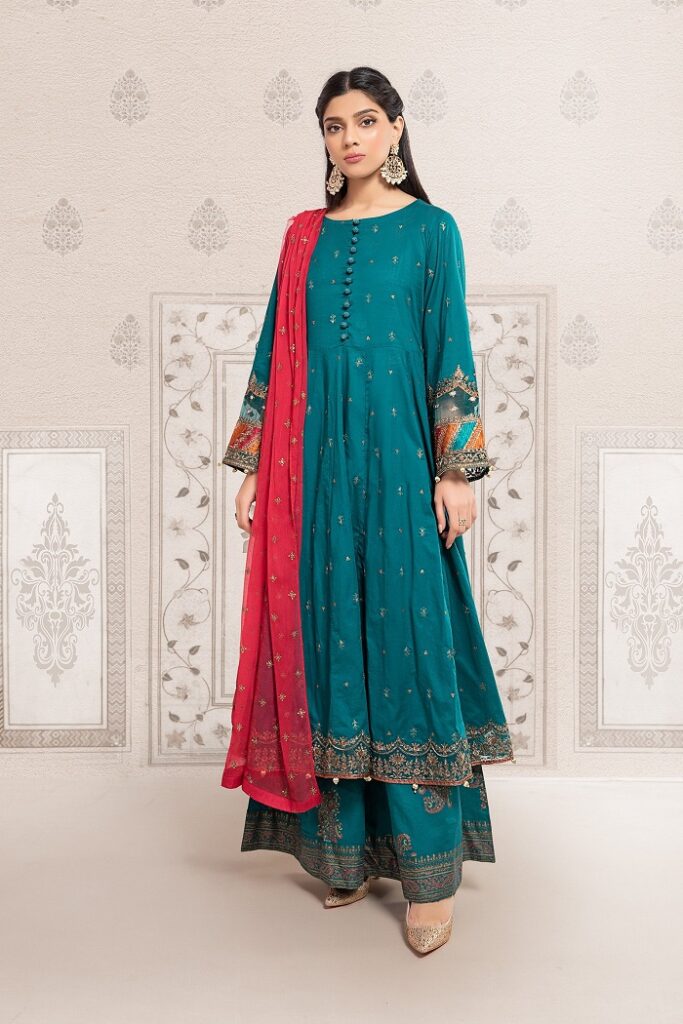 Beautiful teal 3 piece suit with embroidery on yolk, ghera, and sleeves available for Rupees.17490 only.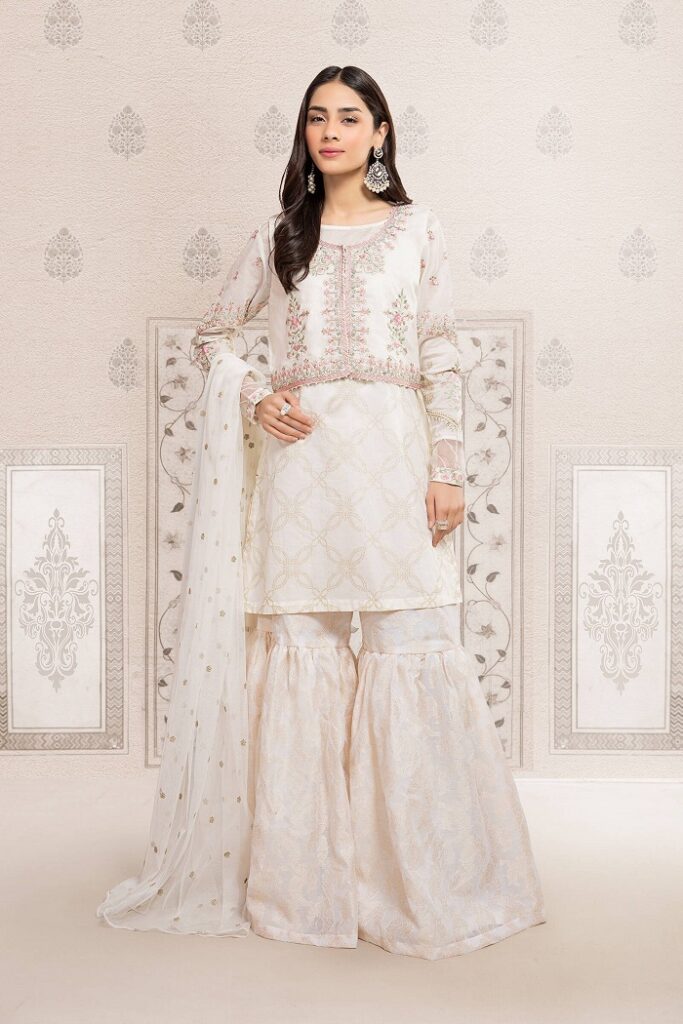 Stylish off white 4 piece luxury eid suit Rupees.16490 only.
Peach straight shirt with panels embroidered neckline three-piece suit Rupees.2890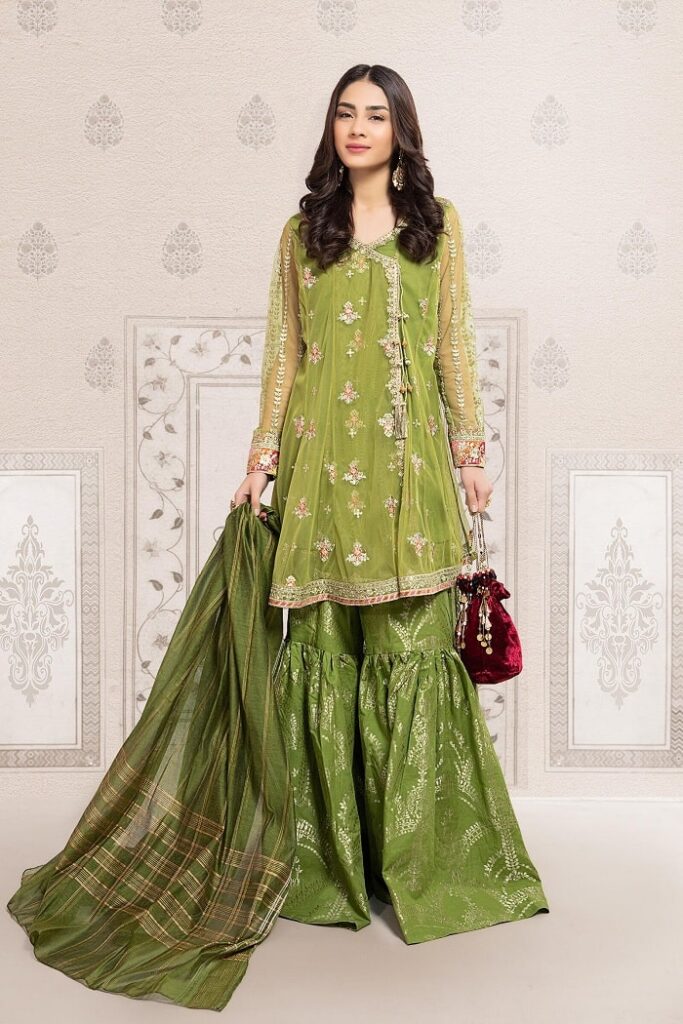 PKR:13,990/- Only.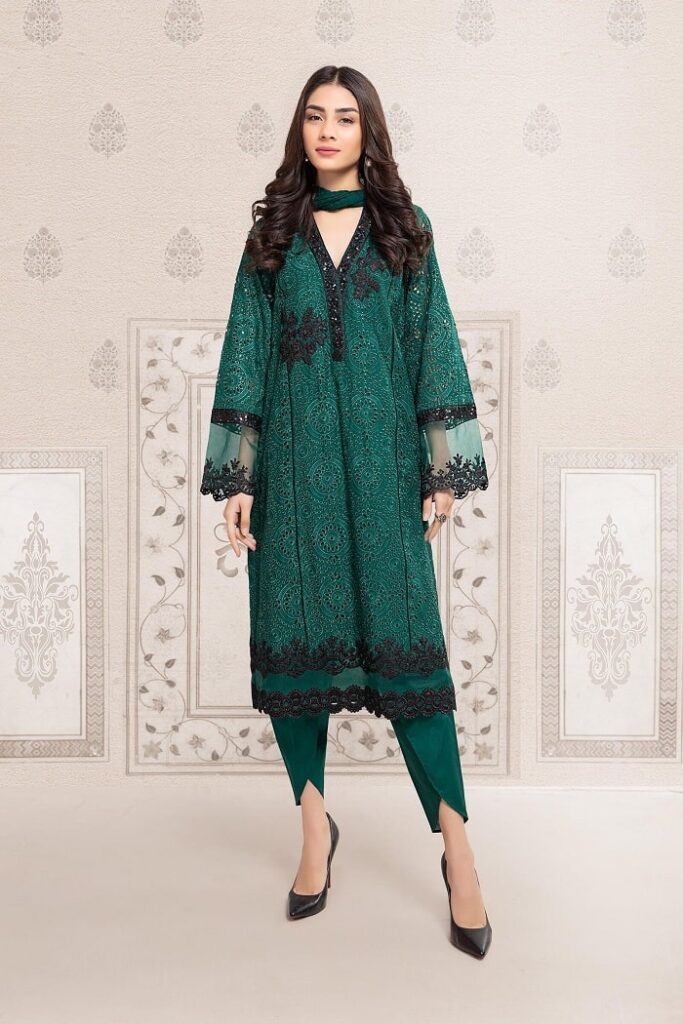 Green lawn 3 piece eid suit for women by Maria b brand Rupees:13,990/- Only.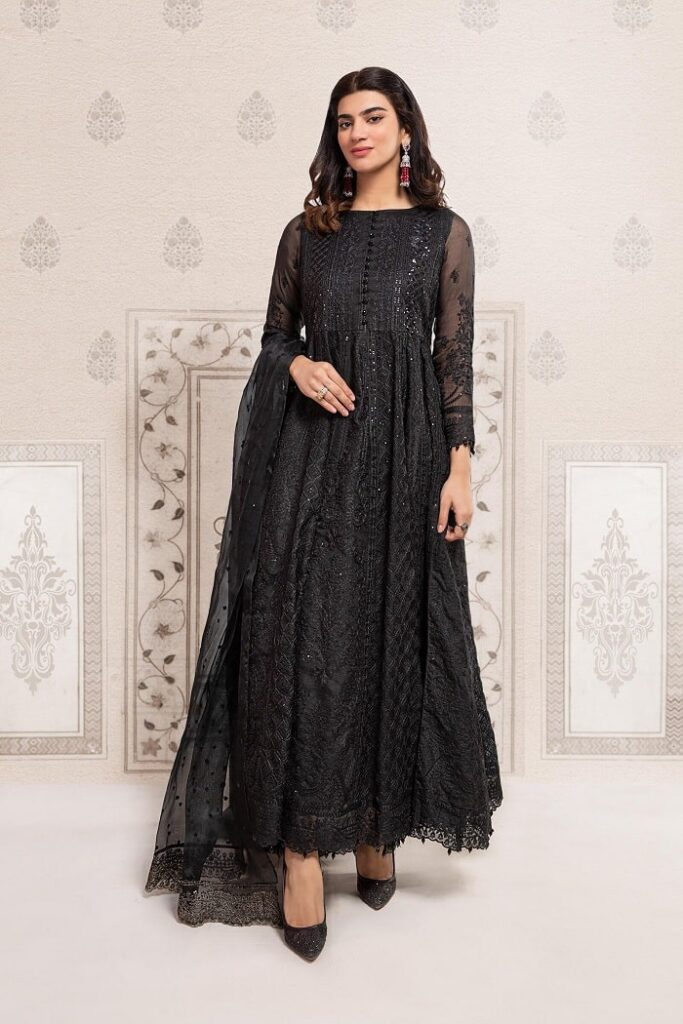 Black Color Long panelled frock with chickenkari and sequin embroidered pannels straight trouser and dupatta Rupees:39,790 Only.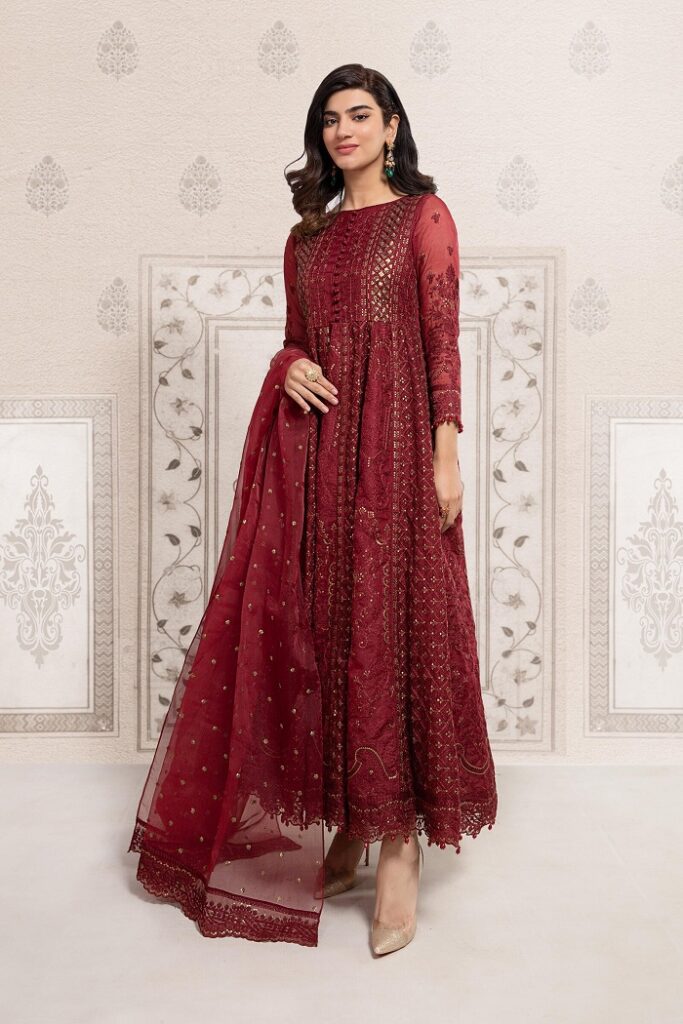 Maroon Long Frock With matching trouser and dupatta perfect for eid day buy now for just Rupees:39,790 Only.
Furthermore, Maria B new arrival Premium Eid collection is containing embroidery patterns with eye-catching colors. In addition, all of these fantastic colors will make you speechless. We can see that all Eid dresses have beautiful colors scheme with delicate embroidery stonework.
See More: Almirah Men Eid Shalwar Kameez
Maria B Eid Dresses Designs for Pakistani kids 2022
Maria B is a leading fashion designer in Pakistan, always presenting amazing fashion dresses for kids. A leading fashion brand wears trendy Pakistani women who have trust and love with the art of clothing.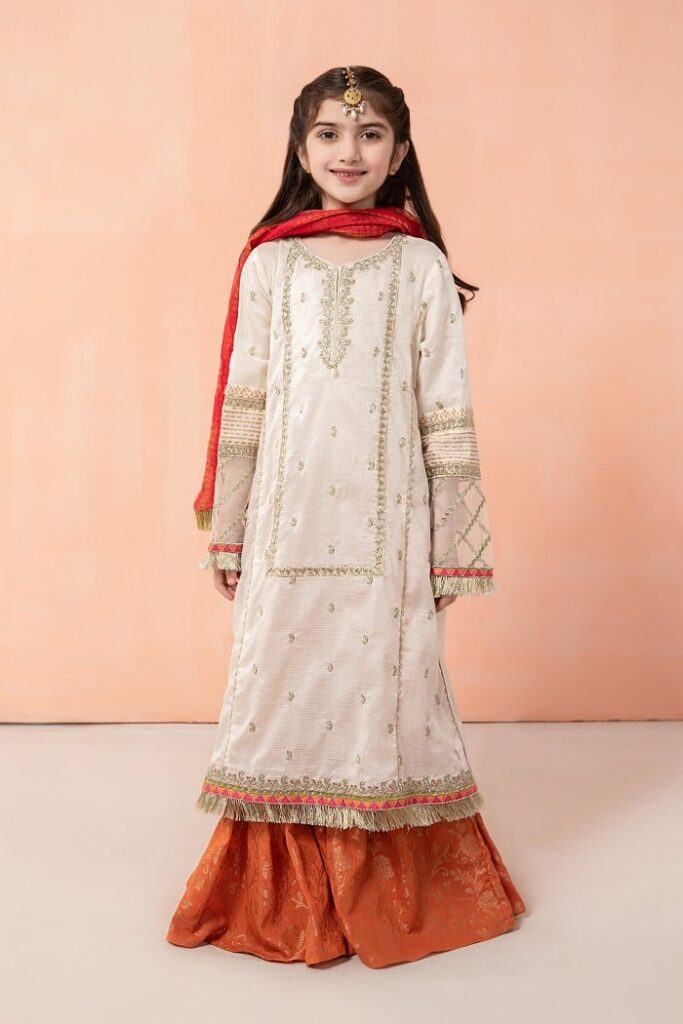 Stylish white color panelled shirt with jacquard gharara perfect for kid's eid wear in Pakistan Rupees:7,290 Only.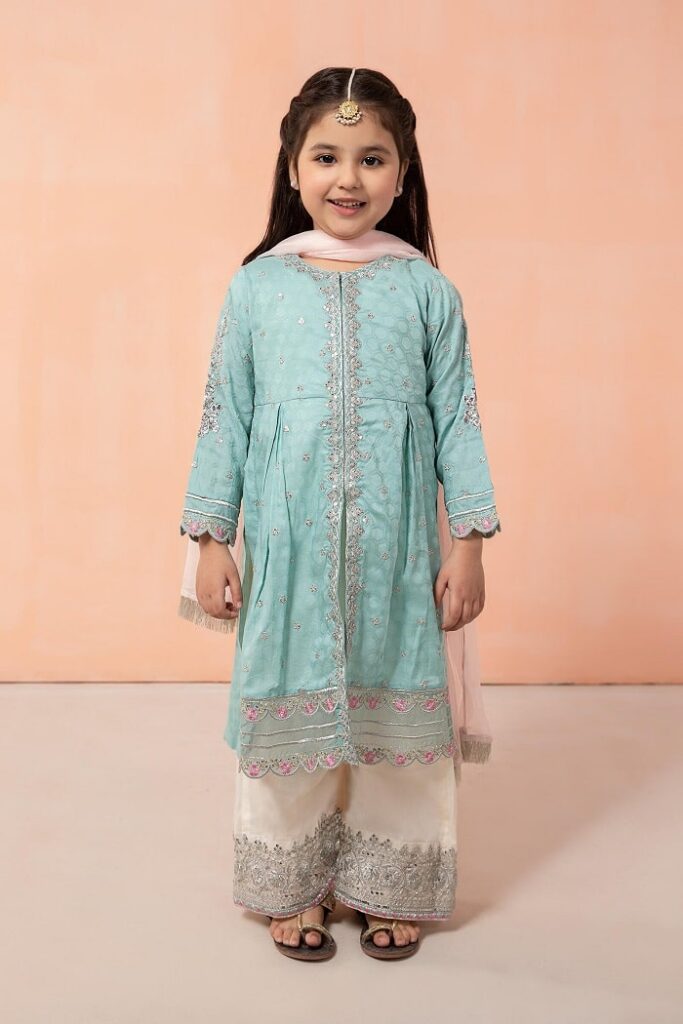 Kids Eid Blue Frock with pajama and chiffon dupatta Rupees:7,290.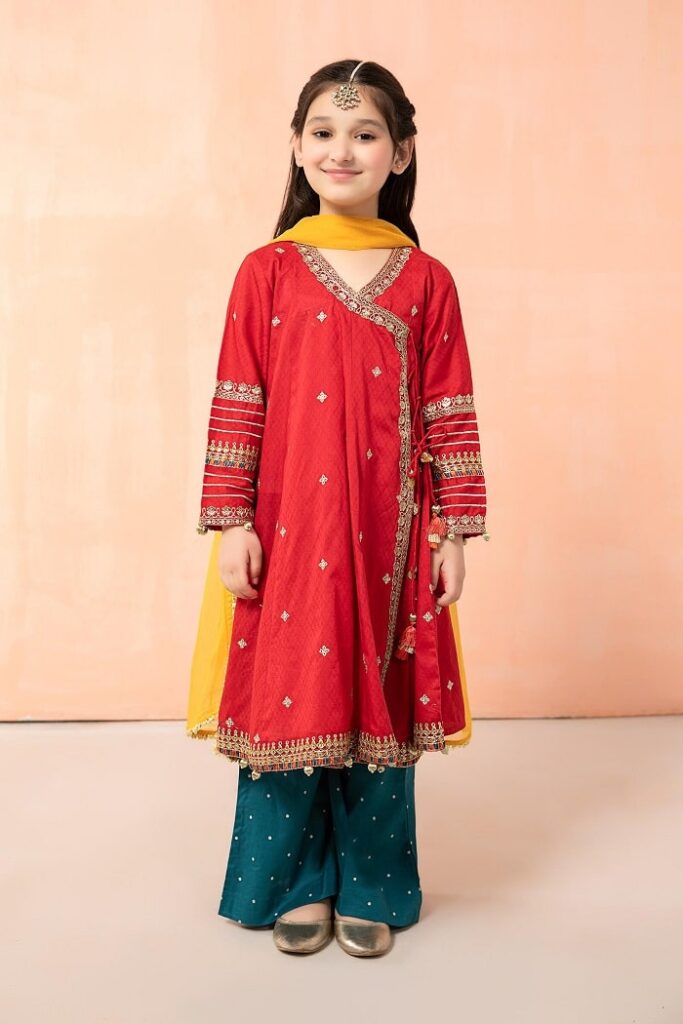 A lovely Red Angrakha with printed dhaka pajama for Rupees:6,990 Only.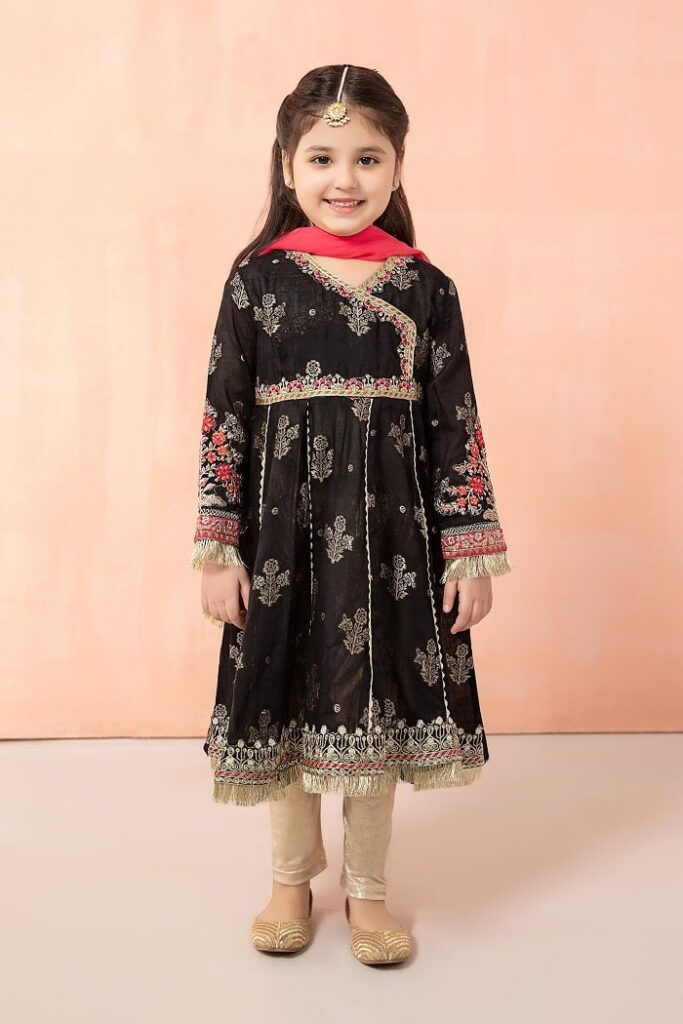 Rupees:7,690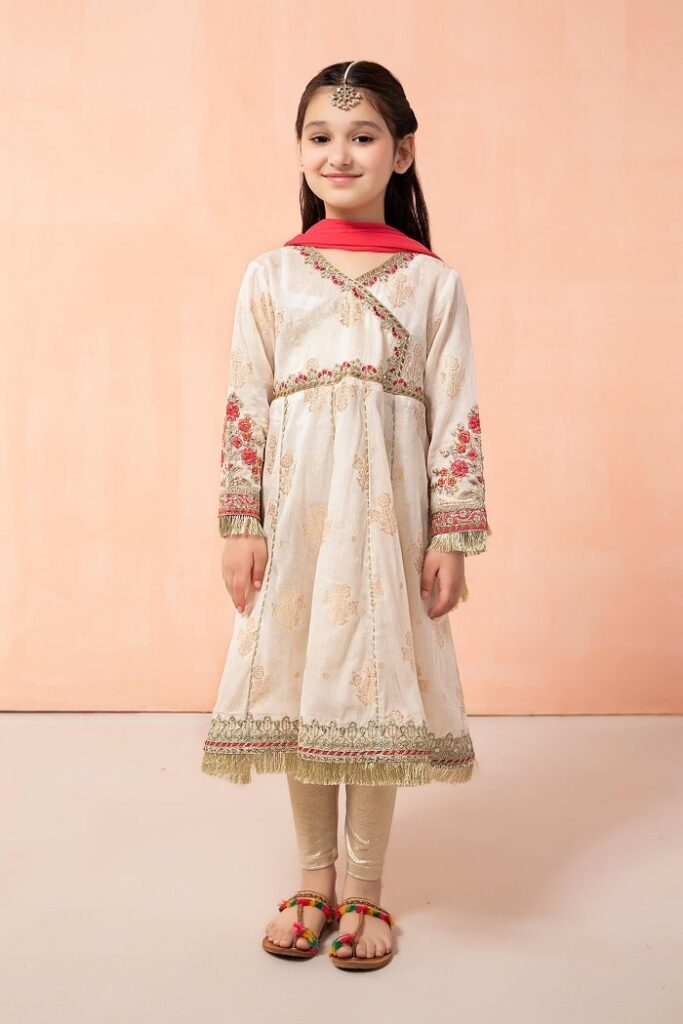 Off white color angrakha style embroidered frock for perfect festive look buy for your little princess in just Rupees:7,690 Only.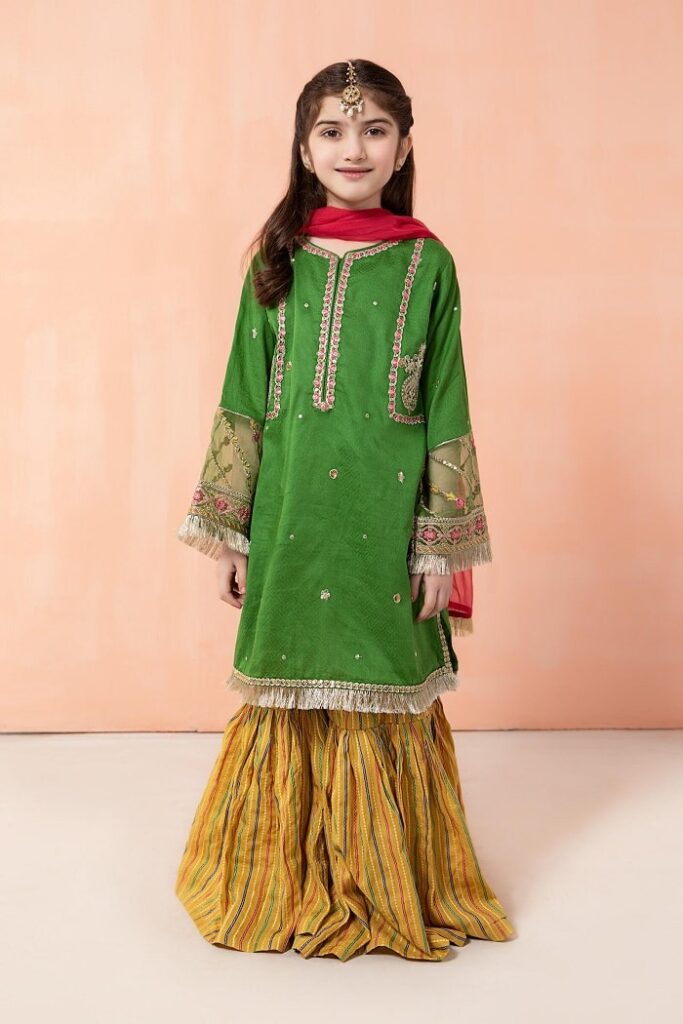 Embroidered Green Shirt with multi color gharara and chiffon dupatta Rupees:6,690 Only.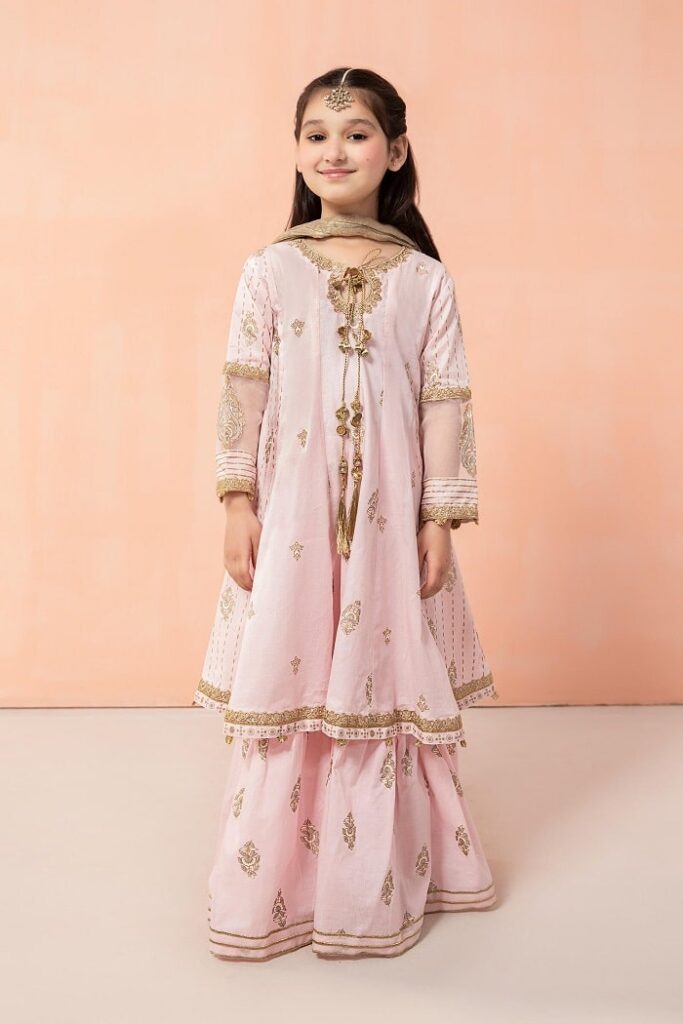 Pink printed embroidered frock with pajama for Rupees:6,990 Only.
Black 4piece Suit Rupees:6,490/- Only.
This collection is consisting of frocks with embroidered work shirts that will provide you high-quality outlook. Furthermore, all kid's frocks in this collection are a really adorable fashion sense containing dramatic prints and embroidery work.