Western Clothing Brands in Pakistan List 2022
Every season's preparation is different and women want to look different from others with their fashion in every season. That's why this unique western look is never possible without a perfect brand. And many women in Pakistan do not know which Western clothing brands are in trend. Therefore, here we are sharing trending western clothing brands in Pakistan updated list 2022.
With a wide range of western clothing in Pakistan. Women can find more brands or more chances to select their preferences. Most of the population of Pakistan prefers Eastern clothing. But Western clothing also has its effect on ladies' clothing. Every year well famous brand publish their new collections full of trendy designs. That can give you a new fashionable look at reasonable prices. Today you'll find the country's best western wear clothing at sale prices in 2022.
Top Western Clothing Brands in Pakistan List 2022
Hi! Girls don't worry about your western clothing, here we are sharing the top trendy western clothing brands list 2022. Which can provide you 100% satisfied trendy wardrobe with chic style at reasonable prices. Furthermore, you can easily find various categories of western dresses for any event such as parties, dinners, university functions, or going shopping.
Furthermore, through this exciting western clothing, you can feel more confident with a perfect lady suit. Girls get ready to catch everyone's attention with trendy western wear brand outfits in Pakistan. These days following brands popular for western clothing have a look up-date list given below.
Outfitters
Sapphire
Mantra
Limelight
Khaadi
Parien House
ONE
Cougar
See Next: Top Men's Wear Clothing Brands in Pakistan 2022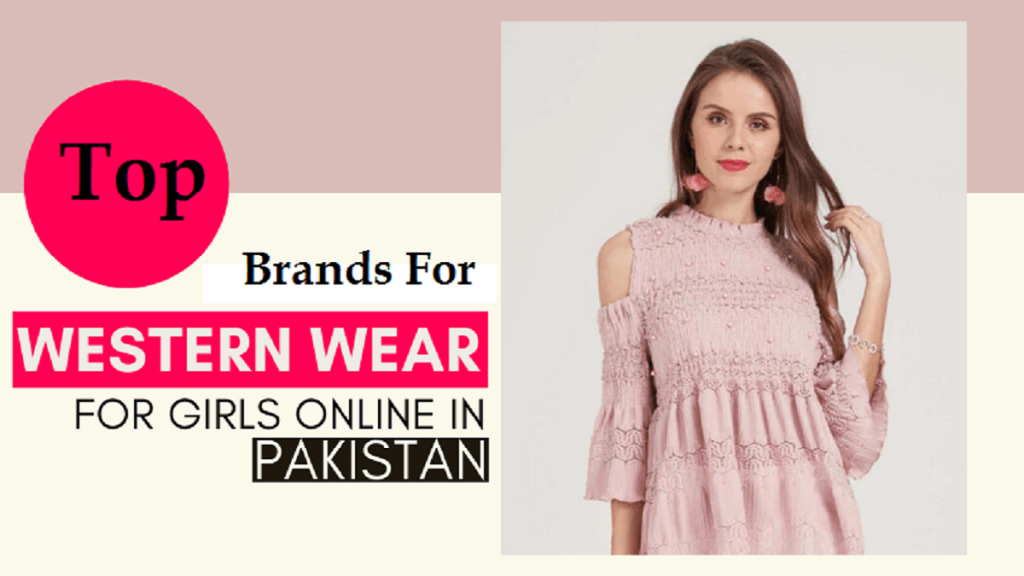 Outfitters Western Clothing in Pakistan:
Outfitter is a well famous brand for western wear clothing from teen girls to women's. Furthermore, this popular brand has a wide range of western clothing that can fulfill your fashion desire. Every year several collections are launched by outfitters brands with current western wear styles. In addition, this brand also provides eastern wear clothing, footwear, accessories, and fragrances as well. Shop
Sapphire
Sapphire is the second most popular western clothing wear brand in Pakistan. Furthermore, if you want to get a more stylish look like a boss. Then sapphire is the only brand that can fulfill your dreams with the new variety of western clothing. Let's have a look at the sapphire west clothing range 2022. Shop
Mantra
Again we are going to share another most famous western clothing brand of Pakistan "Mantra". Here you will find many options of west clothing such as maxi's, shirts, jeans, pants, shirts, jackets, coats, suits, and many more accessories. In addition, we say this brand is an "all in one fashion solution" for trendy women. Shop
Limelight
At limelight brand shop customers can also find a wide range of western clothing. Are you looking for tops, skirts, jeans, pants at affordable prices in Pakistan? if yes then, the limelight brand can provide perfect options for winter clothing in Pakistan. Shop
Khaadi
Khaadi is a leading fashion label in Pakistan, working almost the whole world. Due to the right quality and right outfits this brand gets much fame among many women. As you all know Khaadi brand is famous not only for Eastern apparel in Pakistan but also for western clothing. Here we have some best examples of Khaadi clothing in Pakistan. Shop
Parien House
Parien House is also a western wear clothing brand, start manufacturing in 2012. Whether you are looking for luxury western clothing or shoes, they will give you the best experience at reasonable prices. Shop
One
One is a leading premium clothing brand founded in 2016. Initially start manufacturing from a single store, but now this brand works in the whole of Pakistan with more than 33 stores. Furthermore, one clothing brand promises to provide 100% pure quality, trendy style outfits at reasonable prices. In addition, the brand color scheme, designs are completely different from other brands. Shop
Cougar
Cougar brand focus on the young generation of western wear clothing in Pakistan. Furthermore, this brand also provides a good fashion statement with new styles. Cougar covers a wide range of formal and casual wear apparel for both men and women. Let's explore cougar western clothing at affordable prices. Shop
We hope that this post is definitely helpful to you. To find top western clothing brands in Pakistan easily. Bookmark our website for more fashion trends updates 2022.