Qalamkar Winter Collections for Men & Women Wear'21
You may be surprising to see these amazing Qalamkar Winter Collection 2021 Dresses. I am sharing together all types of winter clothes in one collection. Qalamkar is one of the famous clothing manufactures in Pakistan. A lot of people were asking me that what to wear during the wedding season in Asian countries. Therefore, we are here to share Pakistani No#1 winter & wedding wear collection "Shadmani" for women.
Qalamkar clothing brands always create unique outfits that uphold the traditions and techniques of our inheritance. Furthermore, this brand works with the aim to provide wonderful designs that are design by an experienced designer. These days Qalamkar winter collection getting fame all over the world with its unique style & traditions. Using quality fabrics brand provides outfits that enhance your personality with vibrant designs.
Qalamkar Luxury Suits:
Be sure to buy beautiful luxury winter suits for wedding season 2021-22. Only trendy & fashionable women know about the new arrival winter collection. Most clothing brands in Pakistan launch this collection at the start of the winter season. So, it is the best timing to find a perfect collection to prepare for the upcoming winter season.
Newly launch unstitched luxury collection by Qalamkar brand design according to current trends in Pakistan. Furthermore, in this collection, all dresses are used with lightly printed & luxury dupattas. What's in your mind? Here you will find the best fabrics that suit your personality.
See More: Jazmin Winter Collection 2021 Unstitched 3PC Suits with Price
Men's Wear:
Get ready for new arrival unstitch & ready to wear men's wear collection 2021. These gents wear shalwar kameez & kurtas containing new designs. Enjoy these winter outfits for men's wear by Qalamkar brand 2021-2022.
See More: New Bonanza Sweaters Collection for Men's Wear 2021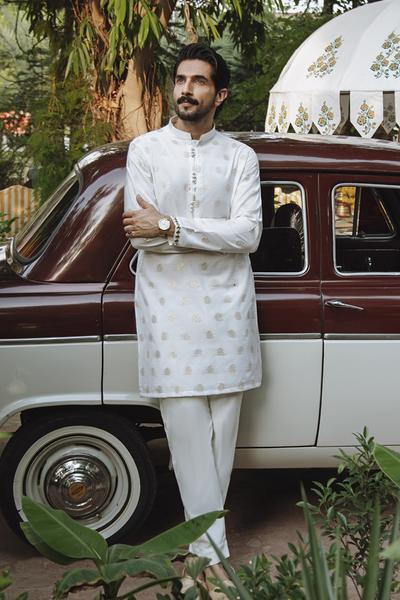 Qalamkar Q-Line Festive Collection:
This winter un-stitch q-line festive collection is beautifully crafted with chiffon & silk dupattas. Furthermore, these festive shirts have printed borders and embroidery necklines with beautiful designs. This festive collection can give you a new modern look according to this season. All these suits were specially design by experienced designers.
Don't waste your time and today select your suit before it is out of stock. Here all the latest festive unstitch winter suits are given below. The prices of these suits start from PKR:7990/- To PKR:20990/- Only. Let's explore Qalamkar Winter Collection 2021-2022. For more new & updated winter collections keep visit on stylostreet.com regularly.