Asim Jofa Sale 2023 With Price Unstitched Collection Shop Online
Presenting the latest Asim Jofa Sale 2023 summer/winter collection with a price tag, If you do not select your summer dresses yet. Then Asim jofa is one of the best choices this season. Leading clothing brands going to provide the best summer outfits for their beloved customers. Enjoy the huge range of spring-summer and winter collections that are available in this post-2023.
Are you excited? To get a unique dressing experience this year, if yes then scroll down this post to get outstanding outfits. Furthermore, as we know that Asim Jofa eid dresses are quite expensive due to their unique styles and fabric quality.
Asim Jofa Sale 2023 Lawn Collection Shop Online
These eid summer dresses are available at a discount price. In addition, if you are looking for something that is completely decent and more stylish for this season 2023.
Furthermore, this summer collection is also containing eid chiffon dresses at the store or online. Get beautiful Asim Jofa Summer Collection dresses at discount prices for women. this brand working in Pakistan for many years ago, and here this is the best sale collection for Pakistani women.
Green unstitched embroidered chiffon 3piece suit PKR:5,950 only.
Stylish violet color luxury unstitched paper cotton 3piece suit PKR:5,950 only.
Navy blue color unstitched cotton 3piece suit PKR:5,950.
Asim jofa summer cotton deep red color luxury 3piece suit for women PKR:5,950 only.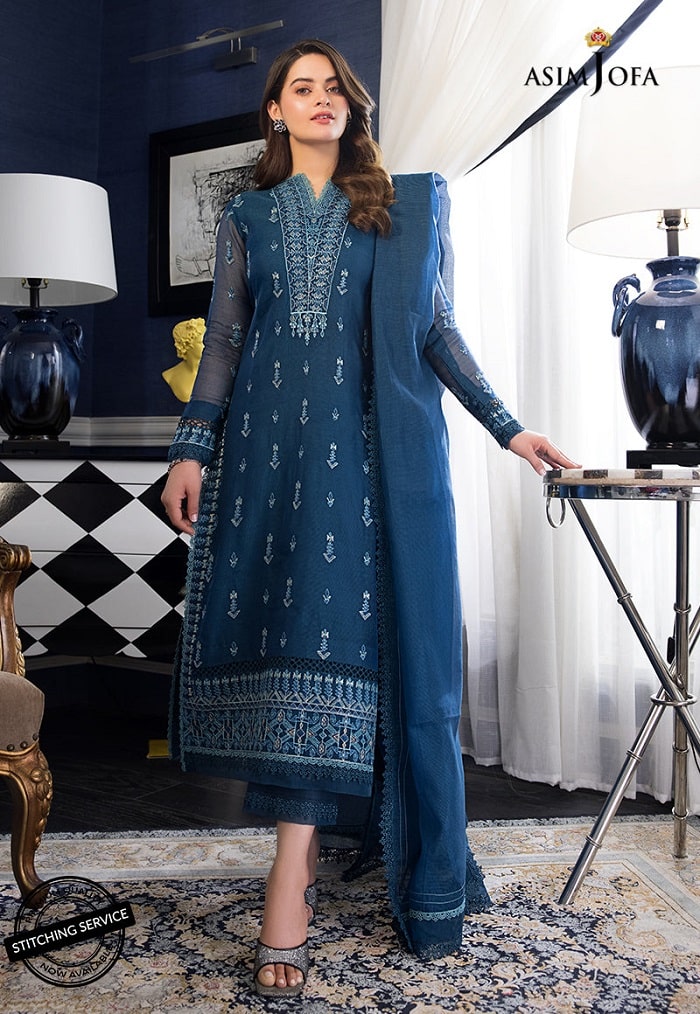 Asim jofa summer blue color cotton organza net 3piece suit PKR:5,850 only.
Black lawn unstitched printed 3piece suit Rs.4,250 only.
Blue lawn unstitched digital printed three-piece suit Rs.4,450.
Rs.5,250 only.
Get a unique attractive look by wearing this black digital printed embroidered 3p suit Rs.4,250.
Dusty ivory lawn suit Rs.4,250.
Girls get the breathtaking view with this ethnic heavily embroidered shirt with chiffon dupatta and cotton trousers available for PKR:10,550 only.
Black embroidered lawn 3piece eid suit for trendy women buy now for PKR:10,950 only.
Get the graceful mint color dress, embellished with embroidery in zari and chiffon dupatta, cotton trousers PKR:11,450 only.
Asim Jofa Eid Collection 2023 With Price
Furthermore, as we know eid is the only function when everyone wants to look perfect. On this occasion, we share the love with family members and relatives full of enjoyment. Therefore, this Eid festive try to wear Asim Jofa's new arrival eid collection 2023. In addition, the eid collection by Asim jofa is containing formal, casual and prêt wear dresses with the latest designs.
Ombre color lawn 3piece unstitched suit PKR:11,450 only.
A beautiful purple color embroidered lawn shirt with chiffon dupatta and dyed pants available for PKR:11,250.
Rupees:11,750 Lawn Black Embroidered Suit.
Off White color design work in classic Ganga jamni style 3piece unstitched suit PKR:11,450 only.
A beautiful mint green color heavy embroidered royal style suit is available for PKR:8450 Only.
Add a new look with this beautiful pishwas in black, decorated with elegent work PKR:7,950 only.
Purple & orange color a complete traditional Tussure silk suit PKR:7750.
The stunning classic A-line flared is perfect for all measurements available for PKR:6990.
Off White Color Long Frock For Ladies PKR:7750 only.
A beautiful aqua blue color luxury organza fabric suit PKR:7,750 only.
Honey Yellow Luxury Un-stitch Festive Wear Suit PKR:7550 only.
See More Brands Eid Collection 2023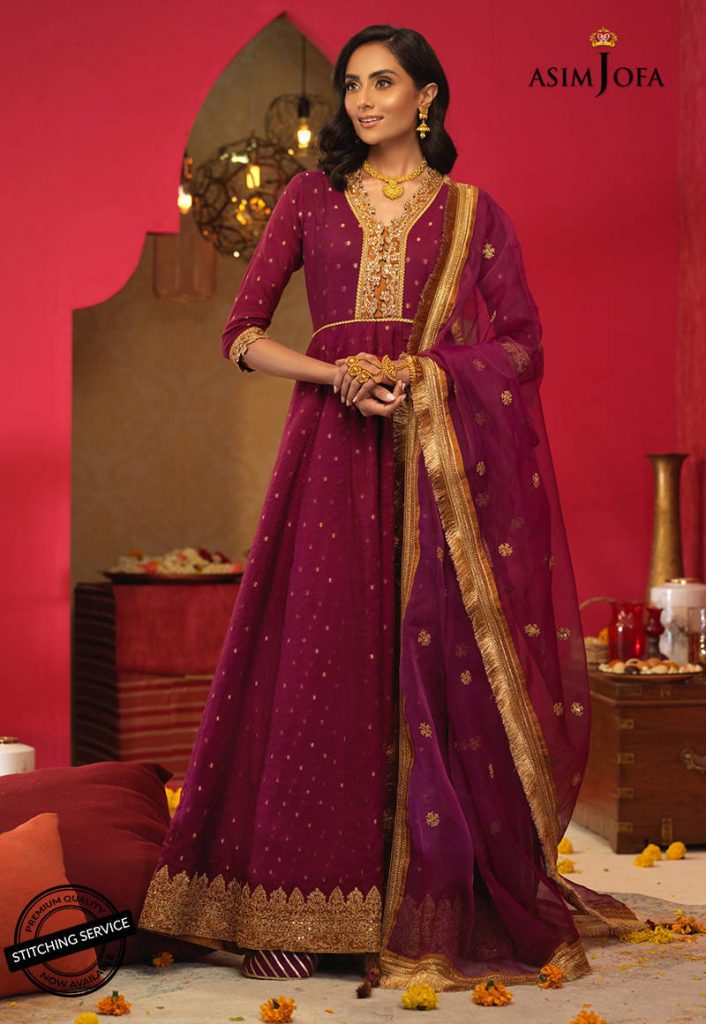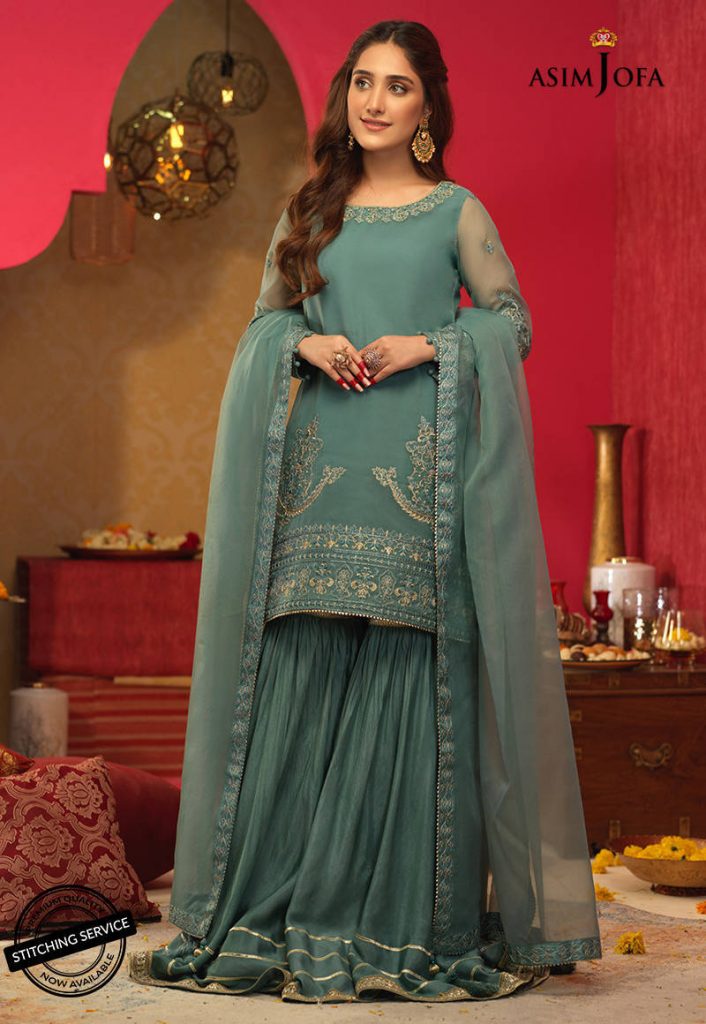 Eid Lawn Dresses by Asim Jofa Brand 2023
New Arrival Asim Jofa eid lawn dresses containing quality lawn fabrics at the discount price range. Don't worry girls here you can get the best quality in Pakistan. Asim Jofa contains outfits on the official site of the brand www.asimjofa.com. These days online shopping getting more popular, therefore shop online Asim jofa eid dresses at a reasonable price range.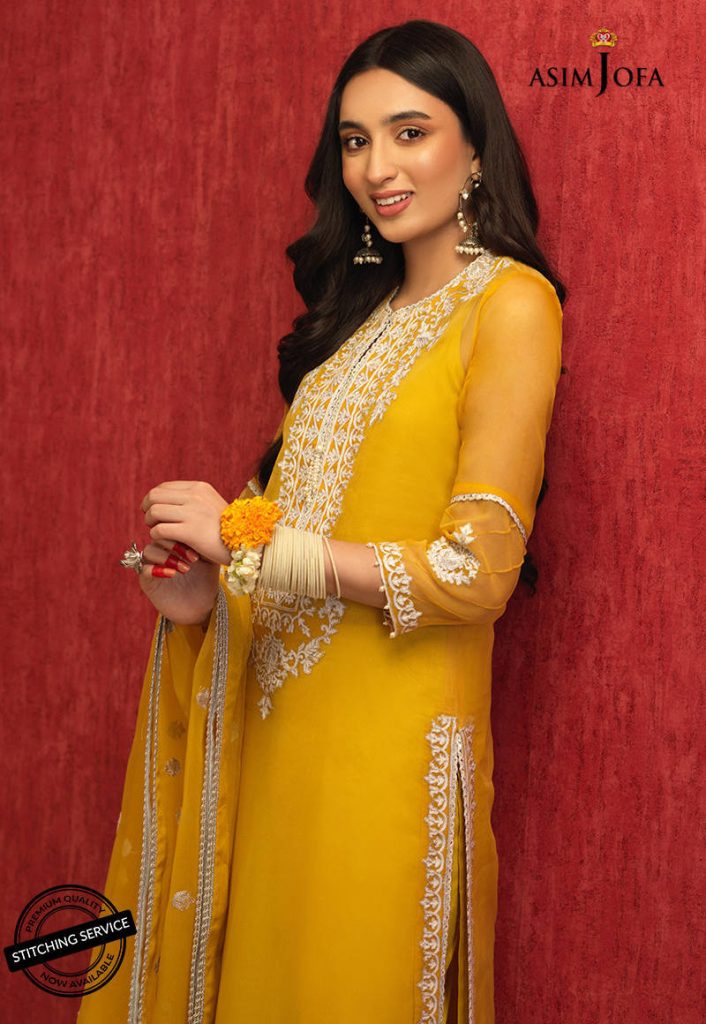 Shop Online Asim Jofa Eid Festive Summer Collection 2023
Everyone can easily buy their favorite dress in unstitched and ready-to-wear form. Asim Jofa is the best summer choice to wear printed lawn dresses in a unique style. furthermore, this summer enjoys multi-colors with embellished embroidery work outfits in the low price range.