Orient Summer Collection 2022 Unstitched Dresses With Price
Talking about the real quality fashion brand Orient Summer Collection 2022, we know that these days fashion brands are launching their spring/summer collections. Therefore, we are going to publish the name of quality, reliability, and innovation brand beautiful outfits 2022 with prices. Yes, orient, a fashion brand providing stylish layouts for spring/summer wear to every occasion. Scroll down this page and share the Orient textiles unstitched summer collection 2022 Volume-1 and 2 for women.
These days we find outfits to wear in the summer season. We always are searching for comfortable and quality fabrics with unique designs. Through this post, guys you can easily find Pakistani most popular lawn collection for ladies. Furthermore, all of these spring /summer dresses are perfect to add to your wardrobe in 2022.
Orient Unstitched Summer Collection At Special Price
Orient clothing brand recently launched its newest 'Mehar' collection in 2022. Furthermore, this summer unstitched lawn collection contains a variety of new designs, luxury, and embroidered outfits. in addition, all summer dresses are specially made for summer season 2022 celebrations.
Orient textiles also work with the aim to provide excellent quality lawn unstitched fabrics. Furthermore, brand customers are always satisfied with products quality, and designs always met the demands of their customers. Now you don't have to go anywhere else, just visit the orient brand shop and get the best outfits to get a unique look.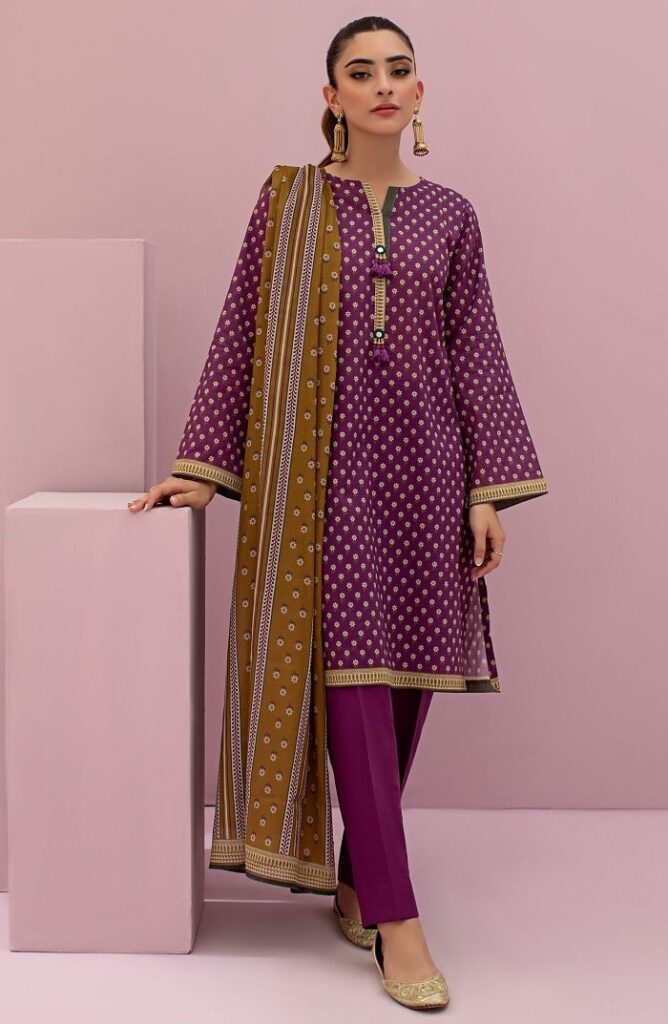 Unstitched printed purple color lawn shirt, cambric pant and lawn duptta available for PKR:2990 only.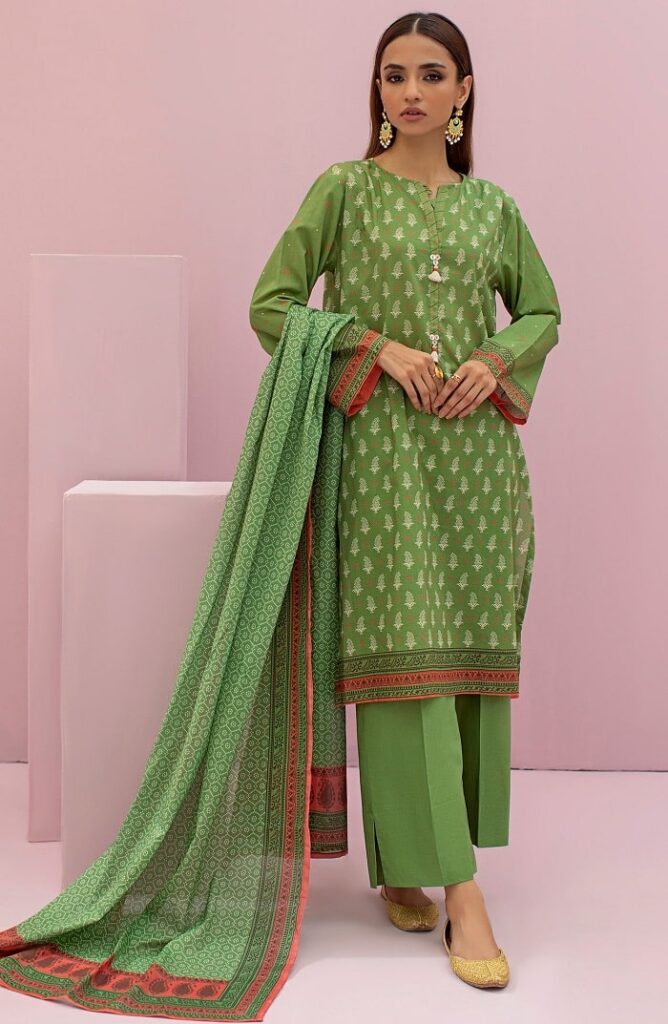 Stylish green color printed lawn 3piece suit PKR:2990 only.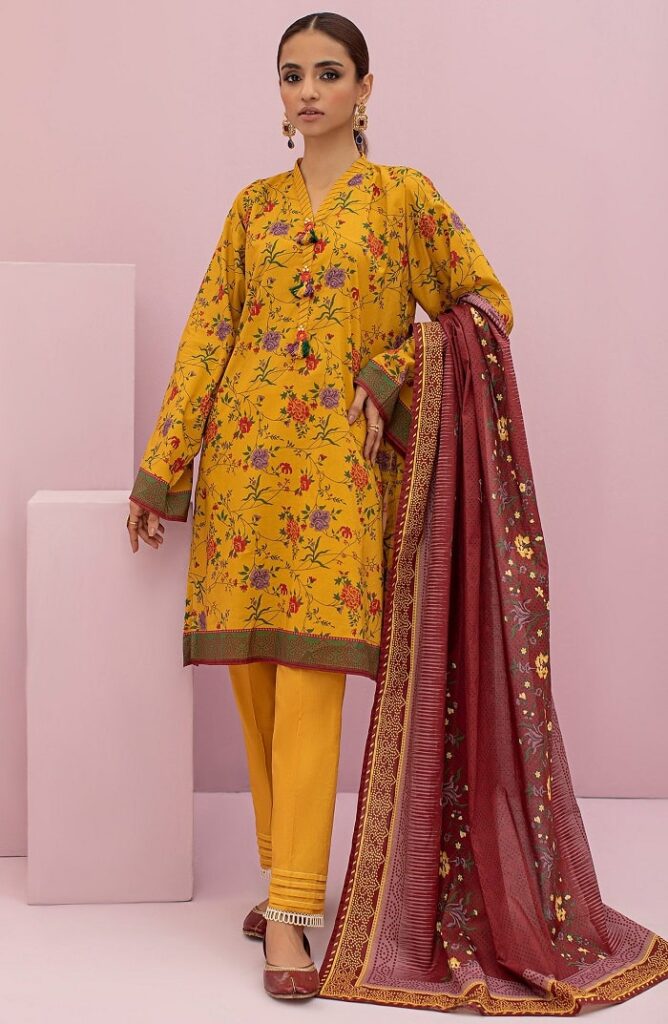 New arrival unstitched summer lawn 3pc suit PKR:2990 only.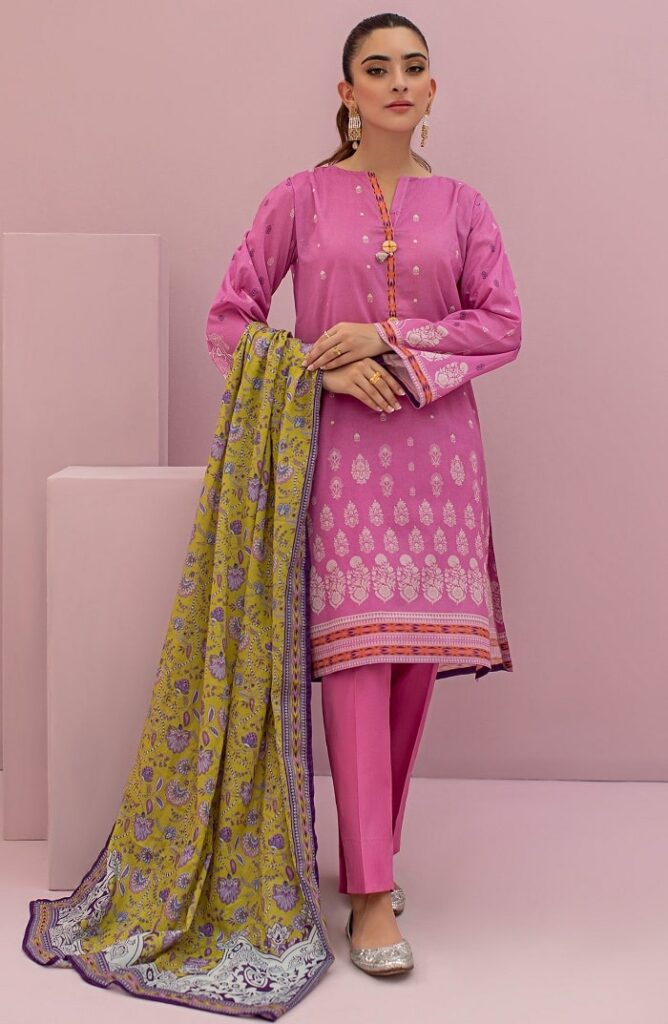 Lovely pink color printed 3piece unstitched suit PKR:2990.
Green lawn 3piece printed un-stitch suit available at sale price for PKR:2990 only.
Summer lawn shirt cambric pant and dupatta available for PKR:2990 only.
New arrival summer orient brand printed lawn shirt, pant and dupatta PKR:2990.
Grey color three piece suit embellish with floral print PKR:2990.
PKR:2990 only.
Orient Textiles unstitched summer lawn suit PKR:2990.
Black lawn suit PKR:2990.
Get charming summer look with this beige color un-stitch multi-color floral printed 3piece suit PKR:2990 only.
Orient Textiles Spring/Summer Lawn Volume-1st Collection 2022
Moreover, these spring-summer outfits contain new colors and designs that give you a new life to your dull days with pure quality. Most women don't like to go to shopping malls and brand shops. Then it is a better option for those ladies to get their favorite dresses at your doorstep. In addition, get an extra discount on season-ending sales. These days Pakistan's day sale is going to spread around the whole world.
Orient Lawn is one of the leading lawn collections in Pakistan, which is getting fame day by day. Everyone wants to buy new designs, and colors to wear perfectly. Today we are publishing a post that has been helping you to select your new style for party wear, events and festival wear 2020. Orient lawn is always perfect to provide comfortable outfits, in the affordable price range of 2022.
Stylish blue un-stitched printed lawn shirt PKR:990 Only.
One Piece Printed Unstitched Lawn Shirt Available in mustard color PKR:1190 Only.
Get perfect summer look with beautiful green color 1 piece unstitched lawn shirt by Orient Brand Available for PKR:1190 Only.
Orient One Piece Printed Lawn Teal Color Shirt PKR:1490 Only.
New Designs of Mustard Color Lawn Shirt Buy Now PKR:1190 Only.
Blue Printed 1 Piece lawn Shirt PKR:1490 Only.
Get a cool summer look with a more comfortable black color one-piece shirt for PKR:1490
Red fabric spring summer lawn shirt PKR:1490 Only.
Lovely yellow color shirt by orient textiles PKR:1490 Only.
Unstitched Printed One-piece green lawn shirt PKR:1490 Only.
Blue Un-stitch Lawn Shirt for women PKR:1490 Only.
Orient Brand Lawn Collection 2022 in Pakistan
Girls are you finding lawn dresses to add to your wardrobe, then you are in right place. Here you will find outfits that will provide your comfortable feeling with new designs. Orient lawn suits are consisting of 2 pieces, 3 pieces, and lawn shirts at a discount price.
See More: Sapphire Lawn Summer Collection 2022 – New Pictures With Price
Digitally printed lawn black shirt for casual wear available for just Rupees:1490 Only.
Lovely pink shirt PKR:1490.
Unstitched Purple color 1 piece printed lawn shirt available for PKR:1490.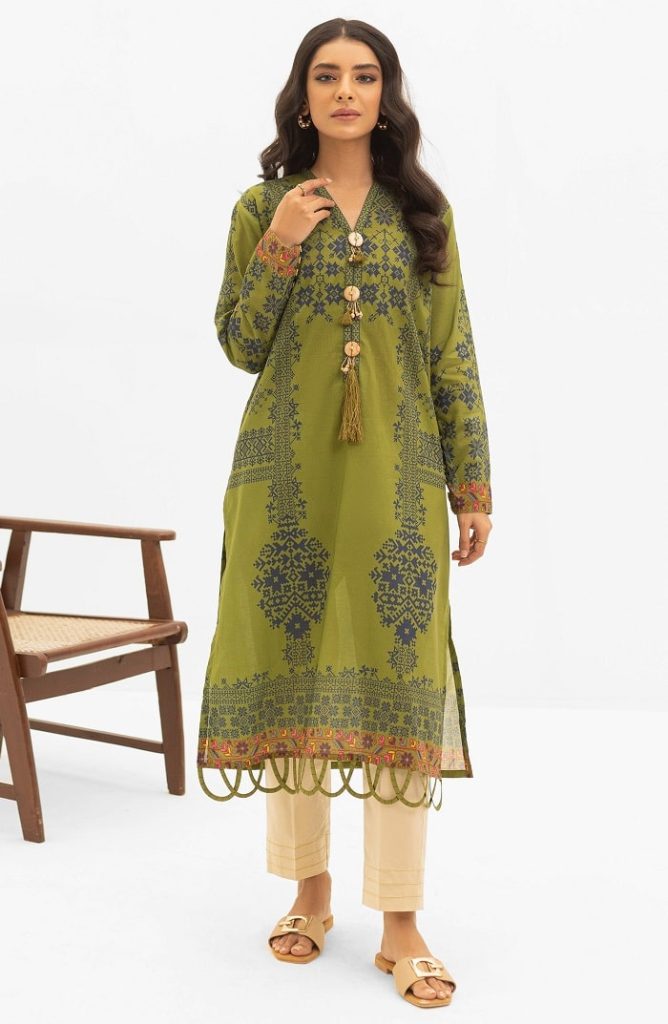 Green lawn shirt for women to wear at home available for PKR:1490.
Beautiful lawn 2 piece suit paired with chiffon dupatta by orient brand PKR:1999 Only.
Black color 2 piece lawn suit PKR:1999 Only.
Unstitched Lawn Shirt with chiffon dupatta perfect combination for spring-summer season PKR:1999.
Teal lawn shirt with chiffon dupatta available for PKR:1999 Only.
Blue & Yellow Printed Shirt and chiffon dupatta PKR:2190 Only.
Orient brand finest quality lawn fabrics, that can provide the perfect joy of summer. We are sure that you will really fall in love with these perfect-fit summer outfits by orient textiles 2022. Through unique prints, and embroidery unstitched lawn suits you can get the perfect look.