Junaid Jamshed Luxury Winter Collection for Men 2022
Winter Collection for Men By Junaid Jamshed: Fashion never ends whether it is winter or summer. For men, we are going to post marvelous and outstanding designs of shalwar kameez from Luxury Winter Collection for Men by Junaid Jamshed 2022. This winter collection contains new designs having quality stuff. The brand has launched its new winter collection because of the arrival of winter in Pakistan.
This is considered a major brand of Pakistan's textile industry. In the market demand for this brand always remains high because of quality stuff, marvelous designs, a large number of color shades, and last affordable prices. Winter Collection For Men by Junaid Jamshed is the first choice of fashion lovers men in Pakistan as well as in the whole world.
J. Junaid Jamshed Men Sale Collection 2022
Traditional fashion touch with the latest fashion in this collection of dresses makes them unique for regular brand designs-wearing persons. Let's take a look backward at the history of this brand. Then we come to know about the beginning of this brand as it was established by a famous personality of Pakistan Junaid Jamshed.
Later on, this brand becomes the name of quality and Pakistan's textile industry become known as the reference of this brand. Still, it is the best brand.
J. Jamshed Men's Wear Winter Shalwar Kameez Designs
Usually, people seem to worry about the stitching of their expensive dressing, especially on some special areas such as on the sleeves and neckline of the kurta. In many cases stitching always seems to be dull in these areas.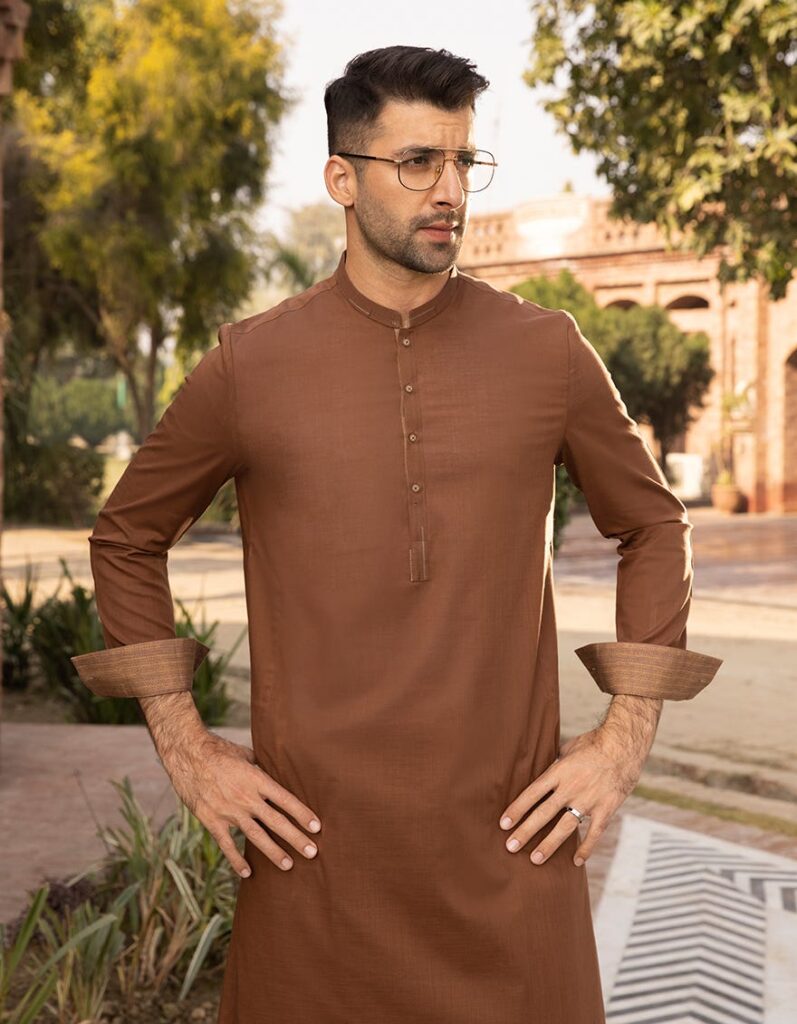 Brown smart fit kameez shalwar for men PKR:6,590 only.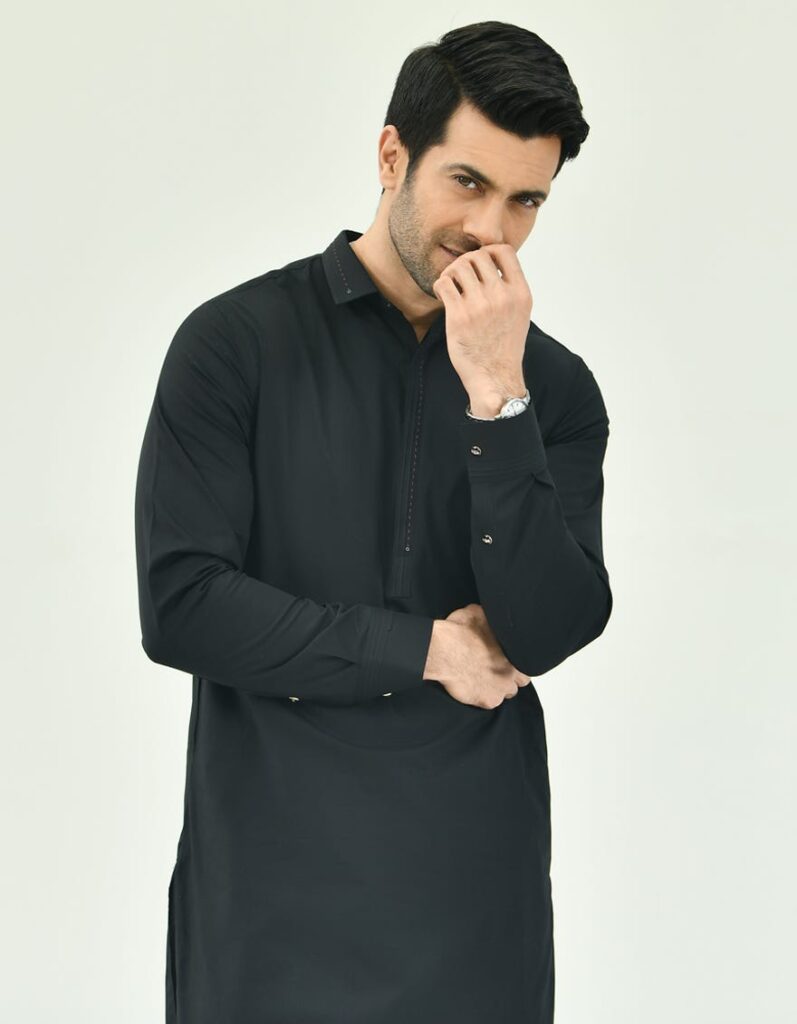 Get a smart fit look this winter by wearing this black cotton kameez shalwar PKR:7,690 only.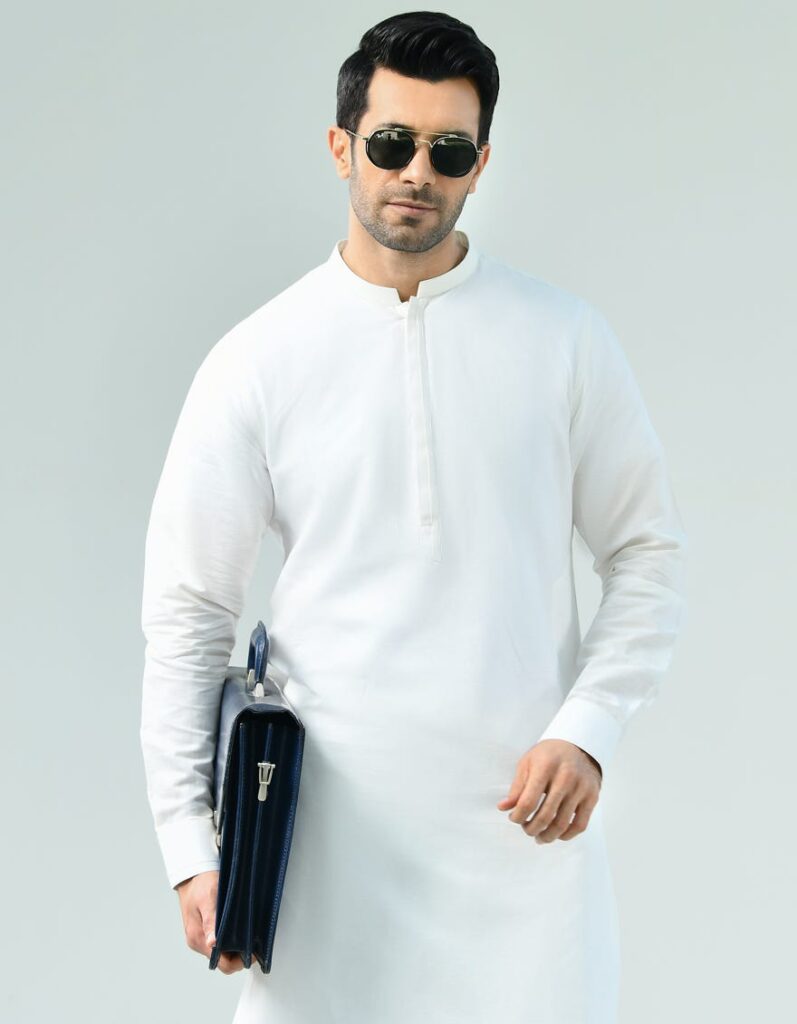 Off-white cotton lawn kameez and shalwar PKR:9,790 only.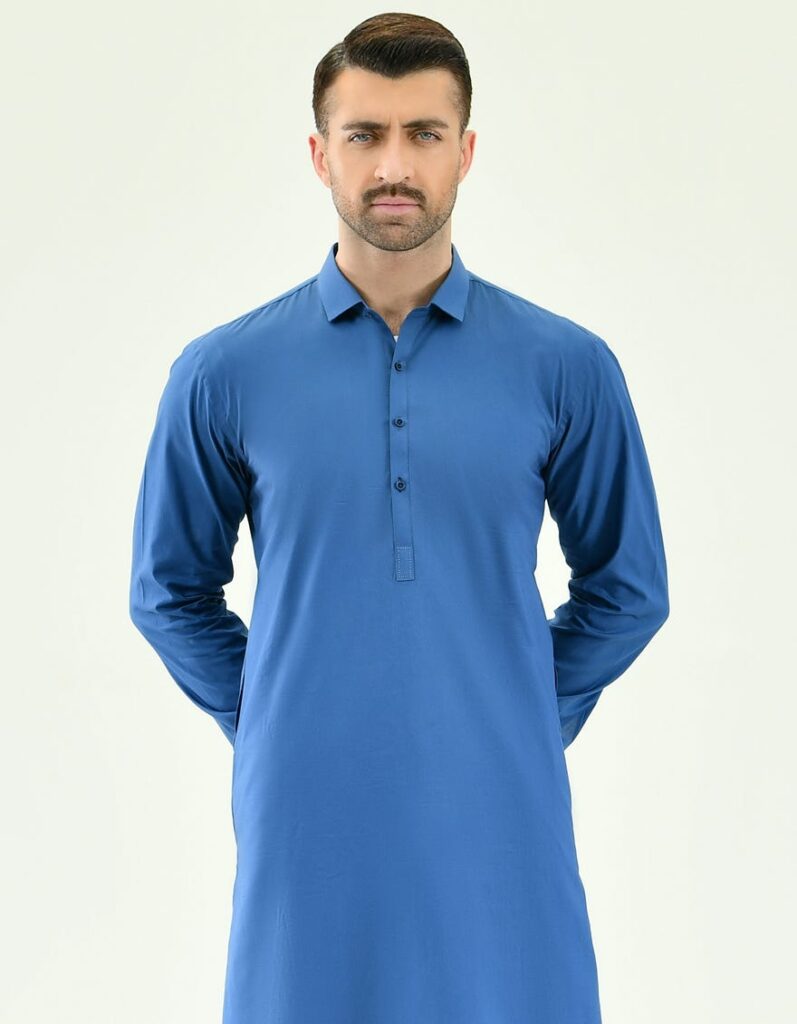 Beautiful Persian blue cotton kameez shalwar for men's wear PKR:7,390 only.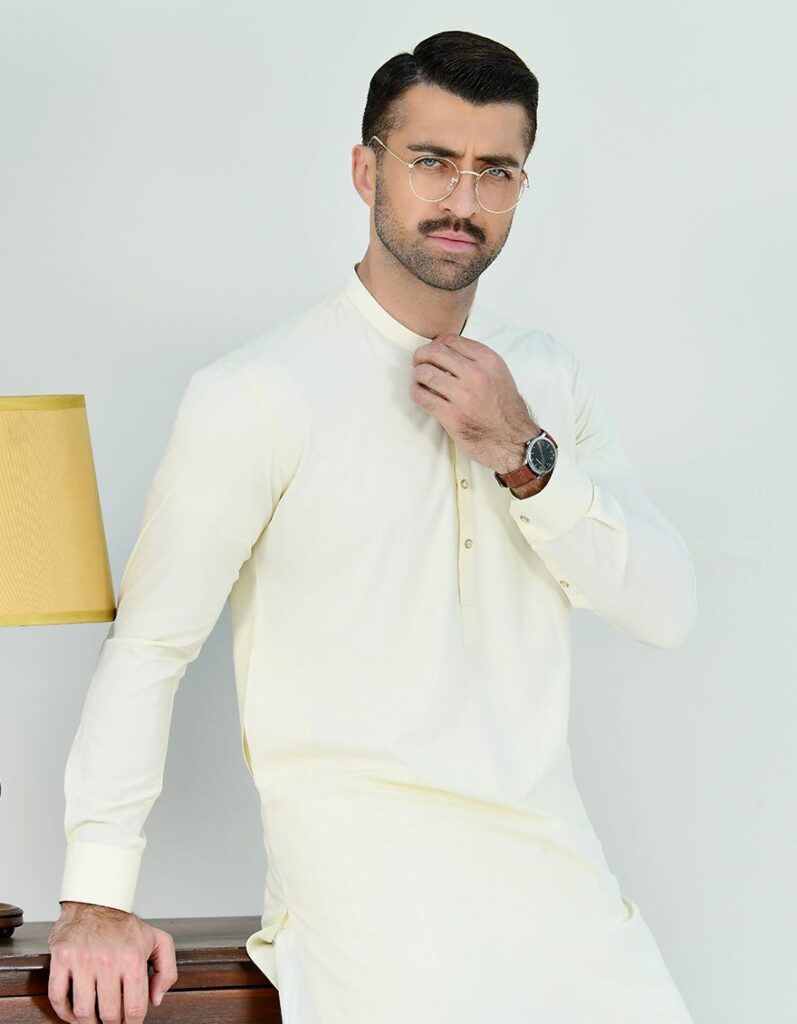 Let's enhance your winter look by wearing this cream color winter blended kameez and shalwar PKR:7,090 only.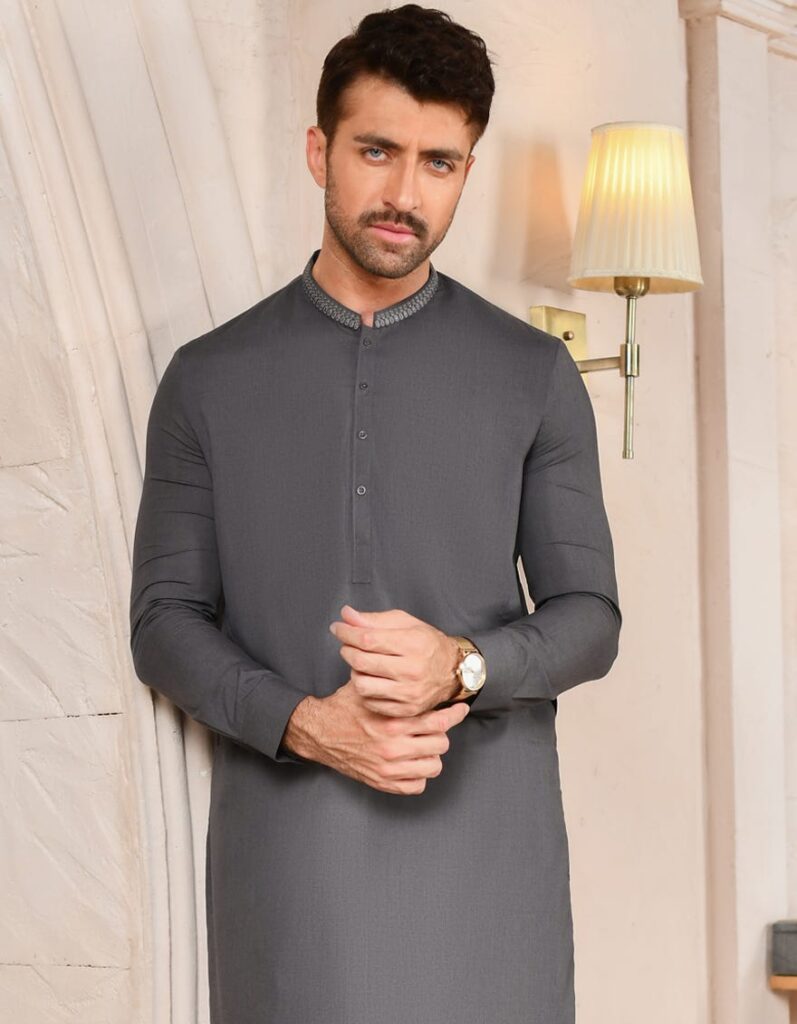 New arrival winter dark grey blended shalwar and kameez PKR:5,190 only.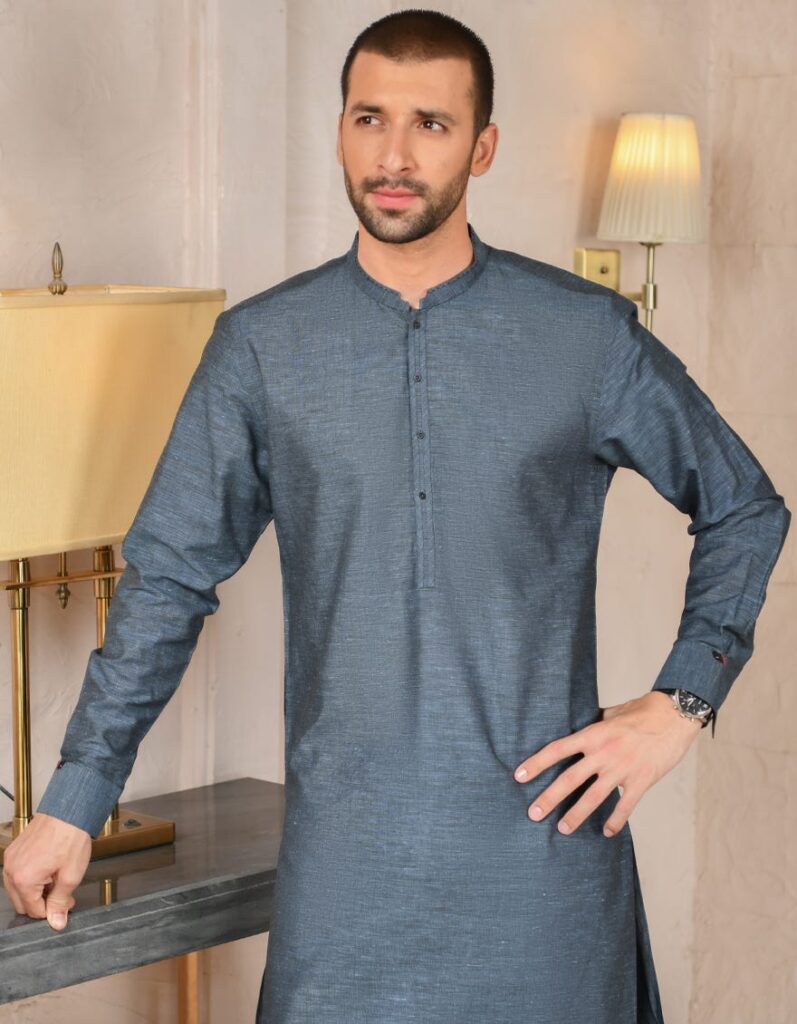 A unique winter look by wearing this blue blended kameez shalwar PKR:9,990.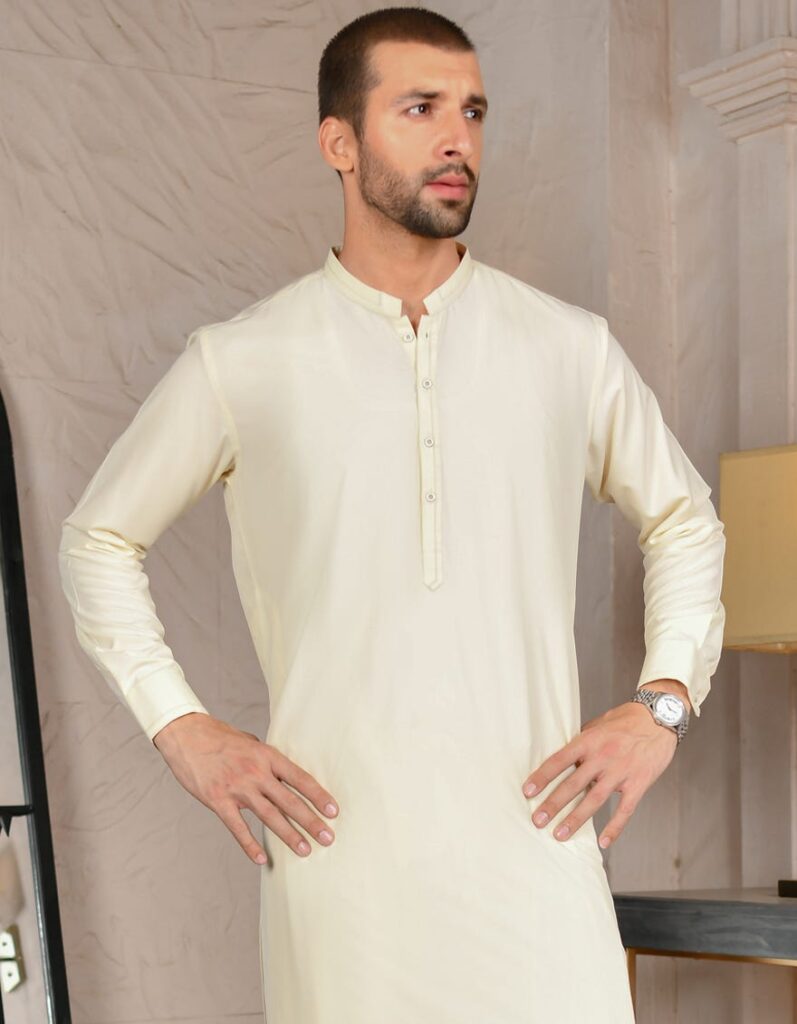 Cream kameez shalwar PKR:7,590.
J Dot Un-Stitched Winter Collection for Men Wear 2022
Searching for the best men's casual wear? Try Junaid Jamshed's traditional shalwar kameez having a simple touch of tradition and folk culture of Pakistan. But after having all these simple dresses the brand looks better than expensive brands' stuff. The brand is offering both men's and women's outfits but our topic is men's winter collections.
People often get prey to boredom after wearing the same designs and stuff of the same quality for a long time period. Not to worry. These winter days we are presenting the latest Junaid Jamshed winter collection 2022 for men.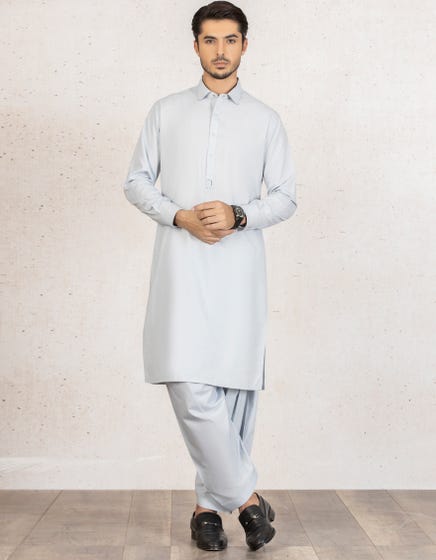 Exclusive Shalwar Kameez in sky blue color for casual look available now PKR:5990 Only.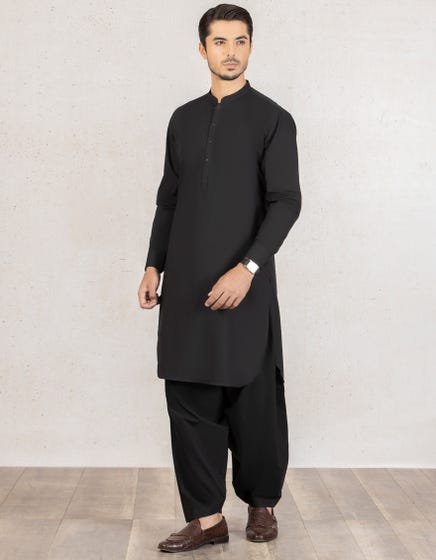 Stylish black color cotton kameez shalwar for men wear by j. brand buy now for PKR:4790 Only.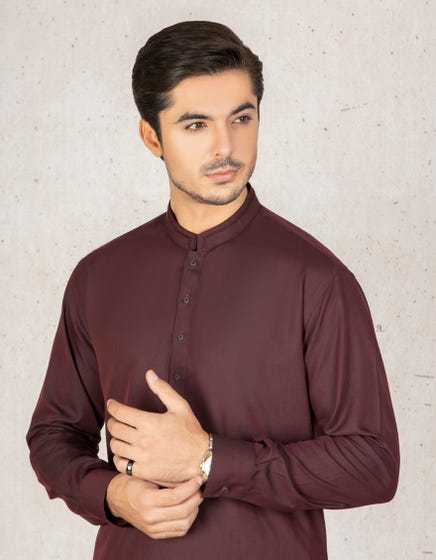 Maroon color blended fabric kameez shalwar un-stitch collection for gent's wear available now PKR:4590 Only.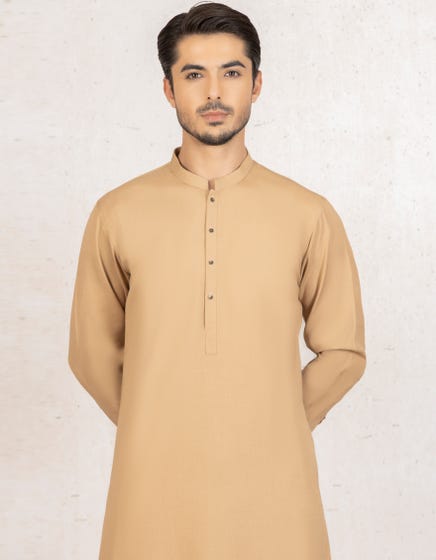 Camel color plain casual wear kameez shalwar for men PKR:5290.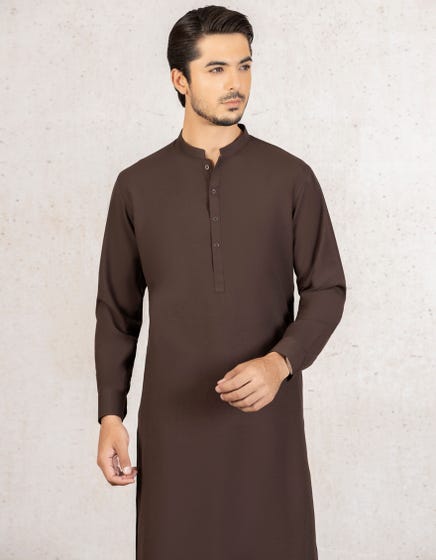 Trendy chocolate brown kameez shalwar made with blended fabric available PKR:5290 Only.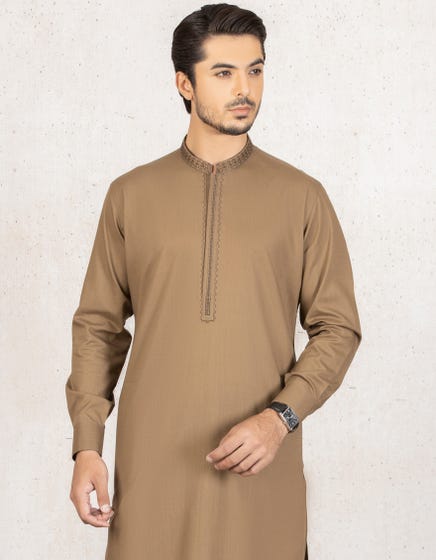 Get chic casual look with light brown color cotton fabric kameez shalwar at sale price by j. Jamshed brand is available for PKR:6290 Only.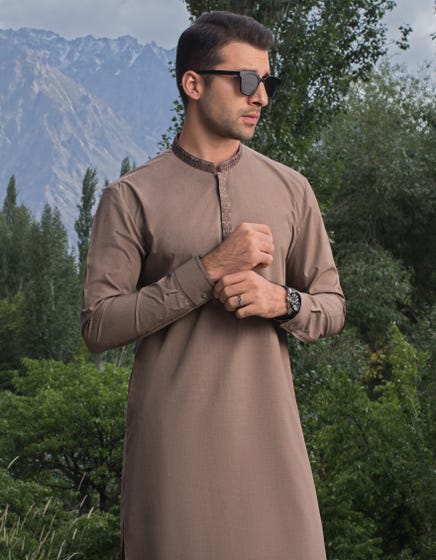 Light brown blended kameez shalwar for gent's wear PKR:5190 Only.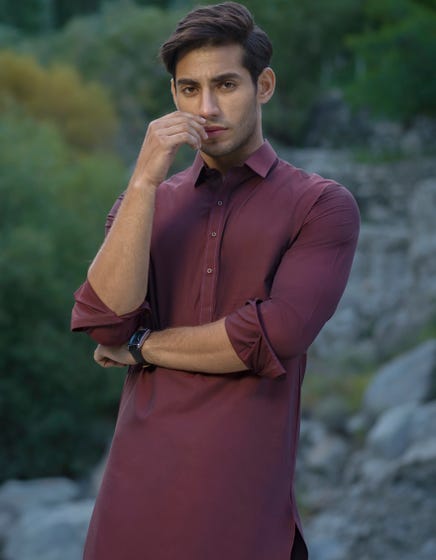 Rust color blended kameez shalwar for men PKR:5790 Only.
Complete verities of Men Kurta
Kurta is a common wearing of "desi" men. Many brands are offering new kurta designs but there is no match for Junaid Jamshed brand in the field of kurta collection. A plain kurta is common among men for casual wear. In a plain kurta, all the color shades whether it is dark or light is present in this collection. 
As you know this is a winter collection, therefore, the stuff of this collection is being kept in the category of khaddar & latha. Traditional touch is present in all the dresses of the winter collection. Plain, embroidery and special stitchwork on the front of the kurta are present in the collection.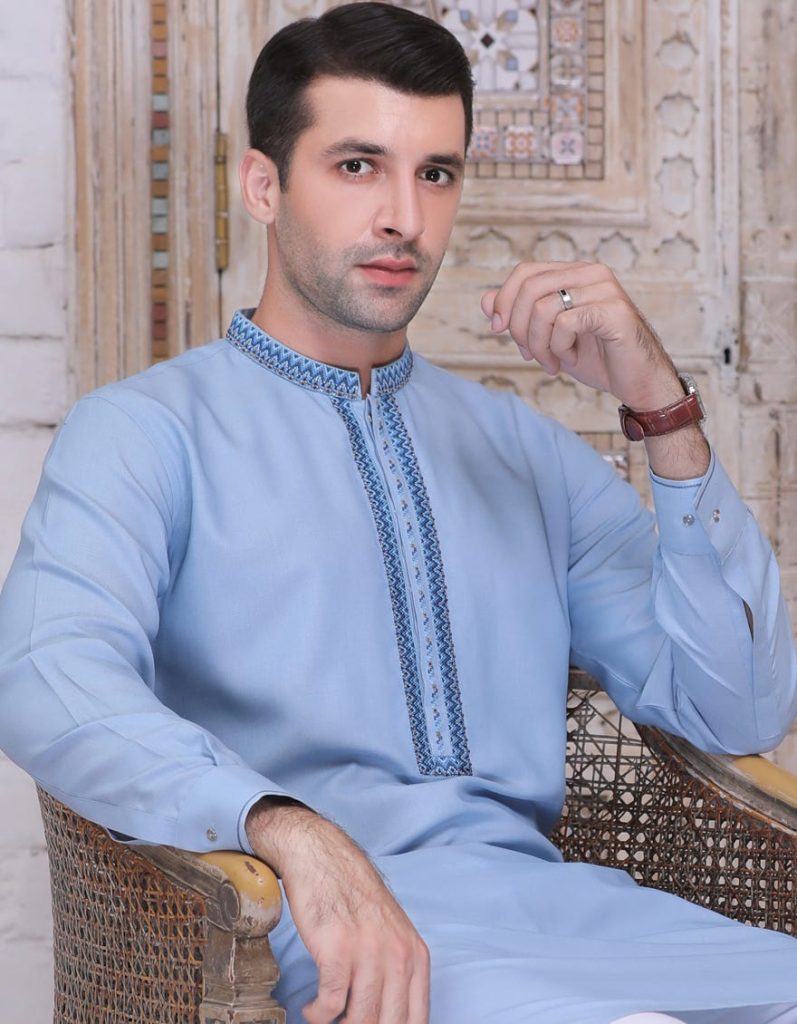 Formal wear sky blue embroidered blended kameez shalwar available PKR:6490 Only.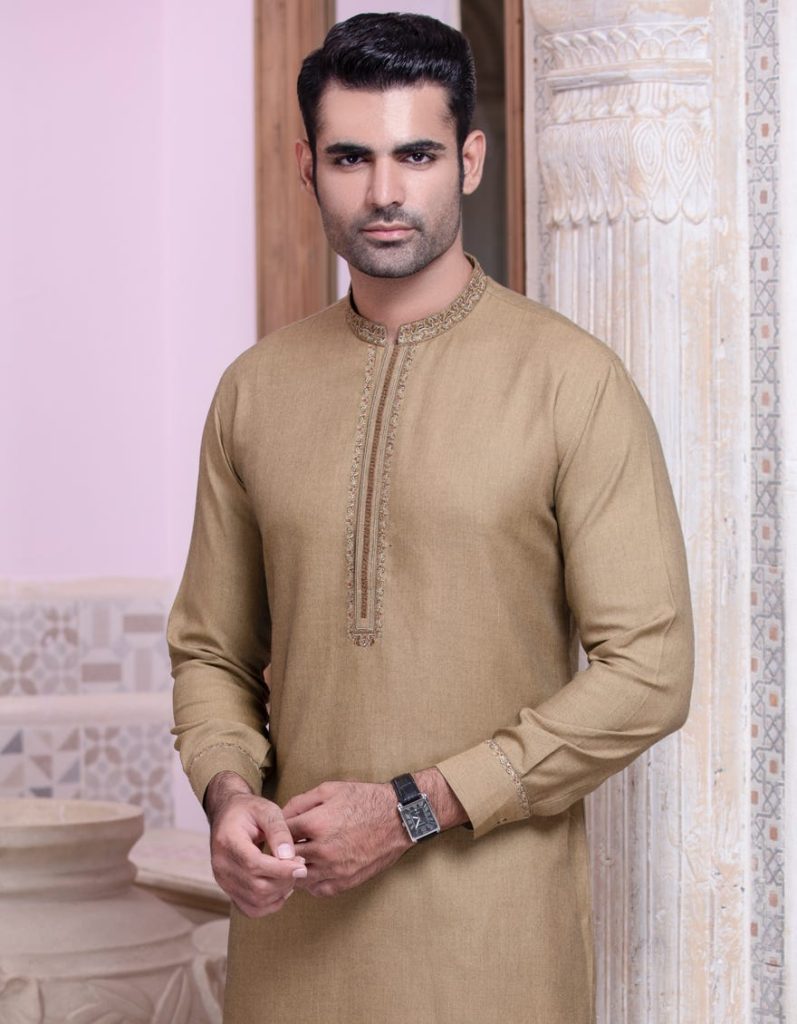 New Khakhi color kurta with pajama/trouser for men wear at sale price PKR:6490.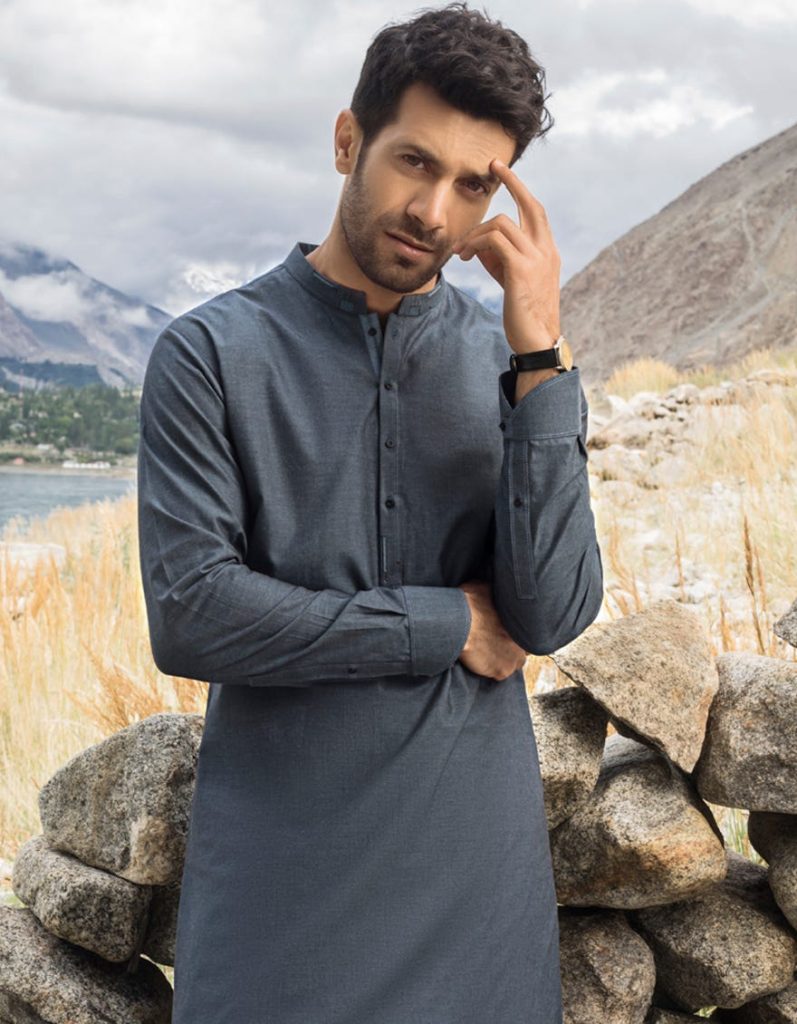 Indigo color cotton kurta and pajama for winter wear in Pakistan PKR:6590 Only.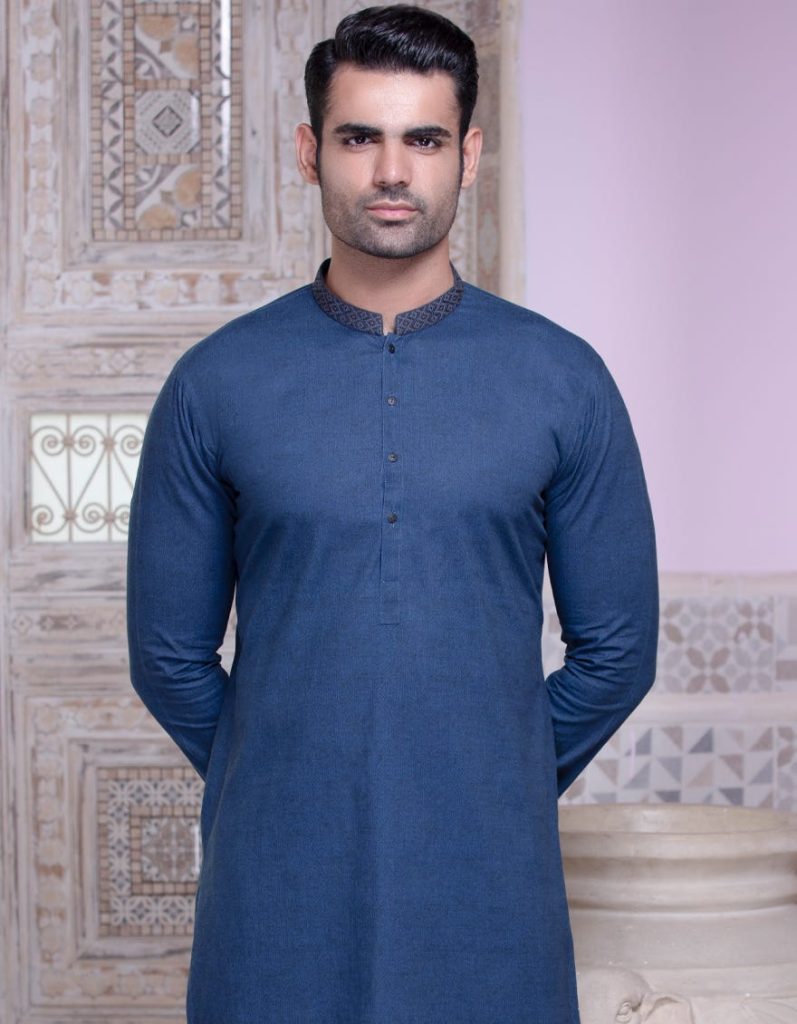 Blue Cotton Kurta having embroidered work on collar available now PKR:2890 Only.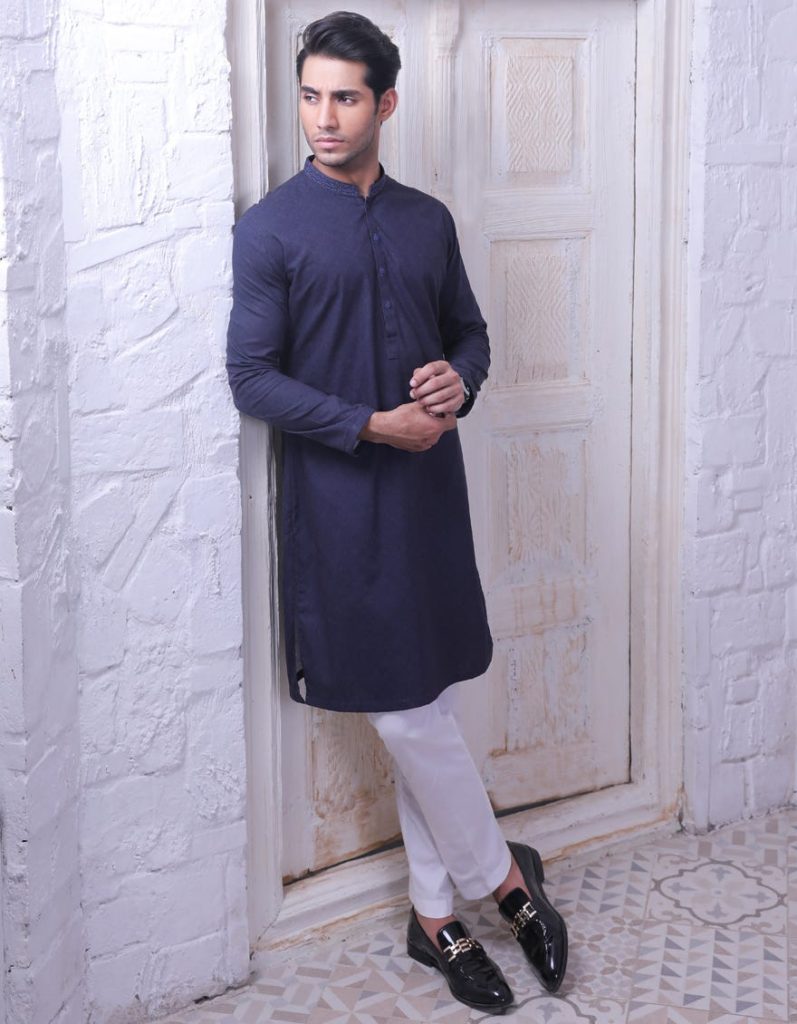 Beautiful purple color cotton kurta for young boys available at sale price PKR:2890 Only.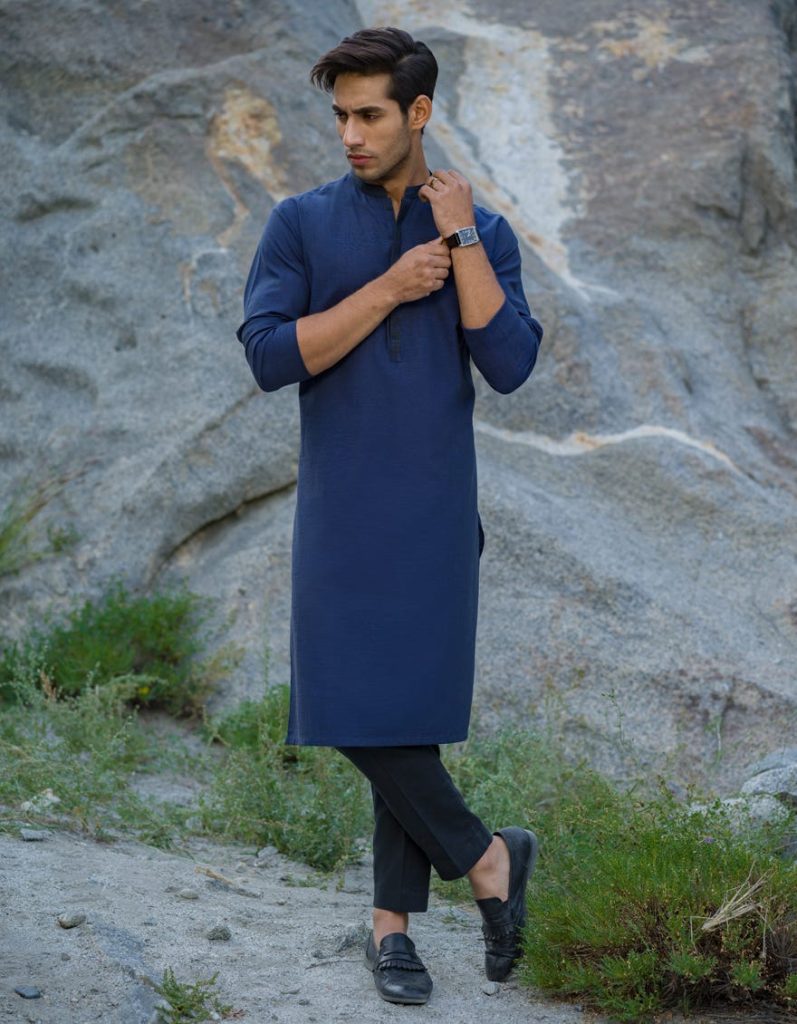 Plain Cotton Prussian Blue Color Cotton Kurta PKR:3290 Only.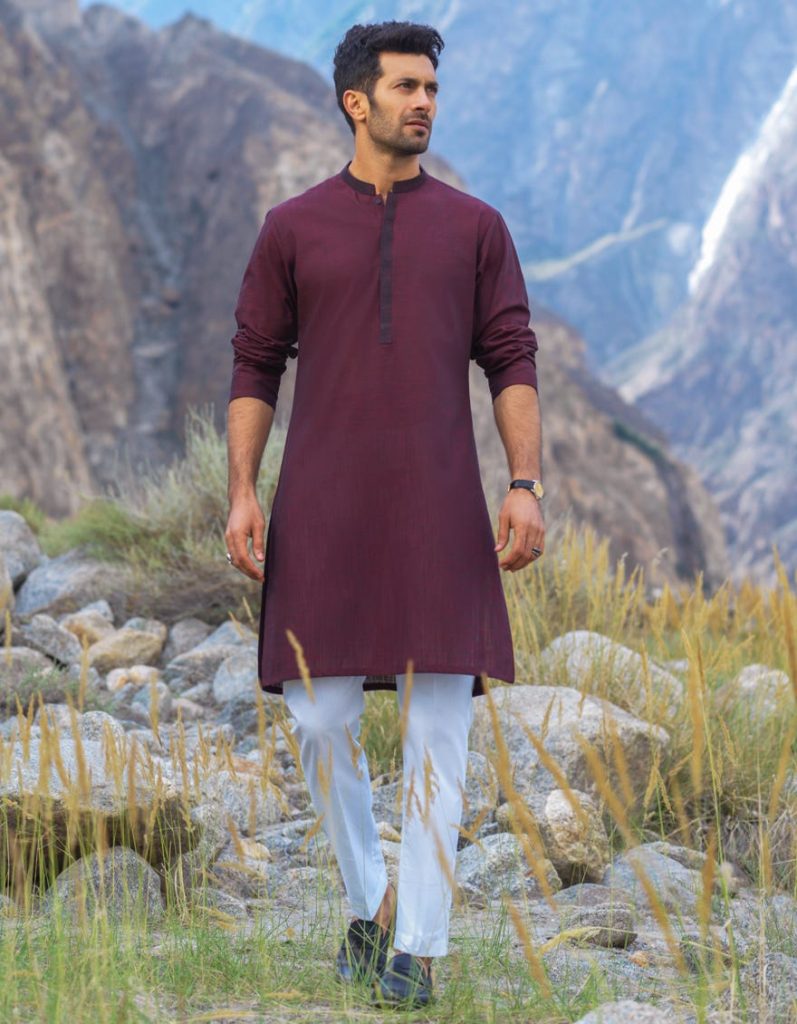 Stylsh dull red color cotton kurta for casual wear PKR:3290 Only.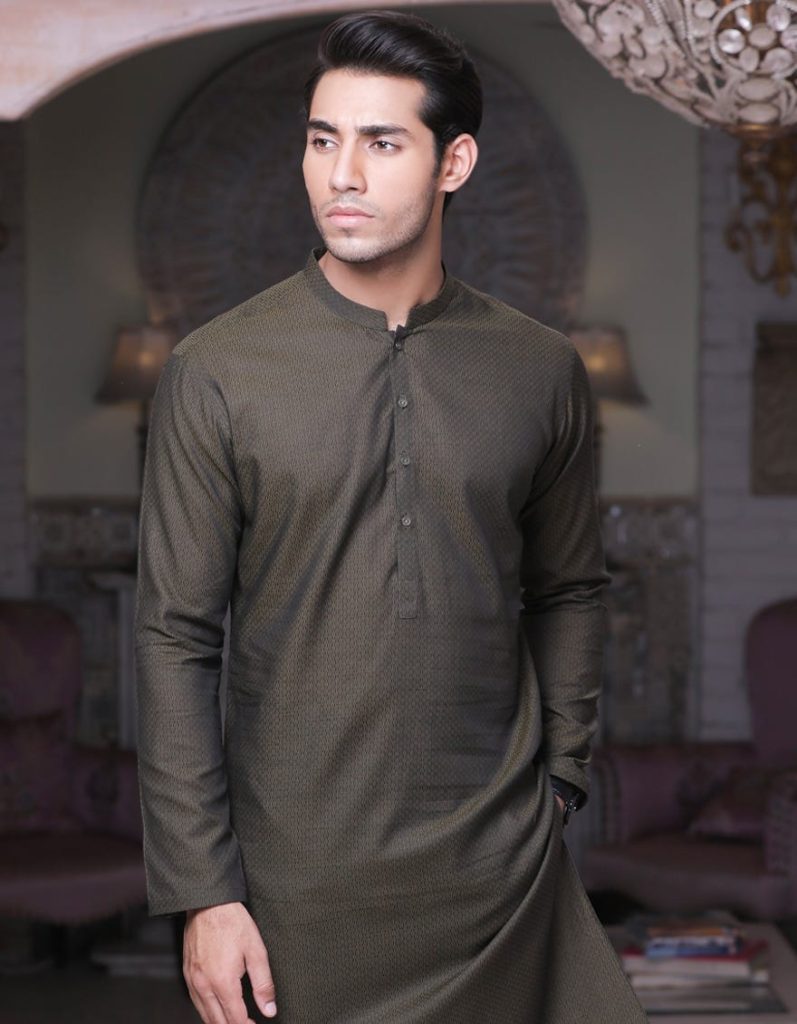 Mehndi Color casual wear plain cotton kurta for men wear at sale price PKR:2890 Only.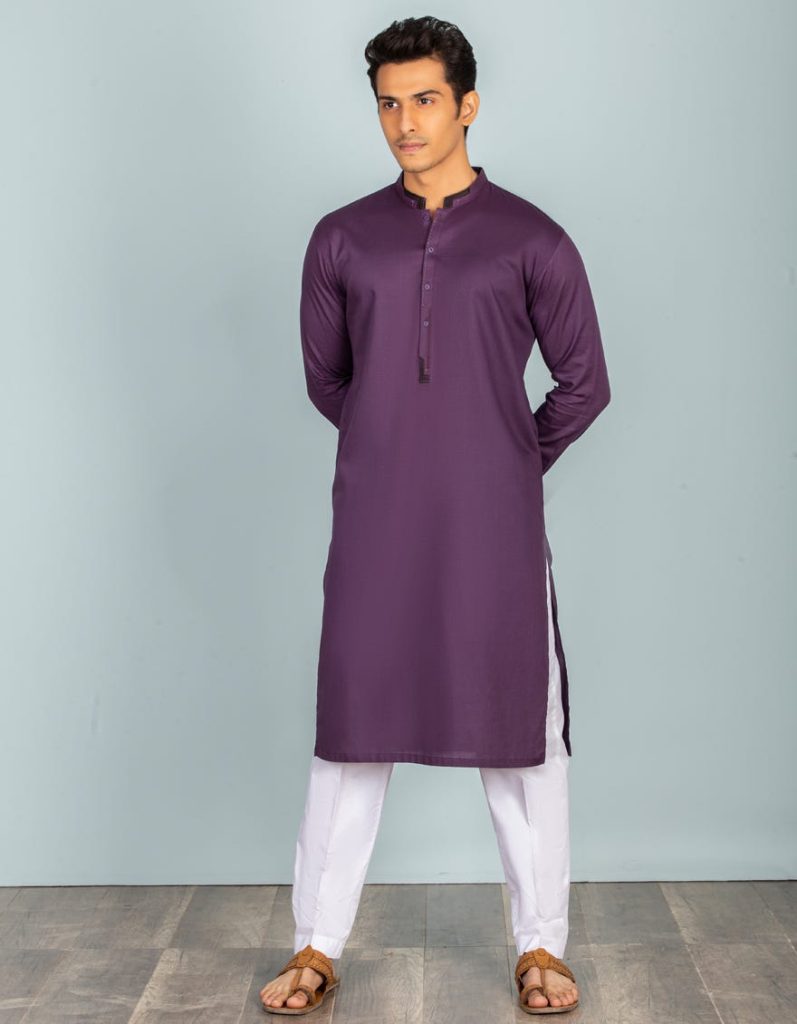 Semi-formal wear purple color cotton kurta for Men's wear available PKR:3290 Only.
Luxury Stuff & professional stitching
But it is the quality of Junaid Jamshed, this brand always works hard on the stitching of dresses. Especially in the case of kurta wearing stitching is of professional level.
Formal wear kameez shalwar with embroidered work on collar & placket PKR:5290 Only.
Beautiful off-white kameez shalwar with computerized and hand-embroidered work for a formal look Available Now PKR:4990 Only.
Light brown formal kameez shalwar PKR:6390 Only.
Stuff quality is the cause of fame of this brand in the whole of Pakistan. After wearing it a long time of kurta stuff quality of this brand remain shiny and steady. Winter Collection For Men by J. is trending in the markets of Pakistan.
See More: Almirah Men's Wear Kameez Shalwar & Kurta 25% Off
Embroidery & Thread Work on Neckline
A major new addition that has been done to this collection is its lovely embroidery & thread work done on the neckline of kurtas. Sleeves have been also adorned with matching embroidery & threadwork present on the neckline of the kurta dress. These designs have made this collection completely tremendous for fashion lovers.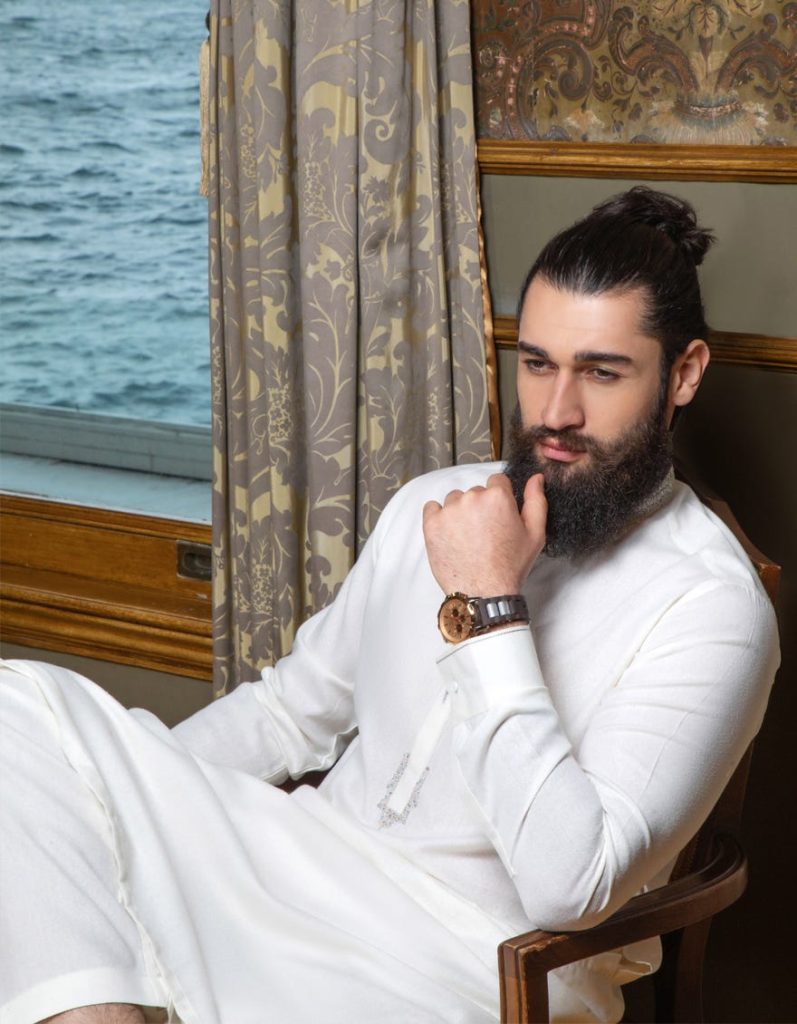 Stylish Formal Wear Kameez and Shalwar With Embroidered Work on Front Patti PKR:5790 Only.
Offered Colors & Prices
This collection contains a complete range of light and dark shades. Brown, black, grey, blue, skin brown, chocolate brown, white, and many other colors are present in this winter collection. We have uploaded all the pictures regarding this post.
View these pictures and don't forget to comment on Stylostreet.com