Bareeze Summer Sale 2022 Season End Collection 50% Off Now
Now shop from the Bareeze Online store and get the full variety of latest stuff in Bareeze Sale 2022. The selected staff has a price of 50% off Season End Summer Collection 2022 in Pakistan Online.
Bareeze is a top Pakistani clothing brand. In the past few years, the brand has got much fame due to its unmatchable designs and stylish creations. Hence we can say that this is a brand new era.
Bareeze Sale 2022 – Upto 50% Off
Our article is about the latest sale that has been set on Bareeze formal & casual women's wear. This collection includes party wear, luxury, and embroidery dresses. That's why we can say that this is an all-in-one sale containing different types of dresses that are trending these days.
This is the first sale that has been introduced to this brand after a long time. Hence don't miss this golden chance to get the latest creation of Bareeze at a 50% off rate.
Pink printed lawn shirt, dupatta, and shalwar PKR:4,560 PKR:3,420 only.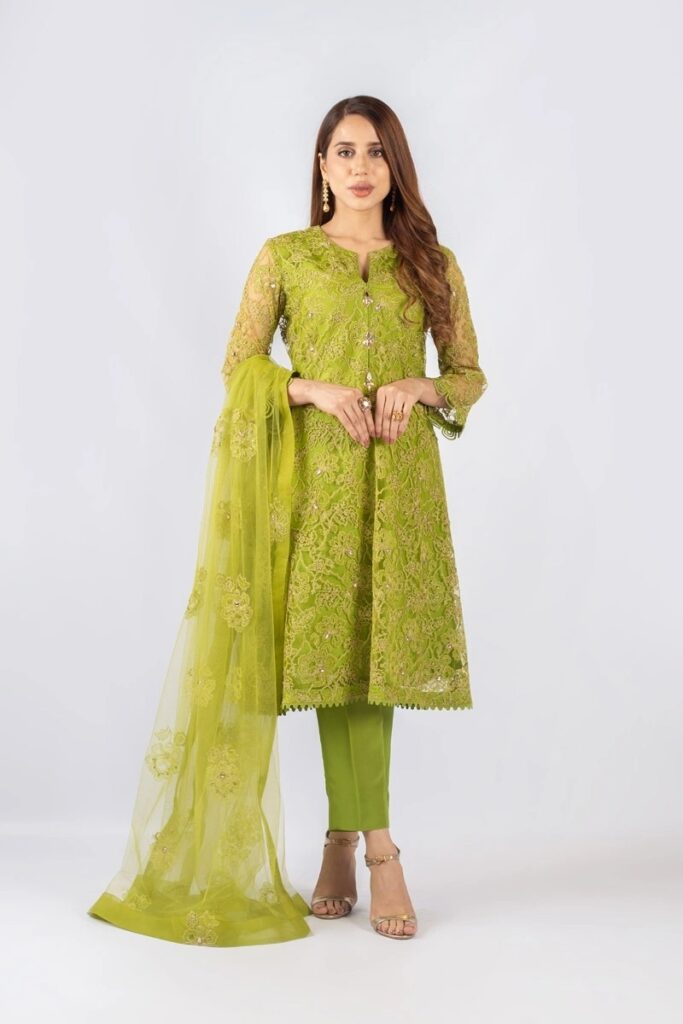 Golden range unstitched embroidered suit PKR:29,560 PKR:26,393 only.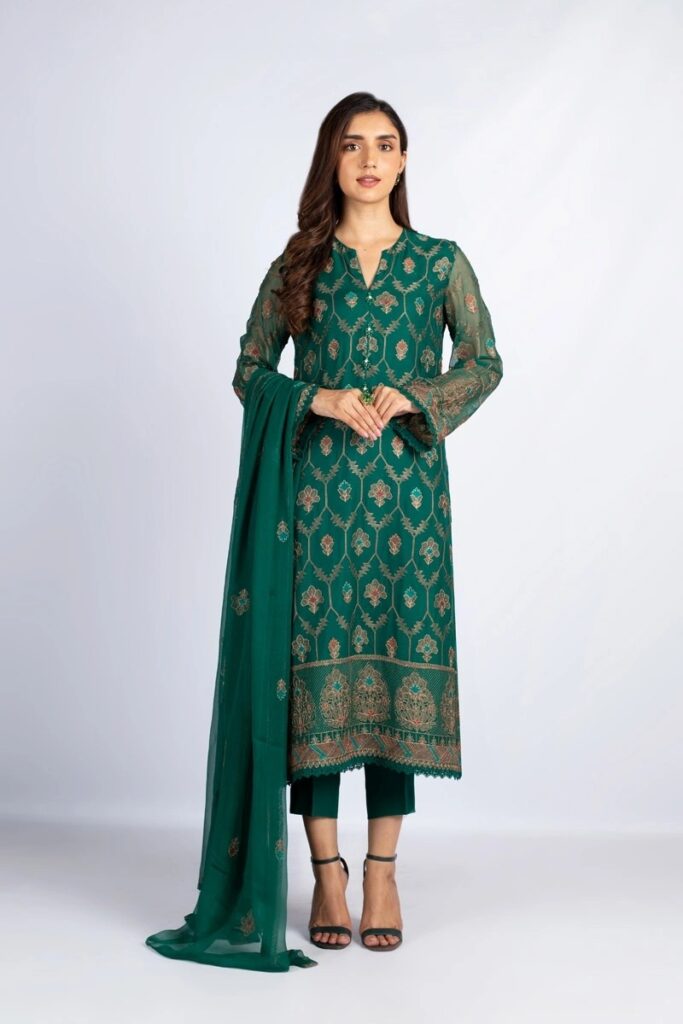 Mumtaz range green embroidered 3piece suit PKR:19,200 PKR:16,320 only.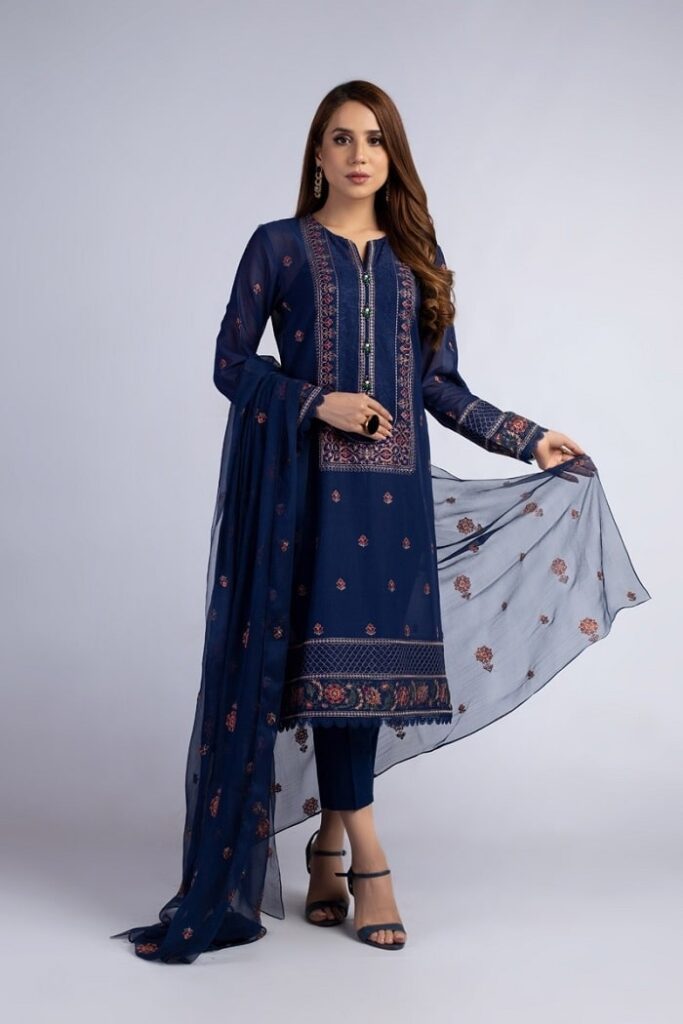 Stylish navy blue embroidered lawn shirt, chiffon dupatta, and shalwar available PKR:12,480 PKR:10.059 only.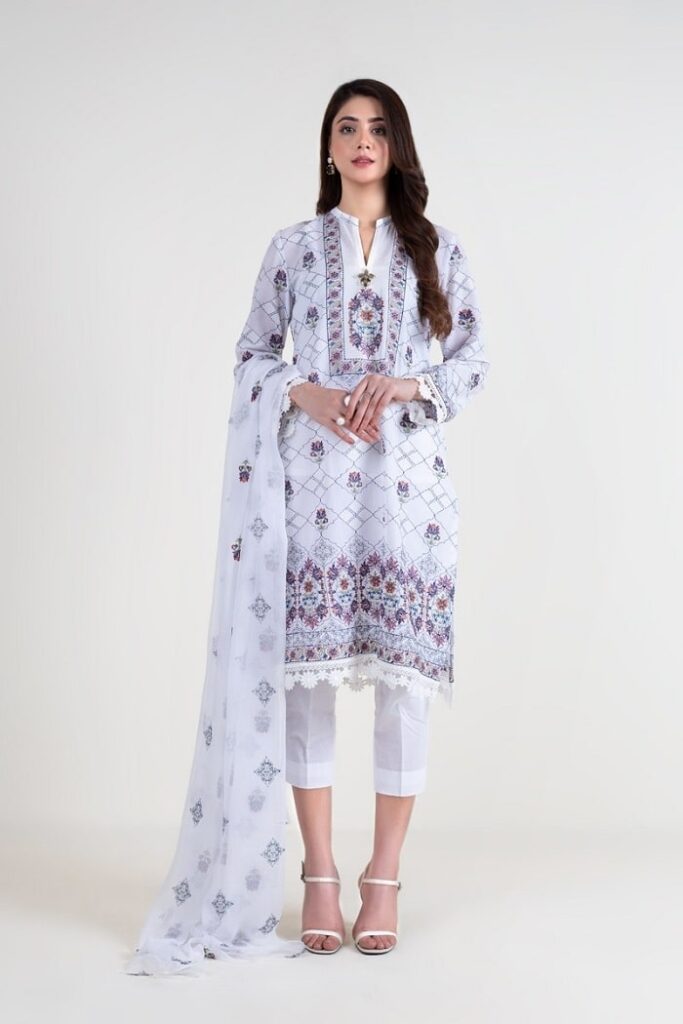 Iznik fantasy white color embroidered lawn suit PKR:14,970 PKR:12,246 only.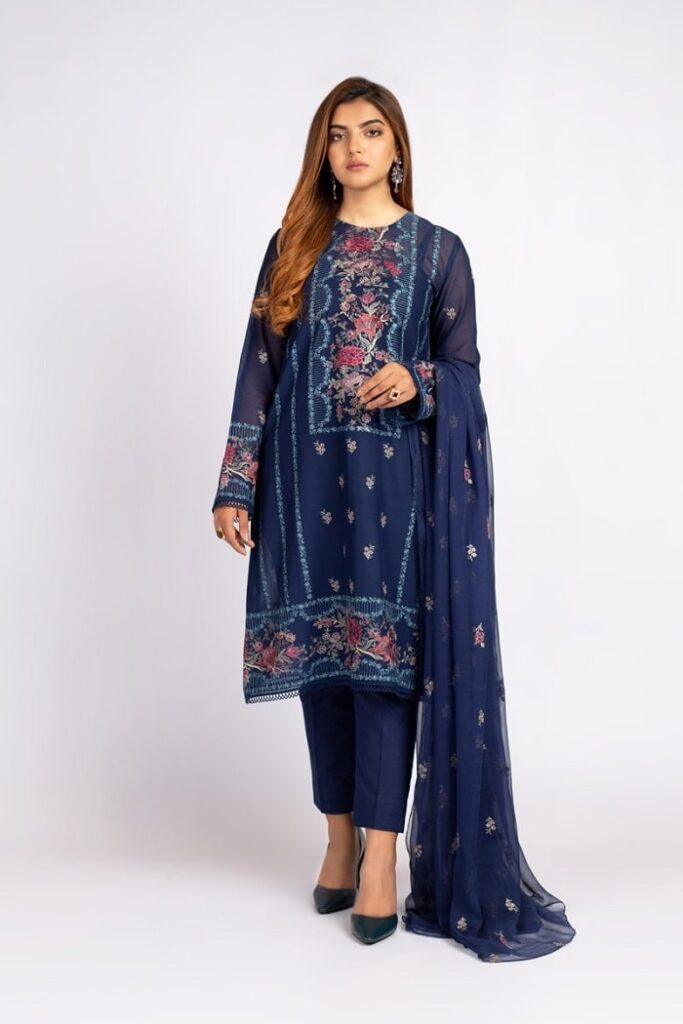 Navy blue bahar gul 3piece suit PKR:12,480 PKR:9,684 only.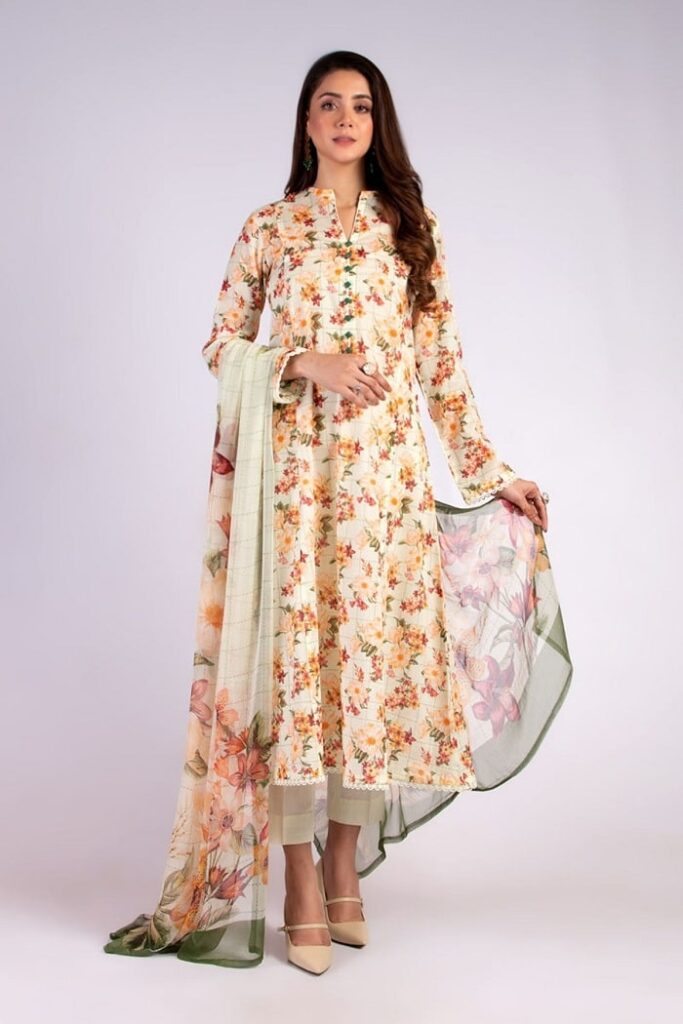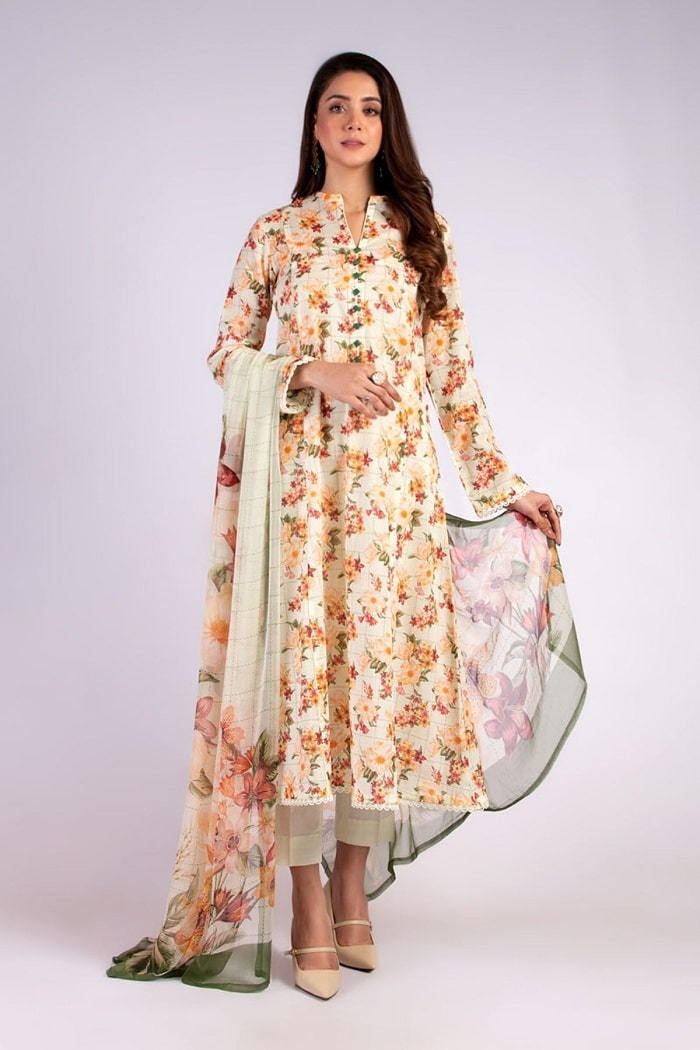 floral printed lawn unstitched three-piece suit PKR:3,650 PKR:2.920 only.
Bareeze Sale Stuff
Different type of stuff has been kept for this special sale. In this 50% off collection you will be able to avail this stuff:
Khadder
Lawn
Karandi
Cotton
Silk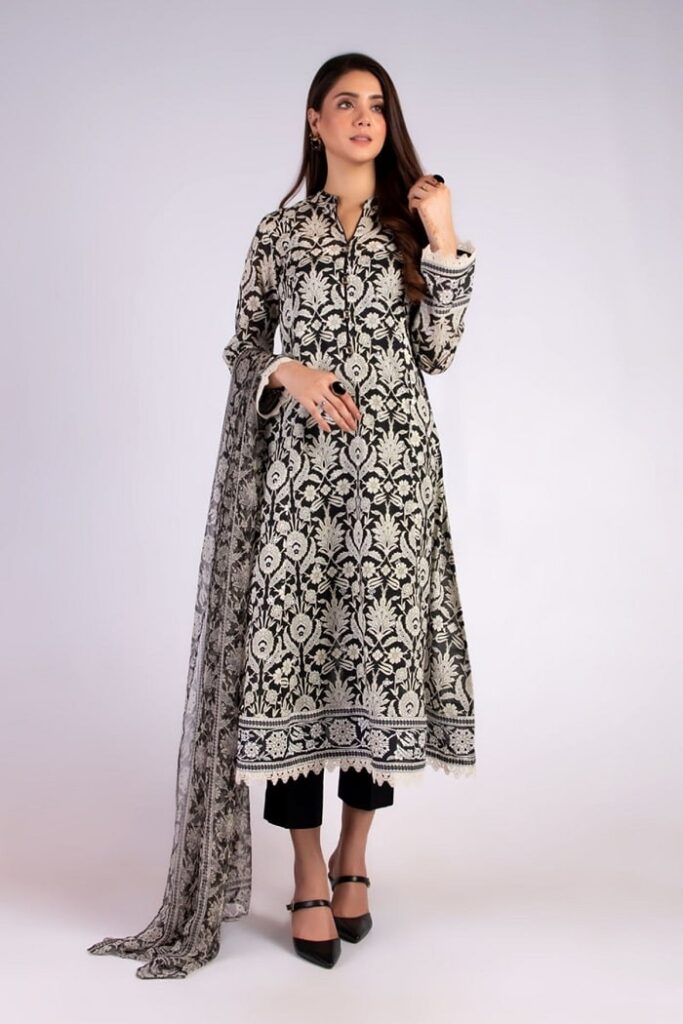 Printed Black Lawn Shirt, chiffon dupatta, and cambric shalwar available for PKR:4,820 PKR:3,856.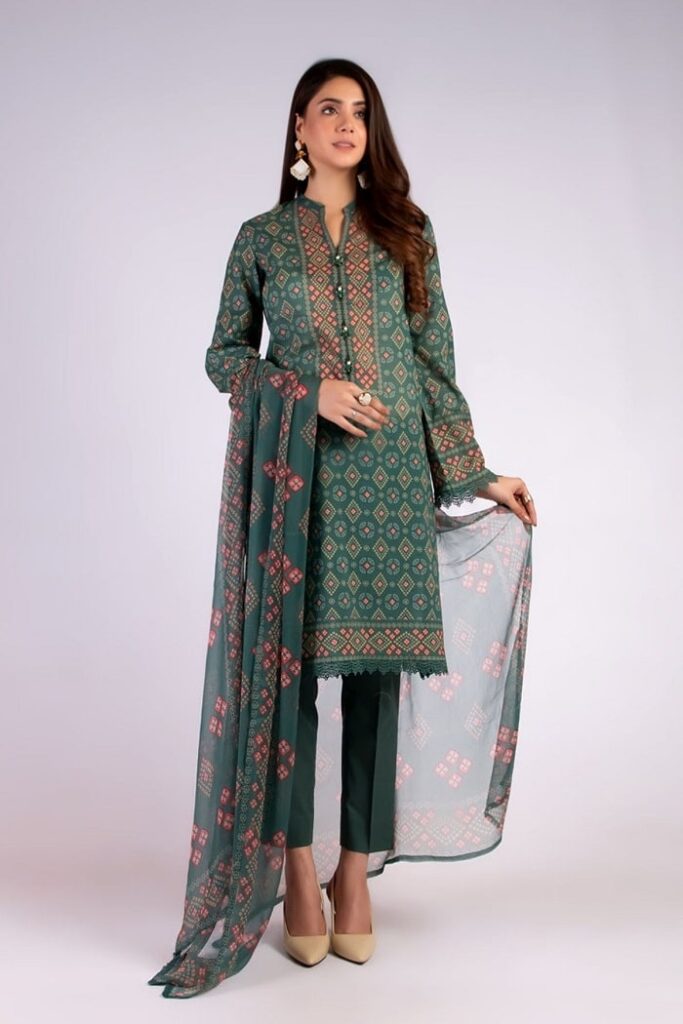 Printed Green Color 3Piece Unstitched Suit for Ladies Wear PKR:3,960 PKR:31,68 only.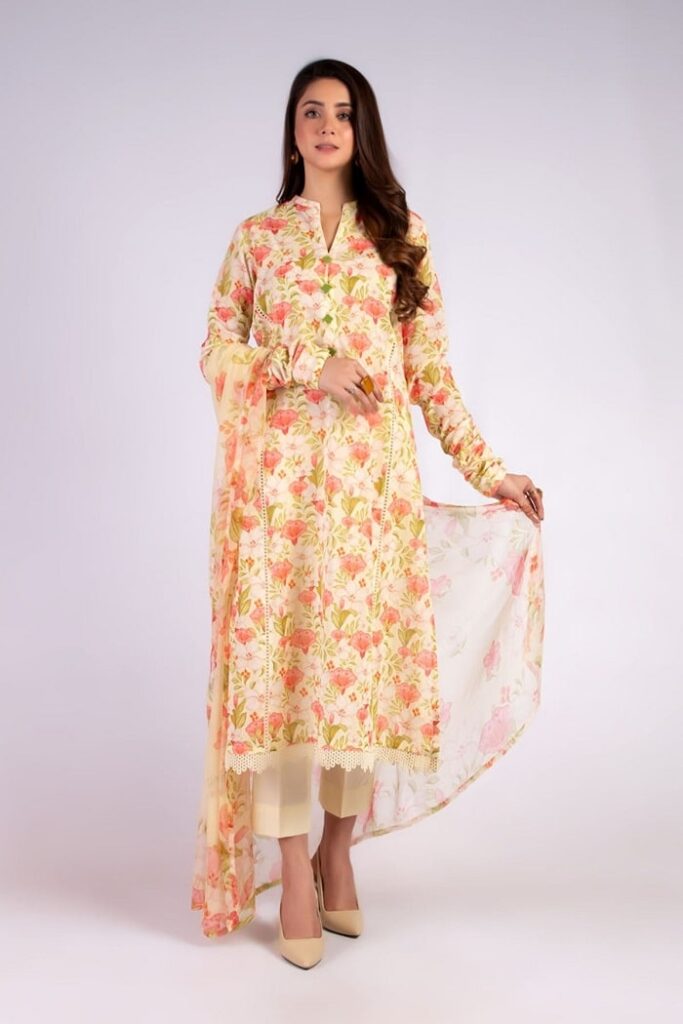 New arrival bareeze floral printed yellow color 3piece un-stitch suit PKR:4,700 PKR:3,760 only.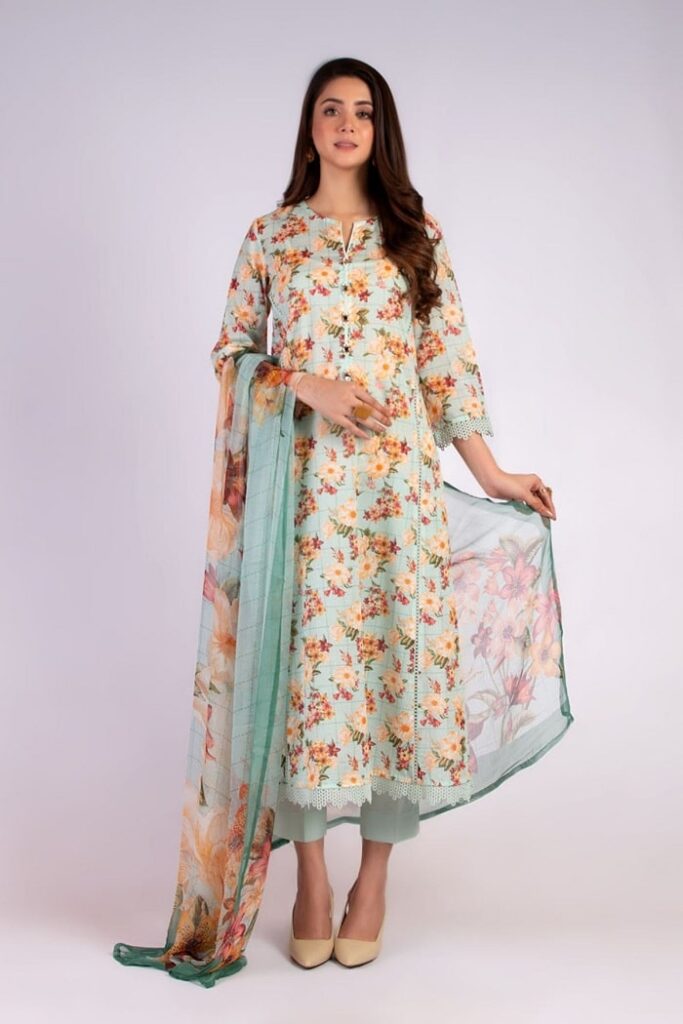 Get the perfect summer look with this grey color printed lawn 3piece suit PKR:3,650 PKR:2,920.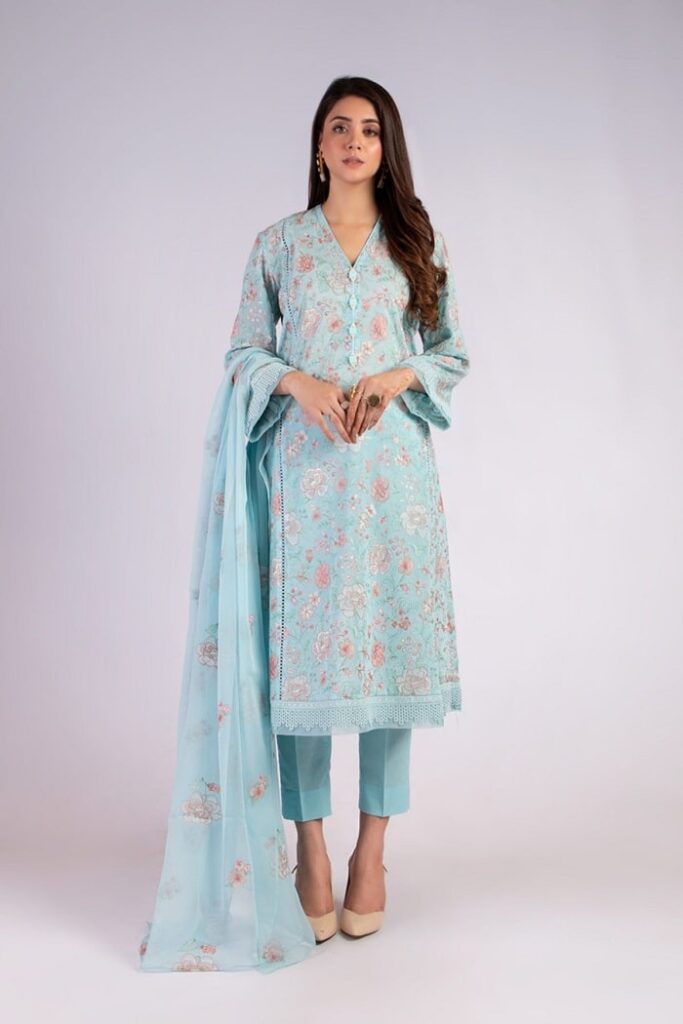 Blue suit embellished with beautiful floral embroidered work available for PKR:15,000 PKR:13,428 only.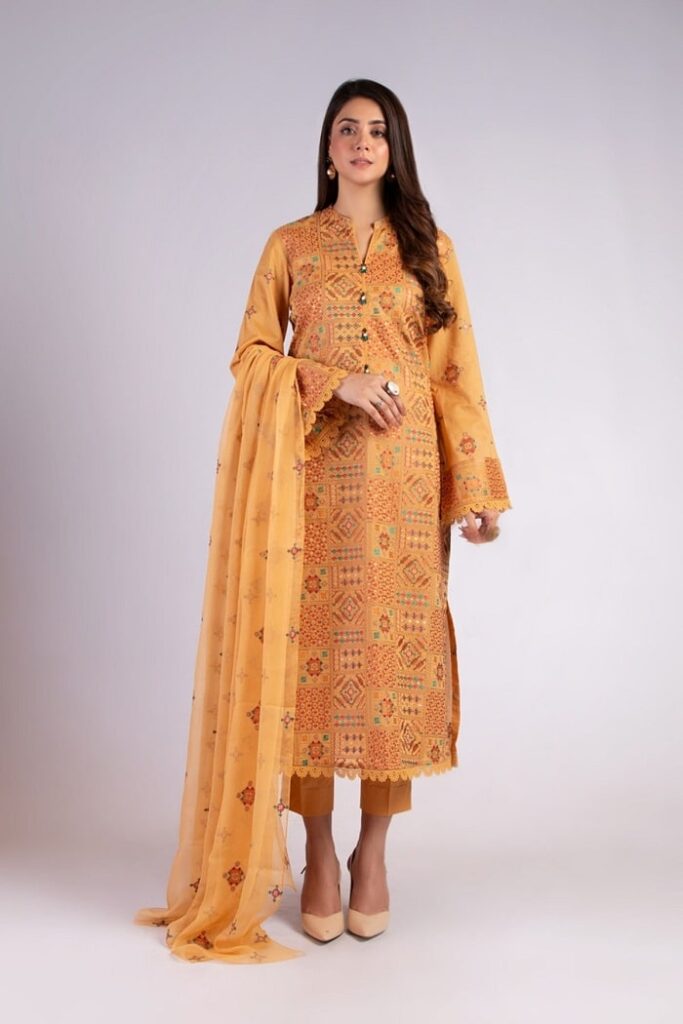 Festive wear orange color un-stitch three-piece luxury suite available at sale price PKR:11,432 PKR:10,011 only.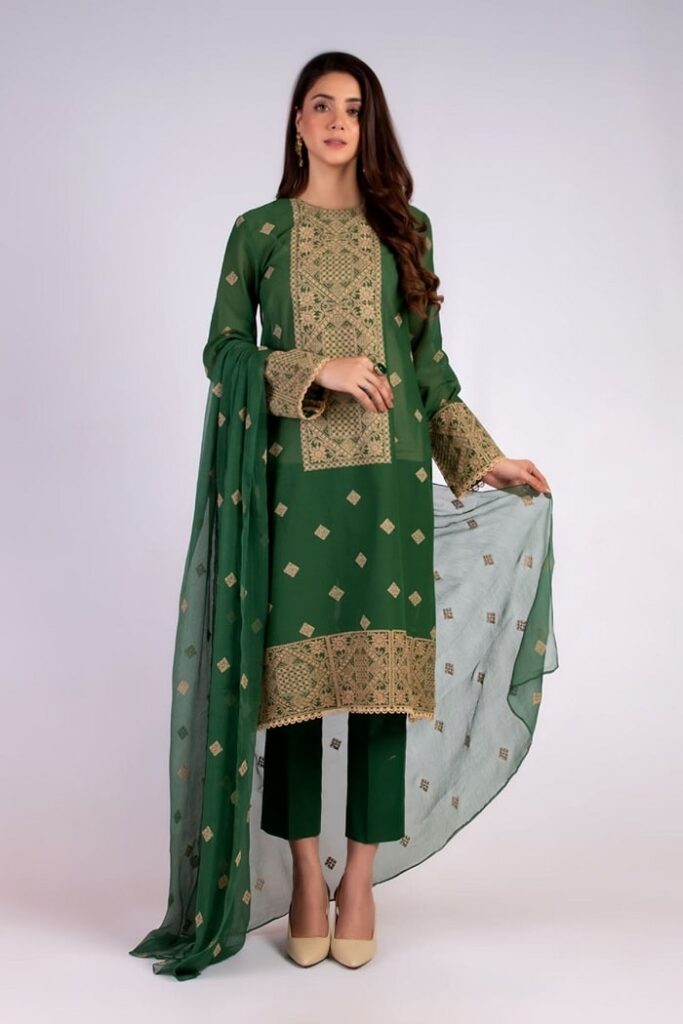 Taksim range green color 3piece suit PKR:13,310 PKR:11,907 only.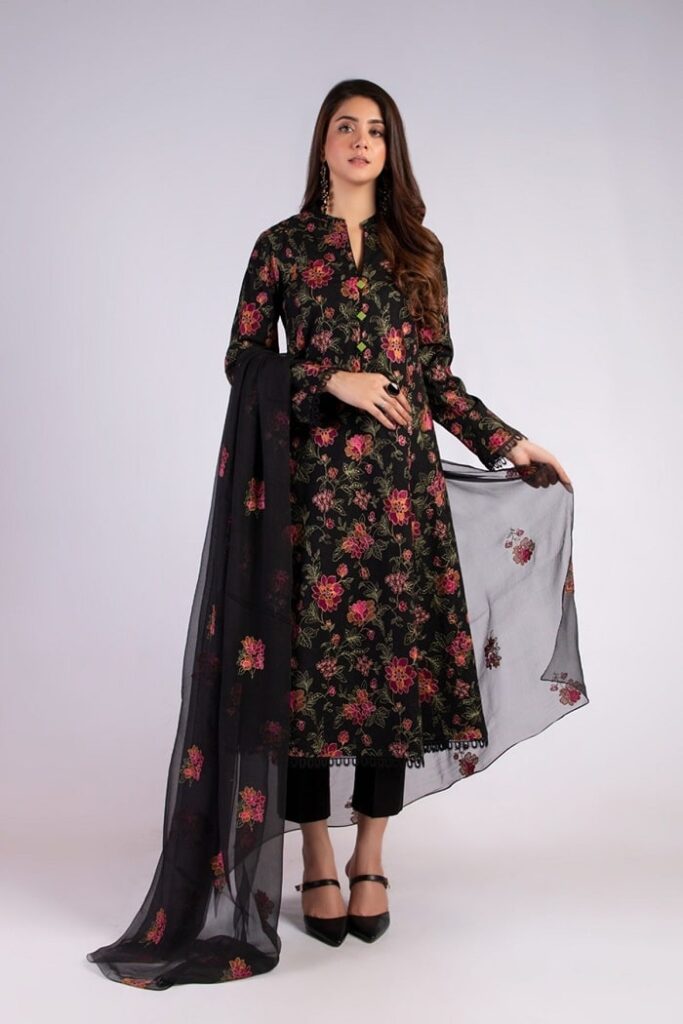 Get a floral glow look with this black color 3piece unstitched suit PKR:12,475 PKR:10,899.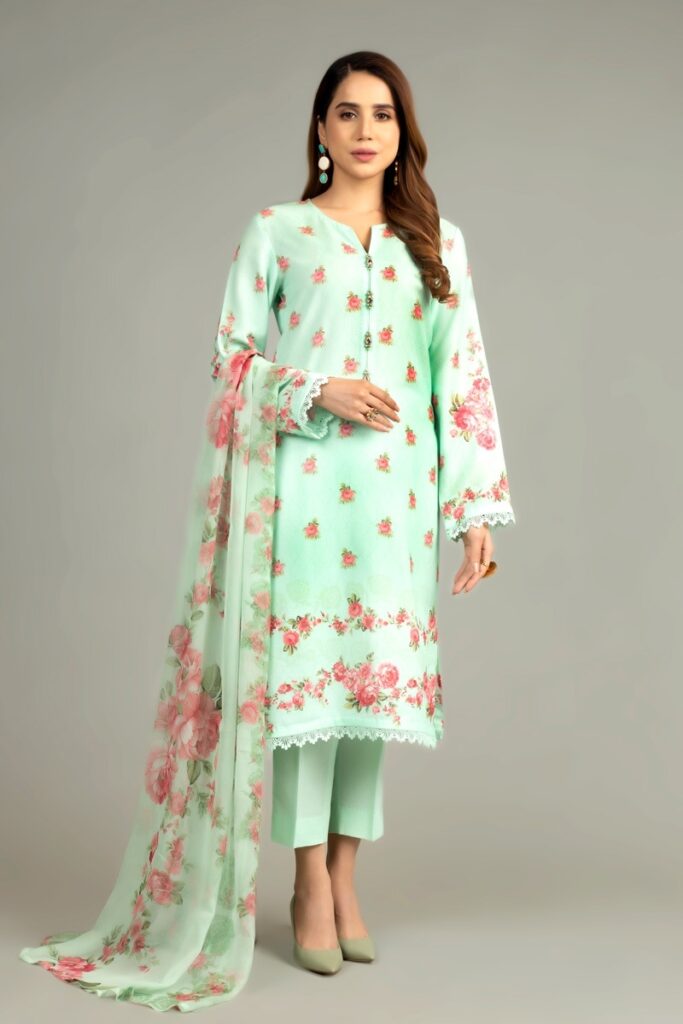 Printed three-piece karandi lawn shirt, dupatta, and shalwar available for PKR:7070 PKR:4949 Only.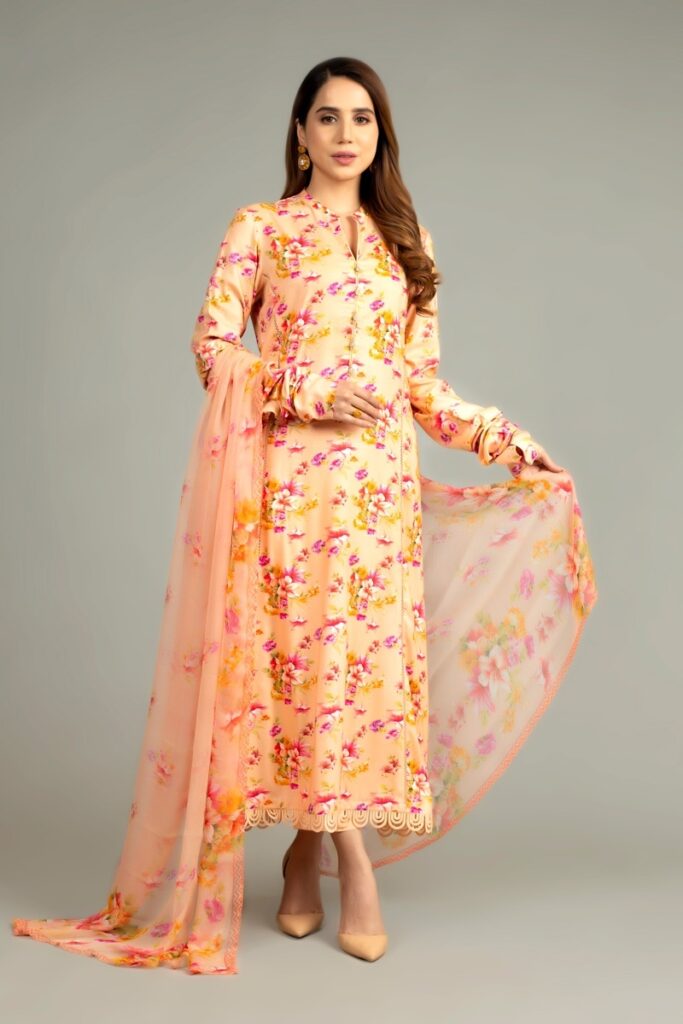 Peach color printed 3 piece lawn suit PKR:3490 PKR:2394 Only.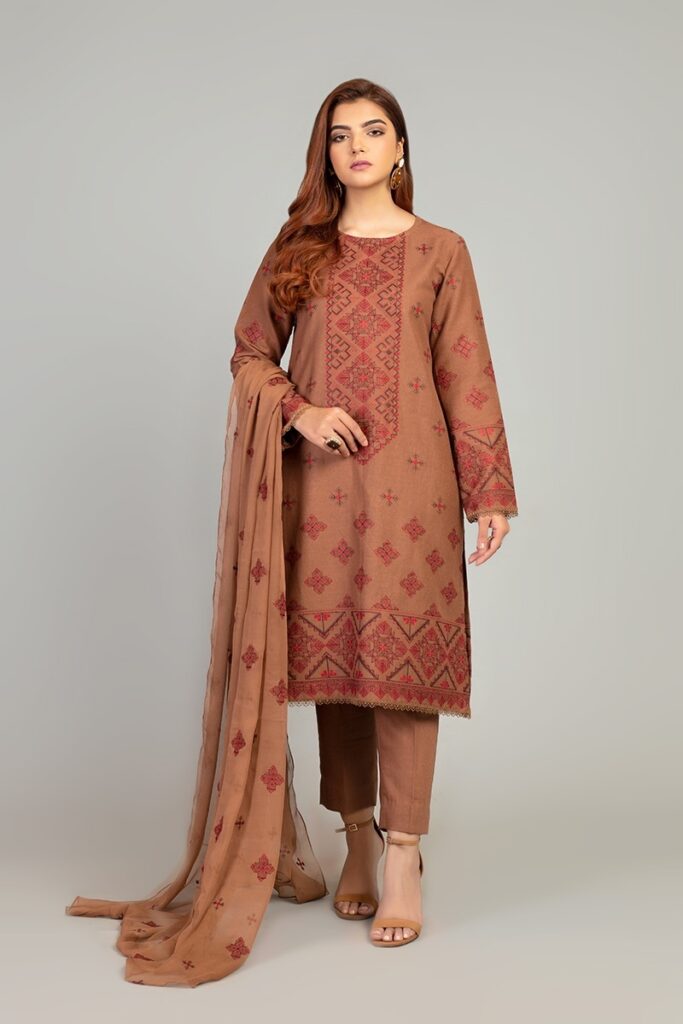 Brown Embroidered Karandi 3 piece suit for PKR:15070 PKR:10521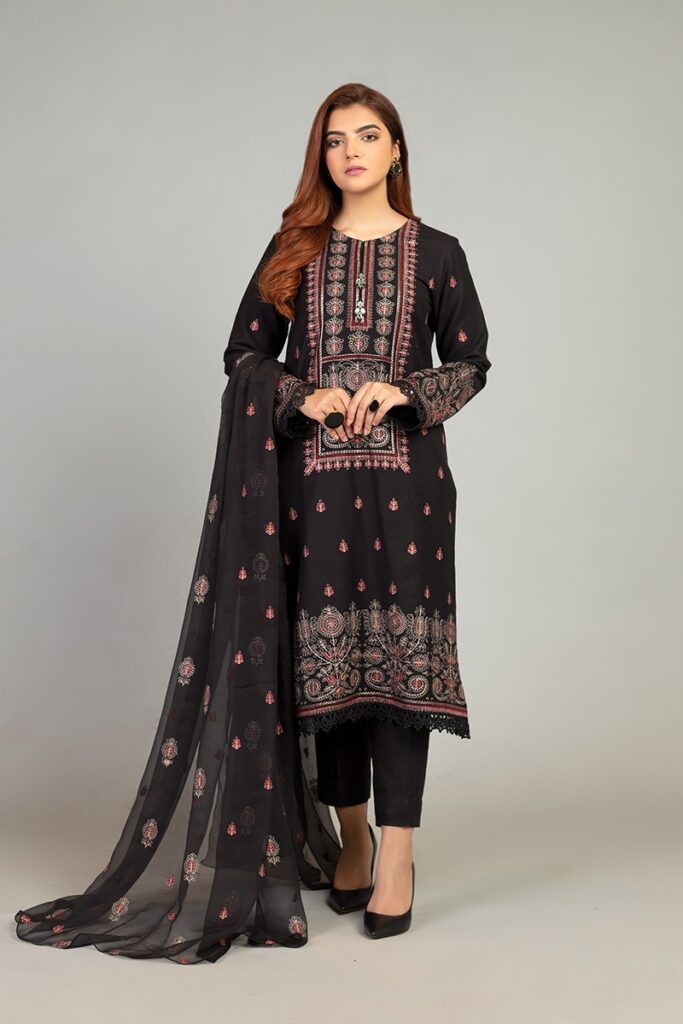 Cotton Embroidered Black color Suit PKR:7070 PKR:10548 Only.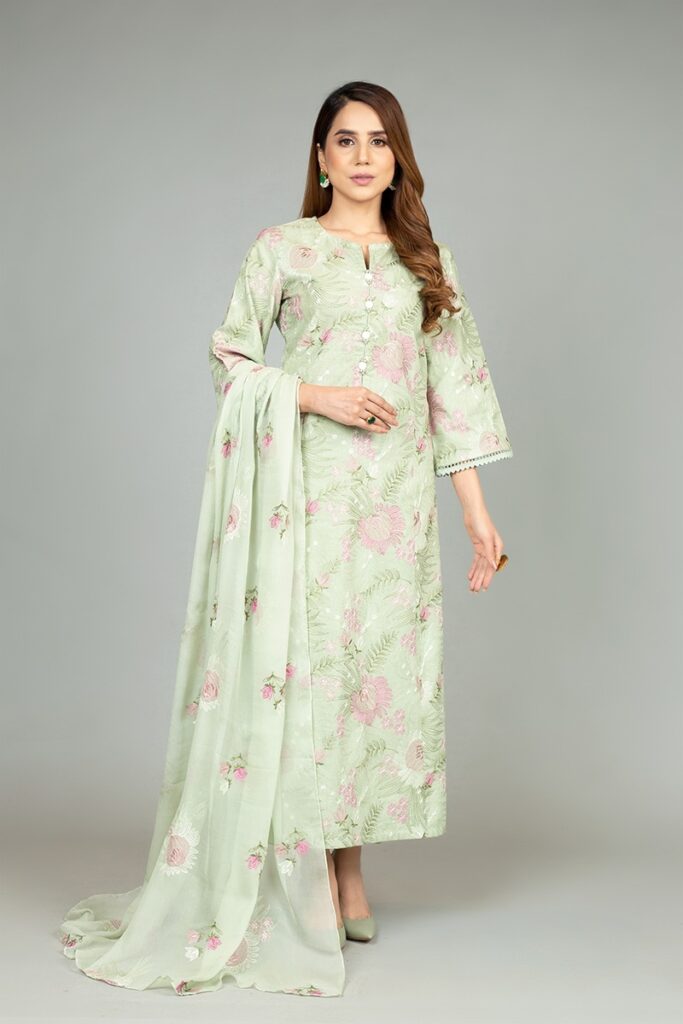 Light Green Embroidered pink flower print 3 piece suit PKR:13800 PKR:12420 Only.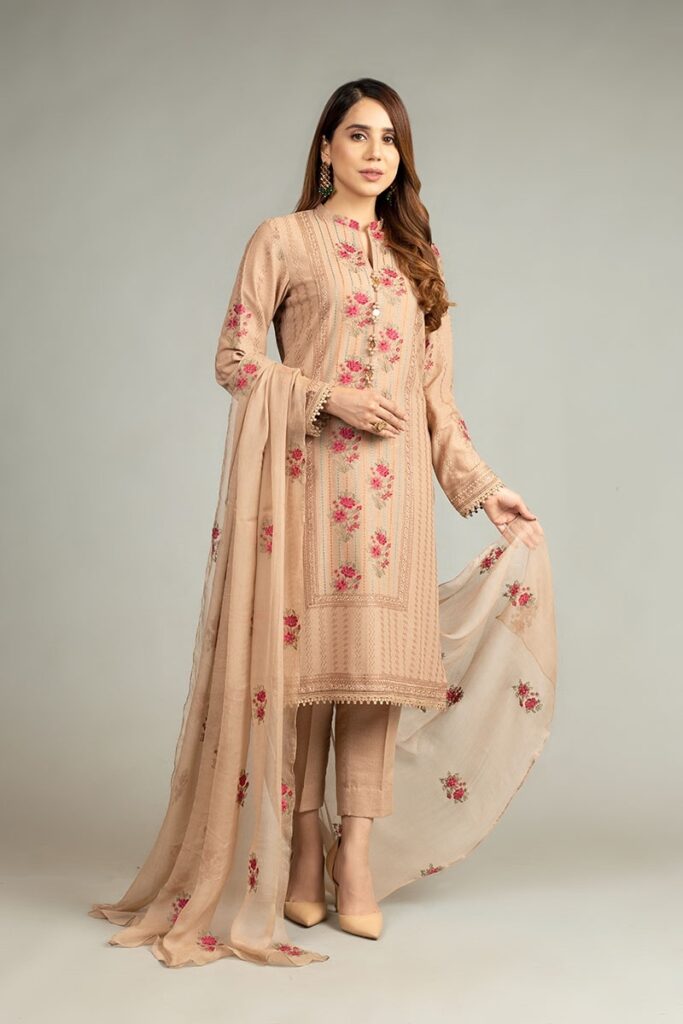 Beige 3 pieces karandi lawn suit PKR:12725 PKR:10816 Only.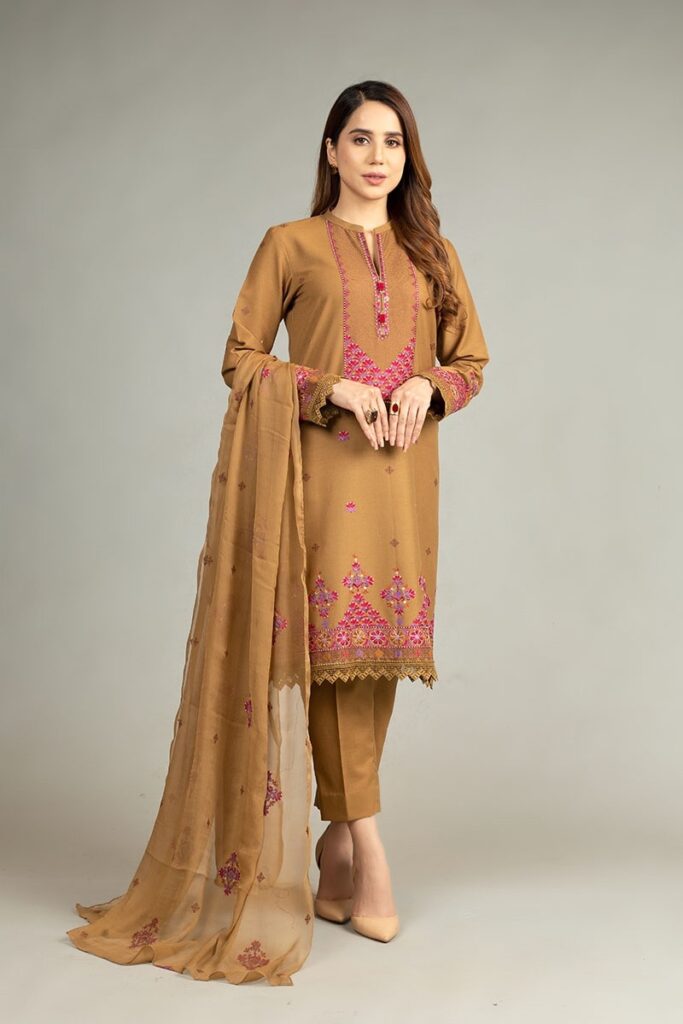 Stylish brown color lawn suit for PKR:15070 PKR:9553
PKR:11768/-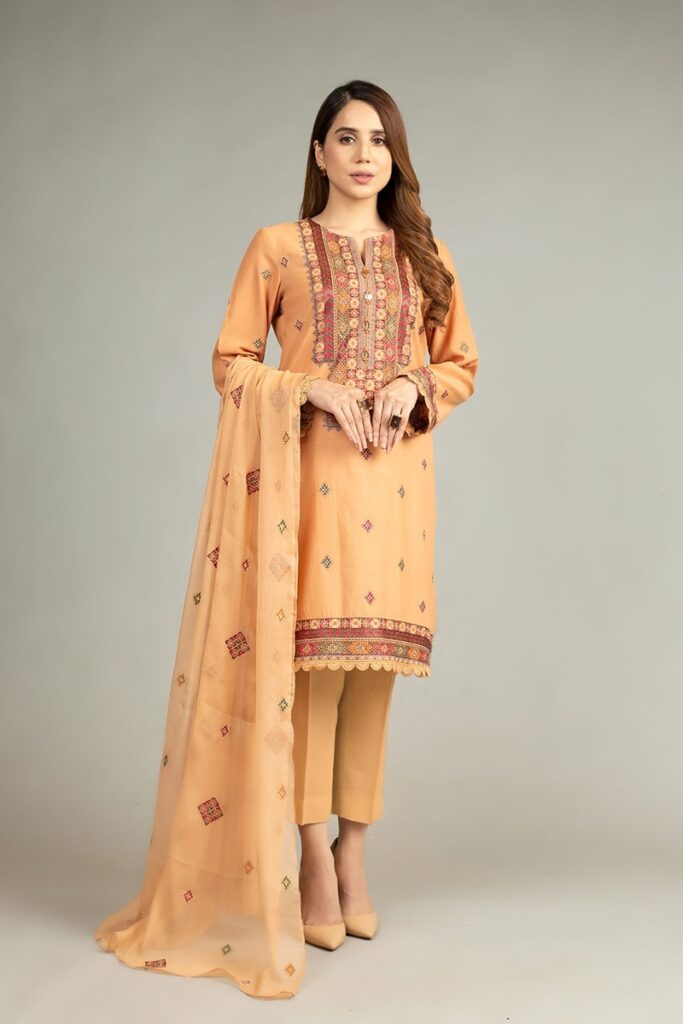 Rust color lawn 3piece suit PKR:12070 PKR:10107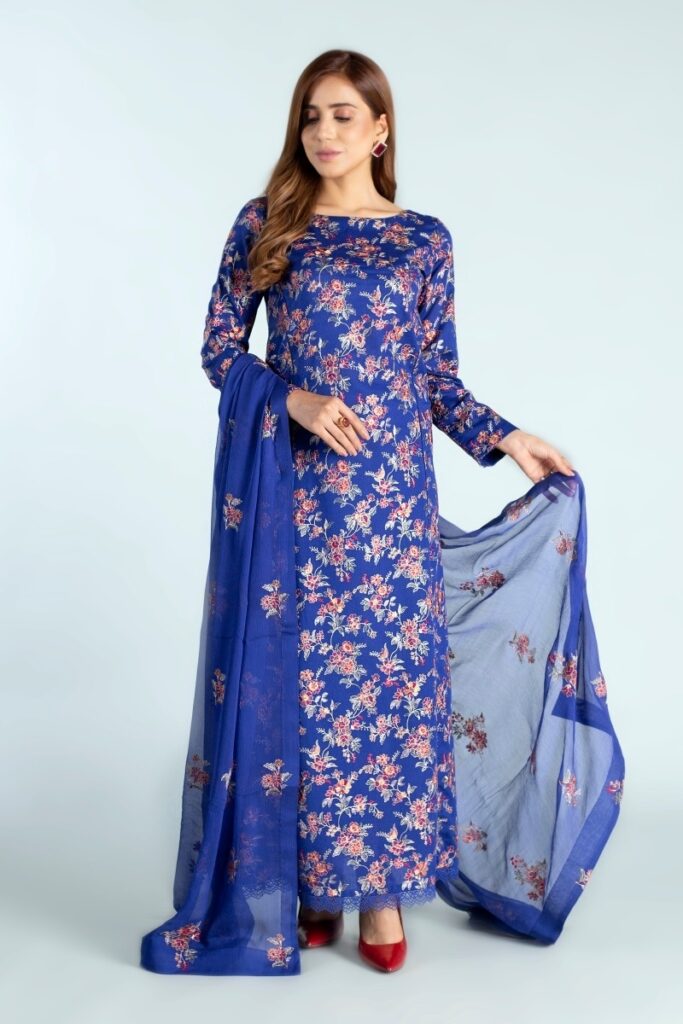 Lily flora Blue color trendy suit PKR:12825 PKR:10943 Only.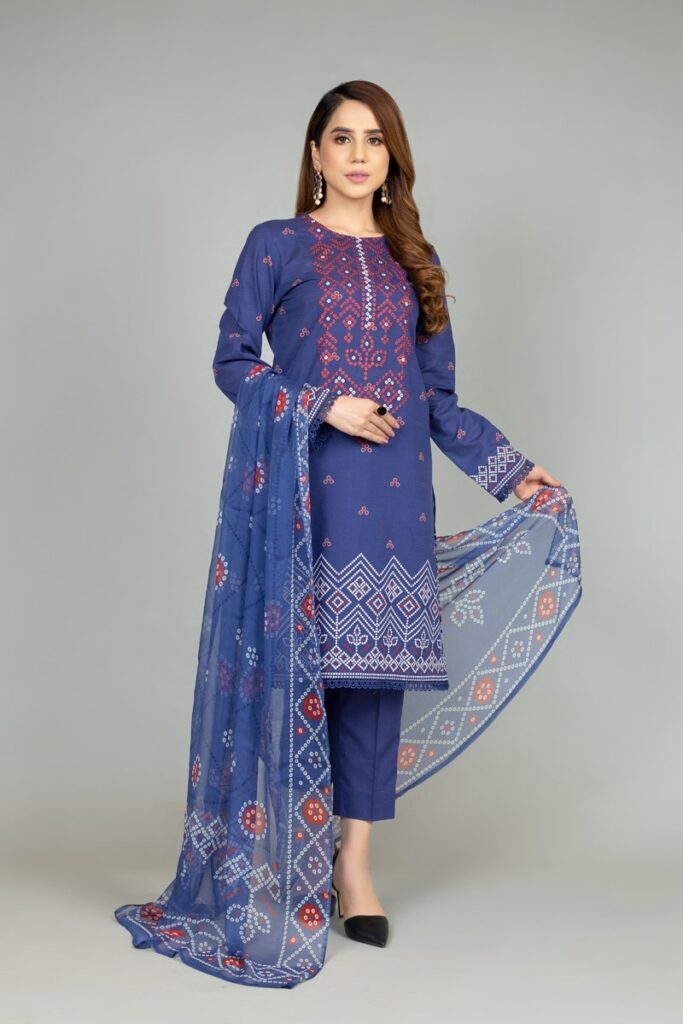 PKR:4240 PKR:2968 Only.
Bareeze Sale For Eid
This collection can also prove special for the next EID event. As you know Ramzan 2022 is going to arrive soon. Hence in a few days, Eid-ul-Fitr will arrive and you have to shop for new dresses for that event. It is the best chance to buy expensive and stylish dresses of Bareeze at low rates.
On Eid day when you will wear a stylish, marvelous designed dress of the Sale collection then it will absolutely prove worthy. So we suggest our dear visitors buy one dress from this collection and color your 2022 Eid with new designs.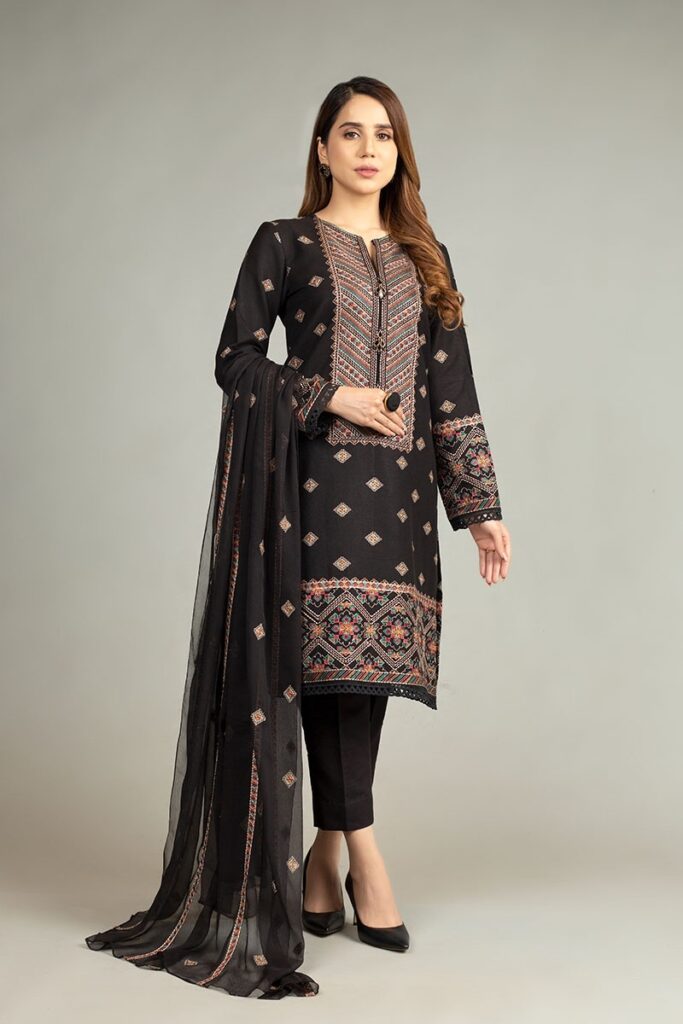 Beautiful black color 3 piece suit PKR:6910 PKR:6219 Only.
Karandi Lawn 3-Piece Suit With Embroidered Chiffon Dupatta PKR:14500 Only.
Stylish Brown Color 3 Piece Cotton Karandi Suit With Embroidered Chiffon Dupatta Available PKR:11500 PKR:10350 Only.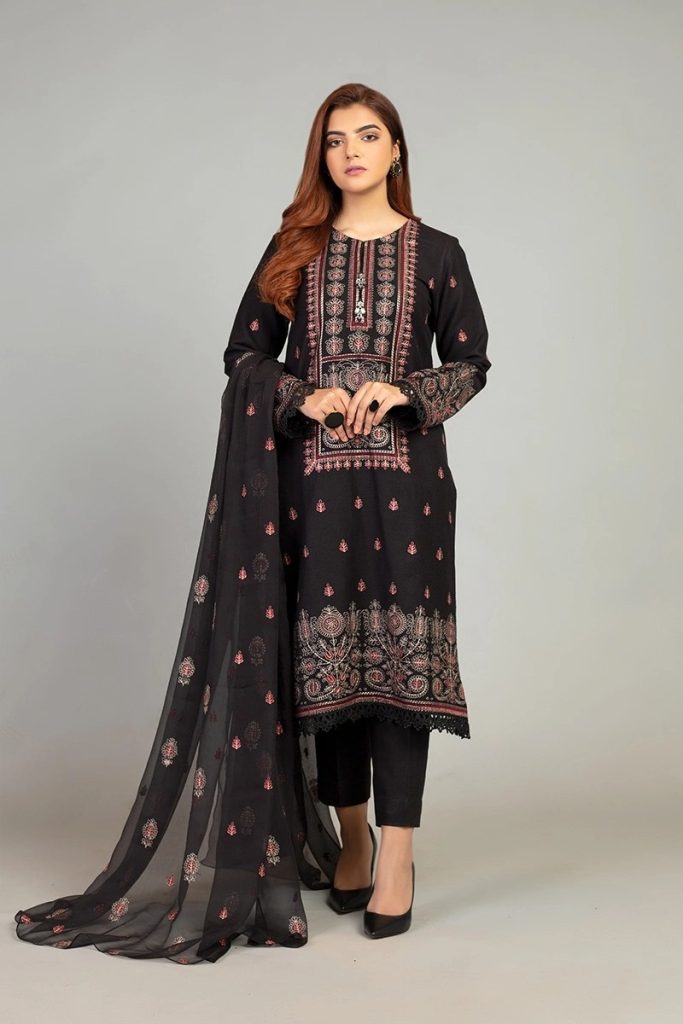 Stylish 3PCs Cotton Karandi Black Color Suit by Bareeze Season End Sale PKR:11500 PKR:10350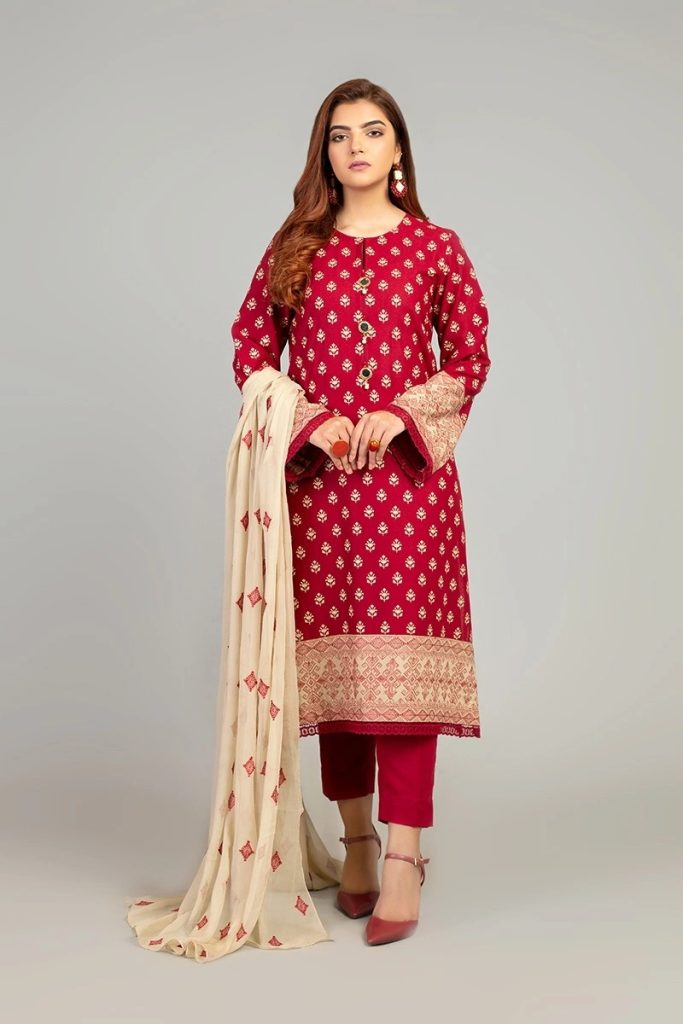 Embroided Karandi Lawn 3 Piece Red Color Suit At Sale Price PKR:11225 PKR:9545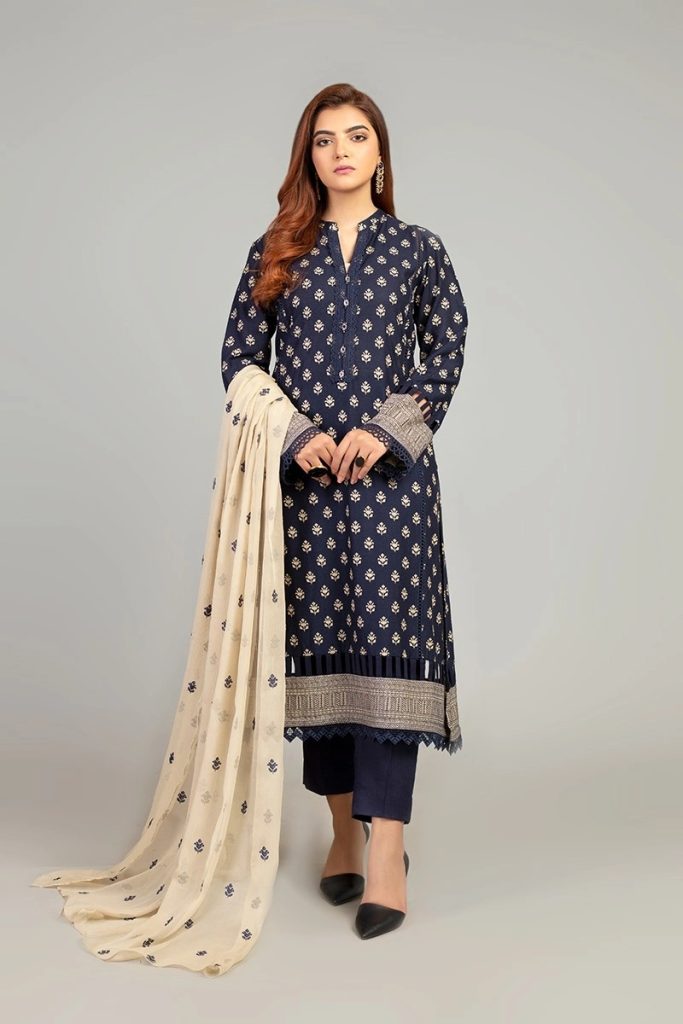 Blue Color Embroidered Karandi Lawn With Plain Shalwar PKR:11300 PKR:9607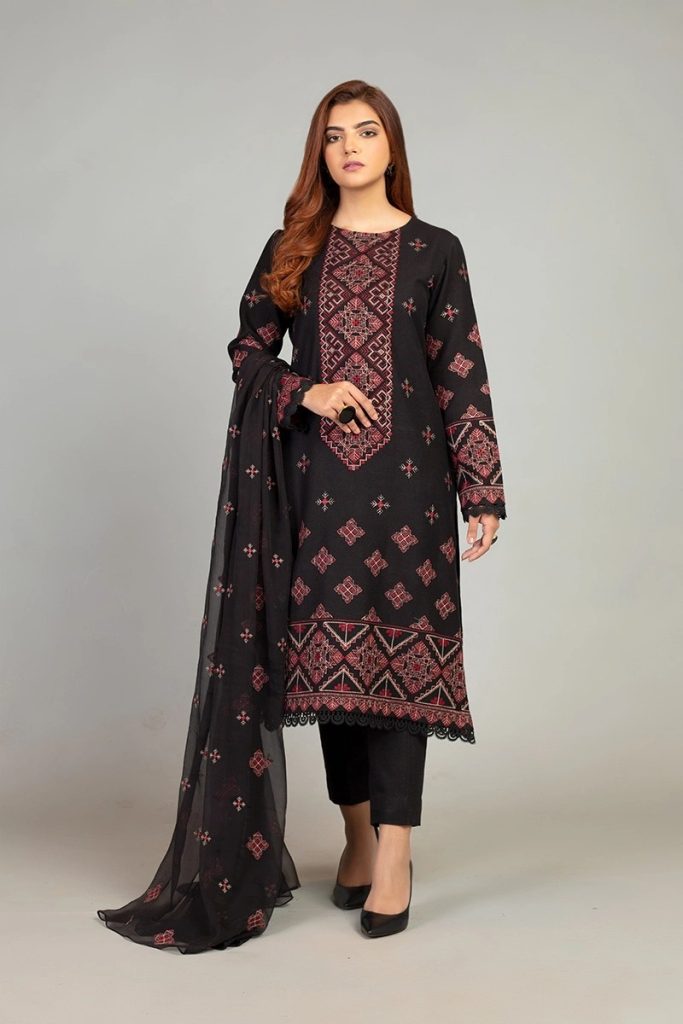 Embroidered Cotton Karandi Three Piece Suit With Chiffon Dupatta PKR:11480 PKR:10332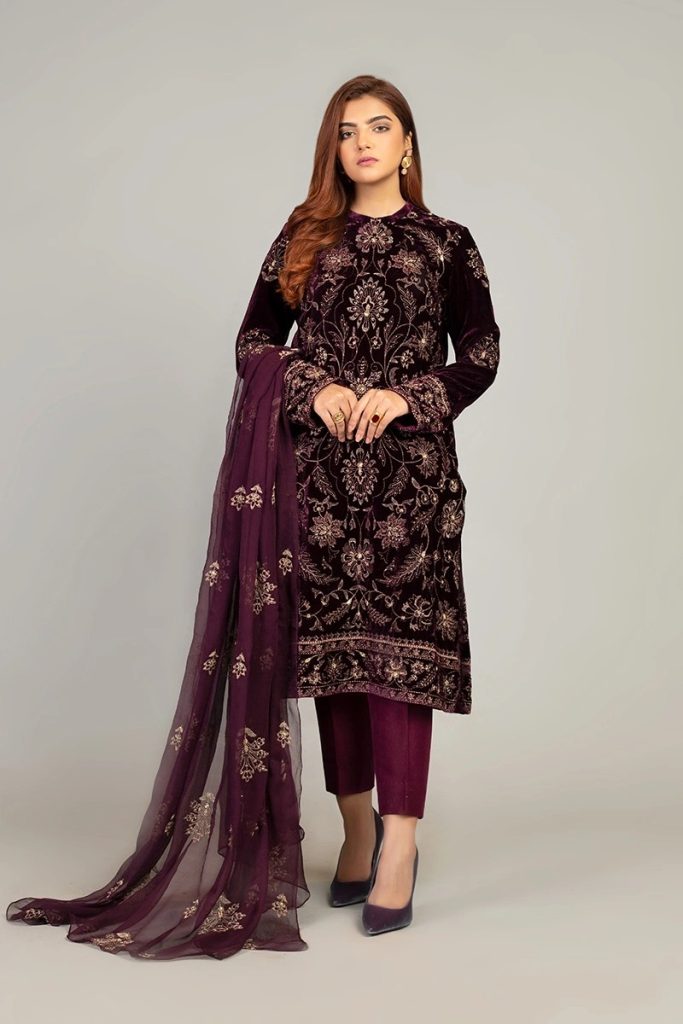 Velvet Three Piece Suit With Embroidery Work PKR:11500 PKR:10350
Cotton Karandi Embroided 3-Piece Suit in Light Green PKR:11500 PKR:10350
Exciting Colors
Colors have been kept very special in this collection. As the brand has launched this collection just before Eid 2022 arrival hence it will be preferred by women on a special day. That's why the color scheme of each dress is according to the young generation of Pakistan.
Whether you are buying the dress for a young girl or for a mature woman the stuff is best for all ages. The color scheme looks perfect on women of every age. This Sale collection has a wide range of light colors such as navy blue color, pink, chocolate, lime & white color. On the other hand, a wide range of dark shades such as black, dark aqua, dark golden & gray color is at the top.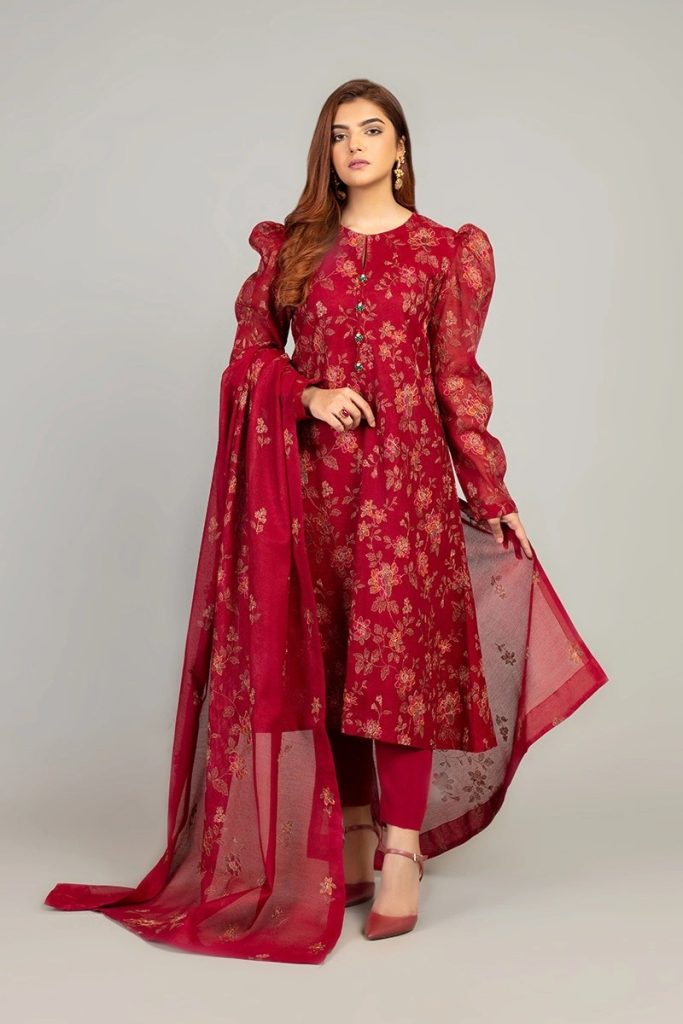 Khaadi Net Shirt With Net Dupatta Available PKR:17810 PKR:16029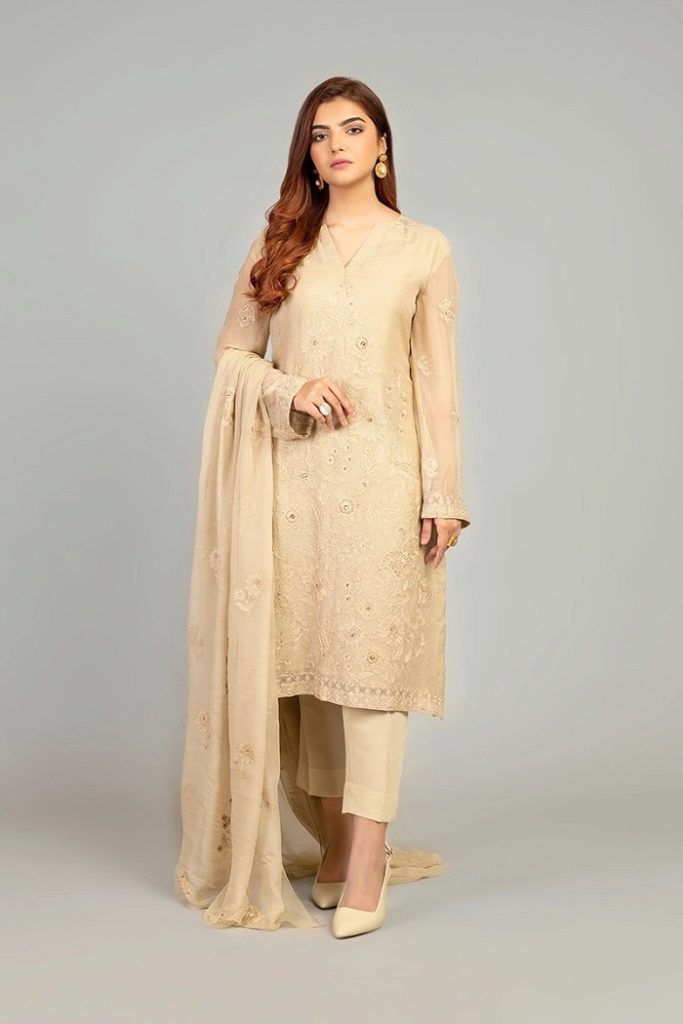 Beige Color Embroidered Chiffon Shirt and Dupatta PKR:25845 PKR:23260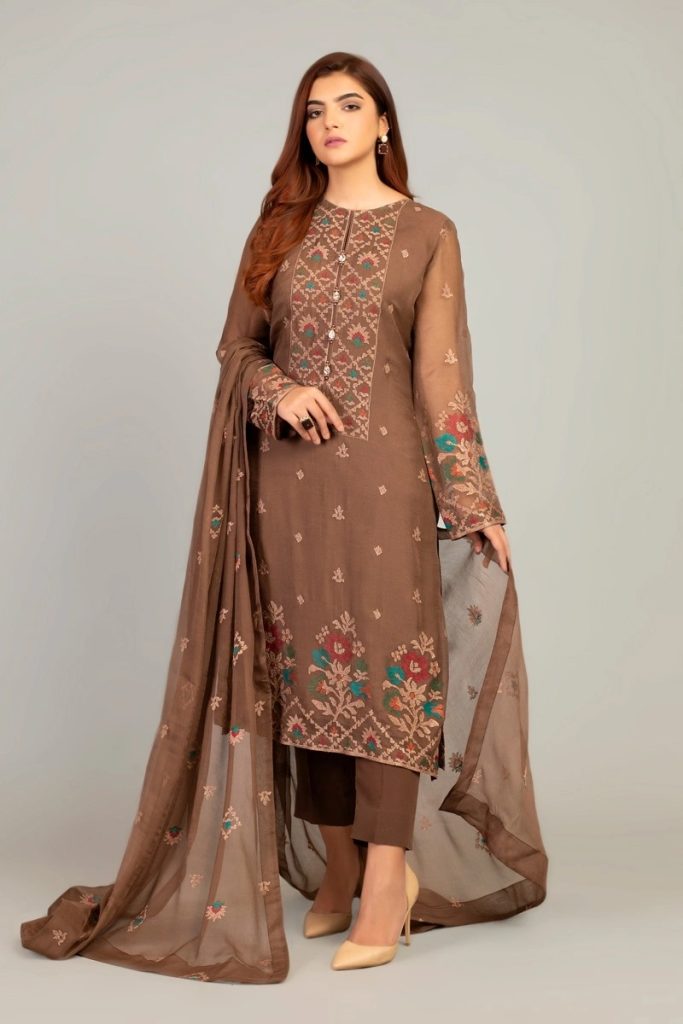 Brown Color Badla Work Shirt And Dupatta PKR:18910 PKR:17019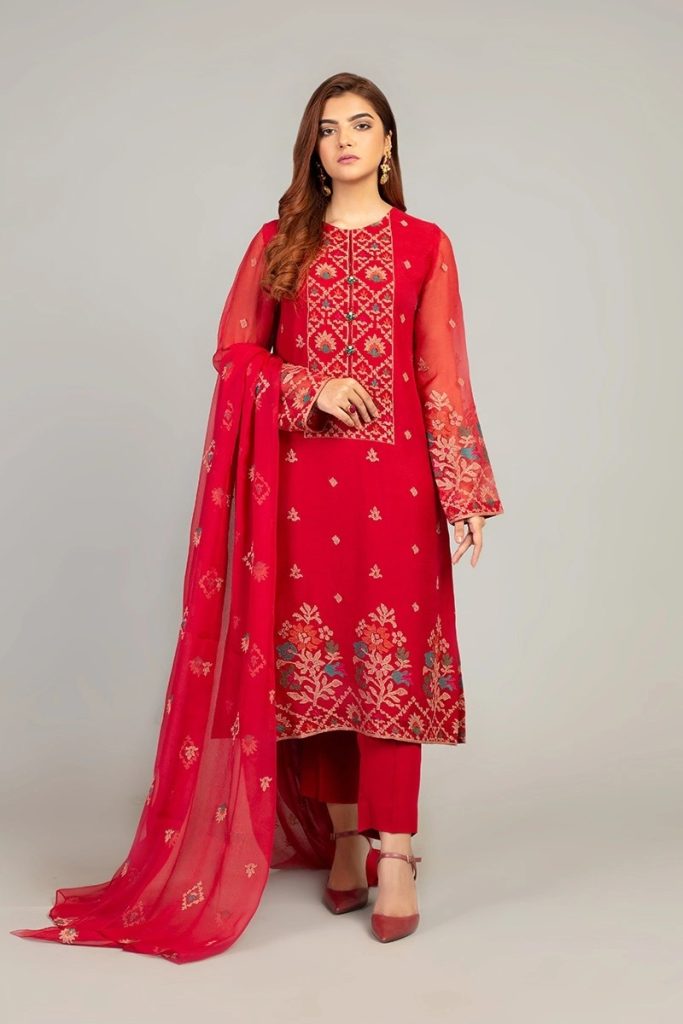 Red Color Embroidered Shirt And Dupatta In Unique Design PKR:18910 PKR:17019
Printed Dresses
The collection has a wide range of printed stuff. That's why dresses from this sale collection are the first choice of every woman. When you search about sales on the latest dresses in Pakistani then this brand with the new 2022 sale comes on the top due to such types of beautiful prints.
Stylish prints with the latest prints of floral designs and other natural stuff have been printed on printed section dresses. You can find a wide range of different printed dresses.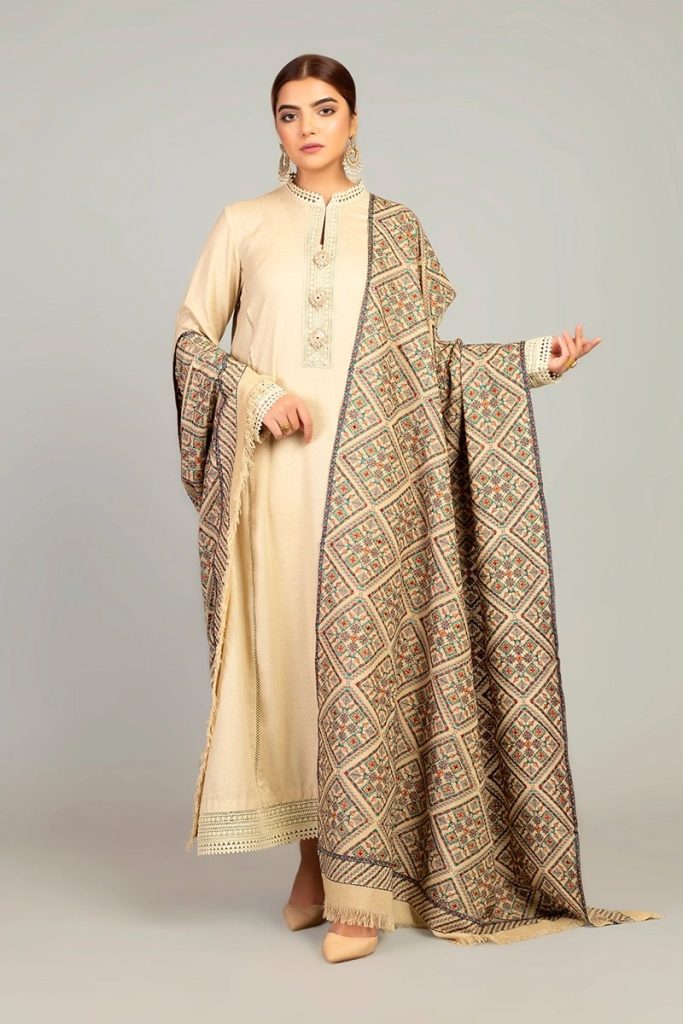 Embroidered Karandi Lawn One-Piece Shawl Available At Sale Price Bareeeze Brand PKR:20500 PKR:17425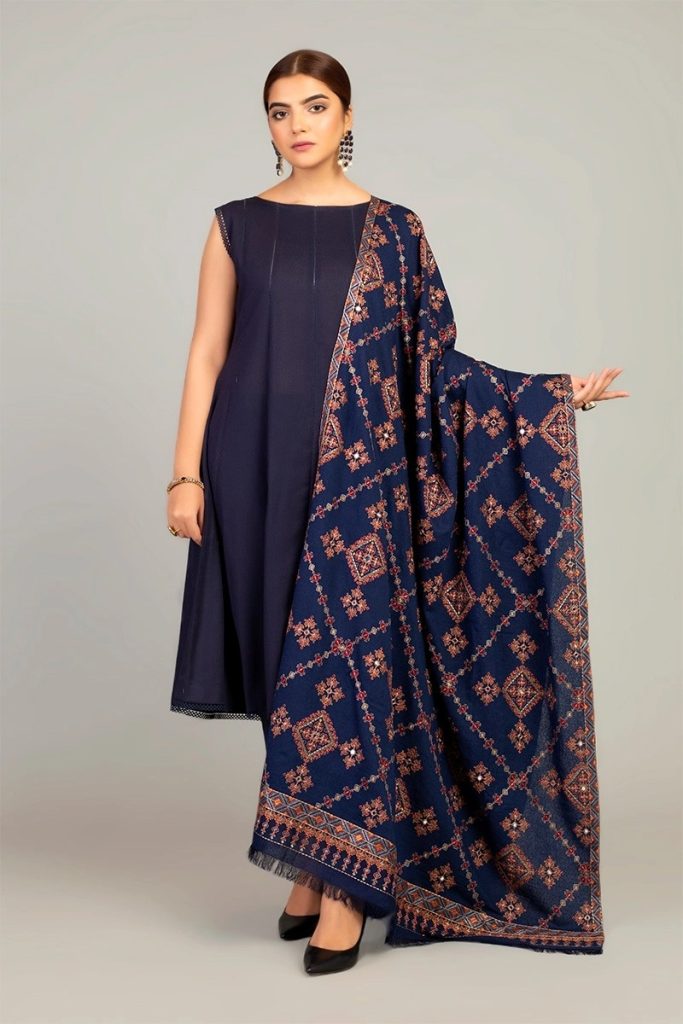 Stylish Jewel Shawl Made With Karandi Lawn Fabric PKR:23500 PKR:19975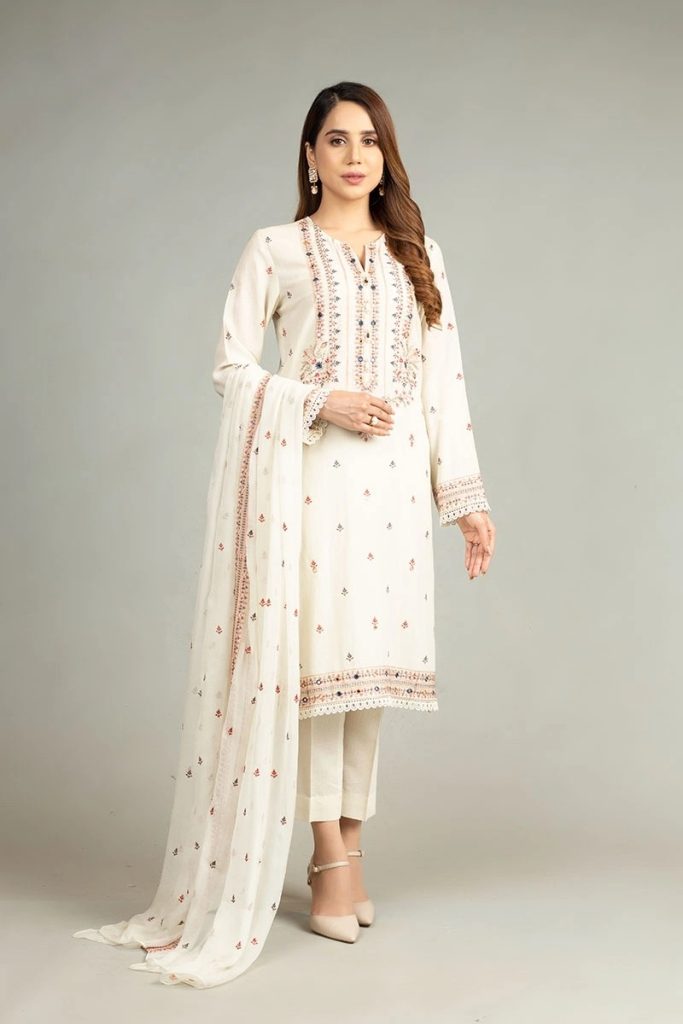 3_Piece Karandi Lawn White Color Suit With Balochi Work PKR:11500 PKR:10350
Colors of Indus Embroidered 3 Piece Irish Fabric Suit PKR:11830 PKR:9386.
Rust Color Beautiful Embroidery Work 3 Pieces Suit Available PKR:11830 PKR:9386
Stitch & Unstitch
This collection widely has unstitched dresses however in some special cases you will be able to see stitch shirts and suits (2pcs & 3pcs). Price of each dress's chances if it is stitch then the price will be more than price unstitch dresses.
Printed Blue Color 3Pc Linen Suit With Chiffon Dupatta PKR:6620 PKR:3550
Stylish Printed Karandi Lawn 3 Piece Suit At Sale Price PKR:10350
Beige Color 3-Piece Unstitched Suit Sale PKR:11830 PKR:9386 Only.
3 Piece & Shirts
Bareeze Sale 2022 actually contains only 3 piece dresses and shirts. However, it is difficult to say what type of shirt or 3 pieces you like because the collection has the following types of dresses:
3 Piece (Casual)
3 Piece (Formal)
Shirts (Plane)
Shirts (Embroidery)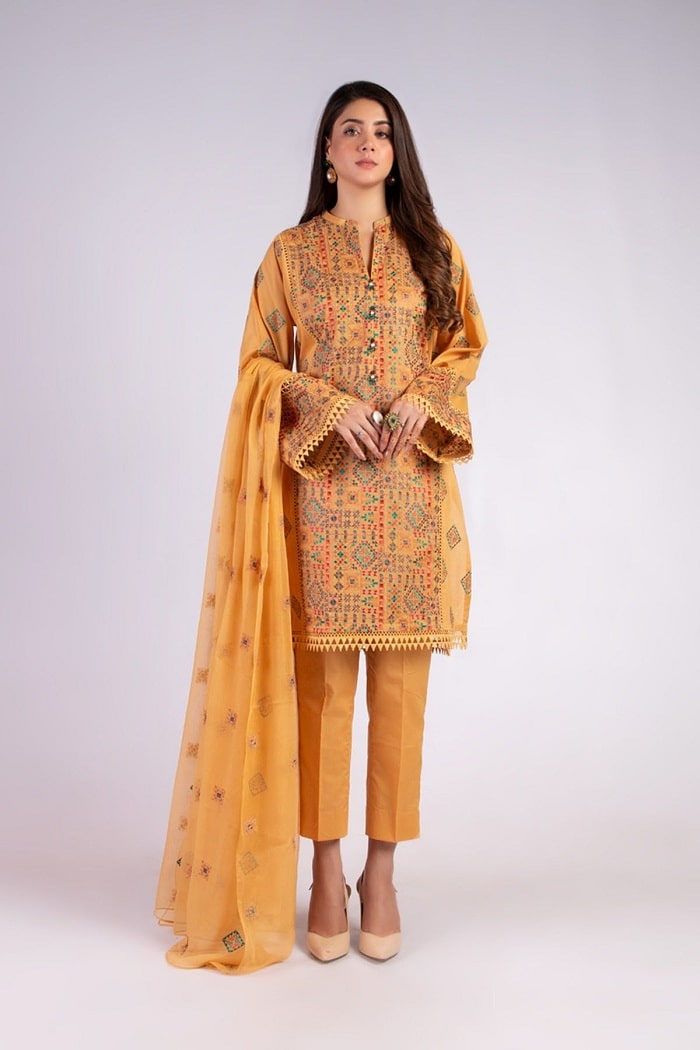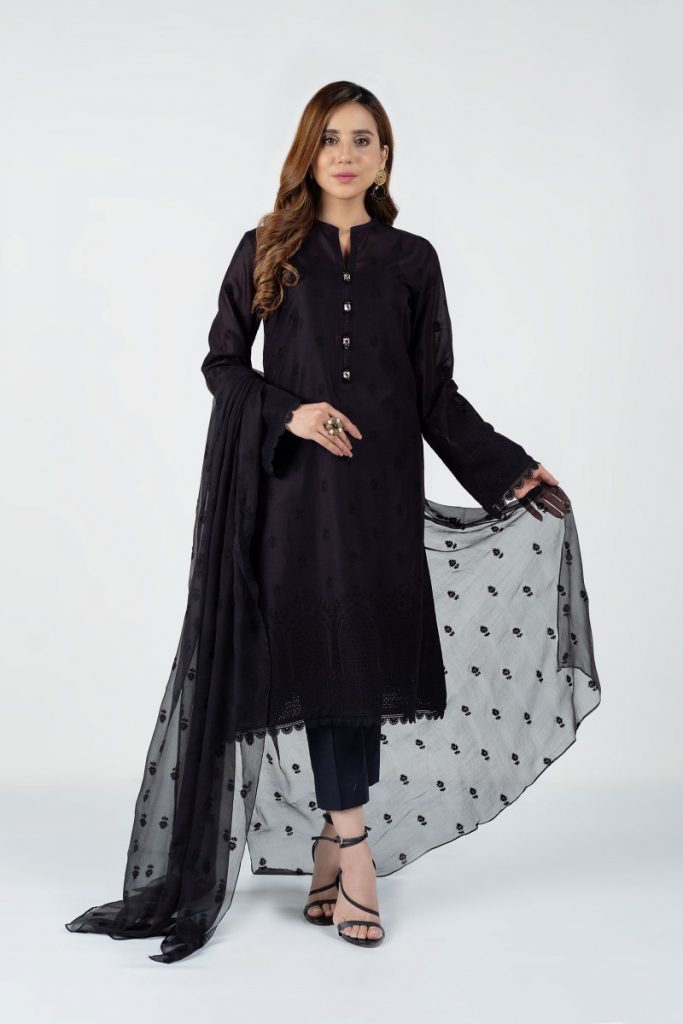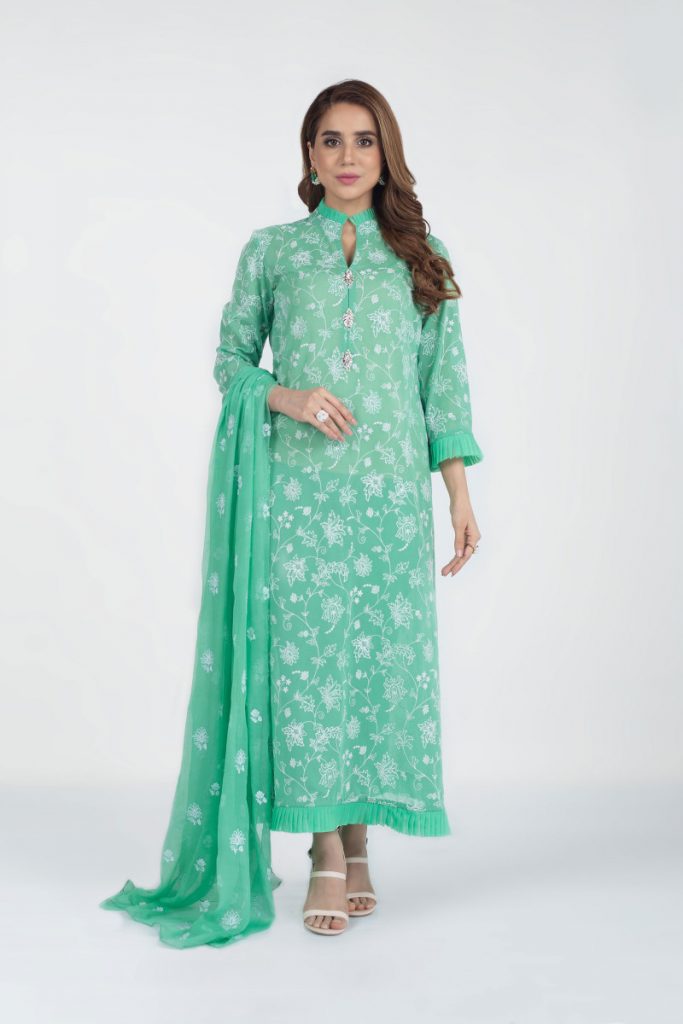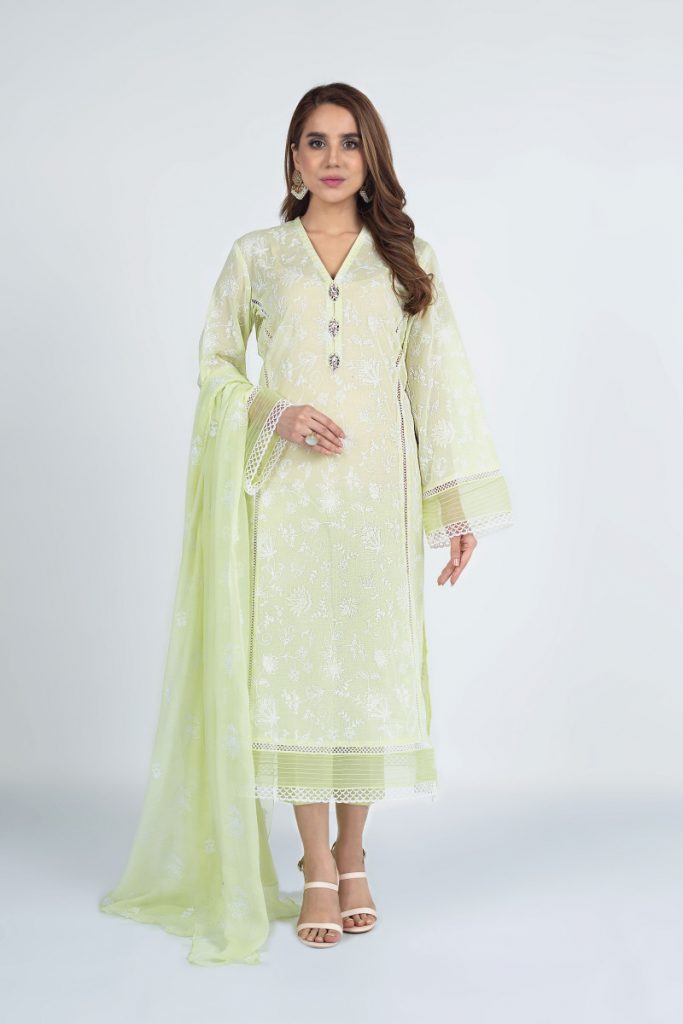 Stylostreet Final Words
With a wide range of Bareeze winter Sale 2022, you can make your look more stylish & charming. The price of each dress is more than normal brand suits however the stuff & color shades can easily differentiate the cause of price difference between a breeze and other local brands. So we recommend our dear visitors to check out this sale. For more details please click on INFO & FaQs.