Top 10 Ideas to Wear White Shalwar Kameez in Winter'23
Here we are going to talk about the new fashion trends in the winter season of 2023. As we all know that most men in Asian countries like to wear White Shalwar Kameez. But now this trend is getting various among trendy women. Therefore, today here we are sharing the top 10 ideas on how to wear white shalwar kameez for women in 2023. Furthermore, the white color is the epitome of grace and elegance. In addition, white color clothes act as a perfect outfit to show off any other colorful embroidery work, beadwork, or intricate work.
In these ways, we can easily get a wonderful color for all time that has stayed in fashion for so long. this color is primarily used by both of genders in formal wear, and informal 2023.
We are sharing what to wear with White Shalwar Kameez
No other color has come with these amazing qualities like this. It is an all-time leading and favorite color among both genders and has made its mark all over the world, especially in Asian countries. White color is one can only color that has a special palace in the heart of eastern women when it comes to traditional clothing trends. Now among women, this clothing color has made modesty and new designs making them the best fashion outfits color.
One of the best and most worthy attributes of color that is used countless and the fact is that comes into the market shalwar kameez without any resistance.  Furthermore, you can easily wear white shalwar kameez in any season in 2023. Normally cotton is used in the summer season and white velvet in the winter season.  Or this color is free from age limit, which means any age women and men can be worn white outfits. White outfits are also used by kids to older women. This type of shalwar kameez can be worn anytime and anywhere. So, girls don't worry if you have not gathered outfits the best ideas to wear new designs and dresses in the year 2023.
Furthermore, white color outfits will allow you to do embroidery work with traditional clothing styles. Through embroidery, work results to get classy and beautiful traditional white statement outfits easily.
See More: Top 10 Winter Collections for Ladies With Price
See More: New Winter Kurtis Designs in Pakistan for women
Do's & Dont's Of Wearing With White Shalwar Kameez In Winter Season 2023
Kameez Length: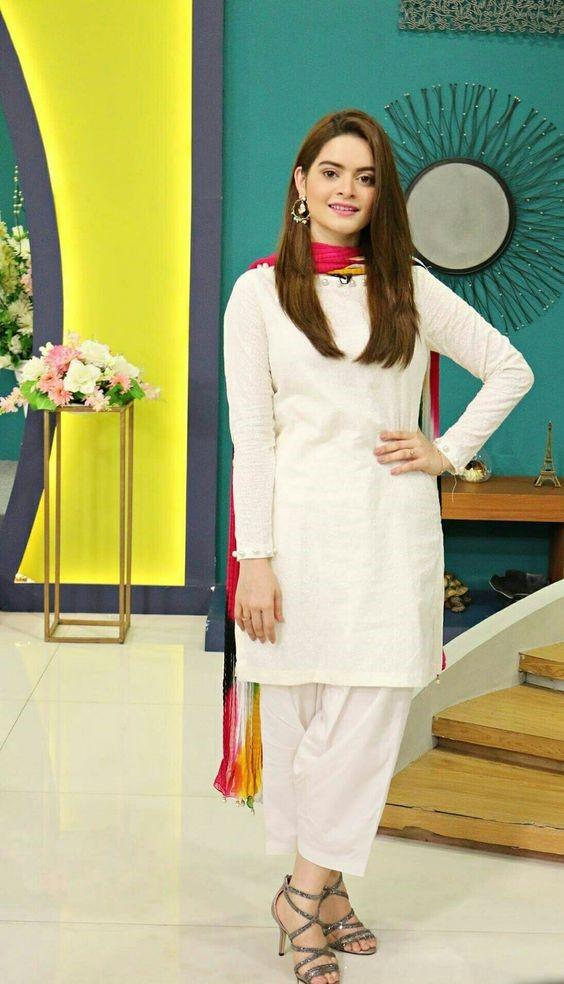 Try to wear standard knee-length kameez with a shalwar. Don't try to wear too long and too short length kameez. Or if you're wearing a stylish Patiala shalwar, you can wear a short shirt.
Dupatta: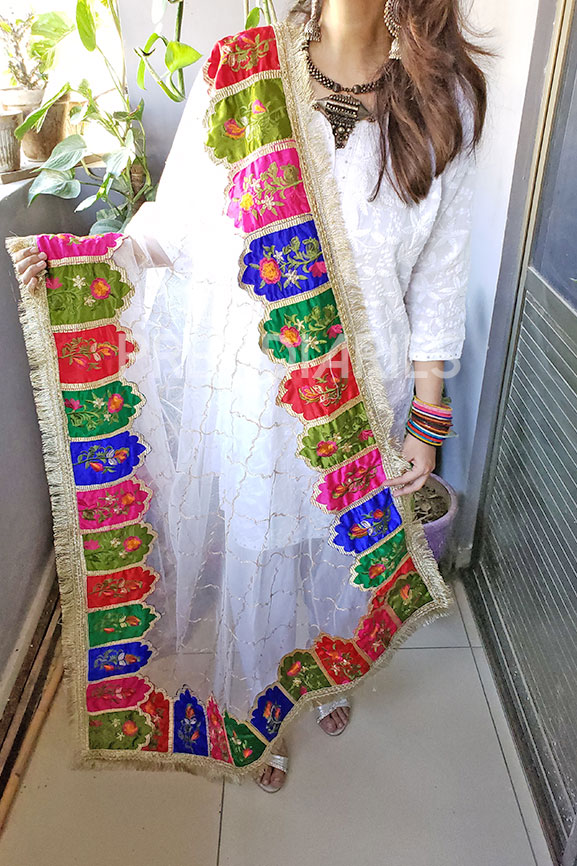 as we know that wearing a dupatta also becomes a trend these days. Dut dupatta wearing white and kameez is optional. It normally depends upon your style and desire to wear a dupatta. Furthermore, if you wearing a multi-colored dupatta with white shalwar kameez it is the best one for the latest trends.
Appropriate Fitting: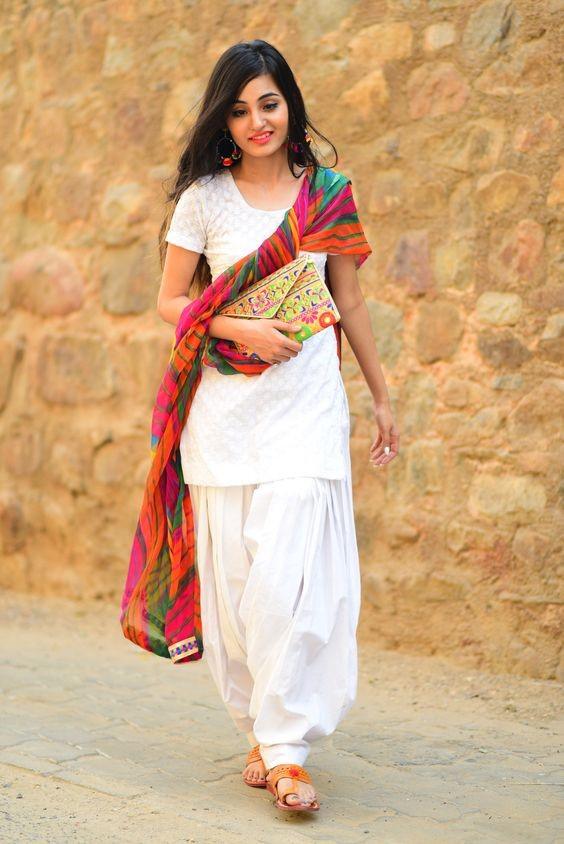 always wear comfortable shalwar kameez, and don't try to wear too tight and too loose outfits that make you tongue-tied.
Footwear with Shalwar Kameez:
wearing kolapuri chappal goes will with white kameez shalwar. Or can be worn in heel's shoes too for any formal occasions.
Colors that look best with white shalwar kameez: yellow color looks perfect to pair with white shalwar kameez. So, try to wear a yellow dupatta or other accessories like shoes and handbags, etc.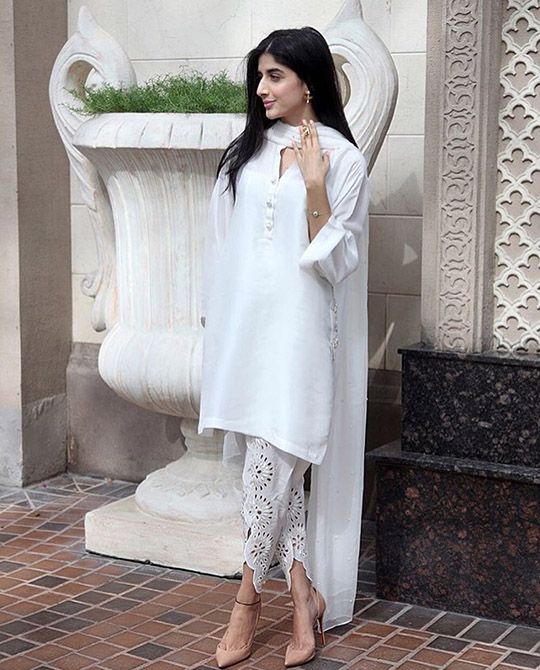 White Kameez with Golden Embroidery work
As we all know that white color looks beautiful with all other colors. But it's looking more beautiful and stylish with elegance and graceful with golden work.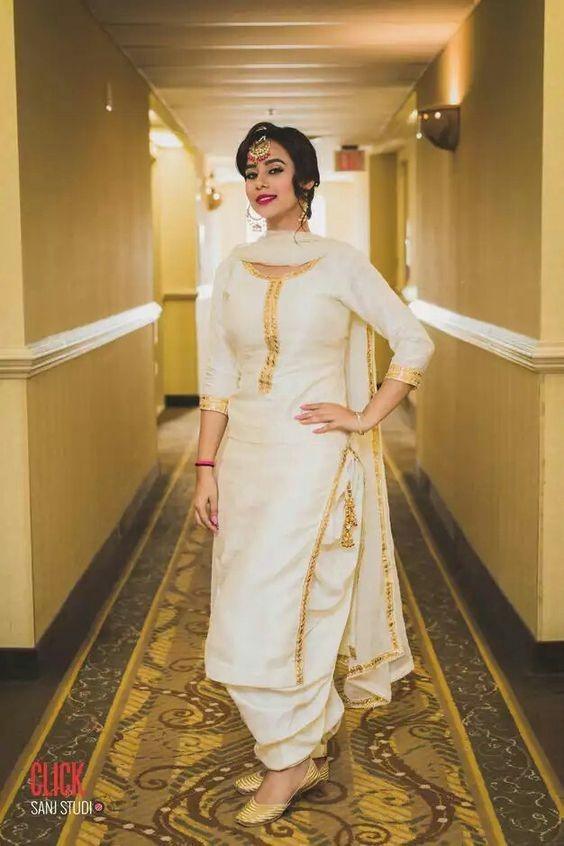 Dotted white shalwar kameez
Furthermore, in the dotted white shalwar kameez heavy and shiny work and silver dots are done on the dupatta and kameez of the outfits. And this type of kameez will provide you with a traditional look that will give you modern touch.