Mohagni Sale 2022 Hot Summer Collection Flat 50% Off Prices
Mohagni Sale 2022 – Mohagni is a brand introduced by RD Textiles. This brand worked in Pakistan many years ago. The goal & aim of this clothing brand is to provide excellent quality traditional ladies' wear unstitched and ready-to-wear Mohagni Brand suits. Every season Mohagni brand introduces its new designs and provides the best outfits in an affordable price range.
Here we are introducing the latest Mohagni Brand hot summer sale collection 2022 flat 50% off. Furthermore, this winter/summer unstitched and ready-to-wear collection new concept of fashion with stylish lawn, linen, khaddar, and embroidery and printed 3 pc suits for women. Here we are sharing Gulnari By Mohagni summer eid collection, and digital printed linen, lawn luxury 3-piece suits for women.
Mohagni Sale Collection 2022 Flat 50% Now
Mohagni Sale Collection 2022 is recently launched in Pakistan. Contaning excellent and elegent traditional eid wear suits for ladies. If you are still looking for Eid outfits?. Then you are on the right page, here we are sharing many new lawn and chiffon luxury dresses for women.
As we know pret, embroidered, and digital printing suits are most popular in the Pakistani fashion market. All new designs are available at reasonable prices at your doorstep. Let's make your eid occasion rememberable with Rubab By Mohagni Sale Collection 2022 Flat 50% Off Now.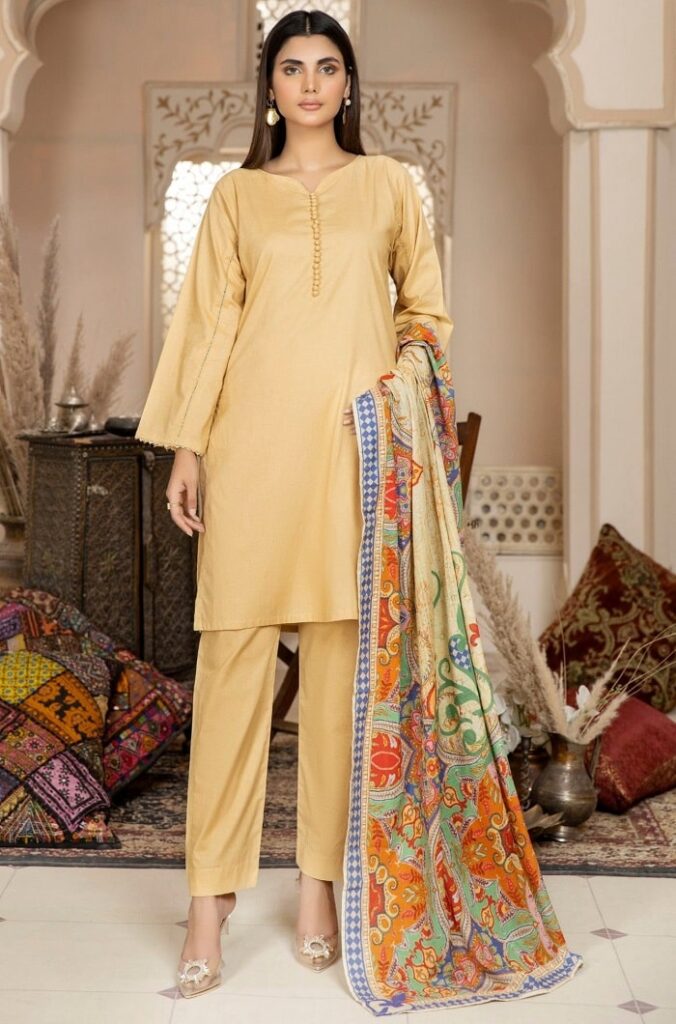 Lawn 3piece beige color ready to wear suit PKR:6,950 PKR:4,170 only.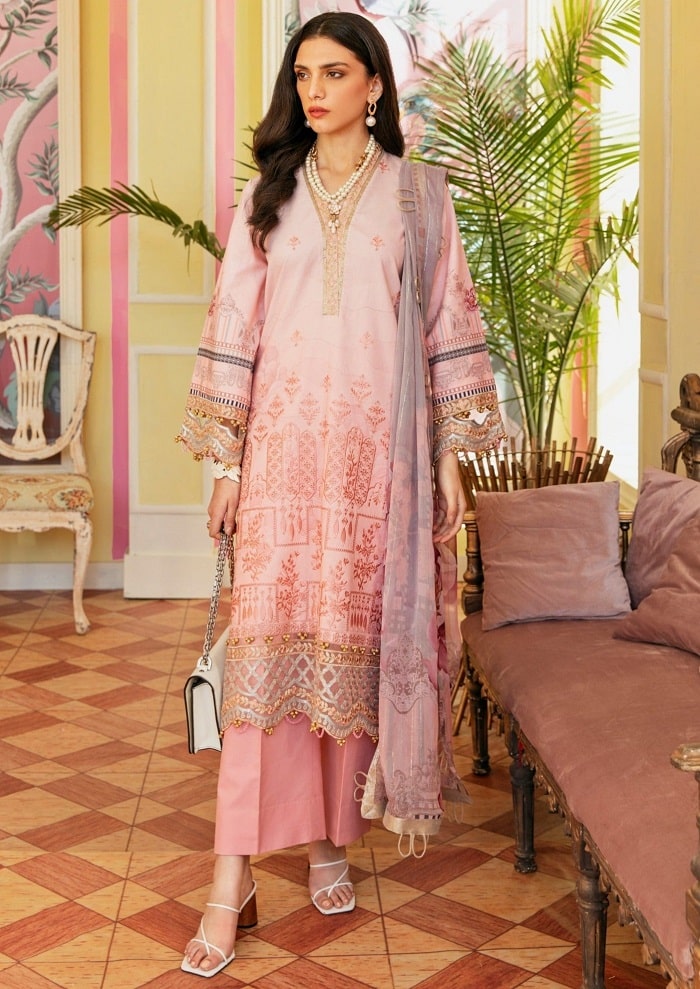 Printed embroidered lawn pink color 3piece suit PKR:7,950 PKR:4,770 only.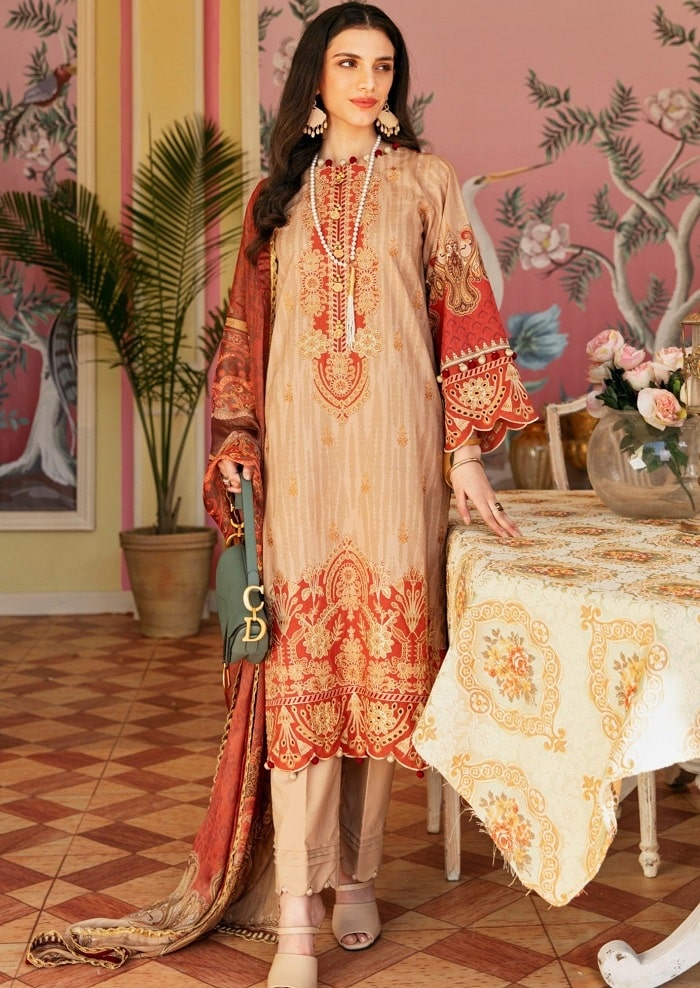 Embroidered multi-color lawn 3piece suit for women PKR:7,950 PKR:3,975 only.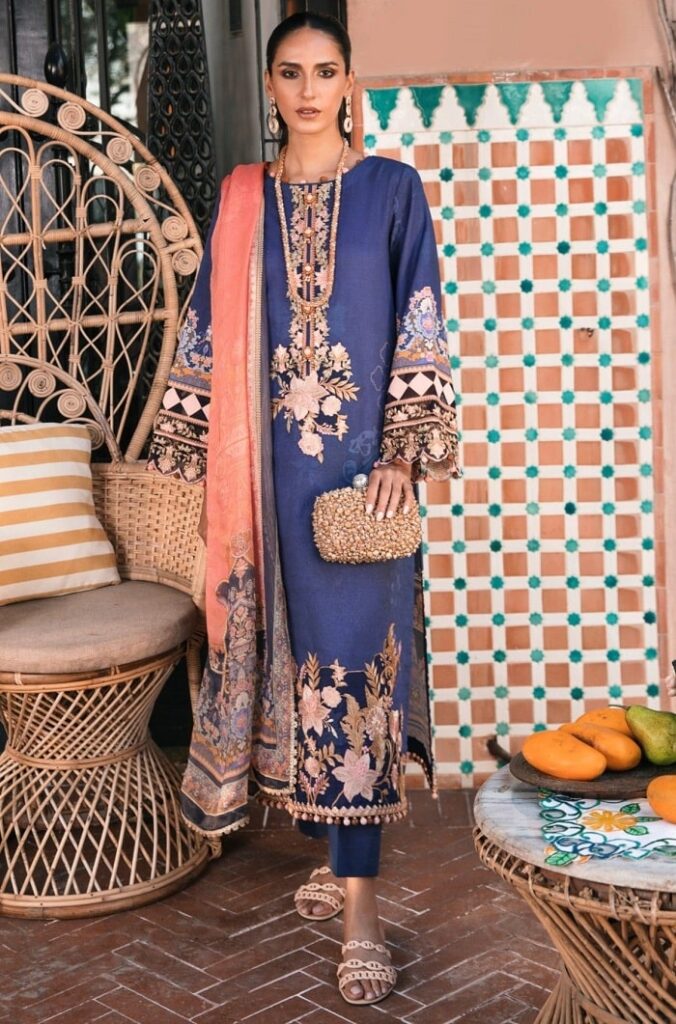 Navy color floral printed lawn embroidered three piece suit for women PKR:6,950 PKR:3,475 only.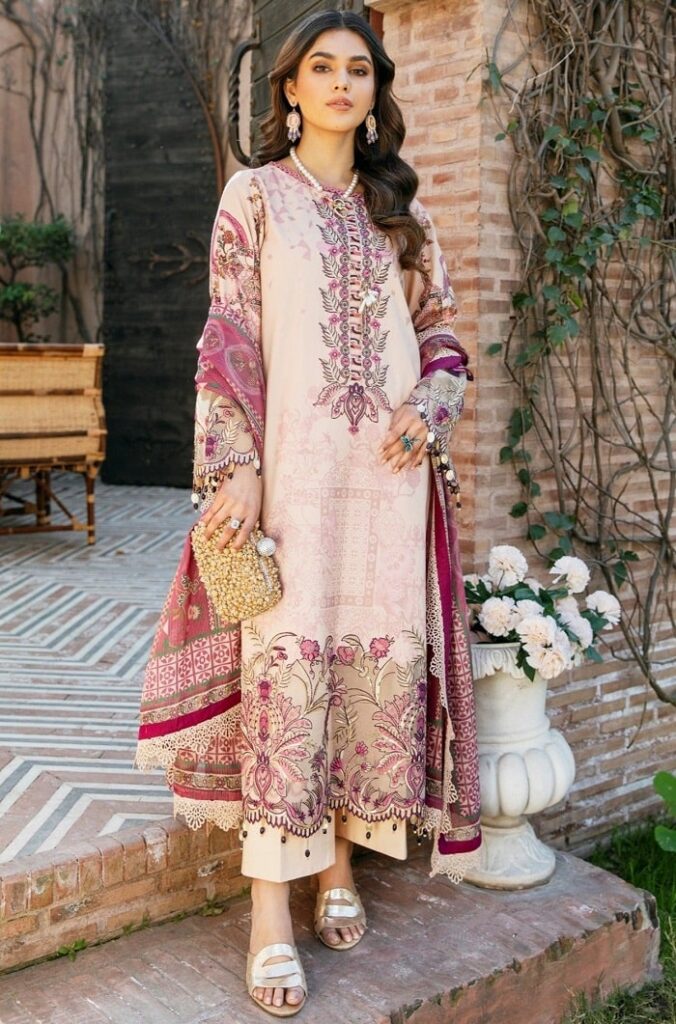 Beautiful beige color embroidered summer suit for perfect look available at sale price PKR:6,950 PKR:4,170.
Black Embroidered 3piece suit PKR:7,950 PKR:4,770 only.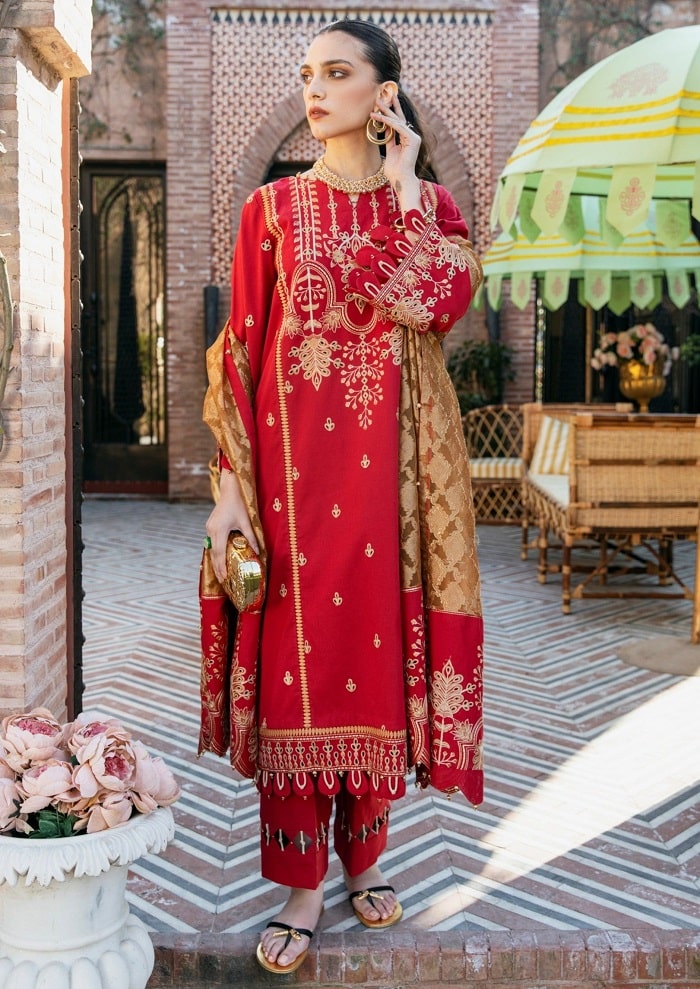 Red embroidered lawn suit PKR:7sxz,950 PKR:4,170.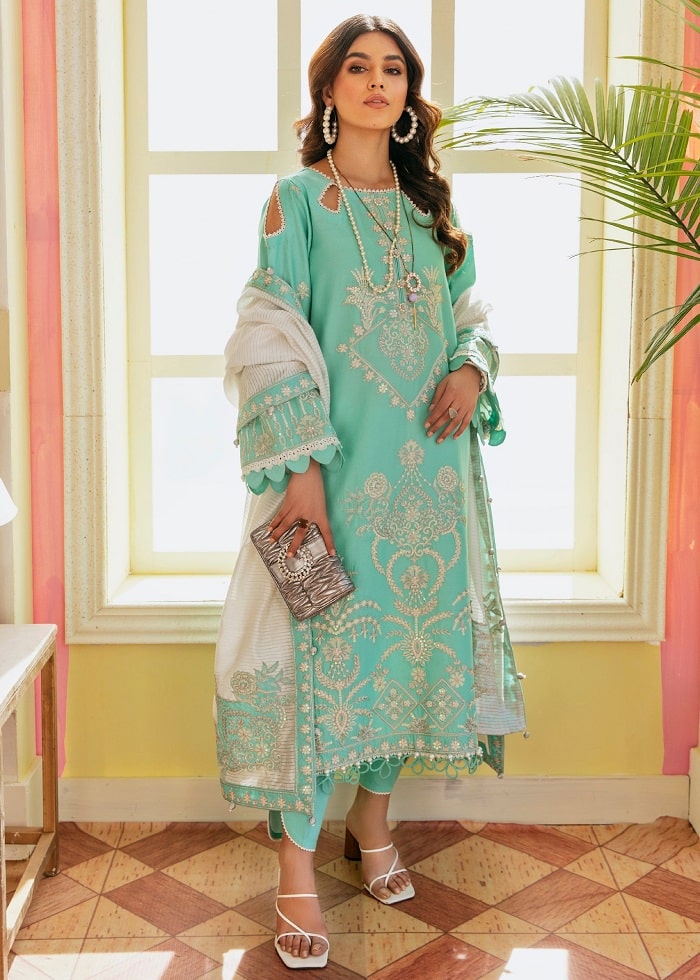 Mint color embroidered lawn 3pc suit PKR:7,950 PKR:3,975.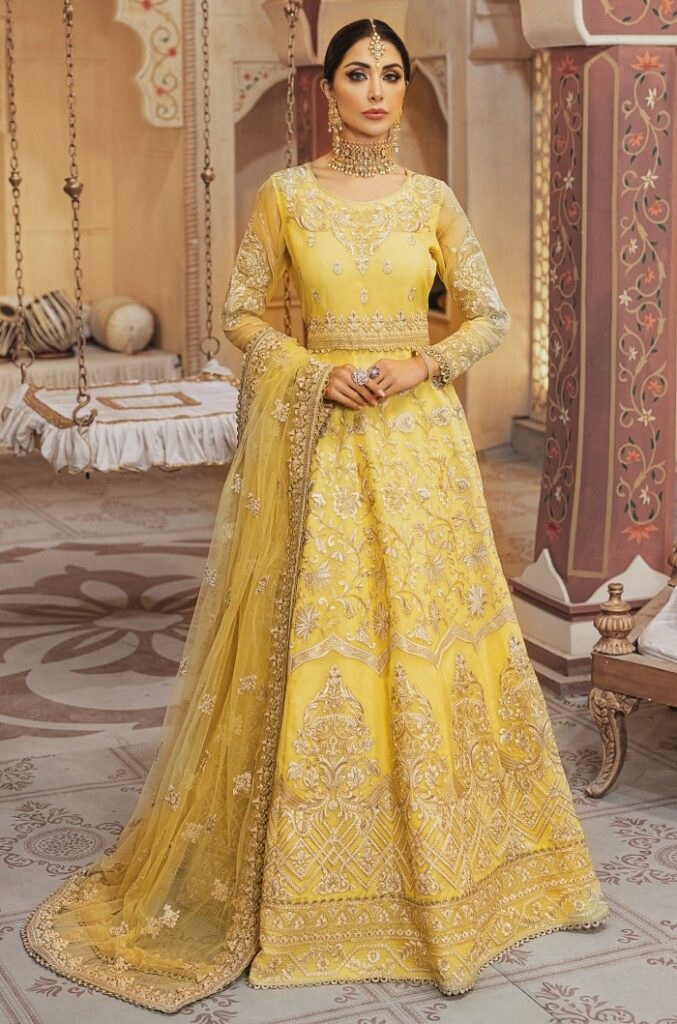 Organza embroidered 3piece yellow color luxury suit PKR:14,500 PKR:7,250.
Mohagni Brand Winter Unstitched Linen, Khaddar Luxury Suits 2022
Furthermore, here trendy women can easily find embroidered, prêt, and digitally printed suits in an unstitched collection for ladies. These types of suits are the main course of Mohagni brand 2022. Get prompt and iconic designs at the Mohagni clothing brand shop or official online store also. Furthermore, all these unstitched winter dress designs are according to the needs of the customers in the quality of stuff.
Consider all these winter fashion outfit ideas that are great for looking great this winter season in Pakistan. Furthermore, these unstitched 3pc suits can provide you beautiful winter look. And keep you warm without making you sweat. Are you not yet purchased from Mohagni brand shop? Guys fee-free and today select your favorite winter Chiffon dresses at a reasonable price tag.
See More: Nishat Linen Unstitched Winter Arrival for Ladies 2022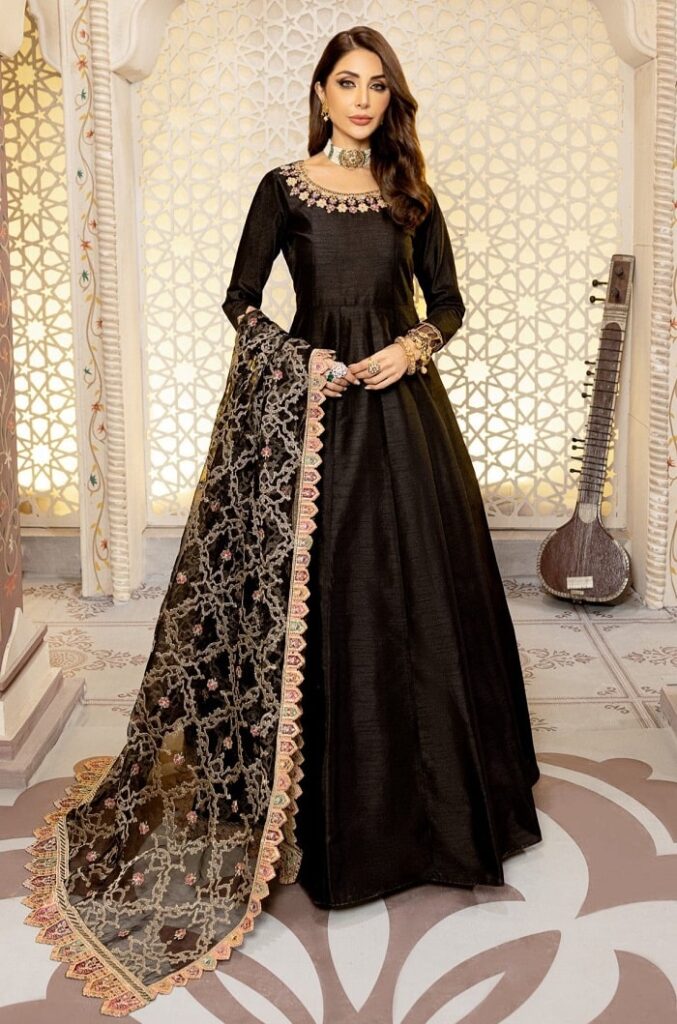 Raw silk black suit PKR:10,500 PKR:5,250 only.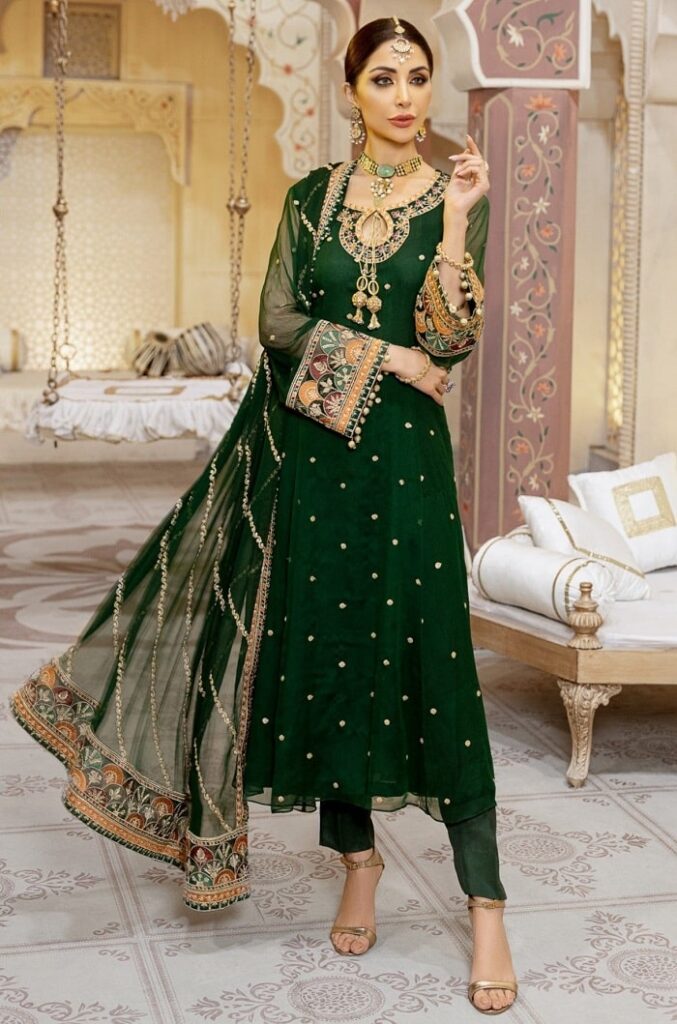 PKR:9,500 PKR:6,650.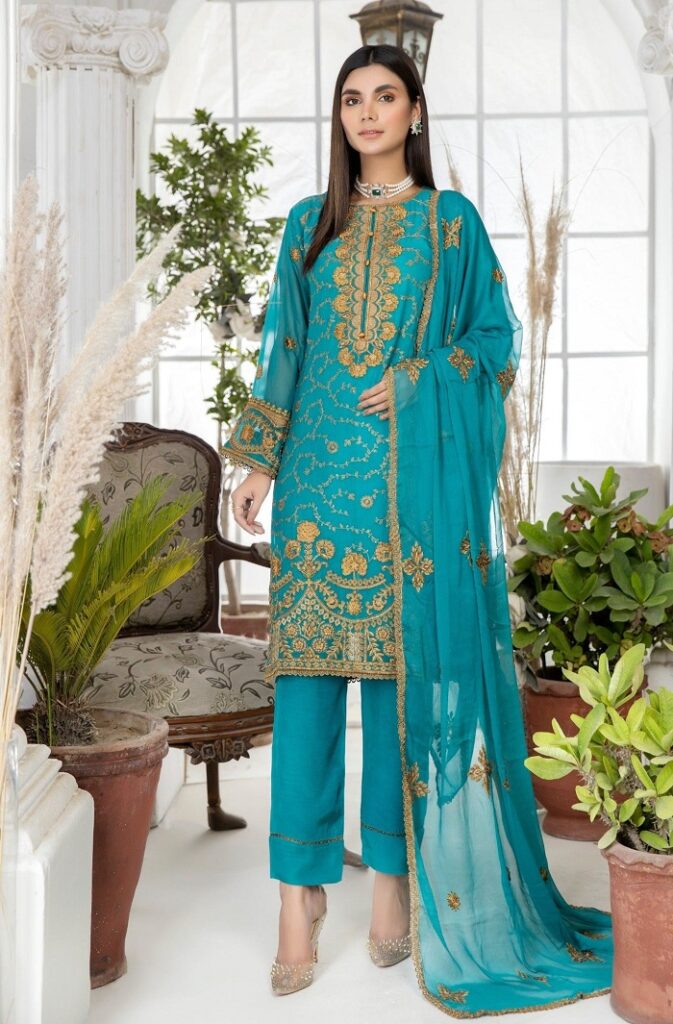 Chiffon embroidered 3pc stitched suit available for PKR:9,750 PKR:4,875 only.
Lawn Printed Kurti PKR:2,650 PKR:1,325 only.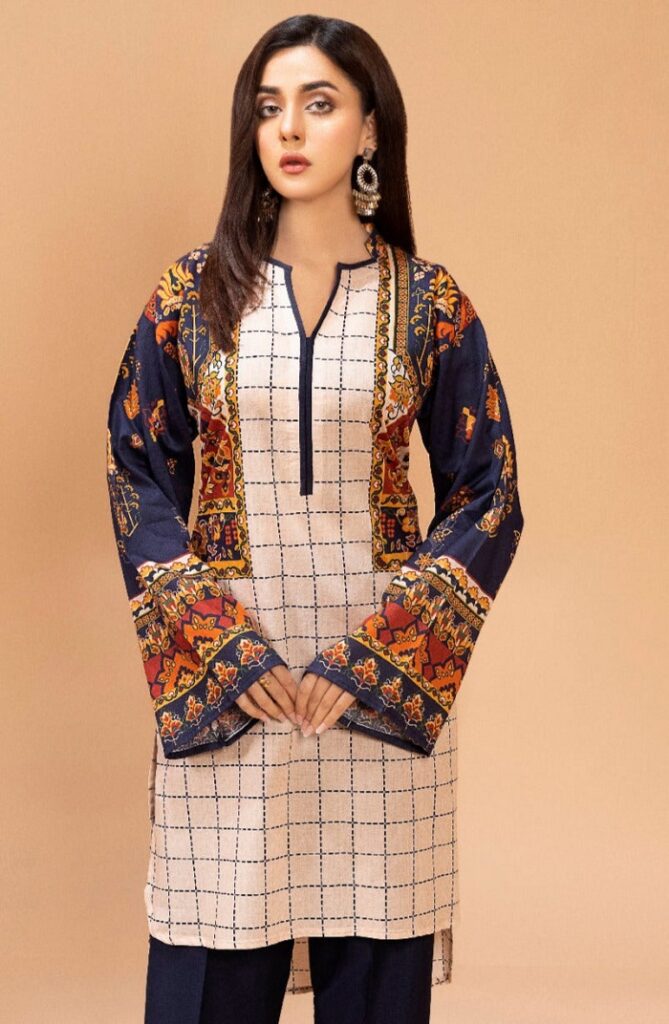 Digital printed lawn one piece kurti PKR:2,950 PKR:1,475 only.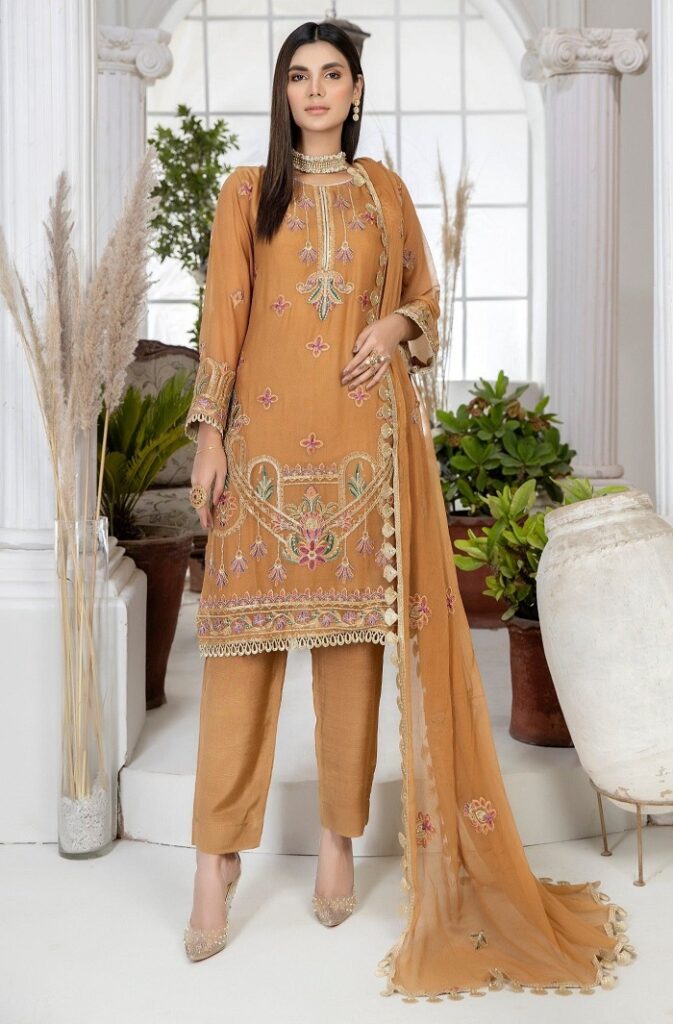 Orange color chiffon embroidered 3pc ready to wear suit PKR:10,950 PKR:5,475.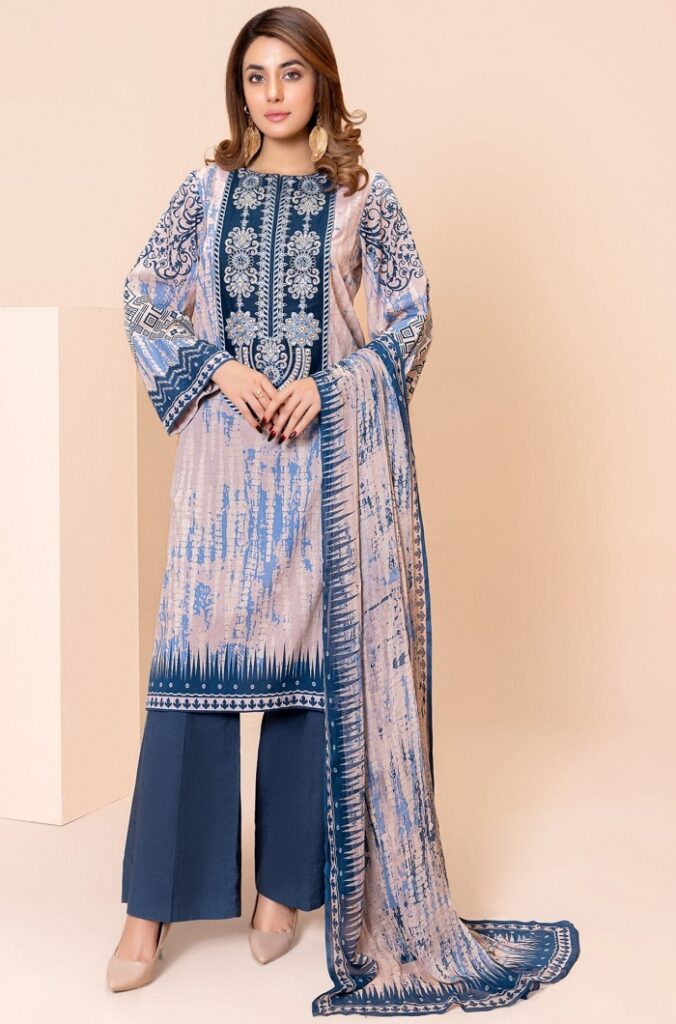 2pc stitched printed suit PKR:5,250 PKR:2,625.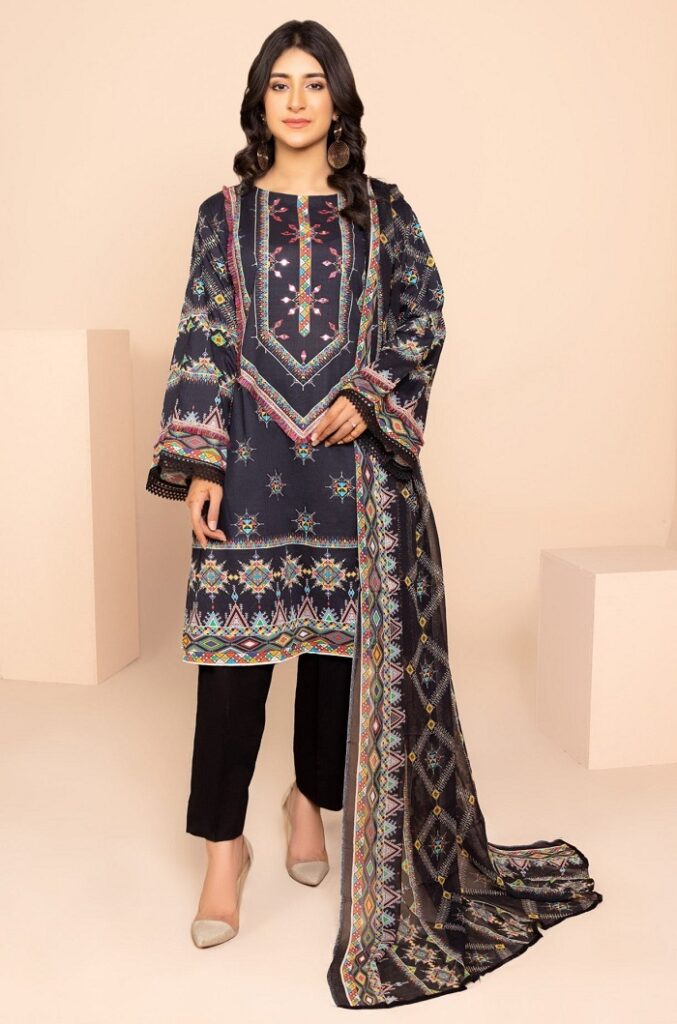 PKR:5,950 PKR:2,975 only.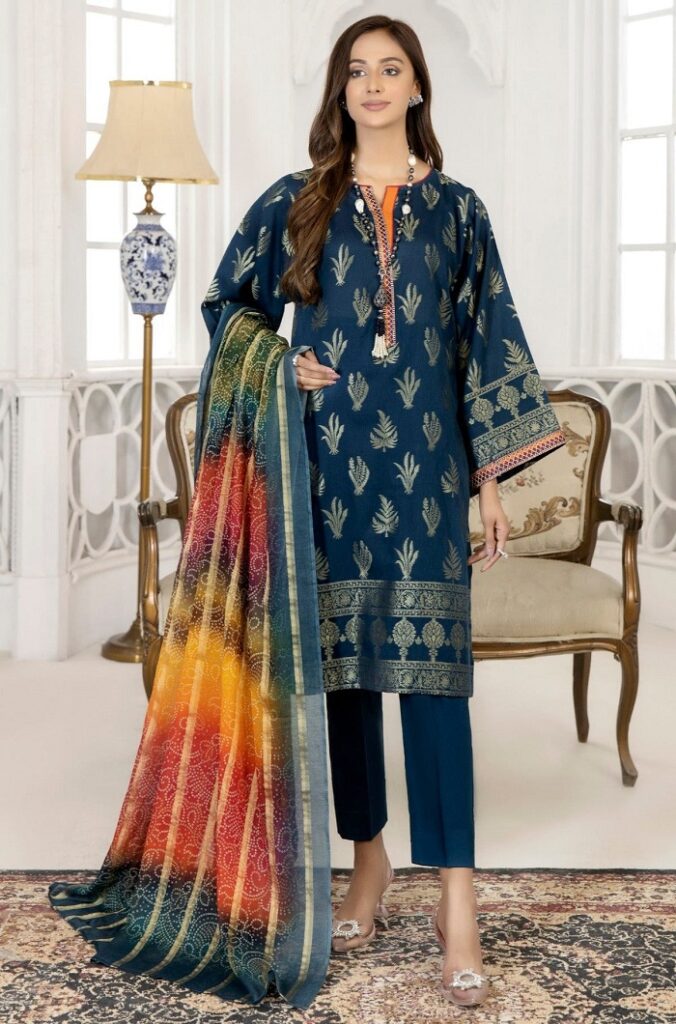 Blue color lawn jacquard shirt + Dupatta 2Pc PKR:5950 PKR:4760 only.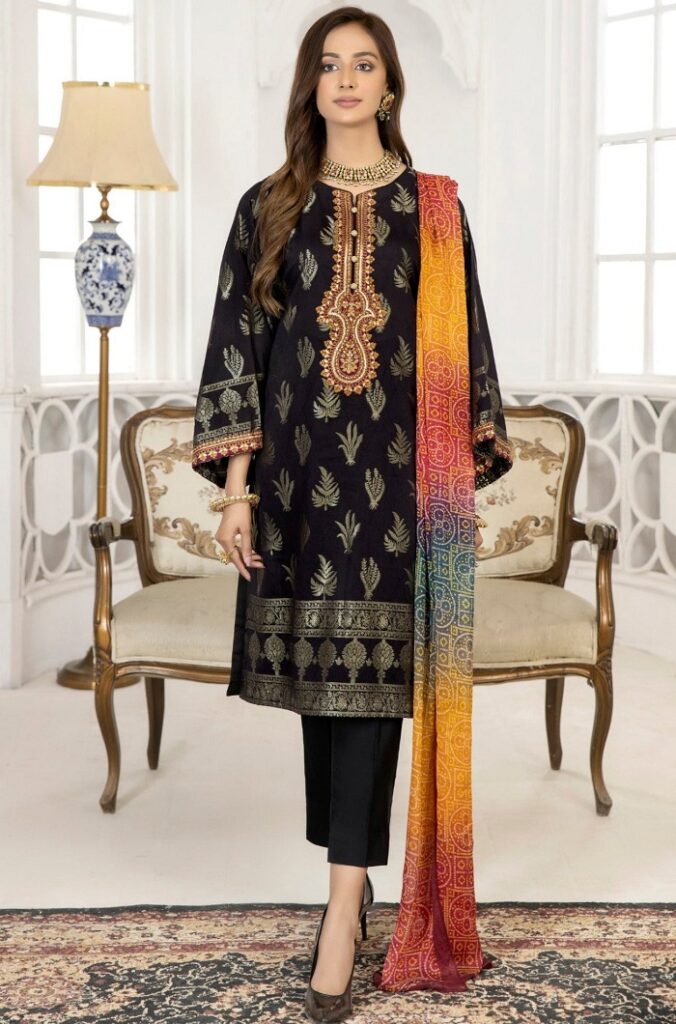 Stylish black color lawn jacquard shirt and dupatta for perfect summer look available at sale price PKR:5950 PKR:4760.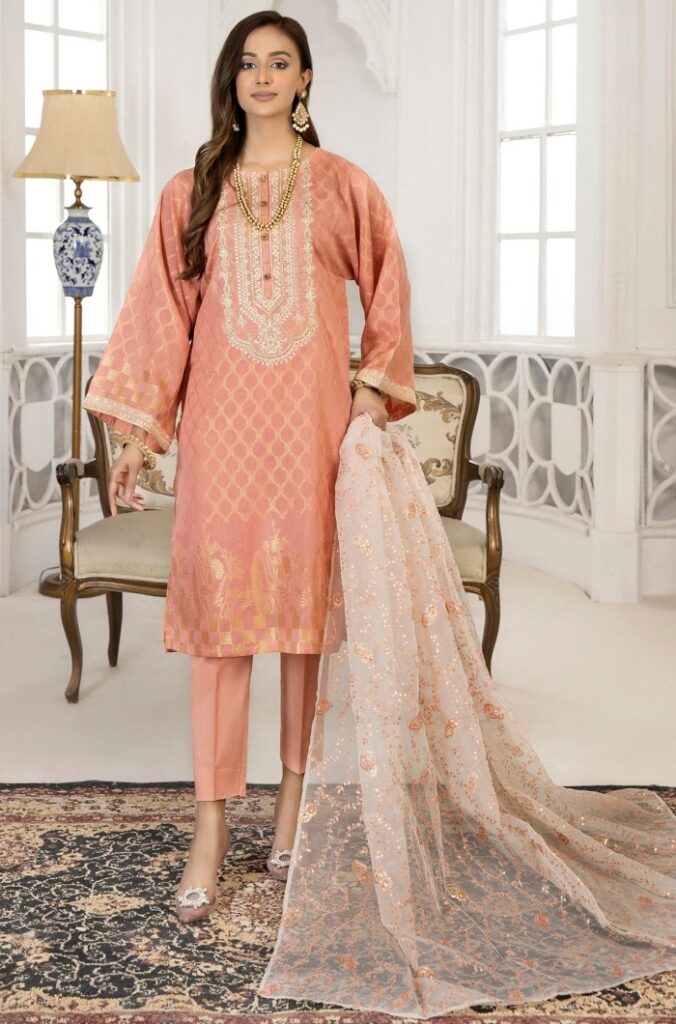 Pink color summer lawn jacquard two-piece suit PKR:5950 PKR:4760.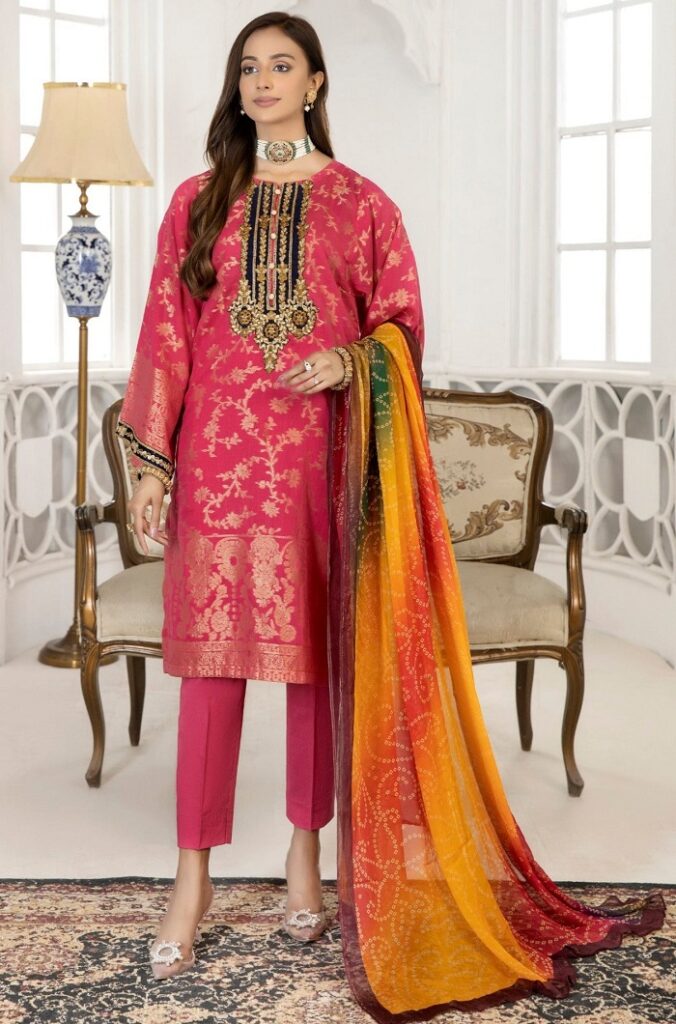 Let's add a new lawn+jacquard suit for a perfect summer look available for PKR:5950 PKR:4760.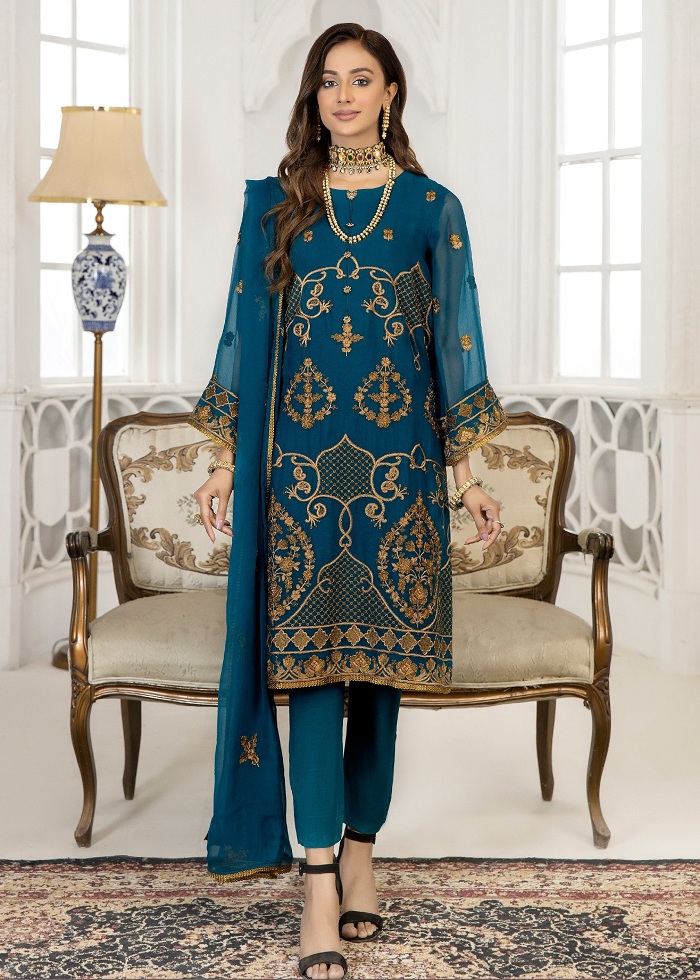 Chiffon fabric 3piece Ready To Wear Suit PKR:8950 PKR:6265.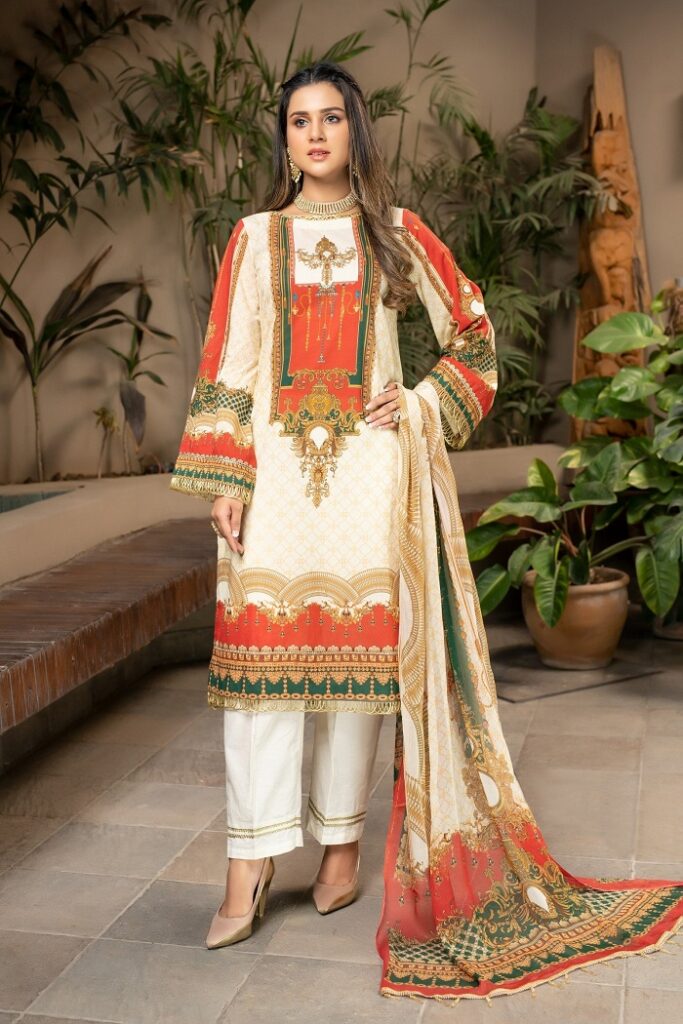 Digitally printed one-piece lawn Kurti available flat 50% off price PKR:2650 PKR:1345.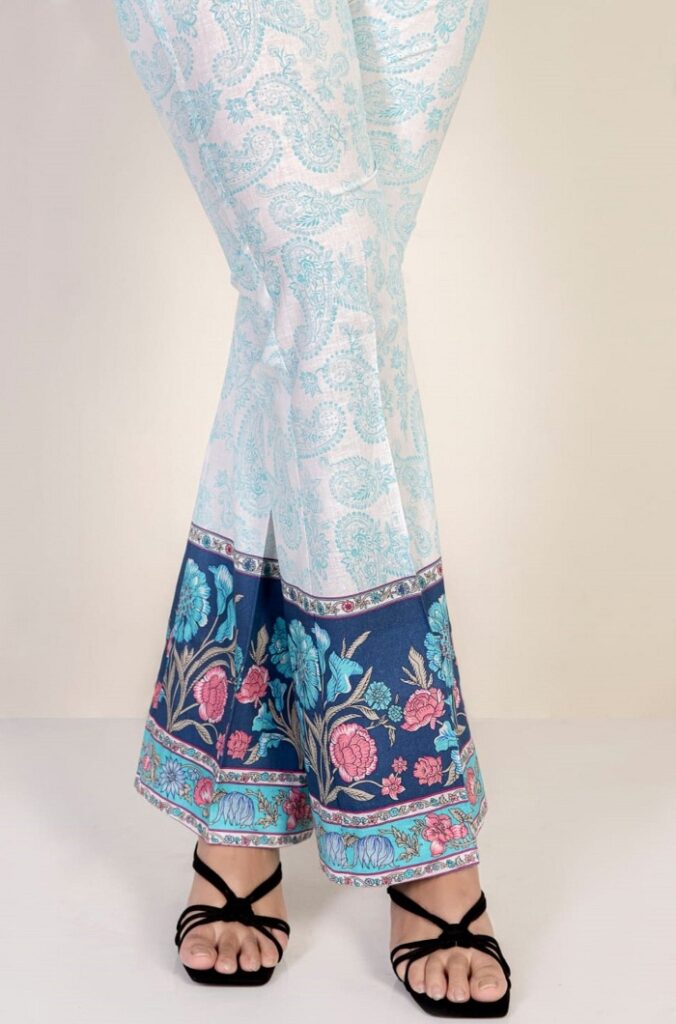 New style digital printed trouser PKR:1950 PKR:975.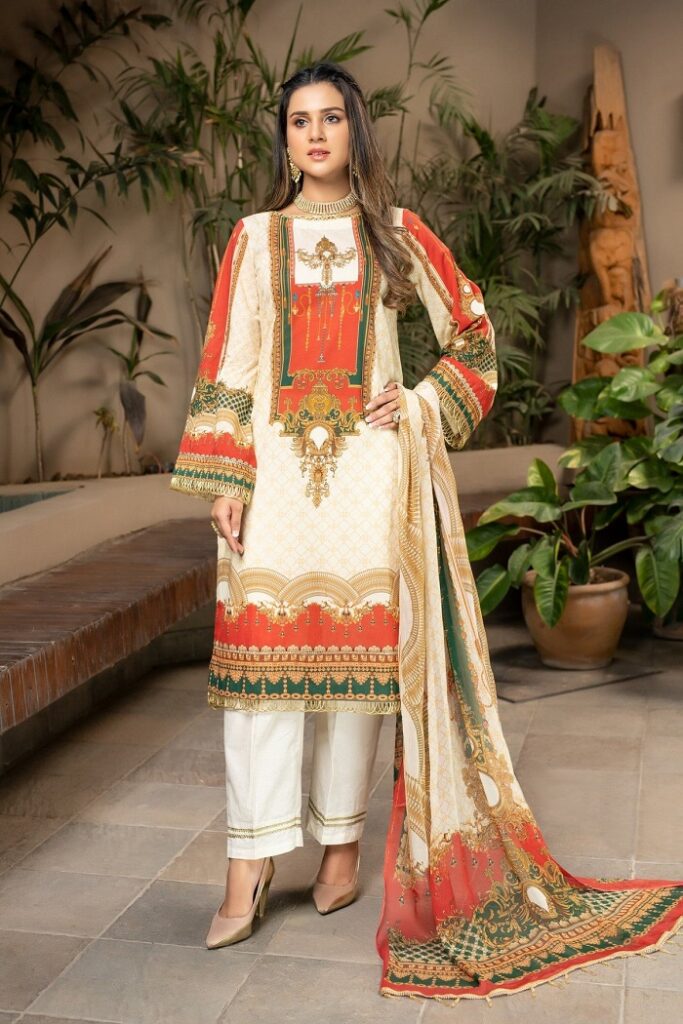 Beautiful Lawn Kurti Available PKR:2690 PKR:1345 save 50% now.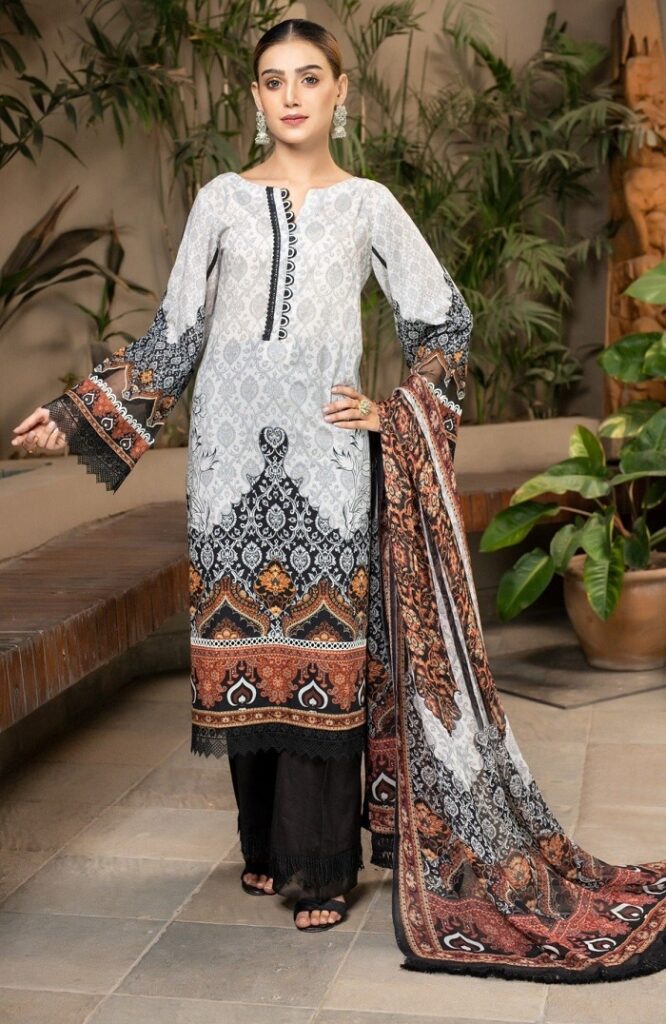 Stylish lawn 2Pc Shirt + Dupatta PKR:4950 PKR:2475 save 50% now.
Mohagni Clothing – Ladies Winter Luxury, Linen Collection
All these stylish digitally printed linen suits are perfect clothing, that will help to prevent wind chill. Or add some trousers with your winter shirts which also help visually balance. Down we are sharing great material for your winter wardrobe. You can easily buy these winter dresses through the official brand website. Let's check out the best outfits for women in Pakistan for winter days.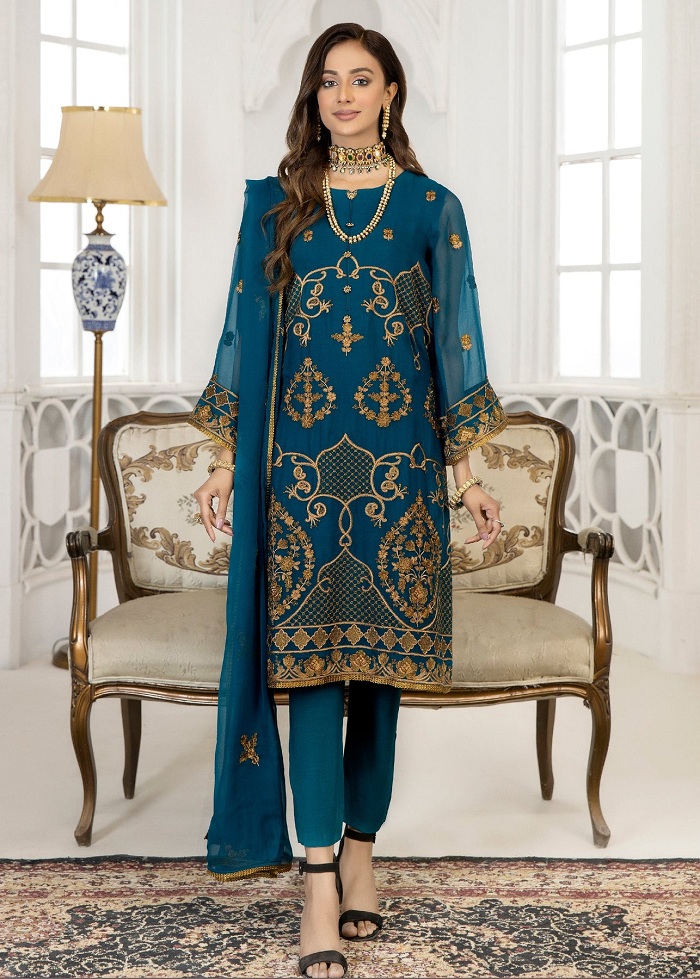 New style chiffon stitched 3 piece suit PKR:8950 PKR:6265 save 30%.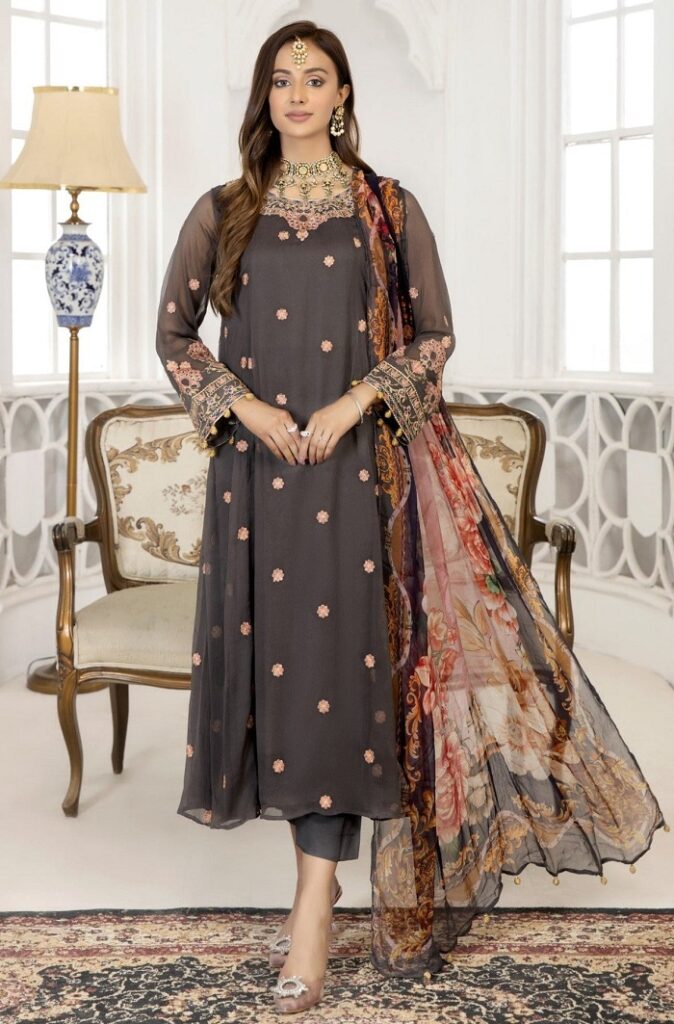 Get Mohagni brand chiffon 3 pieces suit in PKR:9500 PKR:6650 save 30% now.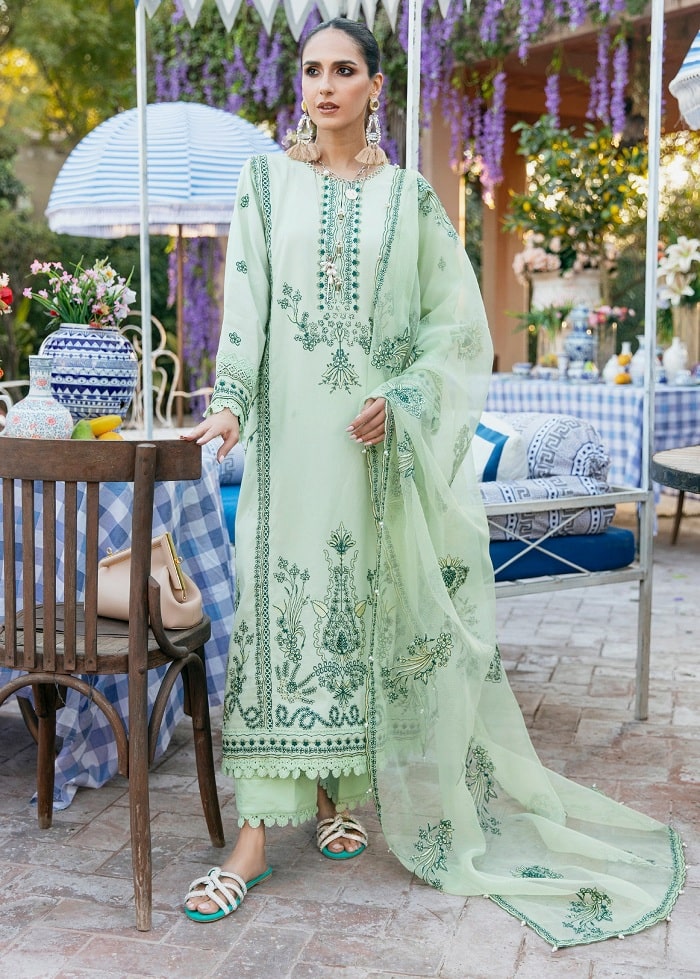 Embroidered lawn 3piece eid suit for women Rs.7,950 Only.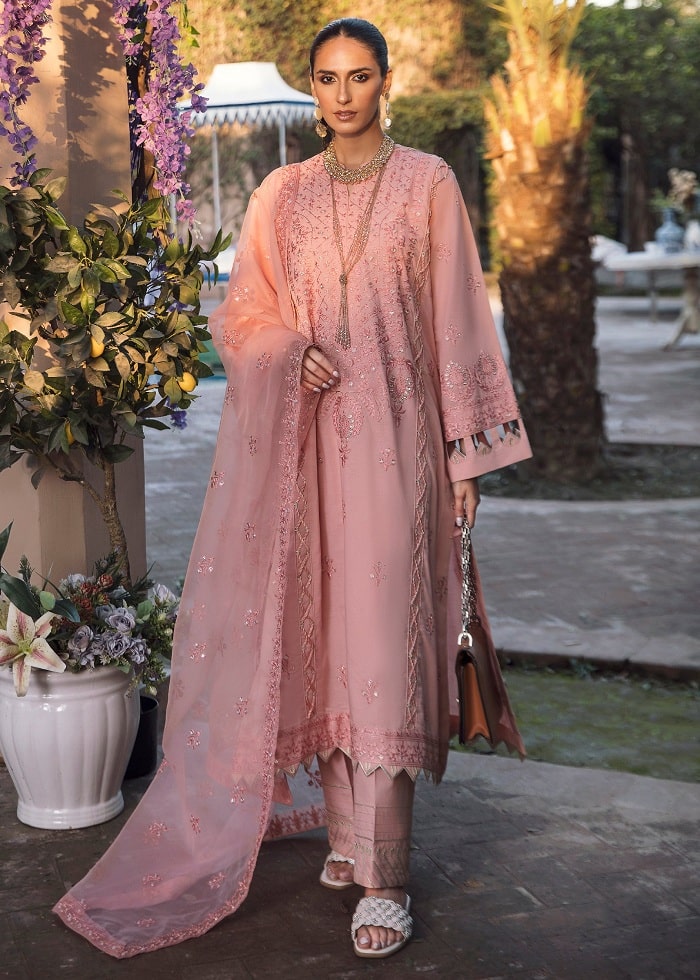 Tea pink color luxury lawn 3pc suit for women Rs.7,950 Only.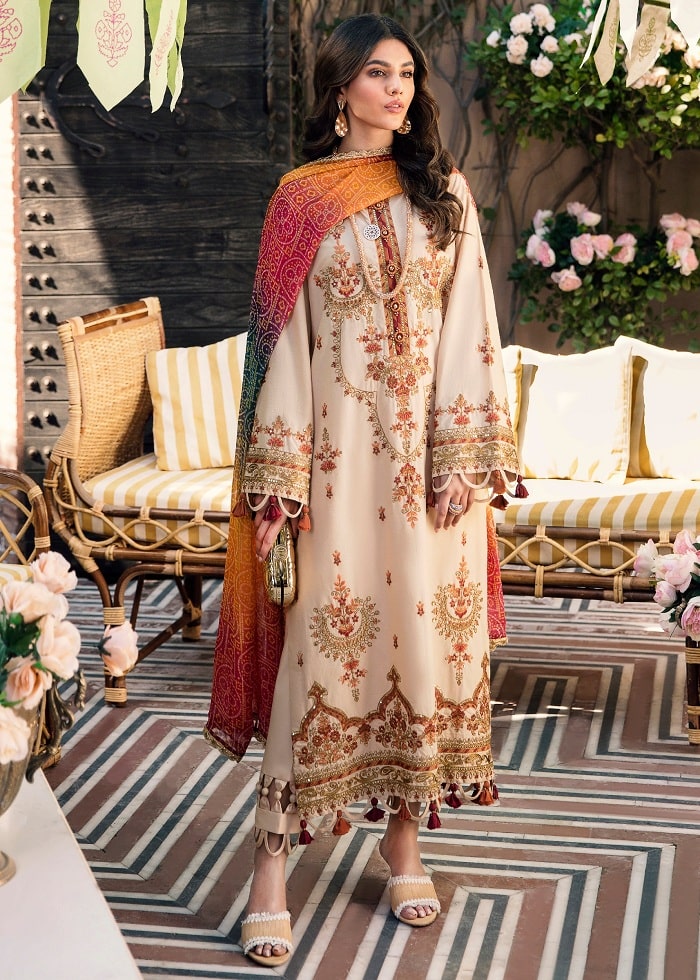 Mohagni eid luxury lawn three piece embroidered suit Rs.7,950 Only.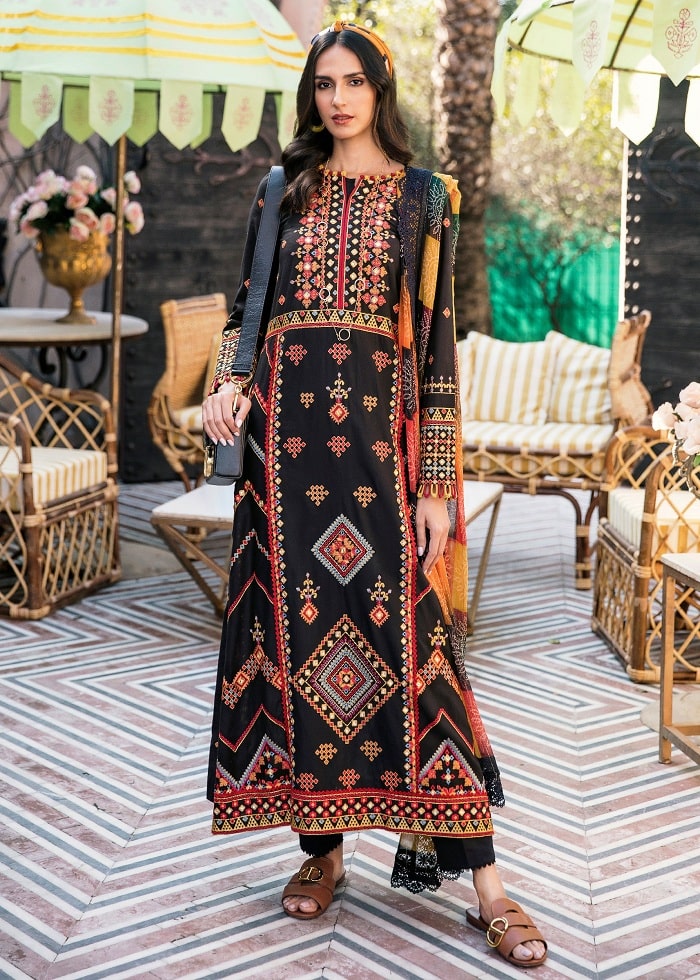 Beautiful black embroidered lawn shirt, chiffon dupatta and dyed cambric dupatta Rs.7,950 Only.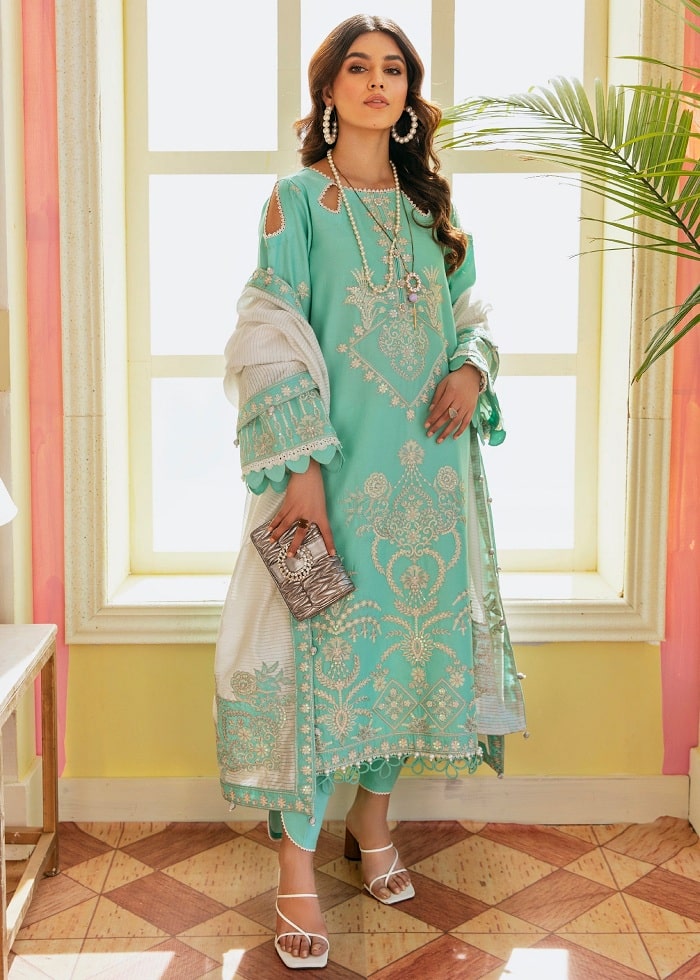 Stylish green color luxury eid lawn sale 3 piece suit for Rs.7,950 Only.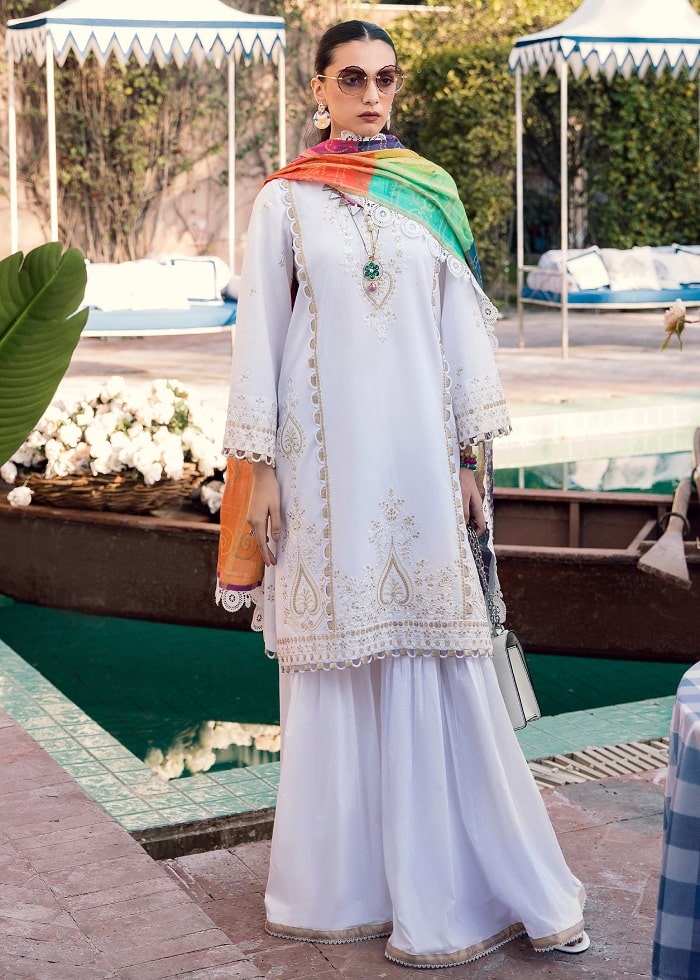 Light blue color Embroidered Eid Lawn 3-piece Suit for Rs.7,950 Only.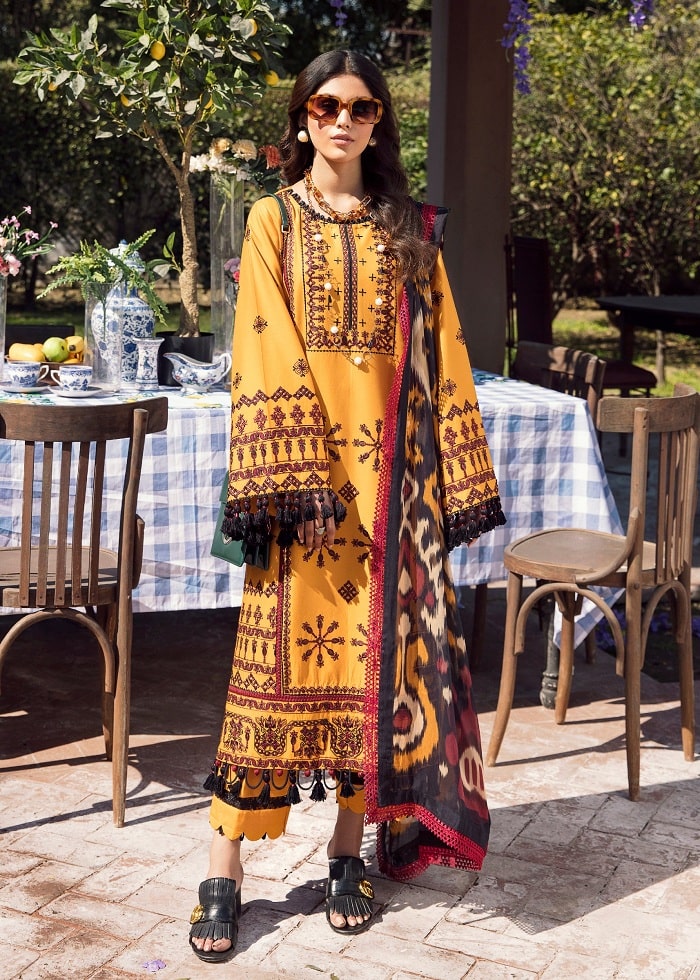 Luxury Yellow Color 3 piece suit for ladies Rs.7,950 Only.
Embroidered Lawn 3 piece suit Rs.7,950 Only.
Mohagni beautiful black color embroidered eid lawn 3pcs suit for ladies Rs.7,950 Only.
Beautiful yellow color lawn 3 piece suit for ladies Rs.7,950 Only.
Girls let's get a unique perfect summer look with this un-stitch eid dress available for Rs.7,950 Online.
Beautiful embroidered lawn red color suit for Rs.7,950 Only.
Yellow Color Embroidery Winter Kurti For Teen Girls Rs.3950 Rs.1975
Stylish Embroidery Work Kurti For Women Rs.2950 Rs.1750
Winter Embroided 2-Piece Suit in Brown Colour Rs.5950 Rs.2975
Blue color Stitched Shirt With Trouser and Pink Embroidery Work Dupatta For Winter Rs.6950 Rs.3995
Eye-Catching Brown Two-Piece Stitched Suit At Sale Price Rs.5950 Rs.3570
Two-Piece Stitched Blue Color Dress At Sale Price Rs.7950 Rs.4770
Excellent Winter Look With Beautiful 2PC Ready to Wear Suit available in just Rs.9500 Rs.5700
Beautiful Night Wear Suit For Women at Sale Price range Rs.3450 Rs.2070
New Style Winter Kurti in Brown Color Rs.4500 Rs.2250
Khaddar Printed Kurti Style Rs.2950 Rs.1475
Chic Style Khaddar Fabric Kurti At Sale Rs.2950 Rs.1475
Khaddar Printed Kurti For Young Ladies 50% Off Buy Now Rs.2950 Rs.1475
New Designs for Winter Kurti in Unique Print Available Rs.2950 Rs.1475
Full Unique Style Velvet Embroided 3PCS Suit Rs.10500 Rs.7350
Velvet Embroided 3 Pieces Unstitched Suit At Sale Price Rs.11500 Rs.7995
Organza Embroided 2 Piece Suit At Sale Price Rs.6950 Rs.3475
Dyed Organza Jacquard Shirt in Unique Style Rs.6950 Rs.3475
Chic Style Mambo Viscose Shirt and Dupatta At Sale Price Rs.3200 Rs.1920
Awesome Linen Shirt With Dupatta Rs.3200 Rs.1920