Maria B Luxury Collection 2023 – Pictures With Prices
This New Year Maria B designer brings 20+ new luxury dress designs with full embroidery & appliqué work. As we know winter season is perfect o wearing such types of M. luxury fabrics. Therefore, it is a perfect time to choose a perfect Maria B Luxury Collection that may also be perfect for formal functions as well.
Here we are posting all maria b luxury collection 2023 dresses pictures with prices. No doubt, those Pakistani women always like to wear something that is unique and stylish. For a chic, bold, and trendy look, the M.luxury collection is perfect.
Latest Maria B Luxury Collection 2023 With Price
Luxury clothing lines are famous around the whole world, for their unique style and distinctive prints. Therefore, this new year maria b tries to provide high-quality luxury outfits for ladies' wear. In fact, many Pakistani celebrities also like to wear luxury or embroidery work clothing.
Maria B clothing brand has played a positive role in the Pakistani fashion industry. Every year thousands of new dress designs publish by the maria b brand. In addition, many of the dresses have set trends among Pakistani women.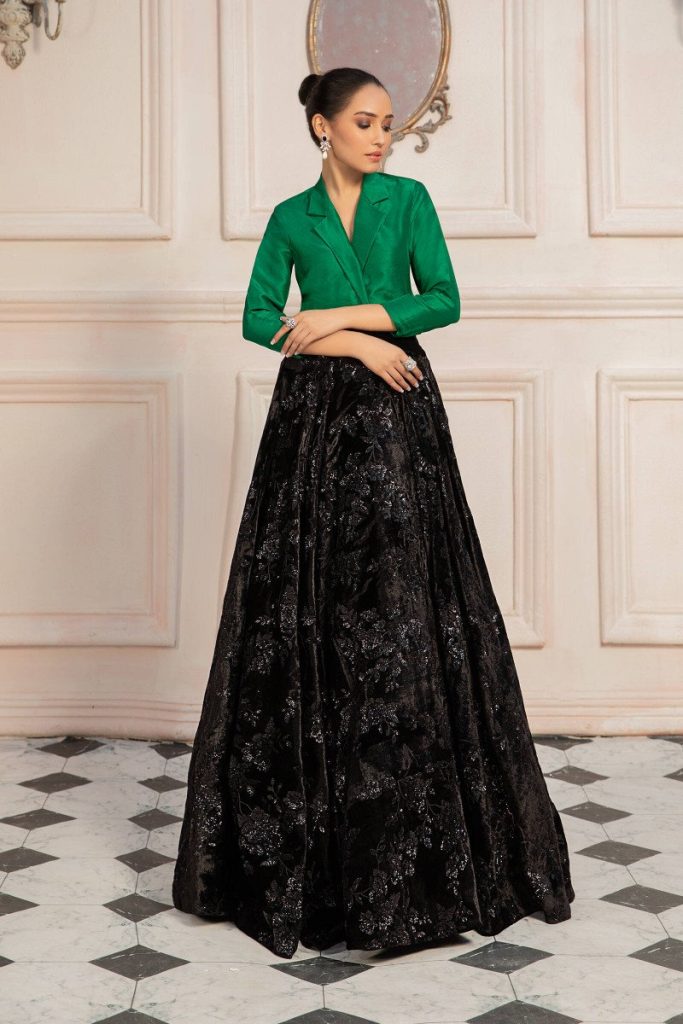 Unstitched 3-Piece Luxury Dresses for Formal Wear
The winter luxury collection c contains 20 outfits for formal functions. Furthermore, through these luxury unstitched dresses, ladies can save up to 50% off on all outfits.
These outfits are designs full of embroidery work on the net, velvet fabrics. Furthermore, some dresses also are designed with chiffon, khaddar, and jacquard fabrics.
See More: Zahra Ahmad Party Dresses Designs with Prices
Maria B Luxury Lehenga Choli Collection
Stylish navy blue and maroon color velvet luxury lehenga choli by maria b dresses 2023. These ready-to-wear winter luxury lehenga choli dress designs are also best to wear at wedding functions as well. Or you can try them at parties and other occasional functions as well. These beautiful dresses can provide you new look for the winter season of 2023.