Ethnic By Outfitters Summer Collection 2023 Unstitched With Price
So, girls, you are ready for the Ethnic By Outfitters Summer Collection 2023. This year, all the suites have new designs. And women easily find the best summer lawn apparel at affordable prices. This summer lawn collection has containing unstitched and ready-to-wear outfits at sale prices. If you have not yet, purchase your favorite lawn dresses? Then visit your nearest Ethic by outfitters outlet or online blog.
Furthermore, the all Ethnic By Outfitters Summer Lawn collection brings many new designs printed and embroidered work suits for all ages of women. If you are looking forward to seeing all these lawn outfits then let's start. Just explore this page and get newly updated summer lawn dresses by ethnic brands for women and kidswear.
Ethnic by Outfitters Summer Lawn Collection 2023
Ethnic by Outfitters clothing is always reliable. So you don't have to think about the quality of these clothes. Therefore, millions of people buy summer dresses from this brand every day. Furthermore, this year all summer dresses bring new elegance and traditional outfits for women. You will find complete outfits in every aspect of color, design, and embroidery work.
Let's add some latest fashion outfits into your wardrobe with the Ethnic By Outfitters brand. All the latest Ethnic By Outfitters Summer lawn dresses contain unique prints, colors, and elegant designs. Furthermore, all lawn dresses are stylish and comfortable to wear on summer days. Here are all the summer lawn dresses are given below with prices.
Beautiful richly embroidered design with fancy floral luxury work 3-piece unstitched suit PKR:5990 Only.
Get a graceful elegant lawn embroidered purple-shade shirt, with a dupatta, and trousers in just PKR:5990 only.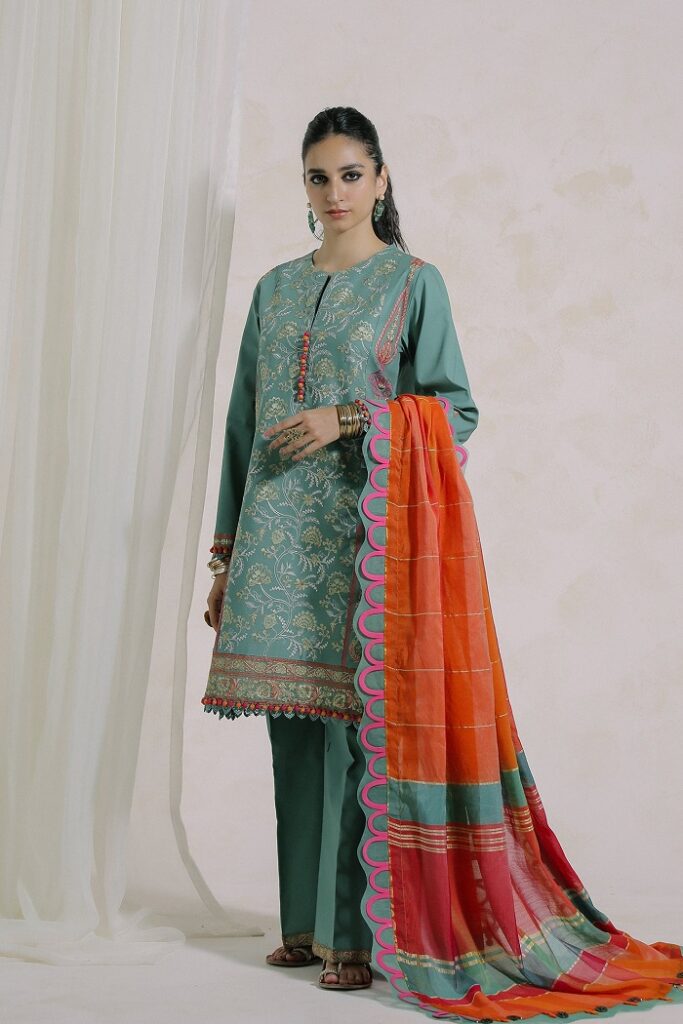 Let's shine with this elegant lawn's luscious green shade floral embroidered shirt, with classic trousers and fancy yarn dyed dupatta Rupees:5,990/- Only.
Stylish Deep Burgundy Color 3Piece Unstitched Embroidered suit Rupees:5,990 Only.
Furthermore, shop online 3Pc magenta color luxury suite for Rupees 5,990 only.
Rupees:5,990 only.
Black color embroidered lawn suit Rupees:6,490 only.
Spring Summer Lawn Dresses by Ethnic Brand
Ethnic is a leading clothing brand in the Pakistani fashion industry. This brand was launched in the year 2013 in Lahore. It is the only brand in Pakistan that many women have been waiting for. Furthermore, the Ethnic brand goal is to main the beauty of our traditions in a modern way.
Related: Ethnic Sale 2023 Clearance Collection Upto 50% Off
Specially established to provide high-class un-stitch and ready-to-wear clothing to men and women. Every year many new vibrant prints launch by ethnic brands. Furthermore ethnic by outfitters has still impressed many leading brands with their collection.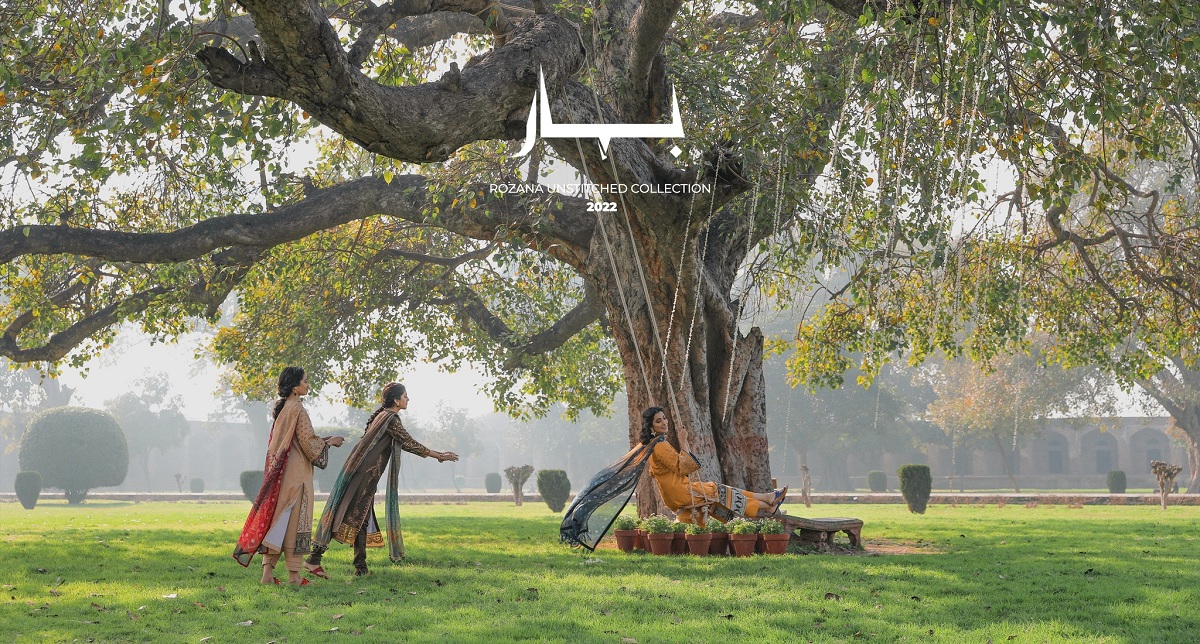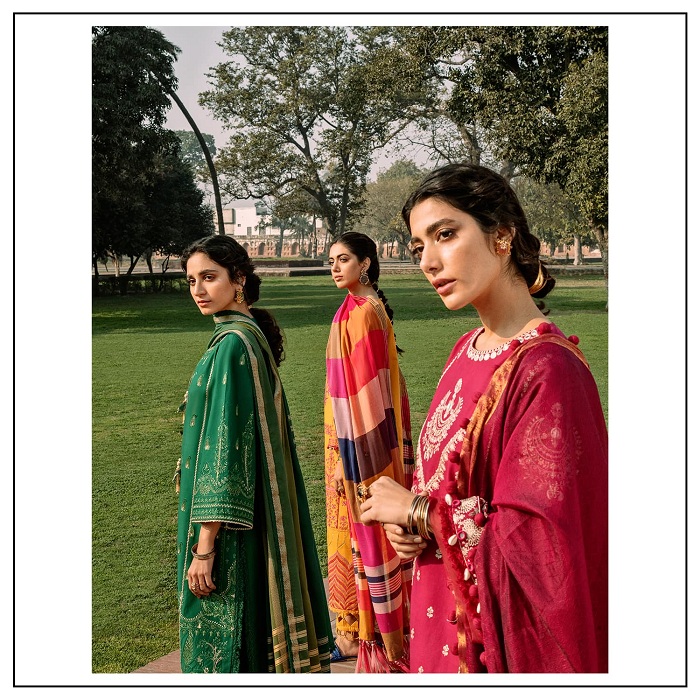 Stylish 3 piece emerald color embroidered suit by Ethnic brand Buy Now for Rupees:6990 Only.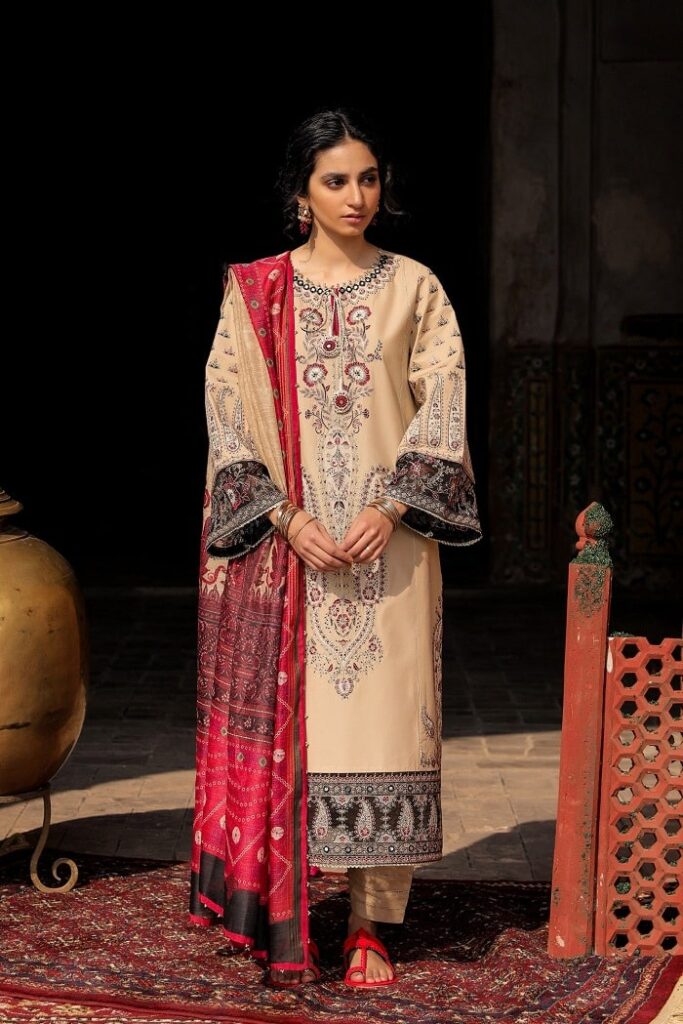 A beautiful beige color floral and motifs kameez with tonal trouser and traditional dupatta for Rupees:6990 Only.
Apple Green color full embroidered beautiful shirt with solid trousers and artistically rich dupatta for Rupees:6990 Only.
Make the perfect summer look with ethnic brand spring summer 3 piece luxury lawn suits, these dresses are available for Rupees:5990 Only.
A graceful black embroidered shirt with tonal trousers and fancy dyed dupatta for Rupees 5990 Only.
Deep Maroon color 3 piece lawn suit for PKR:5990 Only.
A graceful cream color lawn shirt with a pink and blue color tone, paired with trousers and a classic chic dupatta buy now for Rupees:6990.
Get a traditional summer look with this un-stitch 3-piece lawn suit for Rupees:5990 Only.
Rich design in Mulberry color 3 piece suit PKR:5990 Only.
Beautiful light mustard color un-stitched three-piece suit by Ethnic brand for PKR:5990 Only.
Stylish rust color 2 piece cotton suit PKR:7490 Only.
Ocean blue color 2 piece lawn chic shirt with classy trouser for PKR:7990 Only.
Stylish brown color shirt and waistcoat for trendy summer look PKR:6490 Only.
Unstitched Summer Collection 2023
Ethnic is the perfect brand to provide unstitched summer dresses for weddings and eid occasions. In this summer collection, you can find new digitally printed lawn suits and one-pieces shirts at affordable prices.
Beautiful chic blue color lawn shirt and shalwar for Rupees:6990 Only.
Get a dream summer look with this skyway color lawn shirt available for PKR:3990 Only.
Dust green color 2 piece lawn shirt and trouser by ethnic brand buy now PKR:6490 Only.
Embroidered lawn 2 piece suit PKR:6990
Two-Piece PKR:5990
Get a traditional summer look with a vanilla ice color lawn one-piece embroidered shirt for Rupees:5990 Only.
Yellow color jacquard frock paired with matching trouser by ethnic brand for PKR:6990.
Fuchsia color chic embroidered shirt with trendy trousers buy now for PKR:6990 Only.
Stylostreet Conclusion
Are you ready to put new attractive design clothes in your closet? Here you will find many options to get quality fabrics full of embroidery work. Furthermore, the traditional embroidery work enhances the beauty of this summer lawn collection. So, we can say Ethnics By Outfitters is the perfect option to get today's fashion outfits. Stylostreet suggests our viewers buy these beautiful dresses for the summer season of 2023.