Ethnic Sale Mid Season Collection 2022 Upto 50% Off
Ethnic by outfitters publish his mid season sale dresses with full embroidery and luxury work. In this Ethnic Mid Season Sale 2022 Dresses Collection, you will find the best traditional outfits for the current season.
During summer days cool clothes play an important role to wear informal functions, party wear and wedding season also. Therefore, never miss these beautiful ethnic summer saledresses and save up to 50% on all dresses. Furthermore, this sale collection contains the best clothes at sale prices. This brand starts working in 2013 and is well known for casual and formal wear outfits.
Ethnic Mid Season Sale Upto 50% Off
Let's choose the best traditional designs from the ethnic mid-season sale collection 2022. And spread the joy with full of fashionable styles at unbelievable discount prices.
Today shop online the high-quality prêt wear collection to a wide range of unstitched designs, for all ages women. Furthermore, all dresses are containing new designs to provide you new look at affordable prices.
Trendy printed lawn shirt PKR:2,190 PKR:1,690 only.
A beautiful floral pattern blue embroidered suit for summer available PKR:16,990 PKR:11,890 only.
A stylish pishwas silhouette shirt paired with a waistcoat for the traditionally rich outfit is available for PKR:7,990 PKR:5,590 save 30% now.
Embroidered sky-blue shirt PKR:4,490 PKR:3,090 flat 31% off.
A graceful dull green shade embroidered shirt for ladies wear PKR:3,990 PKR:3,190 only.
An elegent vibrant cotton shirt in a mulberry shade printed shirt PKR:2,190 PKR:1,690 only.
Floral print cotton shirt PKR:2,190 PKR:1,690 save 23% now.
Traditional rich purple color graceful lawn shirt PKR:6,490 PKR:5,190 save 20% now.
PKR:8,990 PKR:6,290 only.
Ethnic By Outfitters Eid Sale Dresses with Prices & Pictures
As we can see all sale dresses have different patterns, prints, and embroidered work. Or many Pakistani trendy women like to wear ethnic by outfits Eid sale dresses unstitched and ready to wear collections. Light and Dark colors are used in these dress collections to make them more beautiful and eye-catching.
The unique style of prints and embroidered work can provide you stylish look in a discount price range. Let's select your favorite color and embroidery work that can provide you an eye-catching look with these latest winter dresses collection 2022.
See Next: Diners Sale Flat 30% off
Beautiful embroidered green color suit for women available for PKR:7990 PKR:3990 Only.
Look classy with grey color embroidered coat and trouser available for PKR:7490 PKR:3690 Only.
Get a graceful chic look with sand color embroidered one-piece shirt by ethnic brand available for PKR:4290 PKR:2090 Only.
An attractive printed classy style shirt available for PKR:1990 PKR:990
A perfect traditional yellow-beige color 3PCs Fit Suit Available at Sale Price Save 40% Now PKR:9990 PKR:5990 Only.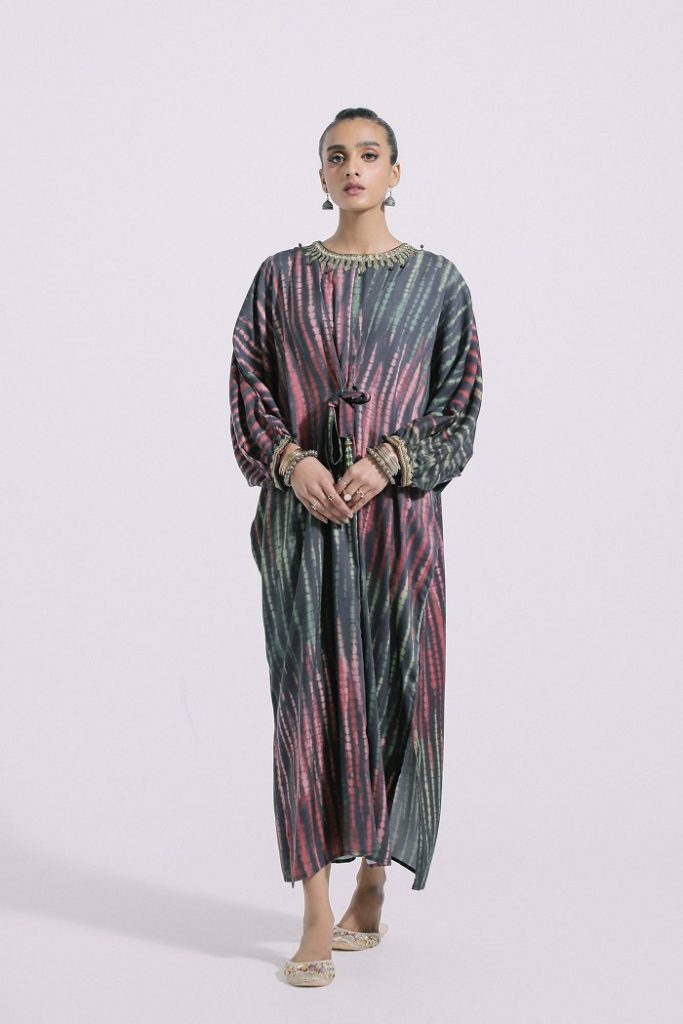 Classic chic elegant shirt having a mid-grey shade available in sale price Save 31% Now PKR:5490 PKR:3790 Only.
Trendy open silhouette shirt with traditional embroidered work on shirt front and sleeves Three price Suit Save 30% Now PKR:8990 PKR:6290 Only.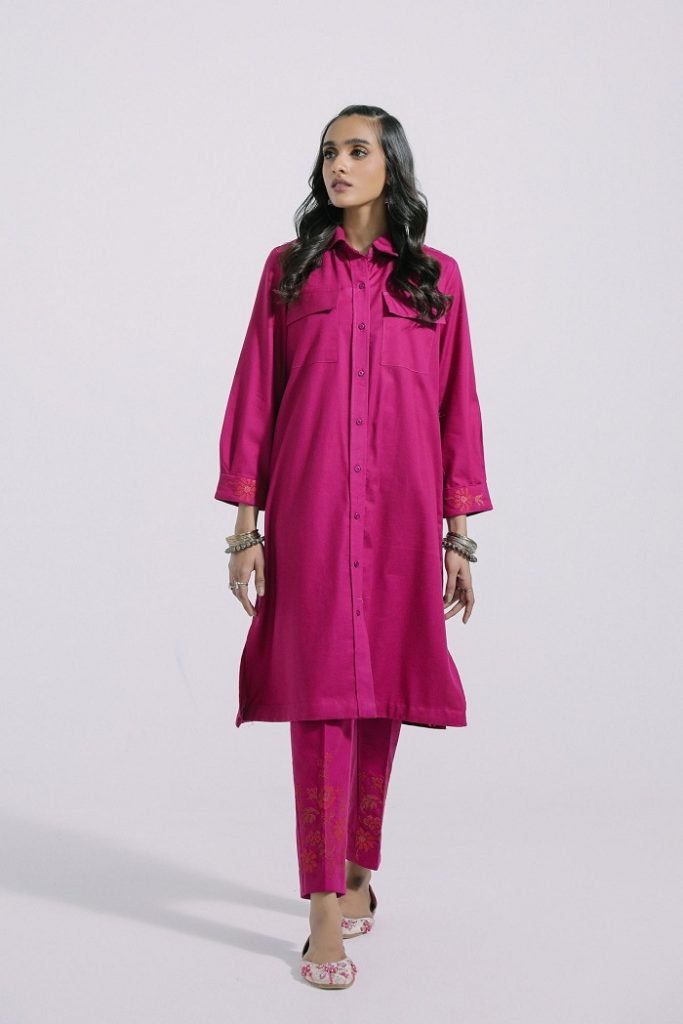 Beautiful Pink Color Two-Piece Shirt Paired With Trouser available in Pink Color Save 30% Now PKR:6990 PKR:4890 Only.
End Of Season Sale Upto 50% Off On All Products
Let's choose some new and more traditional designs at sale prices. We are here to share new high-class three-piece un-stitch and ready-to-wear dresses. Furthermore, now you can easily get high fashion style outfits at discount prices.
Shop from the most leading pret wear collection with a wide range of designs. In addition, all women's & kids' styles are available at discount prices on the ethnic brand shops. Therefore, today select your favorite suits at sale prices to elevate your personality.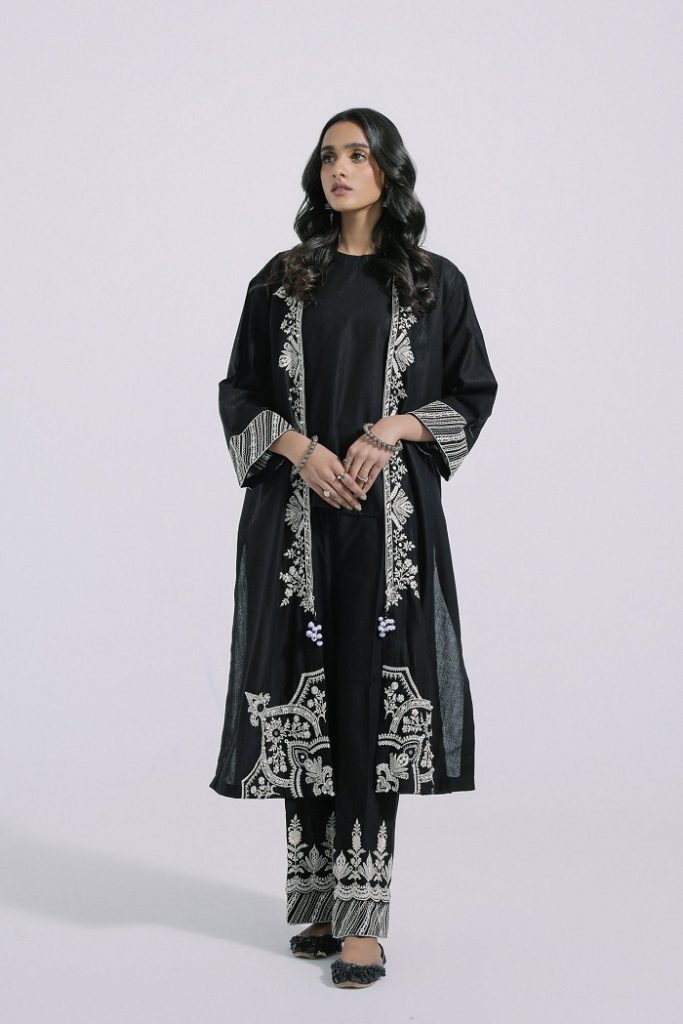 Get a glamour look with a cotton linen black open-front shirt with embroidery work on front and sleeves, pair with embroidered trousers Save 30% Now PKR:8990 PKR:6290 Only.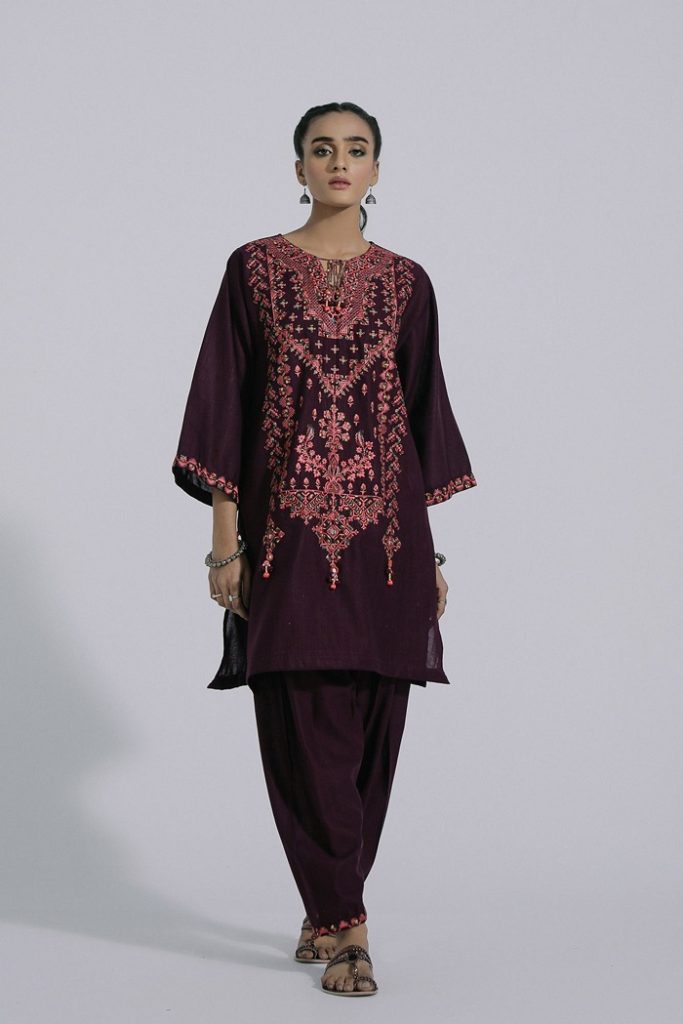 Stylish Maroon Color Embroidered Shirt and trouser available Save 31% Now PKR:7490 PKR:5190 Only.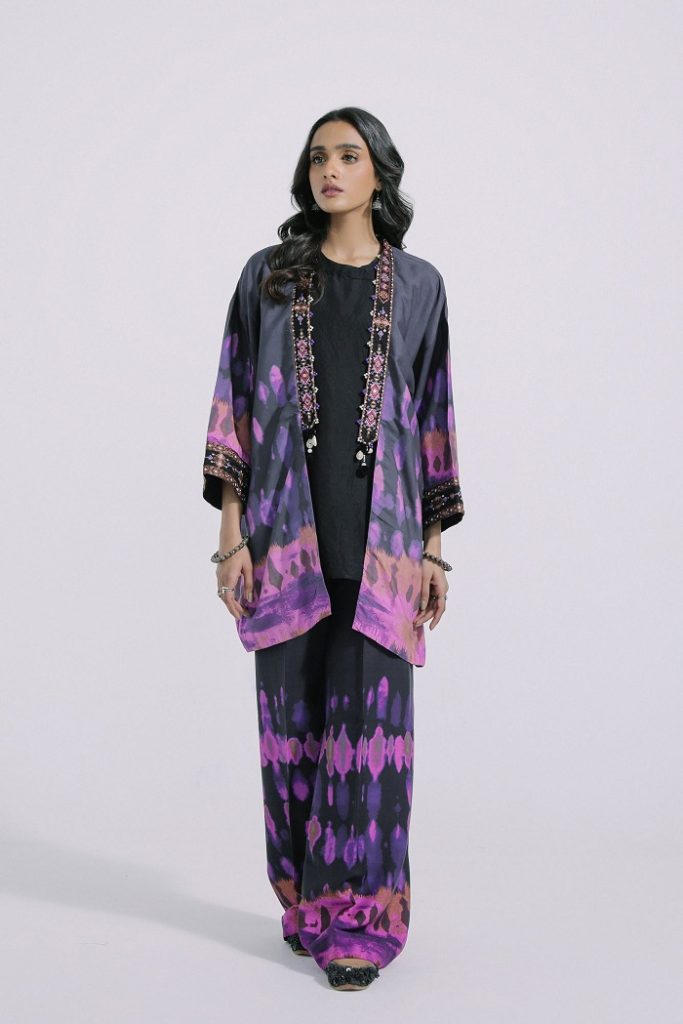 Trendy Open Front Silhouette Dar Purple Color Shirt for women's Save 30% Now PKR:8990 PKR:6290 Only.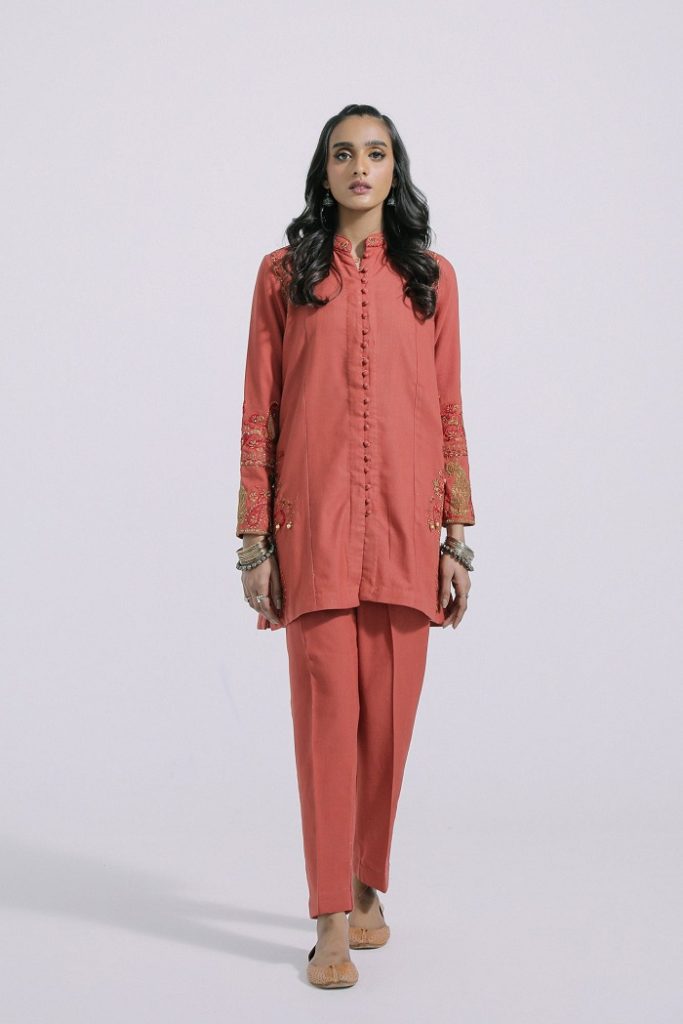 Charming khaddar classic shirt with a trouser in caramel color Save 30% Now PKR:6990 PKR:4890 Only.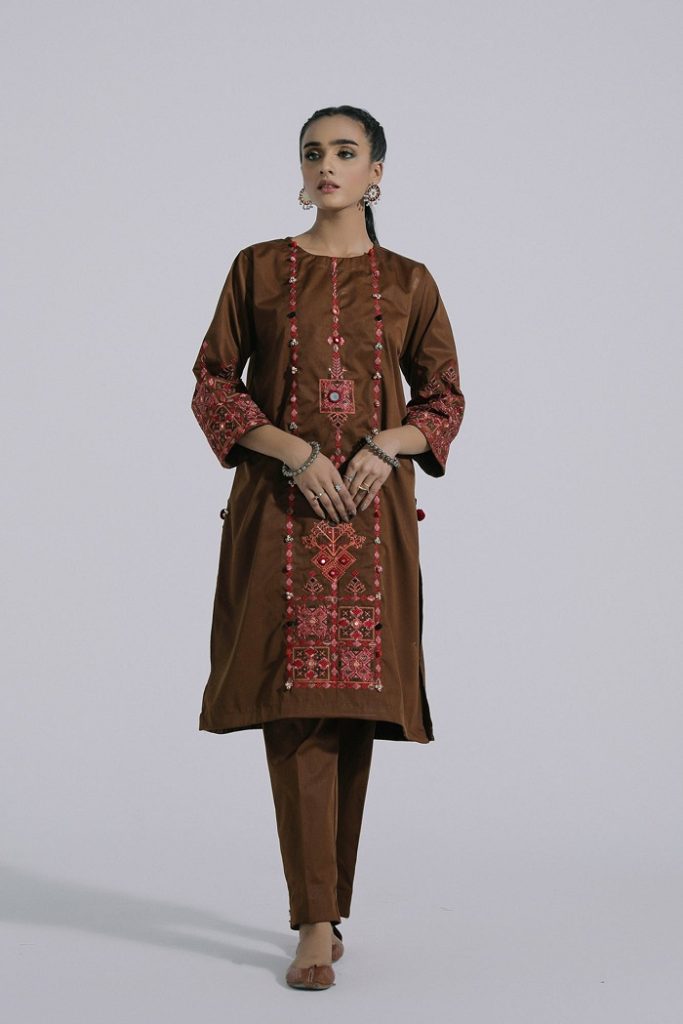 Traditional rich designs brown color shirt with trouser available for PKR:6990 PKR:4890 Only.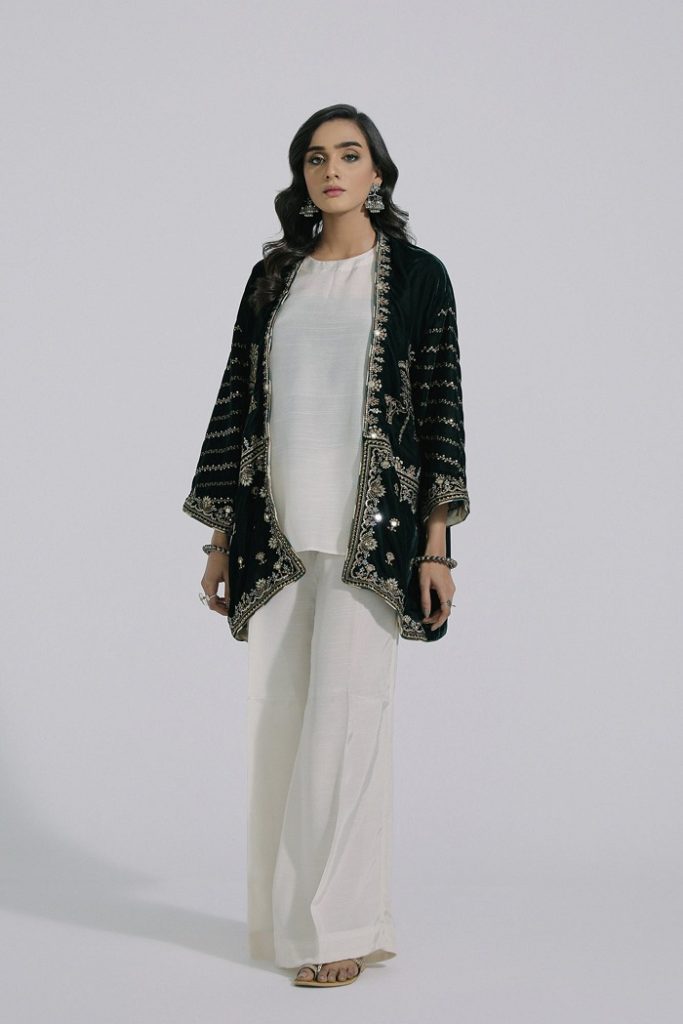 Fancy Open Front Black Color Embroidered Shirt by ethnic brand available at sale price PKR:8990 PKR:6290 Only.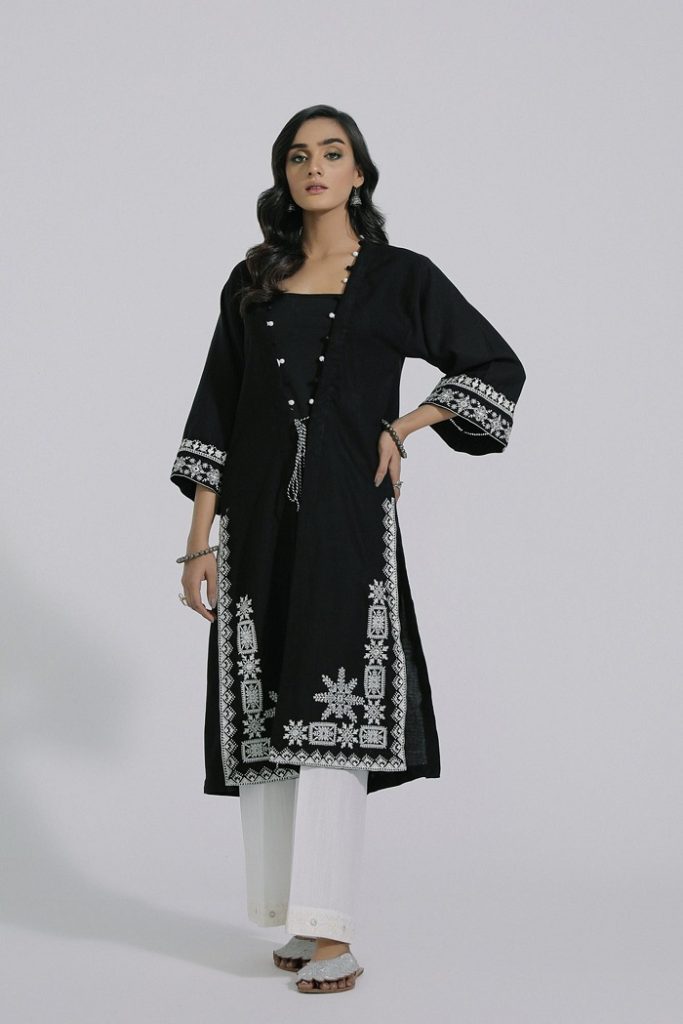 New Design of the black shirt having beautiful white color embroidered work on shirt front and sleeves pair it with white trouser available for PKR:6990 PKR:4890 Only.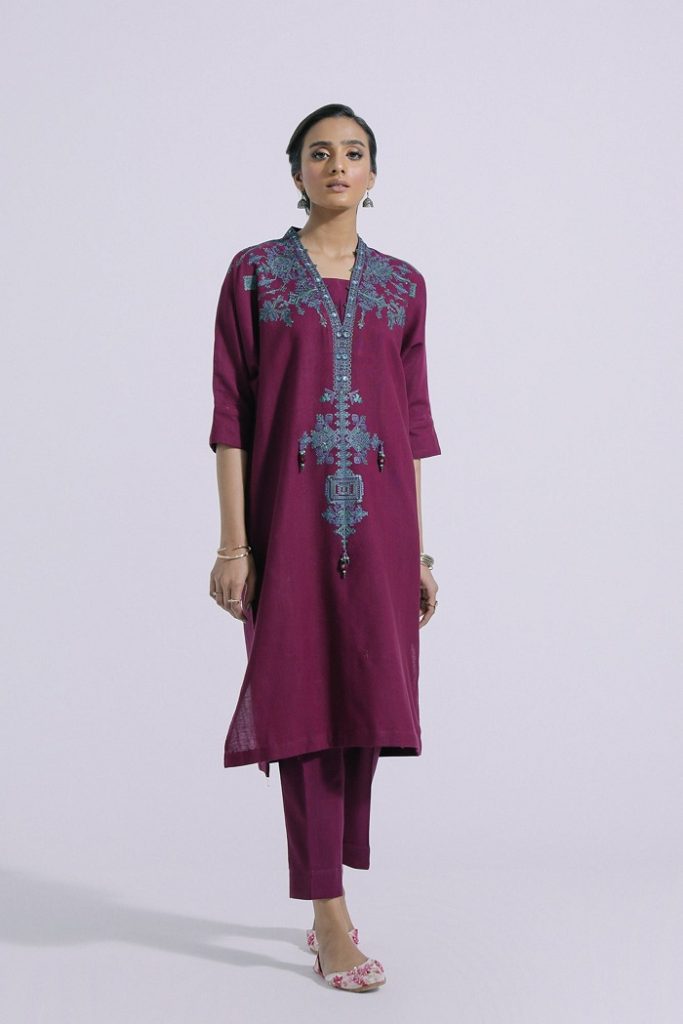 Get a Charming look with a beautiful khaddar violet color shirt and trousers available at sale price Save 30% Now PKR:5990 PKR:4190 Only.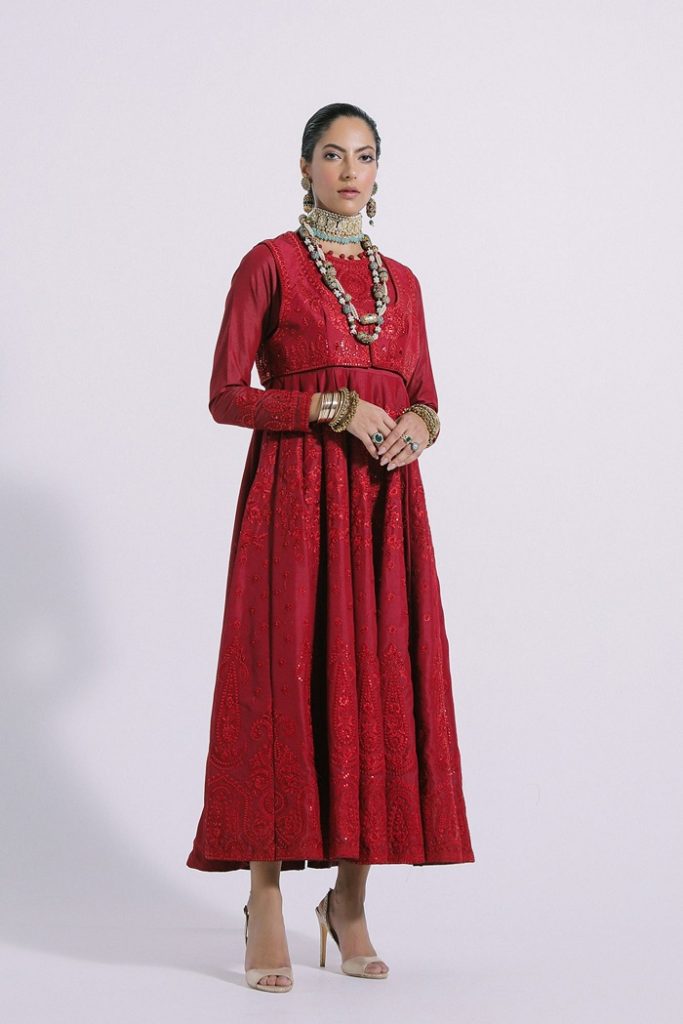 Beautiful Red Color Two Piece fancy heavy work shirt with embroidered work on front and sleeves buy now PKR:15990 PKR:12790 Only.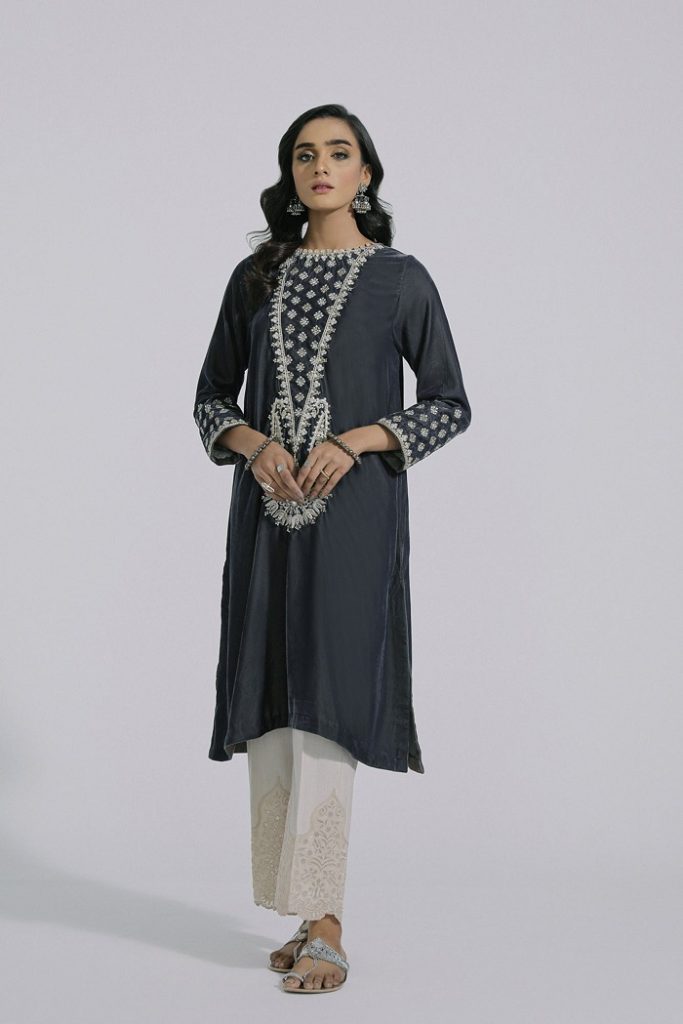 Let's get a glamour look with beautiful grey color embroidered shirt available at sale price ethnic winter clearance sale 2022 Price Now PKR:8990 PKR:6290 Only.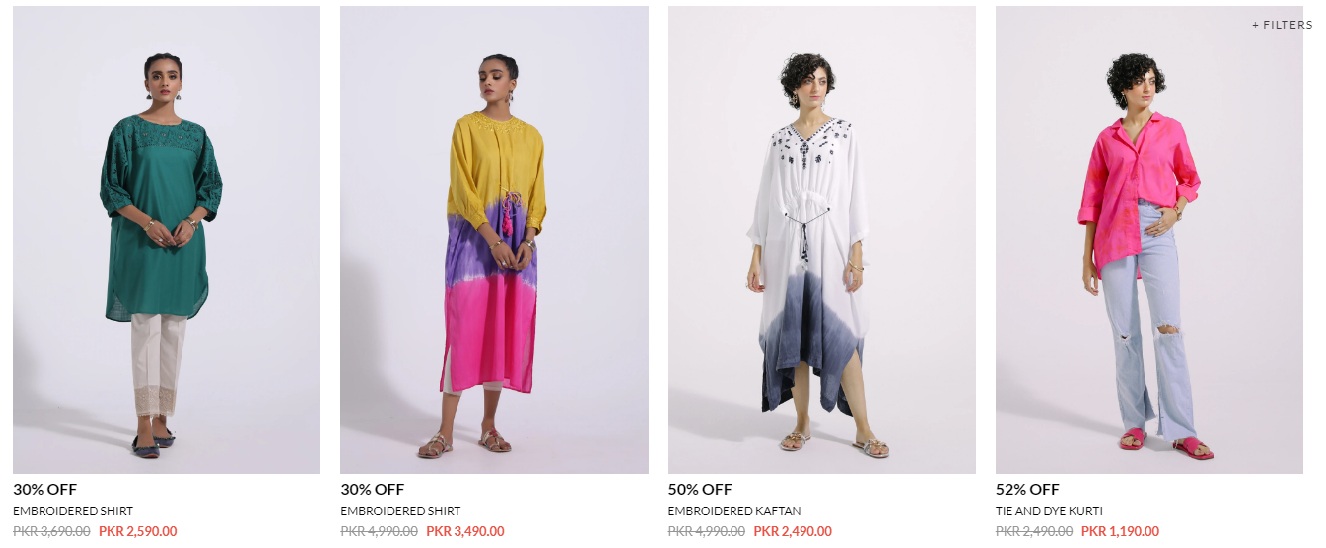 Enjoy 50% Off Ethnic Winter Sale Collection Dresses
New year's winter season began with brand winter sale dresses upto 50% off on all dresses. Furthermore, this winter collection has a wide range of women and kids wearing boutique dresses at the sale price. Are you looking for traditional dresses that can provide you stylish traditional look? If yes then, you are at the right place to find a classic look with a stylish winter sale collection in Pakistan.
Many Pakistani girls like to buy unstitched outfits as compared to ready-to-wear forms. From classic colorful dresses to modern style outfits, there is a wide range of fabrics at sale price available at Ethnic by outfitters store or online.
Chic Velvet Black Color Fancy Shirt for women's PKR:8990 PKR:6290 Only.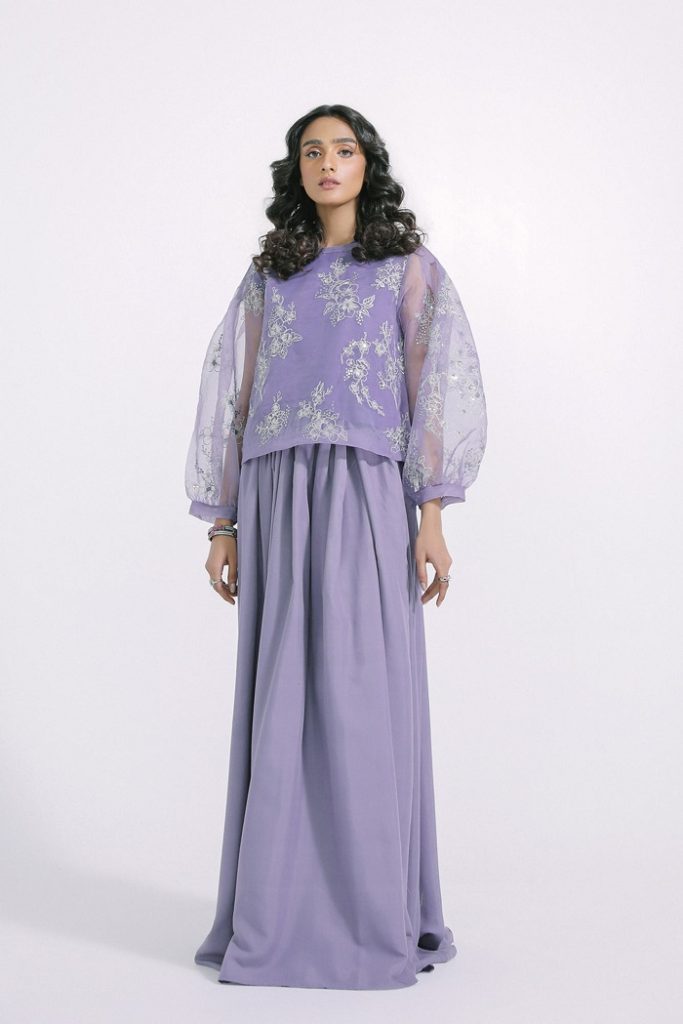 Get the trendy fashionable look with beautiful Lilac color choli and Sharara Available Now For PKR:12990 PKR:10390.
Look classy with a stylish coat shirt, having pockets on the front and paired with matching trouser available for PKR:5990 PKR:3590 Only.
Kaftan Style With Belt At Waist Available in Dark Blue Color for PKR:4490 PKR:2690 Only.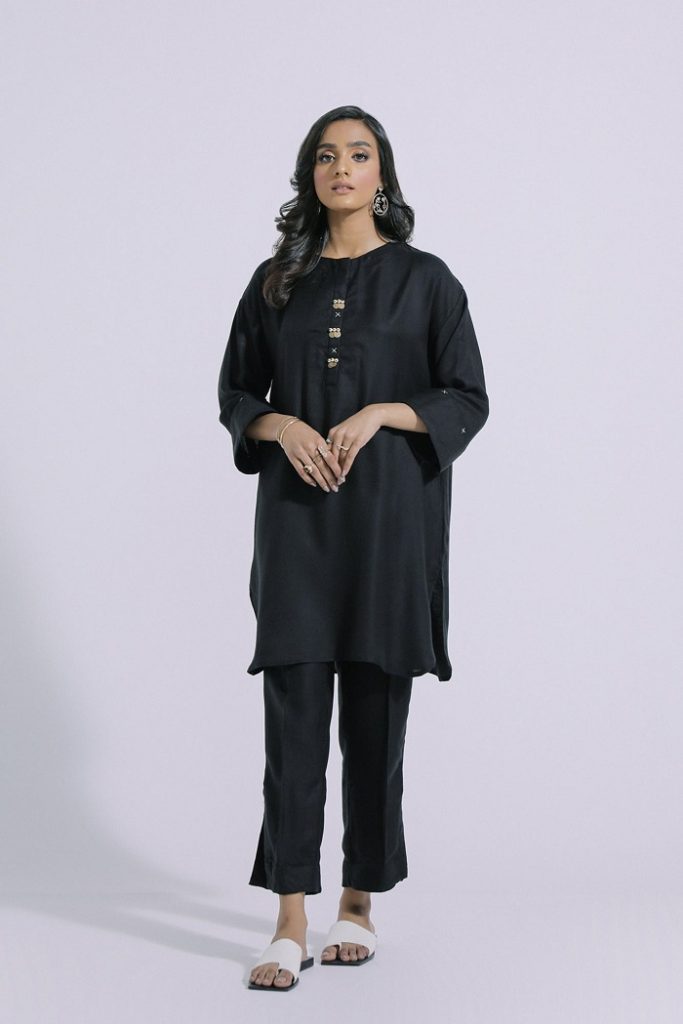 Stylish Black Color Solid Suit by Ethnic By Outfitter brand available at sale price PKR:4990 PKR:3490 Only.
Plum Color Two-Piece Suit for women available in ethnic season end sale collection 2022 now for PKR:5490 PKR:3290 Only.
Embroidered Golden Brown Color 2 Piece Suit For Women's PKR:7490 PKR:5190.
A classically chic design two-piece black color suit available now PKR:8990 PKR:5390 Save 40%.