New & Stylish Mehndi Dresses For Pakistani Brides 2023
All the designers of Pakistan have launched their Stylish Mehndi Dresses for brides this season 2022-2023. New collections for brides special for mehndi day are present in markets with new and lovely designs and styles. Mehndi is a traditional event that is celebrated before a wedding. Mehndi function is also known as "Mayo".
The yellow color is considered the color of this function. Most people retain this old tradition of wearing yellow color dresses at the Mehndi function. However, the Stylish Mehndi Dress type changes according to the wish and desires of the bride and groom. Many grooms wear Shalwar Kameez with a beautiful Khussa. Girls on the occasion of Mehndi wear Lehenga and Sharara depending upon their desire.
Pakistani Bridal Stylish Mehndi Dresses ideas 2023
"Sharara and Lehenga" are commonly worn by brides on the Mehndi function. Hence in this post, we have posted all the latest collections of Mehndi Dresses For Pakistani Brides.
If we talk about the subcontinent, India, and Pakistan then you will find many similarities in the marriages of Pakistani and Indian people. It is because of dresses tradition and similarities. On the wedding day in Pakistan, the groom usually wears Sherwani and it is the same fashion in India.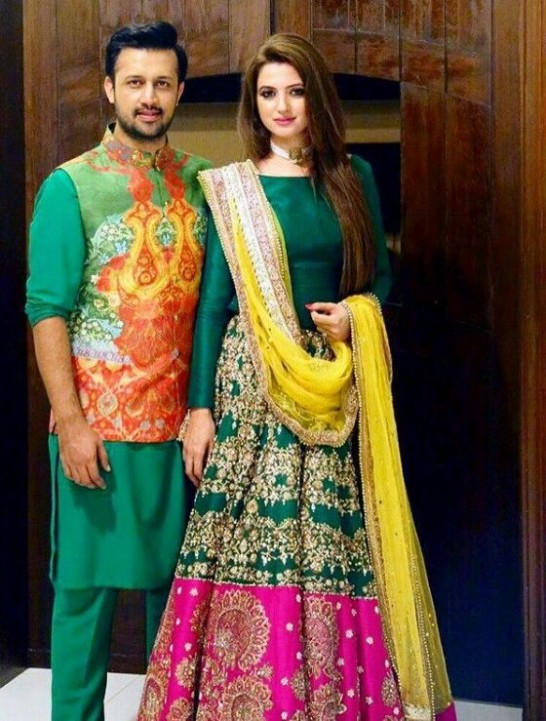 Latest Asian Women New Wedding & Mehndi function Dresses 2023
Brides are also focusing on frocks and Ghagra Choli to wear on Mehndi day. That's why these also are present in the list of Mehndi Dresses For Pakistani Brides. Yellow color Dupatta with a lovely yellow color frock looks absolutely outstanding.
Lehenga, Choli, Frock, Sharara, and Maxi dresses are the most worn dresses by brides in India and Pakistan on the Mehndi function of their wedding. Another famous thing that is trending is embroidered Dupatta. Green and yellow Dupatta with lovely pearls and light stones looks like stars shining on the Dupatta of the bride.
See More: Beautiful Henna By Ash Kumar Mehndi Designs
These are the latest Mehndi Dresses For Pakistani Brides launched by designers and it is a new fashion. Your suggestions are very important for us, like and comment below.