Cross Stitch Mid Summer Sale Save Upto 50% On All
Cross Stitch Mid Summe Sale 2022: Due to coronavirus risks or summer season- days in Pakistan, clothing brands are decided to provide mid-summer sale offers on New summer collections in 2022. Therefore, we are going to publish a leading clothing brand cross stitch Mid Summer Sale upto 50% off for online & In-store.
Get up to 50% off on select stock. Girls this is the best chance to save up to 50% on selected women's stock. The sale starts on Monday, 16th May 2022 in the whole of Pakistan.
Cross Stitch Mid Summer Sale Upto 50% Off On All Items
Furthermore, don't waste time and today get your favorite brand cross stitch spring-summer '22 sale offer. This sale is only available on selected stock only and providing an up to 50% discount price. Moreover, the cross stitch sale starts on 16th May 2022.
In the last paragraph, the sale end date is not yet confirmed. Therefore, customers have a big chance to shop online outfits with 50% discount price. For shipping & delivery charges PKR: 150/- only or every delivery made complete within 8-10 days only. In conclusion, to shop online cross stitch mid summer discount and enjoy upto 50% off price on selected items.
See More: Sapphire Sale Best Bargains Upto 70% off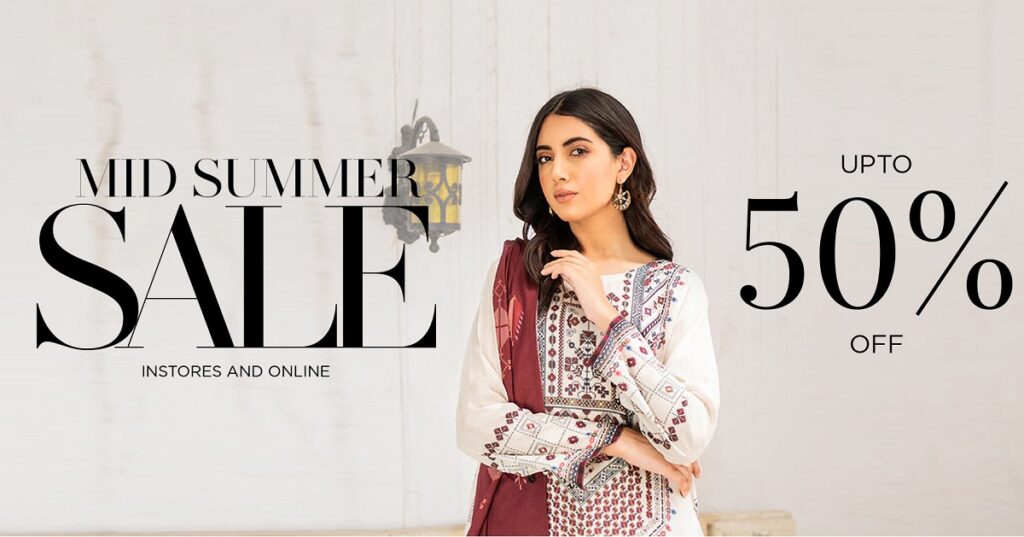 Peach Lawn Embroidered Shirt, trousers, and dupatta PKR:7,250 PKR:6,160 only.
Un-stitch digital printed black shirt with embroidered neckline available for PKR:5,950 PKR:5,050 sale.
Blue lawn embroidered unstitch 3pc suit PKR:6,550 PKR:5,560 only.
Digitally printed white color lawn 3pc unstitched suit, furthermore embroidered Patti for shirt sleeves PKR:5,250 PKR:3,930 only.
Get a summer classic look with this blue color lawn 3Pc Suit PKR:5,350 PKR:3,740 only.
Belle rose 3pc un-stitch suit sale PKR:5,350 PKR:3,740 only.
Beautiful digital print lawn grey color 3pc un-stitch suit PKR:3,950 PKR:2,760 only.
White color lawn digital print shirt and trousers for ladies summer wear PKR:3,550 PKR:2,480 sale.
Ripple Aura 2Pc Peach Lawn Un-stitch Suit PKR:3,550 PKR:2,480.
Get eye-catching summer look with this beige lawn digital print 3piece un-stitch suit available for PKR:3,950 PKR:2,760 only.