Asim Jofa Summer Collection 2023 Luxury Lawn With Price
Refresh your summer wardrobe with Asim Jofa newly launched luxury summer collection 2023 "Shehr-e-yaar". Asim Jofa always brings new fashion outfits with unique designs to refresh your spring and summer outfits. Furthermore, this brand also won the international fashion award for beautiful brand dresses in 2023. In addition, this collection Asim Jofa launching a new luxury lawn "Shehr-e-yaar" collection at a sale price, here you can find affordable price Asim Jofa luxury lawn dresses in 2023.
Furthermore, make your summer season vibe appealing with these new outfits with floral embroidered front and back that are embellished with pearls molding with the serene ensemble. Furthermore, all of these Asim Jofa Lawn collection 2023 wardrobe dresses are best to get the Luxury look with combined shirts and printed pants and embroidered motif dupatta.
Asim Jofa Summer Lawn Collection 2023 for Women
Leading fashion designer Asim Jofa in Pakistan going to launch his luxury lawn collection for the summer season of 2023. All these dresses are best for Pakistani all-age women. Therefore, girls get their amazing fashion sense or use innovative ideas and new unique styles of dresses for women.
Furthermore, bold floral and fanciful embroidery prints with zari work are best in all to fulfill your desire for celebrating the amazing spring/summer season of 2023. Always styled with printed pants and with floral embroidered chiffon dupatta designs for women.
Hence, today get your Asim Jofa Summer Lawn 2023 dresses through the online shop or soon available in the market. This unstitched volume-1st collection by Asim Jofa is containing a wide range of elegant designs that are decorated with digital and simple prints for women.
---
Summer Lawn embroidered unstitched maroon color 3piece suit Rs:10,950 only.
Elegant lawn embroidered 3-pcs unstitched suit Rs:10,750.
Heavily embroidered blue color 3pc's unstitched suit for ladies Rs:10,550 only.
Brown lawn traditional style asim jofa 3piece unstitched suit Rs:11,450.
Rs:10,950
A beautiful sunset embroidered lawn 3piece summer suit Rs:10,950.
Tea pink color cambric unstitched 3piece suit PKR:3,950 only.
Lawn cambric off-white unstitched 3-piece suit PKR:4,650.
2piece yellow lawn unstitched suit for women PKR:2,550.
Dress to impress in this gorgeous cambric 2piece white color suit PKR:3,950.
Unstitched embroidered black lawn summer 3piece suit for women PKR:4,750.
PKR:4,150
A stylish black color kurta paired with organza dupatta and Dhaka pajama is available for PKR:10150 Only.
Look like a princess with a beautiful Gharara with an embellished shirt and coral-printed silk dupatta buy now for PKR:9950.
Asim Jofa Luxury Lawn 2023 for Ladies Shop Online
Furthermore, all these dresses have an embroidery front including the bottom of shirts with printed dupatta and dyed trousers with embroidery patches. And all these printed shirts are best to wear during the spring-summer season of 2023. So, don't waste more time and today get your favorite fashion brand Asim Jofa Luxury Lawn 2023 dresses for women.
Get a stylish summer look with Asim Jofa Luxury Lawn Dresses collection 2023, this suit is available for PKR:9250 Only.
Get an elegant summer look with maroon and dull golden color threads embroidered work paired with sheer organza dupatta available for PKR:10650 Only.
Dyed jacquard 3-piece embroidered suit available for PKR:8950 Only.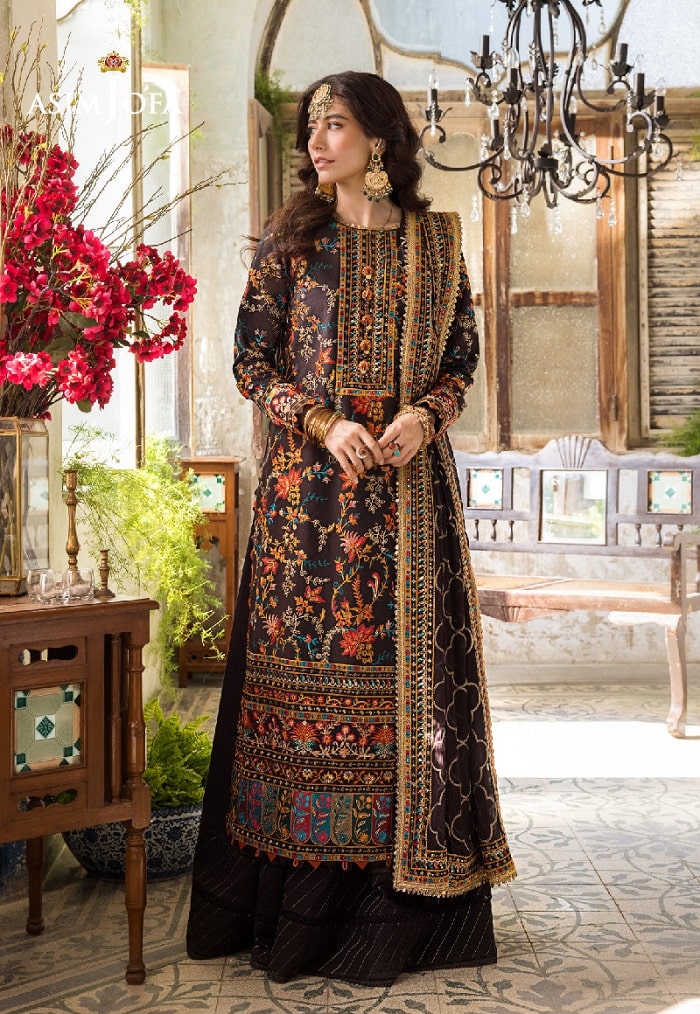 Let's get a uniquely beautiful look with Asim jofa brand luxury lawn collection 2023, this dress is available PKR:11550 Only.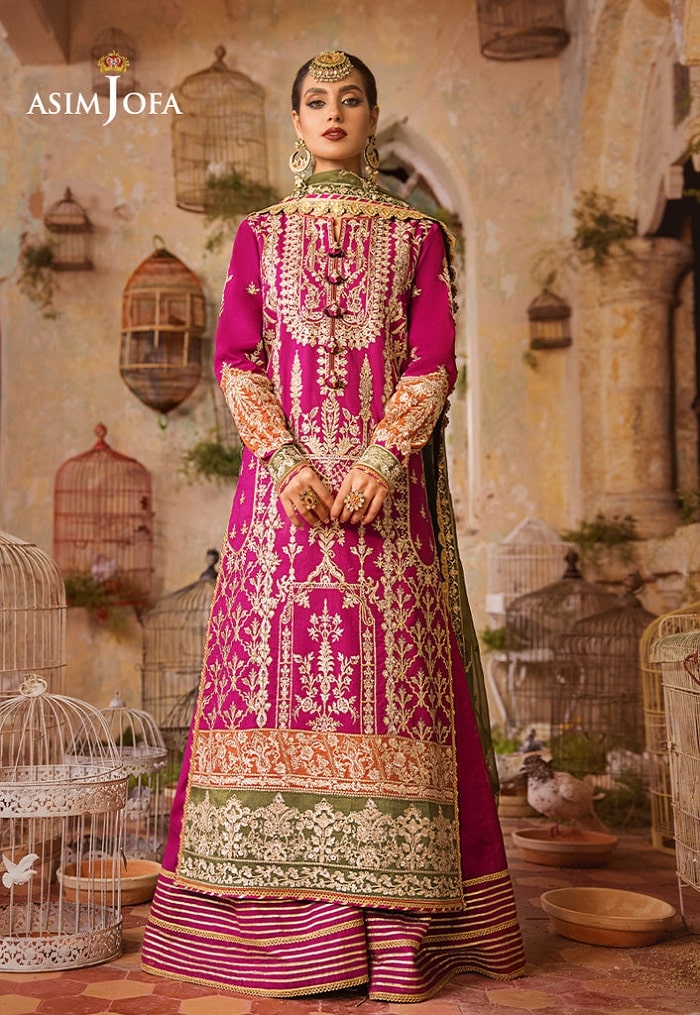 A magenta lawn embroidered shirt with printed chiffon dupatta and cotton pants are available for PKR:10,950 Only.
Mustard Gold color long frock with orange color dupatta by Asim Jofa Summer luxury lawn Collection 2023, available now for PKR:11,250.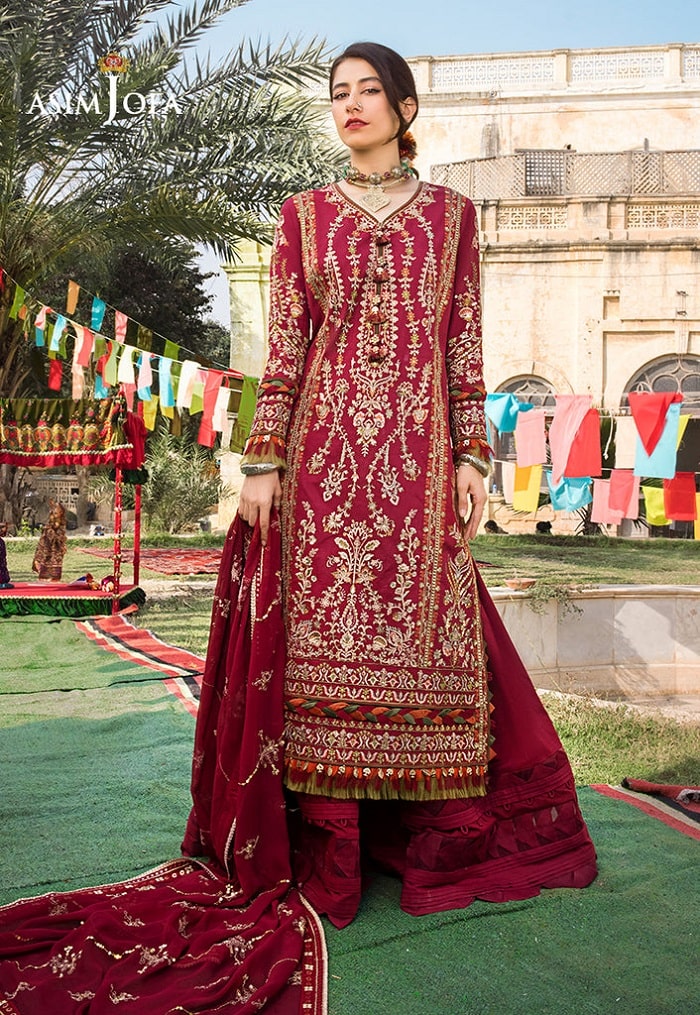 Enhance your summer look with this traditional embroidered thread, zari work, and paired with pants, a chiffon dupatta available now PKR:10,950.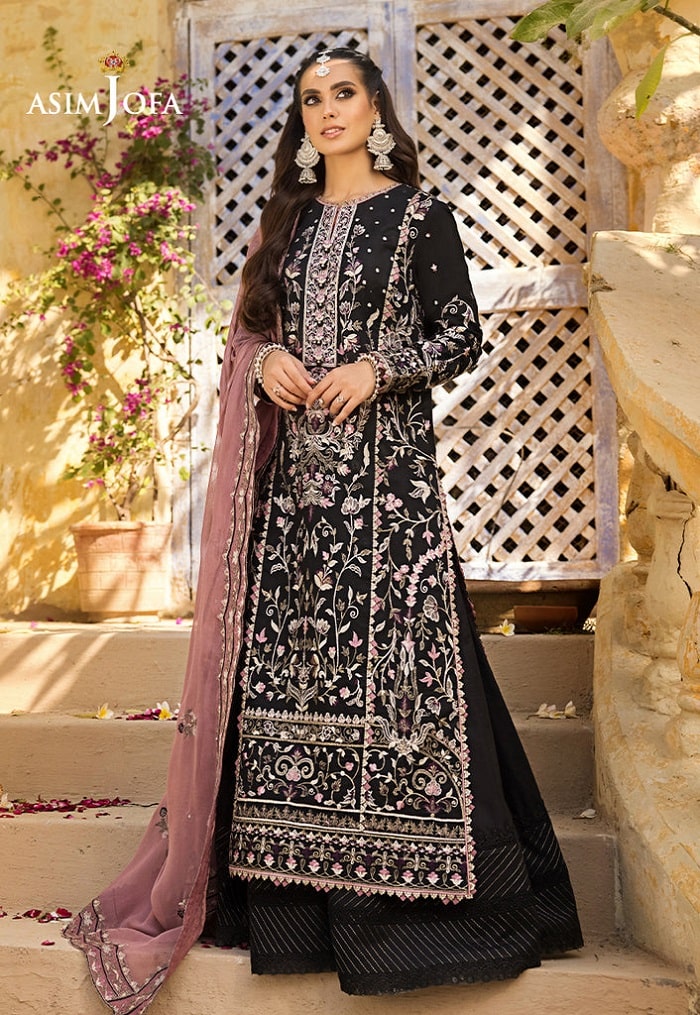 Stylish black lawn heavy embroidered work shirt with chiffon dupatta and cotton pants available for PKR:10,950 Only.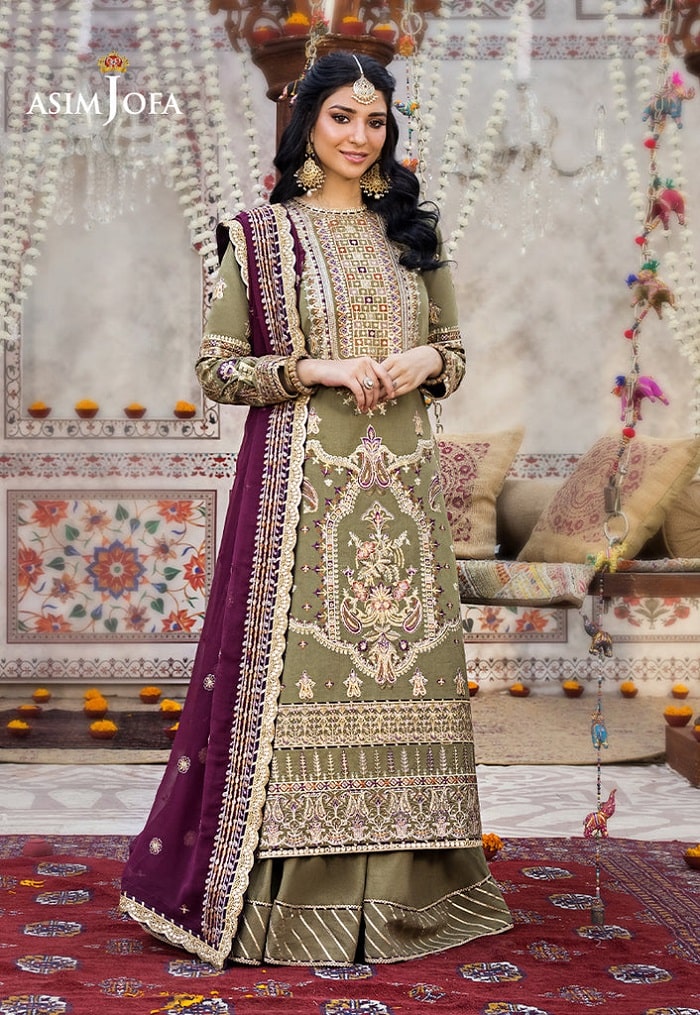 Get a princess look with Asim Jofa's spring-summer collection 2023 for PKR:11,250 Only.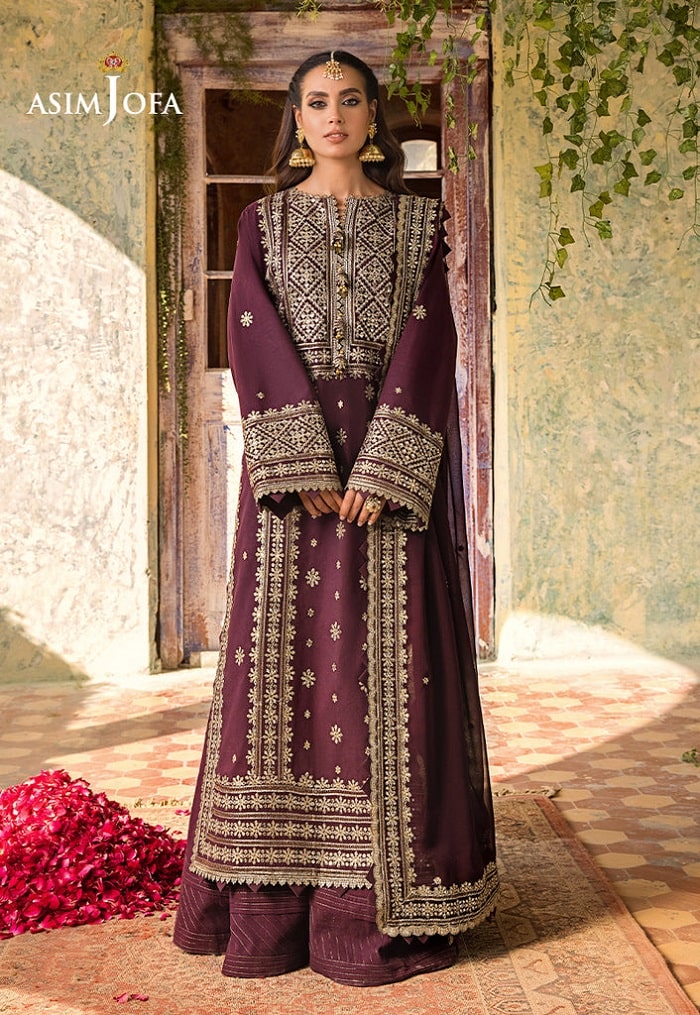 This dress is available for PKR:10,750 Only.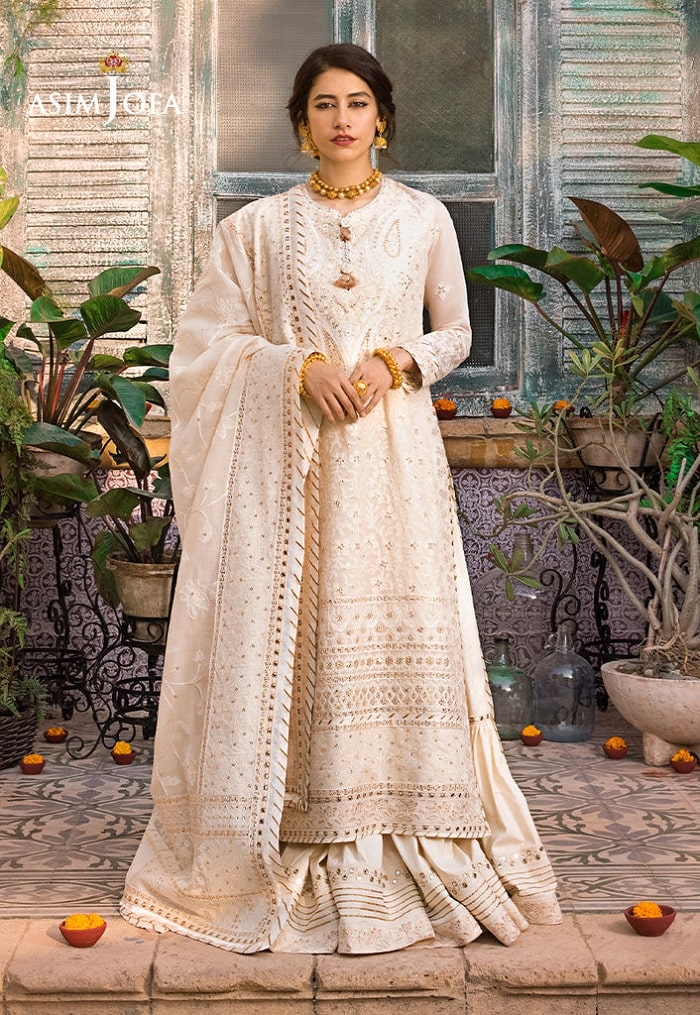 A perfect ivory color luxury lawn suit Rupees:11,250.
Maroon lawn luxury summer 3-Piece unstitched suit PKR:10,950 only.
Mint luxury lawn unstitched 3piece suit PKR:10,750.
Deep teal color luxury lawn unstitched collection by asim jofa 2023, this suit available for PKR:10,950.
PKR:10,950.
Asim Jofa Prints Rania Collection 2023
Asim Jofa Rania summer prints collection has containing high-quality lawn unstitched lawn suits and chiffon dupattas. Surely you have never seen such a unique lawn print before today. And all these suits are available at very low prices. Many Pakistani celebrities like to wear Asim Jofa Prints & luxury lawn dresses in the summer season.
Have you found any summer Lawn suits yet? If not, then here we are sharing Pakistani No.1 clothing Brand Asim Jofa Prints "Rania Collection" 2023. All these incredible designs and prints will provide you glamour summer look. Asim Jofa brings new digitally printed lawn 3-piece, 2-piece suits for ladies.
Furthermore, Embroidered lvory fabric can provide you inspired look with an affordable price range. A pop color added with a statement-printed silk dupatta gives the designs an earthly yet elegant feel. The dress is available in PKR: 9490 only.
Jofa Prints Black 3 Piece Embroidered Suit PRK:5350 Only.
New style in blush pink lawn 3-piece suit for spring-summer look available PRK:5350 Only.
Get a grace look with an ivory color embroidered 3-piece lawn suit PRK:5950 Only.
This summer you must have this green unstitched lawn three-piece suit PRK:3350 Only.
Magenta color lawn fresh print for a charming look available for PRK:3550 Only.
Lawn Sage Green 3 piece summer wardrobe un-stitch suit PRK:4250 Only.
Let's get a new summer look with this Beige and shocking pink color three-piece suit PRK:4150 Only.
Stylish multi-color printed unstitched summer jofa prints suit PRK:4250 Only.
Magenta lawn (Hot Pink) Shirt pair with cotton trousers and chiffon dupatta PRK:5250 Only.
Jofa Prints Lawn Suit PRK:5250 Only.
Let's get your favorite spring-summer color suit from Jofa Prints'23 Collection, PRK:4950 Only.
Jofa Lawn Prints
These days Asim Jofa Lawn Prints are trending. Therefore many women are searching Jofa lawn prints collection for the perfect summer personality. Hence, the prices of these prints suit reasonable to get this summer 2023. Explore this page and get newly launched lawn prints by trending brands.
New Jofa Lawn Prints Unstitched Beige & Deep Purple color Lawn 3 piece suit PKR:5150 Only.
This summer add a touch of rust to your wardrobe, Hence this 3pc suit is available for PKR:4550 Only.
PKR:4250/-
Sunshine printed lawn three-piece suit PKR:4650 Only.
Floral printed un-stitched yellow, black, and Mango color 3 piece suit PKR:4150 Only.
Rupees :5150 – 3pc lawn suit.
Off-white lawn suit with floral prints PKR:5250 Only.
Keep it fresh this spring-summer season PKR:4950 Only.