Top 10 Summer Hijab Styles for Young Muslim Women 2018
Today we are going to discuss latest Pakistani and Arabic women Top 10 Summer Hijab Styles and design 2018. As we all know that women also want to get the latest Top 10 Summer Hijab Styles. Sharing the world best summer latest trend Hijab for women 2018-19. Being a Muslim woman it an important thing for every single woman in her life. Muslim women considered as a symbol of modesty in Islamic Culture. Hijab is an important part of Muslim women dressing.
You can easily wear in summer, nowadays most of the women also wear Hijab to achieve elegance looking. Moreover, follow the Islamic rules of covering their heads from unknown persons. All of this Hijab style is made by getting new fashion styles and women needs. Moreover, the Hijab is also another thing that will make your personality more beautiful and trendy in summer.
Fabric for Summer Season Hijab Styles 2018-19:
Every woman knows that which one is the best fabric for summer season Hijab. It is our guaranty that our fantastic summer Hijab style containing latest designs will make you decide your best one summer dressing style. Therefore, today her we have a wide range of fantastic Pakistani, Indian, Arabic, Turkish printed nude & cotton combination Top 10 Summer Hijab Styles for stylish women.
All of these new Hijab styles will make your personality amazing with the multi combination of different prints. You can select your favorite design Hijab and rock during the summer season.
Beautiful Top 10 Summer Hijab Styles for Girls 2018-19
There are so many variations in Hijab style and their designs. So, today her you will find the latest Pakistani girls Hijab style trends 2018. These Hijab styles are recently launched in Pakistan. Moreover, all of this Hijab are different in style, design, fabric, and color as well. Now, Hijab is become trendiest in all around the Muslims countries.
1. Hijab Without A Pin
Most women have not the time to set their Hijab perfectly. Because you don't have much time as you are getting late for class & Office. Therefore, it is not possible to wear Hijab perfectly, right? The simple solution just wears a long rectangular scarf and wraps it around your head once, and throws it over the shoulder, now you're ready to go!
2. Chest Covering Hijab Style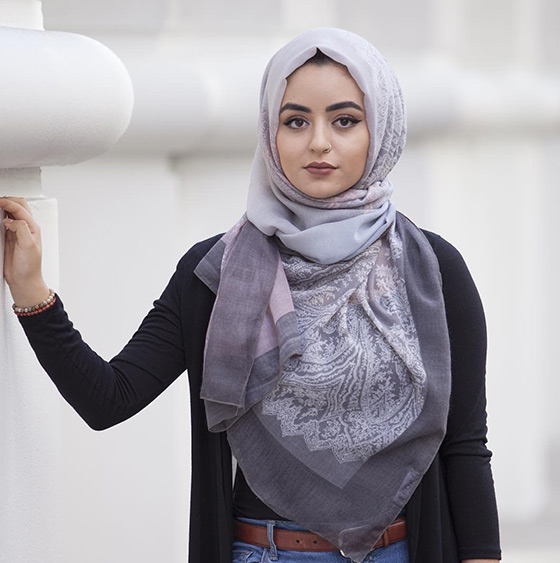 Today her we have beautifully printed chest covering Hijab style that will work perfectly for you. Simply spread one corner of Hijab across your chest.
3. Stylish Wrapping Hijab Style with Accessories On It
Add a stylish wrapping hijab style beautiful accessories on it. Moreover, add a bit of sparkle to your stylish hijab design 2018.