Sohaye Sale 2022 Flat 20% & 30% off Collection's
Sohaye Sale 2022 is now live and providing flat 20% & 30% off prices at unstitched and ready-to-wear collections. Therefore, today shop online best dresses at your favorite brand shop and save flat 30% now.
Sohaye By Diners brand is specially introduced to provide women's best style & quality outfits at affordable prices. For the past few years, brand team members have been working day & night to provide high standard comfort and luxury outfits for ladies.
Sohaye Sale 2022 Flat 20% To 30% Off Now!
Girls let's enjoy the summer season 2022 with sohaye brand sale collection'22. Here we are sharing all the latest sohaye brand sale dresses with prices and other important details. Therefore, get ready to shop online un-stitch and ready-to-wear lawn dresses.
Sohaye by diners summer lawn collection contains high-quality outfits, that's satisfies its customers. Here is Pakistan, a leading fashion brand selling dresses with price details.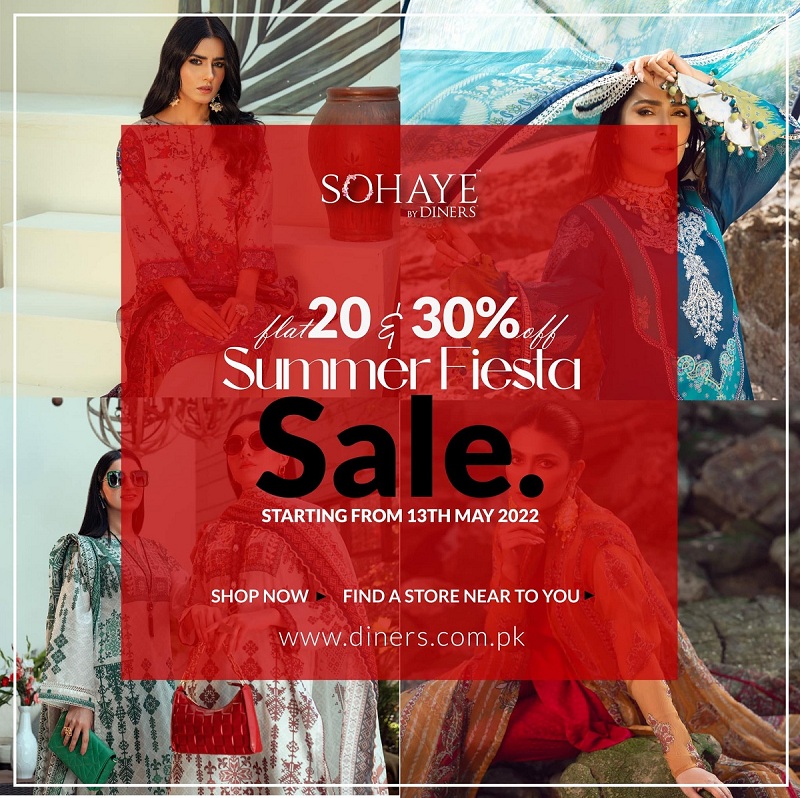 Unstitched 3piece chikankari embroidered lawn suit PKR:6,490 PKR:4,867 only.
Stylish orange color unstitched 3piece suit PKR:6,490 PKR:4,867.
Chunri lawn printed unstitched 3piece suit PKR:3,290 PKR:2,490.
Unique printed lawn unstitched mustard color 3piece suit PKR:3,490 PKR:2,690.
Yellow color stitched Kurti PKR:3,690 PKR:2,214 only.
Gery color beautiful women ready to wear one piece Kurti PKR:5,490 PKR:3,294 only.
Beige color stylish ladies summer ready to wear lawn Kurti PKR:3,490 PKR:2,094 only.
Stylish purple color women unique designs stitched Kurti PKR:3,690 PKR:2,214 only.
Stylish multicolor un-stitch cotel printed shirt for ladies wear Rs.1690 Rs.1352 save 20% now.
Two-piece cotel plus viscose printed green suit available for Rs.2790 Rs.2232 only.
Embroidered blue Kurti Rs.5690 Rs.4552 only.
Get a perfect summer look with this blue color 3 piece suit for Rs.4490 Rs.3592 only.
A beautiful floral printed multi-color unstitched shirt Rs.1690 Rs.1352.
Sohaye By Diners Summer Sale 2022
This year sohaye by diners brings many new sale dresses for ladies' summer wear. As we all know Pakistani women always like to buy low-priced dresses. Therefore, all these given dresses' prices are affordable to buy for everyone. And the brand is always famous for its big deals and sale offers in Pakistan.
Here below we are sharing some new sohaye by diners summer sale products. Furthermore, the sale expiration date is not yet confirmed.
See More:Funsies Sale 2022 Upto 50% Off On Kids Clothing
Unstitched Deluxe Yellow 3 Piece Suit Rs.4290 Rs.3432 only.
New print un-stitch 3 pieces green suit available for Rs.4990 Rs.3992 save 20% now.
D-Pink Unstitched Luxury Suit Rs.4690 Rs.3752 only.
Ferozi unstitched cambric shirt Rs.1190 Rs.952.
Wonderful printed un-stitch orange color lawn suit Rs.2390 Rs.1912 only.
Lawn Sale 2022
Now it's time to reach, Sohaya by Diner's summer lawn sale and save up to 50% now. In this summer sale, you can get women's western wear outfits at super discount prices.
Hurry up! Just visit the nearest outlets or online website and get your favorite items.
Rs.2390 Rs.1912 Two-piece suit.
Black embroidered 3pc suit Rs.4690 Rs.3752.
Yellow stitch Kurti Rs.2390 Rs.1912.