Pakistani New Bridal Hairstyles For All Types Of Hair 2023
The bridal hairstyle is the second most important factor which is always noticed by guests. We can say that there are three most important factors which make a bridal appearance perfect. In these three factors first one is a bridal dress, the second is a hairstyle and the third is bridal makeup. We are discussing Bridal Hairstyles trending in Pakistan & India. Yes! We have a complete collection of the latest bridal hairstyles for all types of hair. Before selecting the right hairstyle bride must notice her hair type. Because hair type selection of hairstyle will make the hairstyle perfect
A bridal hairstyle, makeup, and dress are the main things that people notice. If one of these things is incomplete then the whole bridal personality will wipe out. Therefore a bride must complete these three things. Hairstyle also puts a very heavy impact on bridal appearance. Hence a perfect hairstyle makes the bridal face perfect and pretty. Long and short hair is another problem when selecting a trending hairstyle. Therefore we have posted separately various hairstyles for both long and short hairstyles. Stylostreet has always posted perfect and trending dresses and hairstyles.
Charming Waterfall Braids | Bridal Hairstyles 2023
And in this post, we have maintained our quality and going to post a perfect collection for Indian and Pakistani brides who will make their wedding special. A wedding is the most important day for a bride. That is the day when she gets new relations and starts a new life. Hence beginning of her life should be special and charming. Here are a few hairstyles and pictures of long and short bridal hairstyles.
Like a lovely natural waterfall, a bride gets her long hair in such a lovely way that her hair looks marvelous. This hairstyle is not a new hairstyle for brides but such type of hairstyle never gets old ever.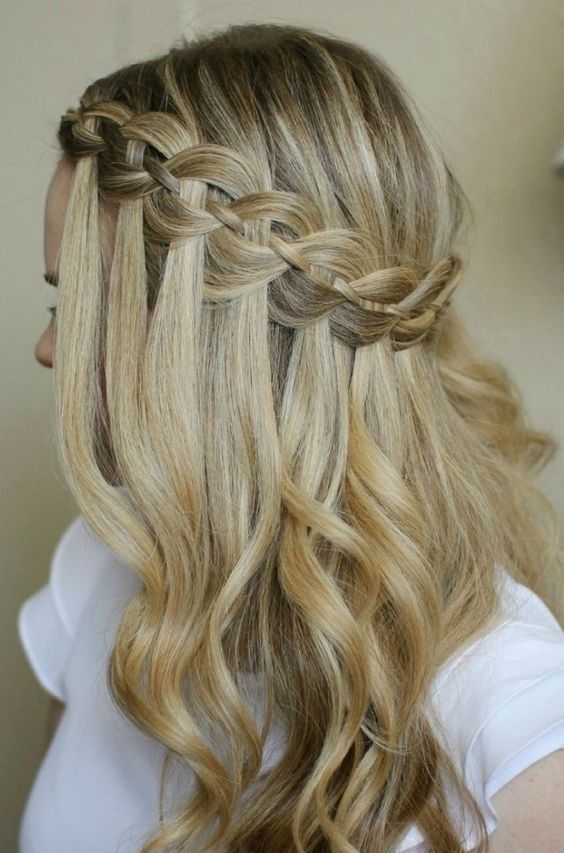 New Double Side Braids
Total stuff that you need to get such double-side braids is a ponytail. This is a simple but pretty hairstyle having its own attraction. With loosely tied hair into a side pony having a few different styles make it unique and best.
In Pakistan brides usually adopt the latest fashion but according to culture & tradition. Light makeup with the traditional bridal dress having a trending hairstyle makes a bride perfect like a princess. We have posted a few latest Bridal Hairstyles below. Please check these bridal hairstyles and don't forget to comment in the comment box.