14 August Dresses for Young Girls 2022 Shop Online
This is the month of August which is very special for all Pakistani people. Pakistani people celebrate Independence Day on the date of 14 August. On the date of 14 August 1947 Pakistan got independence from the British government.
Hence this was a huge achievement for the people of Pakistan for having their own separate homeland. All Pakistanis celebrate with great joy and peace. For all occasions, Pakistani girls search for the latest designed dresses to get a perfect look. So we are here with the latest 14 August Dresses collection 2022 for girls with new designs.
Independence Day 14 August Outfits Ideas 2022 for Girls
Independence Day this is also usually known as "Jashan-e-Azadi" is very important for all those who really love their homeland. This is the land that our ancestors got after sacrificing their whole lives. Therefore feelings of every Pakistani on the Day of Independence remain very patriotic. These nationalistic feelings urge us to decorate our houses and the whole country with Pakistani flags, buntings "Jandhian" and some youngsters also draw Pakistani flags on their faces and body parts to show their love and devotion to country.
As you know the Pakistani flag has two colors green & white. These two colors remain the center of attraction on the day of 14 August. All the girls and boys wear dresses have contras of white shade on a green dress. Both types of dresses having Pakistani flag colors or having the Pakistani flag printed on them is mostly liked by girls. Small flag badges also symbolize girls love for their country. On the occasion of 14 August markets and streets remain full with green and white color as 14 August Dresses is the day of these two colors.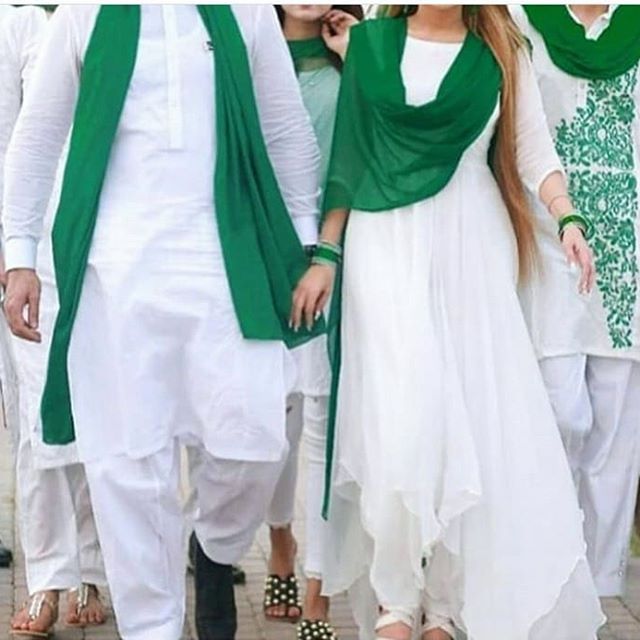 14 August Dresses for Cute Girls 2022 Buy Online
If we talk about famous personalities and celebrities then they also wear green on Independence Day. Politicians, business tycoons, poor or rich, all look same on Independence Day. Textile designers remain in front on this day because of their masterpieces. All designers come with their new designs for a special day.
All outfits brands launch their new collection on this event and we have posted best among them. Independence Day comes with many happiness and girls makes their happiness double with shopping. Green Dress having white contras and green & white bangles look traditional and lovely on girls. Matching jewelry with Independence Day dress is also a big challenge for girls but in this post, we have also post latest bangles designs with unique styles.